Build A Rocket Boys!
| Robinsons Family Brewers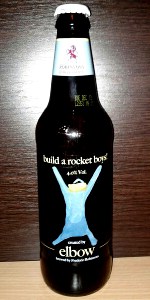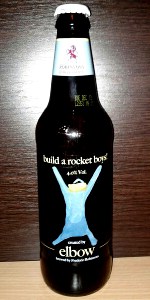 BEER INFO
Brewed by:
Robinsons Family Brewers
England
,
United Kingdom
robinsonsbrewery.com
Style:
English Bitter
Alcohol by volume (ABV):
4.00%
Availability:
Limited (brewed once)
Notes / Commercial Description:
No notes at this time.
Added by EmperorBevis on 04-07-2012
This beer is retired; no longer brewed.
Ratings: 9 | Reviews: 5
Reviews by rd2nowhere:

2.95
/5
rDev
-2.3%
look: 3 | smell: 3 | taste: 3 | feel: 2.5 | overall: 3
A- quite a light amber, little bit of lacing but no head at all.
S- like a freshly struck match, not the new safety type.
T- fruity possibly even sherbety. Spicy hops but no long after taste.
M- thin, needs to be much richer for a bitter.
I don't get this beer, it has some positives but they aren't nessecerily right for the style. But the negatives taste, smell and mouthfeel don't sit with my expectations of English bitter. I wouldn't buy a bottle again and if I saw.it in a bar, I may even consider a macro.brew above it.
527 characters
More User Reviews:

2.86
/5
rDev
-5.3%
look: 2.75 | smell: 3 | taste: 2.75 | feel: 3.25 | overall: 2.75
A 500ml bottle with a BB of Aug 2013. Picked up from a supermarket a little while back. Described on the label as a golden ale designed by the band Elbow. Alarm bells begin to ring....
Poured into a tulip pint glass. A hazy orange-amber colour with good carbonation and plenty of chunky floating sediment. Looks like coagulated protein rather than yeast. Forms a large head of frothy white foam that lasts for a minute or so before disappearing. Aroma of caramel malt with weak hints of cardboard, fruity ale yeast and stewed leaves. Uninspired.
Tastes of mild caramel malt with a dry finish. Notes of fruity ale yeast, faint grass/hay, stewed leaves and harsh cardboard. Well-attenuated, with a touch of carbonic acid. A restrained bitterness upon swallowing. Mouthfeel is smooth, dry and tingly, with spritzy carbonation and decent body. Somewhat astringent, with an aftertaste of bitter stewed leaves and acrid cardboard.
Rubbish. Lacklustre looks, with an aroma/flavour that have nothing interesting or pleasant to offer. Body is alright. Mediocrity perfected - I suppose this is what happens when a band demonstrate their expertise at an alternative profession. Should be renamed 'Build a Pile of Wank'. Not recommended - spend your money on something else.
1,265 characters

3.26
/5
rDev
+7.9%
look: 4 | smell: 3 | taste: 3.5 | feel: 3 | overall: 3
500ml bottle @ home: poured into an Abbot Ale glass tankard on 16 Oct 2012.
Good, clear amber body: full off-white head that left some impressive lacing as the beer level fell away.
The nose and taste both start off with malty and fruity notes: the hops coming into play a little later. Bitter towards the end of each sip as the spicy hops kick in, otherwise it is fairly fruity throughout: nicely balanced without going 'overboard' in the flavour stakes.
OK rather than 'woow'.
490 characters

3.38
/5
rDev
+11.9%
look: 3.5 | smell: 3 | taste: 3.5 | feel: 3.5 | overall: 3.5
Devised by the band Elbow and brewed by Robinsons
Pours a golden body with copy tones nice white head.
Nice hoppy aroma with floral notes and hints of B.O.
The taste starts with malts and wheat taste then drives down a peppery road to a bitter hoppy finish with a buttery slick undercurrent.
Slightly lacking on the mouthfeel though this makes it a lighter touch.
Like the band, alright for a popular b(r)and pleasant enough but not hardcore rock'n'roll but better than most.
490 characters
2.69
/5
rDev
-10.9%
look: 4.5 | smell: 3 | taste: 2.5 | feel: 2.5 | overall: 2.25
500ml bottle from Morrions (GlasgOW, £1.95):
Clear amber colour with a large, four centimetre tall head that is creamy looking and forms a dome at the top of the pint. There is a lot of tiny bubbles rising to the surface and the head stays pretty well with no visible reduction in size to begin with.
Medium strength malts, some caramel and a sort of metallic smelling end. There is a few bitter notes throughout and a touch of hops but it seems the makers played it safe with nothing adventurous in this one. It's pretty faint with a few tinges of fruit in there too.
Some caramel malts and a fruity taste to begin with, along with some lighter hops and a little sweetness. There is a touch of spice but the beer also tastes a little watery and too light.
Light bodied with mild carbonation and a slightly bitter finish although not enough for the style.
Not a great bitter, it was pretty basic and was lacking in strength both in the taste and the smell with the body being too light as well. Nothing out of the ordinary from it and it was also a little watery for my liking.
1,082 characters


Build A Rocket Boys! from Robinsons Family Brewers
Beer rating:
0
out of
100
with
9
ratings