Dismiss Notice
After Battle Pale
| Ekim Brewing Co.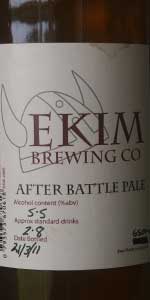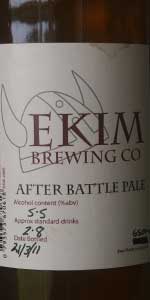 BEER INFO
Brewed by:
Ekim Brewing Co.
Australia
ekimbrewing.com.au
Style:
American Pale Ale (APA)
Alcohol by volume (ABV):
5.80%
Availability:
Year-round
Notes / Commercial Description:
No notes at this time.
Added by spicelab on 04-14-2011
HISTOGRAM
Ratings: 13 | Reviews: 10
Reviews by heygeebee:

4.13
/5
rDev
+16.3%
look: 4 | smell: 3.5 | taste: 4.5 | feel: 4.5 | overall: 4
Poured from a 650ml Bottle.
Pours pale amber, two finger head hangs around for a while, nice lacing.
Good aromas, quite intense - citrus dominate, but also malts. Midway between, say, Icon 2IPA and James Squire IPA.
Taste is really where it kicks in, a restrained balance, not overpowering, but the 650ml goes down a real treat without either overpowering you with taste and biiterness, or leaving you wanting more.
Mouthfeel is also a delight, a creamy feel kicking in, normally only evident in higher ABVs.
Good stuff on drinkabilty - kudos to EKIM. Really! Time to drive again across town to get another... Lets hear it for the little guys.
648 characters
More User Reviews:

3.27
/5
rDev
-7.9%
look: 3 | smell: 3.5 | taste: 3.25 | feel: 3 | overall: 3.25
Pours hazy gold with a small head.
Nose shows maris otter-like malt, grainy notes, peanuts and sunflower seeds. Interesting....
Similar flavours: peanuts, sunflower seed, soft grassy hops and some vegetal notes.
211 characters
3.87
/5
rDev
+9%
look: 3.5 | smell: 4 | taste: 4 | feel: 3 | overall: 4
Thanks to
[email protected]
Liquor
650ml Bottle.
Nice clear-ish pale amber. One and a half finger white head drops away pretty fast.
Smell is very aromatic. Spearmint, lemon peel, spicy pine, kiwi fruit, passionfruit and candied orange. Plenty of toffee malts colliding with the hops. Good stuff and well intense for an APA - definitely IPA territory.
Taste is much more bitter, with pine resin and citrus overwhelming the tropical fruit notes. Malt is just as prominent as in the nose however, and nicely reins in the excess.
Mouthfeel is somewhat scratchy and metallic, particularly on the back palate, and drinkability takes a significant hit as a result.
Overall, the impressive flavour profile is impossible to ignore and I will definitely be seeking this out again. Very keen to see what Ekim comes out with next.
836 characters
2.98
/5
rDev
-16.1%
look: 4 | smell: 3.5 | taste: 3 | feel: 2 | overall: 2.5
330 ML bottle poured into a globe glass
Bottle date of 21/11/11
5.7 ABV
A-- Poured a hazy, nearly opaque, orange amber color. One finger dirty white head. Sticks around a good while before settling to a nice looking soapy film with a good collar. No lacing with this.
S-- Dirty grapefruit, orange, lemon and passion fruit. Big malt backbone.
T-- A mixture of orange marmalade, pineapple, passion fruit,burnt toffee, and somewhat soapy.
M-- Kind of all over the board. Thin in spots, under carbonated, and lacks balance. Finishes well, a pungent orange and sour grapefruit but lacking a spark that carbonation has for it. Needs to be crisper.
O-- Have had some really good and some really not so good batches. lots of batch variation with this. Good looking and good smelling beer but lacks a lot in the taste and feel.
826 characters

2.72
/5
rDev
-23.4%
look: 3 | smell: 3.5 | taste: 2.5 | feel: 2 | overall: 2.5
A - Poured a golden amber colour with a two fingered head that retains fairly well
S - Orange, apricot and sweet pineapple on the nose and sweet.
T - Up front the citrus flavours are fairly prominent especially orange peel and apricot and grapefruit but thats where it ends. I found the back end to be very bland and slightly bitter and somewhat very sour on the finish. I struggled to pick it up again the second time round.
M - Very little carbonation and light bodied
O - Pretty ordinary this one. What started very promising ended in disappointment for me. Not recommended.
581 characters
4.15
/5
rDev
+16.9%
look: 4 | smell: 4 | taste: 4.5 | feel: 3.5 | overall: 4
This is my second attempt at reviewing Ekim After Battle Pale. My first attempt was 8 days after bottling (1 April 2011), and still seemed a bit unsettled. A bit more cold conditioning, and this review is of the same batch, 2 months later.
a) Reasonably clear, bright, light amber, with golden highlights. Pale beige, foamy head, which reduces to a thick slick after a couple of minutes. Reasonable bubbling; not as much as others report.
s) Citrus notes were evident several inches away from the glass. Getting the nose closer, one gets tropical fruits such as guava, or passionfruit seed. Perhaps a faint hint of tobacco leaf, and a toasty note as it warms in the glass.
t) Excellent balance between the aroma notes, plus an additional cara/toffee component. Pineapple more noticable now, plus dried apricot, and bitterness is medium. Late aftertaste is of an English pale. I'd like to compare this with a Timothy Taylor Landlord.
m) Medium to light up front, a touch dextrinous mid-palate, but finished fairly abruptly.
o) The IPA is described as hybrid American-English. I would go as far as to the say the same for the Pale. The hops are definitely New World, but the malt profile and overall experience flahses me back to a pint glass somewhere in East Anglia.
For such a tiny op, Ekim beers are of excellent quality, and I recommend grabbing them when you can.
1,373 characters

3.72
/5
rDev
+4.8%
look: 3.5 | smell: 4 | taste: 3.5 | feel: 3.5 | overall: 4
Pours a deep amber colour, quite dark with massively overblown head. Nice and fluffy, webs out on the top kind of flat. Nice lace, but yeah too much head.
Smells fruity actually, very sweet with apricot, orange peel and a hint of almonds on there. Yeah, nutty malt and fruity hops. Not bad.
Taste starts very nutty, gets more so, lots of almond and peanuts as well as a hint of apricot-tinged hops late. Nice sweetness to them but could use a bit more earthy bitterness. Bitterness on the back is mostly woody and not as clean as it could be. Not a bad palate though, nutty and sweet and drinkable.
Full body, hint of fizz but really just a mild tingle.
Nice brew, drinkable and pleasant.
692 characters
3.16
/5
rDev
-11%
look: 4 | smell: 3 | taste: 3 | feel: 3 | overall: 3.5
Really tiny operation, running out of the Happy Goblin Brewery. This is my second of their brews, after the Viking IPA. This bottle was purchased from Platinum Liquor in Bellevue Hill.
Colour is extremely pleasant, a lovely bright golden colour, lighter in the extremities, but with a lovely sparkling depth to it. Head is fine and living, leaving some speckled laving, but surviving in sudsy regression as a ring around the edge of the glass. Really quite a pleasant look.
Nose is a bit tired, with a leafy green hop character, but little else. Slight sweetness, and a hint of pineapple. This bottle is probably a bit old, but it is most certainly showing its age, no matter how old it is.
Taste is very light, with a thin reedy malt character, laced with overlays of green slightly herbal hoppiness. Finish has an echo of bitterness, helped along by a persistent carbonation. Feel is light, and a little bit limp.
It's not bad, and I've no doubt it would be better fresher, but this particular bottle leaves me a little nonplussed. It's a pretty pedestrian APA, without much inspiration. I'm still happy to keep buying their beers to try, however.
1,153 characters

3.67
/5
rDev
+3.4%
look: 3.75 | smell: 3.5 | taste: 3.75 | feel: 3.5 | overall: 3.75
Had on tap at the Steyne Hotel roof bar in Manly, Australia. Very nice pale ale.
80 characters
3.5
/5
rDev
-1.4%
look: 3.5 | smell: 3.5 | taste: 3.5 | feel: 3.5 | overall: 3.5
Big thanks to BIF bluebetty as ive never seen or heard of this brew before and it pours a hazy yellow golden hue which leaves a one finger head and sporadic clingy lacing,the smell is very similar to NZ hops with goosberries,guava,strawberries and wet hay,the mouthfeel is just above light bodied and suits for the style with tastes of guava,melon,strawberries,a light touch of candy and finished with a sherbety bittersweetness that really neutralises the bitterness and overall its a nice pale ale thats above average and very sessionable would drink again cheers.
566 characters


3.95
/5
rDev
+11.3%
look: 4 | smell: 4 | taste: 4 | feel: 3.5 | overall: 4
Bottled less than 2 weeks ago; 2/5/11. 5.7% ABV.
A - Pours a very clear golden orange. Huge visible carbonation, which helps hold up the big inch high fluffly white head. Looks very nice. The head does not go away. Half way through and it is still 1/2 finger. Impressive.
S - Wow, this smells nice. Much, much better than the IPA from Ekim. They doesn't reveal the hops used, but smells like Cascade-ish, with probably another of the 3 C hop varieties, maybe some Amarillo as well? Good orange esters coming through, as well as the Grapefruit, Pineapple, lime. The usual really nice on the nose hops.
T - Very clean and crisp. Very Fat Yak like. Not as hoppy as the nose presents. Sweet citrus, with a mild hop biterness. Their site only quotes 40 IBUs, so not as if they have overhyped the hops. Nice summer APA.
M - Not as thin as the IPA. Its at a good level. Maybe a bit too carbonated. Very drinkable.
O - I like it. Like it a bit more than Fat Yak, who I see as a very good measuring stick for this beer. Hopefully Ekim come out with an 'Alpha PA'.
1,060 characters
After Battle Pale from Ekim Brewing Co.
Beer rating:
3.55
out of
5
with
13
ratings