Small Batch Series No. 7: Imperial Sweet Potato Stout

Ranger Creek Brewing & Distilling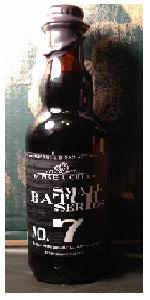 Rate It
Beer Geek Stats
| Print Shelf Talker
Style:

ABV:

8%

Score:

85

Avg:

3.78

| pDev:

14.55%

Reviews:

11

Ratings:

From:

Avail:

Retired (no longer brewed)

Wants

Gots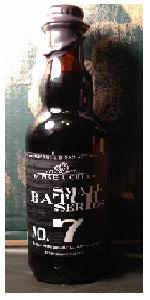 Chris_Huston from Texas
3.02
/5
rDev
-20.1%
look: 4 | smell: 3.25 | taste: 2.75 | feel: 3 | overall: 3
Popping the cap was like opening a sealed tomb from an Indiana Jones movie - big PSSSH! of air that made me think it was going to geyser. It didn't, but pouring into the glass even carefully was mountainous, airy, plasticy dark tan head. Takes a while to get the contents of the bottle into the glass. Pouring the last bit in it sounded exactly like pouring a Coke. That's an unpleasant first.
Smell is vague, subdued spicy, much like a pumpkin beer without the pie profile. Perfectly nice smell for a pumpkin beer, but unfortunately I was promised, and wanting, sweet potato.
Taste takes another step down, giving almost none of the spice or fruit, mainly somewhat burnt malts with no sweetness, beer and coffee bitterness (though mild) with out any defining flavor from the latter. The mildness of the bitterness actually saves the drink, but it doesn't really give it much flavor. Stout feel is decent, but not remarkable. The foam, rather than imparting creaminess, is more brittle and fizzy, which detracts.
I've had three of these Small Batch series in the last few weeks. I was expecting/hoping this to be my favorite, but alas no. Certainly not a drain pour, but very easy decision to not purchase again.
Nov 26, 2015

elNopalero from California
4.16
/5
rDev
+10.1%
look: 4.75 | smell: 4.25 | taste: 4 | feel: 4 | overall: 4.25
This is the Ranger Creek sweet potato stout.
It pours dark and thick, like used oil, with a cocoa-colored foam that goes on for days. Smells like chewy molasses Lightly smokey, roasty, sweet chocolates all dance around. There's a touch of tang with some smokey roast and a double shot of espresso in the mix. The long, lingering finish gives you something to chew on as you contemplate this brew.
Feb 23, 2015

joeyfeets from New York
2.93
/5
rDev
-22.5%
look: 3.25 | smell: 2.75 | taste: 3 | feel: 2.75 | overall: 3
A creamy mouthfeel, full of chocolate, cinnamon & roasty malts. It is a deep, dark brown beer with a tan head. Smells strongly of chocolate with a lil bit of fruit.
Dec 22, 2014
brentk56 from North Carolina
3.58
/5
rDev
-5.3%
Appearance: Pours all head and it takes a few minutes for the black liquid to appear in any quantity; the retention is good though there really isn't much lacing to speak of
Smell: Surprisingly fruity, with chocolate, roast and spice cake tones
Taste: Fruity, up front, with raisin and spice cake flavors; in the mid-palate, the chocolate arrives but, after the swallow, a metallic, rusty flavor takes over and lingers into the finish; hard to identify the sweet potato at all
Mouthfeel: Medium body with low to moderate carbonation (once the overcarbonation was worked out)
Overall: Seeing rust around the cap was a real turn-off (particularly since we are dealing with a waxed cap) and the impact on the flavor was disappointing; mouthfeel/carbonation issues continue to plague this brewery; the sad part is that this beer has so much promise, with some flavors that I really enjoyed
Thanks, RobertH50, for the opportunity
Aug 30, 2014
BeerandWhiskeyHQ from Illinois
4.27
/5
rDev
+13%
look: 4.5 | smell: 4.25 | taste: 4.25 | feel: 4.25 | overall: 4.25
8% ABV
Bottled on 11-21-13
Appearance
Rich dark brown- almost black body. Carmel/mocha thick and frothy head. Decent lacing.
Nose
I get pretty strong chocolate notes, light amounts of roasted malt, fruit and slight bitterness with the presence of head but dissipates in bitter scent along with the foam
Palate
Very rich, chocolaty, rather bitter/sour in the finish but I like that in this beer. Slight spices, orange peel, dark roast malt, fruit- plums and cherry. Sweet and sugary in the finish that balances the bitterness ABV presence stronger in the finish opposed to during the mouthful
.
Overall
As with all of Ranger Creek's beers, this one didn't disappoint I wish I had another one to keep aging until the holidays. It's very full flavored and balanced as always, I also like how they decided to not go the road of the pumpkin brew like a lot are nowadays and decided to make something unique and interesting.
-BeerandWhiskeyHQ.com
Apr 15, 2014

Atlas1 from Texas
3.26
/5
rDev
-13.8%
look: 3.75 | smell: 3.25 | taste: 3.25 | feel: 3 | overall: 3.25
Didn't know it was a sweet potato stout when I picked it up, but was very pleased to discover that it was. Never had a sweet potato stout before.
Poured into a snifter, this beer is a nice dark brown color with burgandy hues at the edges when held up to the light. Decent two finger dark brown head. Some lace. The nose is interesting, with an earthy sweetness to it, which makes sense considering the ingredients. Interesting, but otherwise underwhelming. Taste is also interesting - kinda funky and herbal. Sweet up front (with an almost unnatural flavor) and a boozy aftertaste. Mouthfeel is thinner than expected.
I'm not convinced that sweet potatoes and beer are a great combination, but this was a solid effort if nothing else. I like Ranger Creek and I'm glad they're pushing boundaries like this. This may not be their best outing, but it's nice to see. And it's certainly worth trying if you're so inclined.
Mar 09, 2014

Jugs_McGhee from Texas
2.96
/5
rDev
-21.7%
look: 3.5 | smell: 3 | taste: 3 | feel: 2.75 | overall: 2.75
12.7 fl oz brown glass bottle with black wax-ed over pry-off pressure cap acquired at my local bottle shop and served into an Avery stem-tulip in me gaff in low altitude Austin, Texas. Reviewed live. Expectations are below average given the brewery and series - which has been a constant string of disappointments. Batch 13. Date: 11/20. Reviewed live.
Served cold - straight from the fridge - and allowed to warm over the course of consumption. Side-poured with standard vigor as no carbonation issues are anticipated.
A: No bubble show forms as it's poured.
Pours a 3 finger wide head of lovely tan colour. It's a bit thin and not as full or rich as I'd hoped for. Smooth consistency. Complexion could be better, but it's got a nice shine to it. Retention is good - about 6-7 minutes. Little lacing clings to the sides of the glass as the head recedes. It's a nice supple head and seems pretty soft.
Body colour is a predictable opaque solid black. No floating yeast particles/sediment is visible. Appears adequately carbonated.
Overall, it's a pretty standard imperial stout appearance, and I'm pleasantly surprised.
Sm: Dark malts, caramel, musty wood, hints of cardboard/infection, and sure - sweet potato/yam vegetable character. I also pick up on a ginger-like spice of some sort. Nutmeg. Vegetable gourd. Cream. To its detriment, I don't find any roasted barley.
No hop profile is obvious. There's some mild alcohol warmth. No yeast character is detectable.
It's an inoffensive aroma of average strength. I'm curious how the sweet potato character will work. It certainly seems sweet.
T: Hm. It's got an off-flavour which is luckily pretty tame, but is redolent of musty wood, a bit of peat, and acidic bacterial infection. The dark malt base feels pretty generic and lends the beer ample sweetness. Caramel. Nutmeg. Vegetable gourd. I wouldn't guess sweet potato if I tried the beer blind, but it does have a sort of casserole-esque yammy character to it I suppose. I'm not a big fan of the taste overall, but I appreciate the innovation. I find it too sweet overall.
Lacks balance. Build lacks cohesion and is far from gestalt. Not intricate, subtle, or complex. I guess the sweet potato lends it some nuance, albeit nuance that doesn't bring much to the flavour profile. Average duration of flavour. Below average intensity and depth of flavour.
Mf: Acidity is way too high. It's almost silky, which I like. Wet. Harsh and biting on the palate. Overcarbonated. A bit too thick, bordering almost on syrupy. The texture doesn't suit the flavour profile particularly well. Gushed. Decently executed.
Not oily, astringent, or rough.
Dr: Another sounds-good-on-paper beer from Ranger Creek that doesn't deliver on the potential of the premise. It's getting better as it's coming to temperature, but this really isn't a good beer. Points for experimentation, but I continue to be disappointed with Ranger Creek's small batch series and wouldn't recommend this to friends or trade partners. Largely a failed attempt at an imperial stout; there are far better beers in the style well below this price point (e.g. Ole Raspy, Storm King, Ten Fidy etc.).
C
Feb 17, 2014

WTKeene from New Mexico
3.77
/5
rDev
-0.3%
look: 4.5 | smell: 4.25 | taste: 3.5 | feel: 3.25 | overall: 3.75
Poured from a waxed-cap bottle into a Prairie Teku glass. Cap appears to have rusted under the wax.
Appearance: Thick pitch-black pour with a large, thick and creamy rusted coffee head, which is not going anywhere any time soon.
Smell: Reminds me a bit of pumpkinator. Strong sweet gourd smell, dark and roasty with prominent spice notes, cinnamon, nutmeg. Smells very creamy.
Taste: Spicy, sweet, like a pumpkin-style stout tends to be. Some dark fruits that makes it lightly tangy, but nothing special here. Hints of coffee come through as well. A bitter metallic aftertaste mixes with the coffee on the finish.
Mouthfeel: A little thin. Low-moderate carbonation.
Overall: Not that bad, and the creativity is refreshing. It started off strong, with a beautiful pour and solid nose. But if the caps are going to rust and affect the taste of the beer, that just shows a lack of quality control that leads to a far less enjoyable product. You've got great potential, Ranger Creek. Step up your game.
Feb 10, 2014

Can_has_beer from Texas
3.79
/5
rDev
+0.3%
look: 4 | smell: 3.75 | taste: 4 | feel: 3 | overall: 3.75
From bottle into snifter
A- Pours dark, appears quite thick. A white to tan head appears, one finger, with many fine bubbles. The layer of head seems very thick and does not move when swirled.
S- A lot of sweetness on the nose, what one would expect with a milk stout. Hot caramel, roasted nuts and lots of chocolate.
T- The chocolate and sweetness come out first. It is not too heavy, definitely drinks like an 8% abv stout. I taste some roasted and smokey flavors, and some spices on the back end. The spices can best be described as nutmeg and cinnamon, but they are rather hidden.
M- Medium bodied, a little thinner than I prefer my stouts. The carbonation gives a very foamy mouthfeel, something I am not finding too pleasing.
O- I feel this was a nice execution from Ranger Creek. An interesting nose and very decent taste made it a fun beer to drink. I certainly feel that it is their best effort yet in the Small Batch Series.
Jan 06, 2014
ExaltedNecrosis from Texas
4.24
/5
rDev
+12.2%
look: 4.25 | smell: 4 | taste: 4.5 | feel: 3.75 | overall: 4.25
On tap at the brewery.
A - Pours black with 2-3 fingers of creamy dark brown / chocolate head.
S - Smells sweet, lots of sweet potato up front with some mild spices in the back.
T - Great flavor on this one. Sweet potato is at the forefront, followed by chocolate, cinnamon, and nutmeg. It's got a great balance...sweet, but not too sweet, and the spices add a great character without being overpowering.
M - Moderate-to-thick body with low carbonation. It's very smooth and creamy, and somewhat sticky.
O - Another great beer in the small batch series. This one hits all the right spots with the sweetness and spice. I'll have to age a bottle to see how it holds up.
Dec 16, 2013

johnnieoz from Hawaii
3.64
/5
rDev
-3.7%
look: 3 | smell: 4 | taste: 3.5 | feel: 3.5 | overall: 3.75
Black wax-top 12.7 oz/375ml brown bottle, bottled on 11/20/13
Jet black body with minimal espresso foam & lacing inside my Jester King tulip. Aroma is all earthy tuber, sweet potato/yams & some coffee. Taste is very balanced, too balanced, beginning sweet and finishing bitter. Carbonation is ample but it's just a touch too chalky on the palate. I appreciate that it's only 8% abv though a beer like this would likely benefit from something closer to 10%.
Kudos to Ranger Creek for expanding our horizons, after the Bruery's Autumn Maple (made with yams) this is the second tuber ale I've had. It's good, almost very good. When I say it's too balanced I mean it's very sweet up front but finishes dry and nearly astringent. I want to believe its true identity has yet to emerge. A year might do wonders for this beer, so I'll keep one in the cellar and crack it open in another time zone late 2014.
Dec 13, 2013
Small Batch Series No. 7: Imperial Sweet Potato Stout from Ranger Creek Brewing & Distilling
Beer rating:
85
out of
100
with
55
ratings