Long Snout Stout
| Baying Hound Aleworks
BA SCORE
73
okay
13
Reviews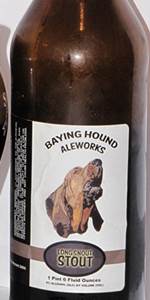 BEER INFO
Brewed by:
Baying Hound Aleworks
Maryland
,
United States
baying-hound.com
Style:
American Stout
Alcohol by volume (ABV):
6.00%
Availability:
Rotating
Notes / Commercial Description:
A bloodhound's nose is never wrong. Long Snout Stout is great on its own or paired with food. It can stand up to chocolate or even your favorite steak.
Added by bum732 on 08-04-2011
This beer is retired; no longer brewed.
Reviews: 13 | Ratings: 26
2.19
/5
rDev
-19.2%
look: 3.5 | smell: 2 | taste: 2.25 | feel: 2 | overall: 2
Pours a huge head, even for a bottle conditioned beer. The color is nearly black and the massive head is a medium tan going to brown, aided by significant carbonation. The aroma is sweet, too sweet, with an astringent quality. The taste has a little bit of roasted malt to it but the sweetness and astringency are present to. The body is thin and fizzy.
353 characters
3.81
/5
rDev
+40.6%
look: 3.5 | smell: 3.75 | taste: 4 | feel: 3.5 | overall: 3.75
Baying Hound's previous batches of this are reflected in the scores below. But the December '13 batch was great- so they've fixed something in the recipe.
A: Pours very dark.
S: coffee, fresh asphalt (in a good way)
T: bitter-sweet chocolate, toasty, tobacco (tangy), espresso
M: full bodied, smooth, lively bitterness
O: Great stout- very dark but not too heavy.
It's great to see a brewery in Montgomery County, MD- so far the only one.
441 characters
2.38
/5
rDev
-12.2%
look: 3 | smell: 2.5 | taste: 2 | feel: 3 | overall: 2.5
The color was dark flat black but it had a sort of cloudiness. The head was a dense brown foam that dissipated immediately, yet the cloud in color remained.
The nose is Graham cracker and marshmallow, which sounds great, but it had such a phenolic tone that I kept getting a band-aid or duct tape scent.
The flavor had a chalky dry chocolate and a vinegar like sourness. I'd think my bottle was bad but I am not the only person with this response.
The feel was moderate, medium carbonation with little creaminess but no harshness.
533 characters
1.49
/5
rDev
-45%
look: 1 | smell: 2 | taste: 1.5 | feel: 1.5 | overall: 1
So, my brother brings me 6-7 bottles of brews he picked up for me as a gift. This was the only dark brew in the group so I excitedly go for it first, oops!!
Extreme disappointment!! Pop the top and lil foam comes up and out, then more, then more, then OMG...it's flowing all over the counter top, onto the floor, and in the drain! I"m semi new to the better beer world but there was enough "stuff" floating in my glass to build the mountain to erupt this volcano out of.
Flavor--not much to really give info on since about 80% of mine was part of the science experiment gone wrong explosion.
I'll stick to the few that I have tried and liked and avoid this like a plague.
674 characters
2.23
/5
rDev
-17.7%
look: 4.5 | smell: 1.5 | taste: 2 | feel: 4 | overall: 2
One sick puppy of a beer
This 22oz bottle looked very, very dark and had a dark foamy head going into the pint glass.
The aroma reminds me most of that I associate with a fresh from the box band-aid. Indeed, one wishes one had a longer snout after getting a whiff of this brew.
The taste is completely overwhelmed by an extremely bitter, chemical taste. There is quite a lot of roasted flavor which appears to be present but inaccessible due to some sort of obvious problem.
The beer is thick going down but clings quite readily to the insides of the mouth, an attribute which is unwelcome here.
Overall, this beer is undrinkable and should never have made it past quality control.
687 characters
2.02
/5
rDev
-25.5%
look: 4 | smell: 2 | taste: 1.5 | feel: 3 | overall: 2
Picked up three bottles of Baying Hound at the Spirit Shoppe in Frederick: Lord Wimsey's, Sarvara, and this one. I had had Taj Mahound on draft at Gilly's and thought it was decent, so I decided to try a tasting of these three. Started with the Lord Wimsey's - the explosion when I popped the bottle (I'm talking Mentos-in-Coke type explosion) didn't leave much for tasting. The Sarvara was a little better, but still way overcarbonated. I was a little pissed off that they were selling these bottles that seemed like they suffered from a beginning homebrewer mistake of overpriming, so I didn't think that I could write an objective review.
I let the Long Snout refrigerate overnight to try to knock down the carbonation. I still opened the bottle in a tupperware dish to catch any escaping foam. This time it was much better, but the foam still snaked out of the bottle for a good 10 minutes or so. After it had subsided a little, I poured the remaining into a glass pitcher, generating a huge cocoa head (head:beer ~ 5:1). After allowing to settle, I poured about 6 oz into an Imperial pint glass, not willing to commit to a full pint. It had a nice appearance - very dark with no light penetration. Head was minimal after settling in the pitcher. The smell had distinct vinyl-y notes. The first taste blew out my taste buds with an overpowering acetone taste which masked everything until some roasted malt flavor came out at the very back end. I couldn't get past the acetone in subsequent tastes, so the remainder of this one followed the other two down the drain.
I really want to support the local brewery, but I think it will be a long while before I try any more Baying Hound. Hopefully by then they will have perfected their technique.
1,748 characters
3.13
/5
rDev
+15.5%
look: 4 | smell: 3.5 | taste: 3 | feel: 2.5 | overall: 3
Turkey Turkey, three in a row.
A: The stout is black, again with a humongous head. Over 4 fingers, tan and fully of lacey goodness. Unfortunately that large head had foretold general malaise in Baying Hound's ales.
S: Chocolate stands out, semi-sweet with roasted undertones. As the darker aromas pass, that Baying Hound house aroma, a little medicinal and a little infected, comes through. The best nose of the lot though.
T: Easily the best tasting of the three, the darker roast hiding many problems that a pale/brown ale couldn't. Chocolate and coffee shine through, acrid and bitter yet spot on. Underneath, just a hint of unpleasantness lurks. Bready grains, lighter than the roast, are also present. Hops add a vegetal finish. Charred toast is a constant as well, accentuating the roast and toast. Metallic flavors are late to the party but present nonetheless, especially in the latter half of the sip. Luckily they don't get in the way, complimenting the roasted flavors.
M: I'm not sold on Baying Hound. Perhaps a visit next time we are in DC would be appropriate. The roasted aspects are nice; the staleness is not.
1,130 characters

2.32
/5
rDev
-14.4%
look: 1 | smell: 4 | taste: 2 | feel: 1 | overall: 2
Poured chilled in a tall ale glass. Well, tried to. It exploded in a burst of carbonation I've seen only in a homebrew experiment gone awry. It went all over the carpet of my friend Dr. White. A white carpet. Stout on White's white. Not cool.
Anyway, the bottle was still spewing suds ten minutes after opening, like a snake pellet from the 4th of July. The gift that keeps giving.
The smell is so powerful it's almost bad. But it is bold and persistent; aniseed and charcoal dominate.
Charcoal, overroasted grains; disappointing; the recipe has promise but it's been overdone.
The explosion means that the liquid is all water, no bubbles.
Retire this one guys, perfect your technique, and come back.
705 characters

3.11
/5
rDev
+14.8%
look: 4.5 | smell: 3.5 | taste: 2.5 | feel: 4 | overall: 3
A - Very dark with no light, even around the edges. Tall tight dark head.
S - Roasted malts up front with some cocoa and coffee. Would be very good if stronger. A bit of a touch of bitter after a few minutes, then the scent goes away.
T - You get the roasted malts and chocolates, but something... medicinal... like a cheap band-aid or ... iodine? The old red iodine that people used to put on cuts... The malts and chocolates are great... this other flavor knocks it back down.
M - A lot of coating and tingle all over the tongue and throat. Very active.
O - The medicinal flavor really hurts this brew. I hope that it is just this bottle... This beer has a TON of potential. I will try it again and re-review it if it does not have that flavor.
750 characters
2.68
/5
rDev
-1.1%
look: 3 | smell: 2.5 | taste: 2.5 | feel: 3 | overall: 3
Picked up while visiting a friend in Baltimore.
Opens with a loud thwop and head starts to rise, so I pout and yields a ridiculous 3/4 of the glass of head infection like looking. It fades at a med pace but gets propped back up by more rising bubbles, a mocha colored head, over pitch black beer.
Nose has a bit of a contamination like aroma, some wild yeasts but not cultured wild yeast... then a bit of darker malts, not really anything specific just dark malts. its hard to get anything over the wild sour funky contamination. It kinda has a nose like something from White Birch except unintended.
Taste, as I pour the beer finally makes it to the top filtering through all the foam, and brings more contamination. A light dark malt profile, some creamy chocolate and hint of caramel, touch of roast as well, but mostly just funky sour wild yeasts. Some bitterness kicks in, I think some earthy chewy hops in there, fairly bitter overall, and even a bit spicy hop kick on the finish. the head just keeps rising from the bottle, like Audrey II, "Feed me Seymour!" I think it's alive. The head even forms the weird pot marks as portions crumble and others keep rising, a pillowy head. Late on the taste is a bit more bitter roast, with some caramel and molasses, the funk is mostly gone finally. It probably wouldn't be a bad beer without the contamination.
Mouth is med to lighter bodied, tons of carbonation thanks to the yeast infection (see what I did there?).
Overall, obviously, contaminated, and not much left of nice malts. I actually enjoy it a bit since I like the infected beers, but it doesn't hit the spot since I was irking for a nice stout on the first snow of the season, but I'll find a way to partially enjoy it.
1,736 characters
3.18
/5
rDev
+17.3%
look: 4 | smell: 3.5 | taste: 3 | feel: 3 | overall: 3
Very good looking beer, being near black, with a brown head about two fingers high. Leaves good lacing.
Smell is mostly of coffee and roasted malts, but inviting.
Tasting this highly carbonated Stout, the coffee flavors and dark chocolate are up front, but immediately made bitter by the strong appearance of roasted malts. This will also be the finish.
I would wish to taste a little more sweetness in this Stout.
Good approach, but could be refined!
451 characters
3.4
/5
rDev
+25.5%
look: 4.5 | smell: 4.5 | taste: 3 | feel: 2.5 | overall: 3
A- Pours a dark brown with a dark tan head that is huge and leaves a lot of lacing. I don't know if I got a supercarbonated bottle or what, but this one kept foaming over the top of the bottle.
S- Smells of dark caramel, roasted malt, charcoal, and a light smokiness.
T- Quite astringent. There certainly is an abundance of heavily roasted malt. A burnt toast flavor, with caramel, and that charcoal/smoke character.
M- A bit light in body, a bit high in carbonation, leaves an astrigent feeling.
O- A good try but they leaned too heavily on a burnt malt character without enough sweetness or hoppiness to balance. Props for the bassett hound though.
650 characters
1.76
/5
rDev
-35.1%
look: 3 | smell: 2 | taste: 1.5 | feel: 2 | overall: 1.5
S: Coffee syrup with some dark fruit, very porter like, burnt toffee, intense fig aroma, perfumy almost.
L: Tan head that dissipates to just a ring of foam and a touch of dusting.
T: Slight extract twang with a very intense roasty component. Wow!! Very astringent. Almost phenolic like bitterness leads to loads of burnt toast, very charred. Finishes semi-dry with a residual charness and burntness. Tastes like burning.
M: Medium bodied, medium carbonation, astringent.
Wow, this beer was a trainwreck. It's almost like they missed a decimal place and added 10 times the amount of roasted barley. I've never had anything so burnt and charred in my life, it literally was like chewing on a piece of coal. Easy drain pour. Won't give up on this brewery yet, i have to at least try and support my local brewery, despite this beer.
840 characters
Long Snout Stout from Baying Hound Aleworks
2.71
out of
5
based on
26
ratings.