Sarvara Black IPA
| Baying Hound Aleworks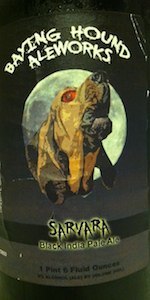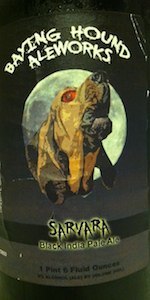 BEER INFO
Brewed by:
Baying Hound Aleworks
Maryland
,
United States
baying-hound.com
Style:
American Black Ale
Alcohol by volume (ABV):
9.00%
Availability:
Rotating
Notes / Commercial Description:
The Sarvara were four-eyed, two-headed dogs guarding the gates of hell for Yama, Lord of Death. These bloodthirsty hellhounds could devour an entire cow in one or two bites. And their baying was so loud, the Banshees (in Ireland) had to cover their ears. No kidding. These dogs were wicked mean.
Sarvara Black India Pale Ale is appropriately fierce, devilishly hopped at over 80 IBUs, black as night and ready to be devoured.
Added by Hopfenpeter on 10-20-2011
This beer is retired; no longer brewed.
HISTOGRAM
Ratings: 13 | Reviews: 9
Reviews by ralree:
1.97
/5
rDev
-29.1%
look: 4.5 | smell: 2.5 | taste: 1 | feel: 3 | overall: 2
A: My glass was just a little warm, which turned the entire thing into head. Now that it's calmed down a little, and it looks good - black, nice tan head, great retention, really nice lacing.
S: Strange smell - hops, but some spiciness in there. Not really that appetizing...
T: Just terrible - this is the most sour beer I've ever had. Literally tastes like sour patch kids thrown into a mediocre IPA with some burned toast on the back end. I'm not really sure what happened here. The beer's description describes it as named after some dogs that guard the gates of hell. It tastes like hell, so I guess that's half-way accurate.
M: Clean, pretty dry, astringent. Good carbonation.
D: Very hard to drink, mainly because of the flavor. Once it's down it's fine though - no stomach pains or anything.
Addendum: Chocolate Syrup Experiment
So, this beer was so unsatisfying that I decided to try a little experiment mixing it with chocolate syrup. I used Ah!Laska Non-dairy Organic Chocolate Syrup. I did not alter my scores at all above based on this, and everything before the addendum is the beer ONLY. This added a nice sweetness, and made the beer a lot more drinkable. It's still super-sour, though, so it's still horrid. I don't think anything can fix this.
1,266 characters
More User Reviews:
3.53
/5
rDev
+27%
look: 4 | smell: 3.5 | taste: 3.5 | feel: 3.5 | overall: 3.5
Baying Hound Sarvara
22 oz. bottle; $4.67 @ State Line Liquors, Elkton, MD
No freshness dating.
Appearance: The bottle opened with a loud crack, and then a 'thumb' of tan foam started rising up out of the top. Needless to say, it poured mostly foam. It's a good thing I didn't let this one warm up a bit as I usually do! After a while I got at least more than half liquid, so I decided to go with that. The rocky dark tan head looked almost like a milkshake; the black body was opaque even when held to direct light, displaying just a thin rim of russet brown along the base of the glass. As might be expected, the head retention was excellent, bolstered by the bubbles rising quickly from below; and the lacing was quite impressive as well. After a few minutes I was able to top-off and had an impressive looking pint sitting before me.
Aroma: Not as hoppy as I would have liked or expected from a beer labeled "Black India Pale Ale", but OK. Mainly roasty and fruity. Pleasant enough. I'm not sure how many hops you can get in here anyway, as once they combine with the dark malts they start to take on 'minty' characteristics.
Taste: Fruity, yeasty, roasty, chocolatey, with some floral and grassy hops. There's a bit of caramel as well, but also some cardboard-y notes. I'm doubting that that's from oxidation however, as this seems to be bottle-conditioned (oh yeah, it is - after finishing I took a look into the bottom of the bottle and it's heavily sedimented). I think it's just from an over-abundance of roasted malts, but that doesn't really make sense either because the pH is in balance... hmmm? Whatever the case may be, it's not very polished. A bit of the alcohol pokes through; and a slight hint of acetone. It is fairly well balanced though. Oddly, it finishes fairly short given the style; and it's dry, chocolatey and roasty, with a bit of cardboard and some minor hop notes.
Mouthfeel: Despite the over-carbonation of my sample, it worked out fine. It was medium bodied and foamy-creamy. I'm intrigued now to see what this tastes like fresh, and I'm intending to look for another bottle along with some of their other offerings.
Overall: A little bit homebrewer-ish. Too much yeast, a bit too much roasted barley, probably a bit too warm of a ferment, and I fear, actual oxidation picked up at bottling. I love the underdog though, and I think it can become a great beer (with a little more hops) if they can just pull it together. Given the low price, I enjoyed it and I'm looking forward to trying it again.
2,536 characters

1.84
/5
rDev
-33.8%
look: 3 | smell: 1.5 | taste: 1.5 | feel: 3 | overall: 2
I was in Silver Spring, MD and bought a bomber from the store
across the street from my hotel. Brought it back to the room
and put it into the fridge for 10 min or so.
When I had just started to pop the cap, it started SPEWING
like a friggin' fountain.
That was the first red flag....
Poured into a glass and it was nearly as black as night...per their
label.
The smell was like a chemical but I could not put my finger on it;
checking around later on ratebeer.com, someone mentioned
"acetone" and that was the "ah ha!" moment. Exactly what I
was trying to think of.
That smell, and its associated flavor, dominated everything
about the beer so I got through about 6 ounces before
throwing it out.
I'm hoping that this was a strange batch but between the
reviews on ratebeer and the other one here, it sounds like
almost all of us got the same awful brew.
Sad, because I was looking forward to a new brewer in the
DC area since I get back there regularly.
963 characters
3.19
/5
rDev
+14.7%
look: 4.5 | smell: 3 | taste: 3 | feel: 4 | overall: 3
22 oz bottle, no date.
appears dark brown, almost black. very thick off-white colored head. great lacing and head retention. aroma is slightly roasty, but overtaken by earthy hops.
taste is mild, slightly bitter roasted malt. citrus & grassy hops. dry finish. smooth carbonation and body. medium thickness.
overall - taste is a bit odd, can't figure out excactly what though. flavors are a bit "muddy".
408 characters
2.26
/5
rDev
-18.7%
look: 3 | smell: 2 | taste: 2.5 | feel: 2 | overall: 2
A - Dark brown, almost black appearance with a medium-thick head.
S - Spicy, harsh smell. Can pick out the hops but mostly the addition of spiciness is overpowering.
T - Wow. Very spicy beer in a way I have not tasted before. Tastes like horseradish was added to the beer. Lots of alcohol flavor along with the spice. Some hop taste but mostly covered up by the spice.
M - Thick and sticky. Hard to drink
O - An interesting attempt at something very different, but this one did not work for me. I could not imagine drinking more than a small taste of it again - I couldn't get through a full bomber. I understand the direction of what they dubbed a "Black India Pale Ale", but the horseradish flavors were overpowering. I would not recommend this, although I will look to try another offering from this local nano-brewery.
826 characters

3.62
/5
rDev
+30.2%
look: 3.5 | smell: 4 | taste: 3.5 | feel: 3.5 | overall: 3.5
Suggestion #1-- open the bottle, let it sit for 10 minutes and that "might" help with the overly active head foam.
Suggestion #2-- refrigerate the bottle on its side to retain a balanced top to bottom mix since the massive foam makes it nearly impossible to pour evenly.
A= The foam swelled up so quickly and filled two-thirds of a pint glass that I could hardly try the beer because there was so little fluid buried under the massive tan head. Lots of luscious foam and plenty of lacing, of course. It's almost like wild-pouring a Guinness Extra Stout but even more with the out of control head.
S= Really nice, strong scents so strong that I could smell them during the pour. Huge dark roasted caramelized malts, some sweetness evident, prune and dark fruits, plenty of hops florals. Slight grassyness. I loved the scent but apparently my nose didn't because every time I took a sniff, I went into massive sneezing fits. Still-- great potent enjoyable scent.
T= Very nice, some of the nose follows into the taste. Dark fruits, dark roasted caramelized malts, dry grassyness, nutty, some bitterness. Carbonation seems balanced despite the initial foam overload, although I had massive belching shortly afterwards. Slight biscuit.
M= Slight metallic astringic finish, very grassy and dry on the tongue yet the malt sweetness and fruits are still evident.
O= A very interesting creation which I hope is still a "brew in the works." I'd buy it again but I hope they can fix the foamy carbonation issue.
1,506 characters

2.32
/5
rDev
-16.5%
look: 2 | smell: 2.5 | taste: 2 | feel: 3 | overall: 2.5
Out of a bomber, that popped and fizzed loudly as soon as it was cracked open, this beer was nothing but foam when I first opened it. After it settled down the liquid was a dark brown color with a towering head of persistent foam. It smelled a little tainted, with notes of roasted malt and green hops behind that. The flavors were… off. I tasted some notes of oxidation, a lot of yeast, roasted barley, green, piney hops and some lingering notes of black malt. It was very frothy, overly carbonated and the body was medium/full. Similar to a homebrew and not worth trying until the figure out the bottle conditioning issues.
627 characters

2.59
/5
rDev
-6.8%
look: 4 | smell: 2.5 | taste: 2.5 | feel: 2.5 | overall: 2.5
I was very excited buying this black IPA, because it sounded real good. It also looked relly good poured into my crystal mug. Great dark brown, almost black in color with a nice deep tan creamy head which has good retention and good lacing.
The smell was very different from any beer I have smelled before. I think there was horseradish in my nose.
I was suspecting after reading the name on the bottle "Sarvara", which was supposedly a fierce dog with two heads biting viciously, that the brewer wanted to make a statement with adding tastebud biting horseradish into the beer.
Tasting the beer , I think this fear was confirmed. Besides that distinct horseradish bite I could not find more flavors, because I believe they were all overpowered. At the end there came some bitter hop flavors as a finish. No good balance.
I do not want to bash down this interresting approach, but the beer had way to much Wasabi bite for me.
925 characters
3.86
/5
rDev
+38.8%
look: 4 | smell: 3 | taste: 4 | feel: 4 | overall: 4.5
Savara Black IPA honors the Savara, a two-headed dog that guards the Gate of Hell. The brewery itself is located in an industrial park near the Rockville (Maryland) Metro station.
The quaff begins abruptly: my entire pint glass was filled with beige-colored foam. Eventually, after a few minutes, there is enough room in the glass for a second pour. This soon ends in a fluffy cloud atop an imperious ebony body.
Don't let the hound on the label fool you; what minimal nose there is consists of a faint whiff of molasses and brown sugar with some touches of grape juice. Initially, at first sip, there is a minor chalkiness; however, this is supplanted by an effectual backbone of malt that evaprates amid mild hoppiness.
The mouthfeel is the strong point in that it provides the palate with a silkiness hedged by a nice balance. No bitterness at the end.
This is probably my favorite Baying Hound brew; it is a uncomplcated beer that makes for a nice quaff on a hot day - despite the 80 IBUs. Also, it is brewed by a small local brewer who deserves my support. Savara won't knock off your socks, but a beer should not have to if it is decent. And we BAs always support the local beers - don't we?
1,205 characters
Sarvara Black IPA from Baying Hound Aleworks
Beer rating:
2.78
out of
5
with
13
ratings