Hingham Beer Works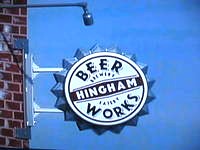 PLACE INFO
Type:
Brewery, Bar, Eatery
18 Shipyard Drive
Hingham
,
Massachusetts
, 02043
United States
(781) 749-BEER |
map
beerworks.net
Notes:
No notes at this time.
Added by BeerResearcher on 09-21-2010
Reviews: 5 | Ratings: 15
3.75
/5
rDev
-3.1%
vibe: 3.5 | quality: 3.75 | service: 3.75 | selection: 3.75 | food: 4
I'm going to call it sterial yuppie... a cross between sport bar and white collar brewpub. Twenty taps and solid food menu. If I worked in a cubicle...this would be my home bar...very impersonal.
195 characters
3.48
/5
rDev
-10.1%
vibe: 3.5 | quality: 3.5 | service: 3 | selection: 3.5 | food: 4.5
Beer Works Hingham has a very modern feel to it. The restaurant is very open and has an industrial feel to it. There are several seats by the windows that you can see part of Hingham shipyards from. The view is not bad. I went on a Sunday afternoon and the crowd was a mix of after church people and families with children. The beer list was extensive with a good twelve beers all brewed on site. I had the oatmeal stout and much like other beers I have had from them at other locations, it was above average, but nothing jaw droppingly good either. I do applaud the variety of styles. The wait staff was prompt and courteous. My one complaint is that they would not let you have one ounce samples to try a beer before you ordered it. I realize this is a bonus, but most other brew pubs I have been to offer this.
The food was actually really good. I had a veggie burger and sour cream and chive fries. For $10 it was well worth it and made me wish I had more. My wife had a chicken sandwich and potatoes and thought it was good. On Sundays they offer brunch which is a nice touch. Other items on the menu appeared pricey, but there were more than enough value options--and the price of the beer generally ranged $4-$5 which is really reasonable.
I will say they do have a good rewards program. Overall, I would certainly come back here for the veggie burger and hope to hit a winner with the beer. A good family friendly brew pub.
1,435 characters
4.05
/5
rDev
+4.7%
vibe: 3 | quality: 4.5 | service: 4 | selection: 4 | food: 4
I stopped in here for dinner and a few beers Saturday night in a light snowstorm. The Hingham Shipyard seems like a development with a lot of potential, and being home to a brewpub makes it even more attractive. The space, itself, was decent--it felt a bit too much like a chain restaurant and had too many TVs for my liking, but the bar area with the tanks high above and behind is pretty nice. Also, the waterfront property probably makes this a great spot in the summer.
I had no idea what to expect when I went in; I hadn't been to a Beer Works in several years, when the Fenway location was perhaps the first brewpub in which I had a beer. I was very pleasantly surprised and impressed with the fresh, delicious beers my friend and I had Saturday night. The Imperial Red IPA, Cellar Pale Ale, IPA and Hingham Pale Ale were all wonderful beers. I'd like to try a few of the German-style beers and the cask as well. The list of house-made beers was pretty long, and organized according to color, which is probably good in an establishment catering largely to families and those who might not typically wander into a brewpub.
The food was also good--fairly typical, but well-done pub fare. The place looks a bit like a chain restaurant inside, but the food is much better. I'd like to try the spent-grain pizza at some point. Service was attentive and friendly without being overbearing, and the bartenders were knowledgeable about their beers.
I wouldn't truck all the way down to the South Shore to check this place out, and I wish the atmosphere was a bit more relaxed, but I'll definitely go back when I'm in the Hingham area again, and probably check out a Boston Beer Works sometime soon.
1,699 characters
2.75
/5
rDev
-28.9%
vibe: 3 | quality: 3 | service: 1.5 | selection: 3.5 | food: 3
edit: We've been coming to Hingham Beer Works a few times a month since they opened because it's close and the customer loyalty program was pretty good - basically bringing the over-amped menu prices closer to a realistic value. Despite several years of experience, the service level here has steadily deteriorated. Bartenders seem to have no training whatsoever beyond how to operate the register. And that seems to be the main priority here. The food is pedestrian and overpriced. The beers are generally okay, but way overpriced. The service simply sucks, and they get away with it because the location attracts a steady flow of customers who don't really care if they get treated like crap. If you have a Groupon or saved loyalty card cash and plenty of patience, you can get a reasonable deal here, but otherwise, you can do better elsewhere in Hingham or Weymouth.
Original review: I really want to like this place, since it's so close to my home, but they make it so hard. I've been to Hingham Beer Works about 5 times since they opened, and have found only two consistent themes: the beer is pretty good and the service is pretty bad.
The location is great - in a new upscale mall right on the water. There's a big outdoor patio that will be nice when the warm weather returns. The place is huge - there's a big dining room in the front that they haven't even used yet. The atmosphere is like the other BW locations - industrial theme with minimal decoration. The same aluminum barstools and chairs, but somehow they don't make the same screetching noise when moved across the floor, unlike the sister locations. Plenty of flat screen TVs in the bar area would make this a decent place to watch a game. If only ...
The food is pretty good, though not always consistent. My wife loves the wings, and the pizzas are pretty good too. The menu is different from the other BW locations - I was told it is a pilot menu that will be rolled out to the other stores if it proves successful.
The beer selection is much like the other BW stores - they trade beers amongst themselves, so you can compare, say, the World's End IPA to Salem's Custom House IPA. The brewer seems fond of making amped-up versions of lighter styles; an early seasonal offering was an imperial pilsener, and a double pale ale is on now. None of the beers have blown me away, but I haven't had a bad beer here either.
The brewery itself occupies two floors directly behind the bar; only the fermenters on the top floor are readily visible. I find it more fun to see actual brewing activity in a brewpub.
And then there's the service ... The first two weeks they were open, the place was double-staffed with managers and servers from other BW locations. It helped quite a bit while the new hires were figuring out what to do. Unfortunately, the training they received was focused more on learning the corporate systems (seating charts, POS terminals) than in actually serving. We have sat at the bar on each visit. Several friends have said their experiences in the dining room have been terrible, with long wait times for food and drink (and servers) to arrive. When I went last night with the wife for an early supper, we found two bartenders and around 10 customers at the bar. The bartenders clearly were not going to make much money on a slow Monday, so they passed their time complaining to each other about how much they didn't want to be there. I asked one of them to tell me about the double pale ale, and she replied "It's hoppy, really hoppy, and I don't like hoppy beers." Not the attitude or level of training I would expect to encounter at a brewery. I filled out a comment card for the manager, and she comped our meal. Hopefully, she'll also provide some remedial training in actually paying attention to the customer.
Hingham Beer Works will be a big success because it's hip, trendy and located in a busy new upscale mall. Hopefully, the brewer will stay focused and keep making good beers that we can enjoy, because the beer does not appear to be a high priority for the management or the rest of the staff.
4,105 characters
4.25
/5
rDev
+9.8%
vibe: 3.5 | quality: 4 | service: 4.5 | selection: 4.5 | food: 4.5
I was able to check out the South Shore's newest brewpub the second day it opened. The newest Beer Works site is located in the new Shipyard development and is easy access to Route 3A. The decor isn't much different than the other Beer Works locations, except that one whole wall is filled with windows that look out to the nearby marina. I suspect when summer returns they'll have tables outside in that spot.
I noticed the menu was slightly different than the other locations and I was told they have a slightly different set of offerings. One of the new items that I recommend is the cheddar bacon mashed potato spring rolls. For a place that just opened the service was great and the bartender was very friendly.
Since they just opened they aren't brewing on site yet but had a good set of beers brought in. I typically find Beer Works brews hit or miss, but I had some very good ones this night. I was especially impressed with the double pale ale. Their Octoberfest is worth trying and was satisfied with the imperial ESB they offered as well.
The moment of the visit came later when a guy walked in, stared at the beer list for a while, then up at the stainless steel brewing equipment that sits above the bar, then back at the list, only to ask "Do you have anything domestic?"
1,288 characters
Hingham Beer Works in Hingham, MA
3.69
out of
5
based on
1,613
ratings.