Buckeye Roots Hefeweizen
| Neil House Brewery & Homebrew Supply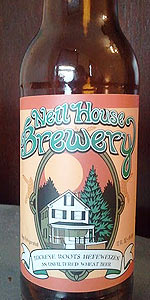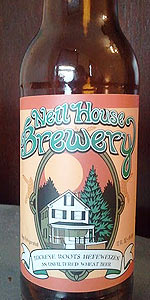 BEER INFO
Brewed by:
Neil House Brewery & Homebrew Supply
Ohio
,
United States
Style:
Hefeweizen
Alcohol by volume (ABV):
4.00%
Availability:
Year-round
Notes / Commercial Description:
No notes at this time.
Added by ne0m00re on 03-14-2011
This beer is retired; no longer brewed.
HISTOGRAM
Ratings: 13 | Reviews: 11
Reviews by LiquidCucumber:

3.73
/5
rDev
+10%
look: 4 | smell: 3.5 | taste: 4 | feel: 3.5 | overall: 3.5
A - Cloudy amber, almost orange. Pours with a foamy white head that quickly dissipates.
S - Bready malts and clove along with a little banana.
T - Fairly sweet malts with a nice big hit of banana/clove from the yeast. You get a little straw and earth in there too.
M - Fairly high in carbonation and it likes to leave a bit of a tingle in your mouth. Quite refreshing.
O - Easily quaffable and quite full flavored. A pretty decent beer from a new brewery. I haven't been impressed with their brews from the festivals around, but this is a solid session ale if only a bit pricey (compared to the big boys that is).
619 characters
More User Reviews:

3.19
/5
rDev
-5.9%
look: 3 | smell: 4 | taste: 3 | feel: 2.5 | overall: 3
22 ounce bottle, picked this up yesterday from Blacklick Wine and Spirits. Served in a weizen glass, the brew pours a hazy golden/orange color with a huge frothy off-white head, I guess it's around a 4 inch head. I had to wait a little while for the head to settle down before I poured more beer into the glass. Head retention is good, but there's pretty much no lacing at all. Aroma is cloves, bananas, grainy malt and a bit of bubblegum. It tastes like wheat/grainy malt, cloves, bananas, and a bit of spice. Not a bad tasting brew, but it just feels like something is missing. Mouthfeel/body is light/medium, it's very spritzy and has way too much carbonation. Not a bad overall brew, at $3.99 a bomber I'd try this one again.
729 characters

3.88
/5
rDev
+14.5%
look: 4 | smell: 3.5 | taste: 4 | feel: 4 | overall: 4
Pours a muddy brown with a tan head that fades fast. Smell is strong with yeast and clove notes. The taste is more complex than what the smell lets on. The strong yeast flavors are there, with some other spices. The mouthfeel is medium, a nice full bodied hefe. This beer is different than your typical hefe, but is packed with flavor and is very refreshing. A great beer that isn't just another wheat beer.
407 characters

3.56
/5
rDev
+5%
look: 4 | smell: 3 | taste: 3.5 | feel: 4 | overall: 4
Live review of a 12 oz bottle, $1.99 each.
A: Slightly cloudy golden with constant bubbles running up it, it poured with a two-finger white head that died to a decent collar with quick lacing.
S: Banana almost-bubblegum, orange peel, sweet angel food cake, green leafy hops. Decent.
T: Drier than your usual hefeweizen, which makes it more palatable for me, to be honest. The orange peel is accented. The angel food cake and banana linger very briefly in the background until a slightly metallic hopping comes in. It's a very crisp quick taste; I wish it would develop longer.
M: Thinner but with a creamy to crisp dry carbonation. The mouthfeel works really well with the flavors.
D: This is a good session beer: refreshing but with enough complexity to beckon you to drink more.
780 characters

2.19
/5
rDev
-35.4%
look: 1.5 | smell: 2.5 | taste: 2 | feel: 3 | overall: 2
12 ounce bottle from Ryan011235, poured into a shaker pint. And it's a rather curious pour for a hef. Hazy rusty caramel body with a fizzy and short-lived head. Before long, nary a bubble remains.
Typical hef nose with appreciable amounts of wheat, banana and clove. Tangy wheat flavor is certainly there, too, but something about the malt profile seems to coax out a stray catsupy note now and again. Not strong enough to be terribly distracting. A hint of cardboard is more of an issue, though (bad seal on the bottle, maybe?). Thickish with plenty of banana sweetness, bubblegum and clove. Not bad, but could stand a little fine-tuning.
641 characters

3.8
/5
rDev
+12.1%
look: 4 | smell: 4 | taste: 3.5 | feel: 4 | overall: 4
Poured into a Samuel Smith pint glass on 4/12/11
Orange marmalade color with a floor of golden highlight; a little bit sunburst. Not perfectly clear but astounding clarity for being unfiltered; nearly all the sediment remained in the glass on its own. Lots of bubbles cling to the glass. A three-plus finger slab of foam rose quickly, eventually becoming dense and dropping to an 1/8th inch layer. I'm surprised no lace is left in its wake.
Clean wheat aromas come across in a mellowed blend of grains with a hint of toastiness. Banana is stronger but has a nice, fresh ambiance. Kind of like banana wafer pudding; most excellent. Very light grassiness - prairie-like.
Wheat plays a more prominent role to taste than the banana. Dry and toasted. Banana is downplayed in lieu of an apple crispness that moves in conjunction with a brushing of earthy hops. The finish is gets a bit weird, with unbalanced, dry toasted wheat residuals swooping in (this phenomenon calms down after a while). In that respect, I'd prefer a bit more banana sweetness to round it out. Not overly spicy.
Based on the visuals, it would make sense if the carbonation was high. However, it opens up quite nicely. It's appropriate for the style and matches the medium-light, grainy body of the beer.
Really nice and solid throughout. It holds up well over the course of the glass. A few tweaks and this could be very good.
1,399 characters
3.35
/5
rDev
-1.2%
look: 3 | smell: 3 | taste: 3.5 | feel: 3.5 | overall: 3.5
Pours a hazy copper color with edging and some fingers of lace present after each drink. The aroma is faint, there are notes of clove, banana, and wheat. The taste mainly follows suit, there is a caramel and wheat backbone, with flavors of banana and clove through. The back end leaves a metallic taste like a hard water. The mouthfeel is moderately carbonated. Overall it is not a bad beer, the taste is enjoyable but the metallic nature of the back end is a little bit off putting.
483 characters
3.17
/5
rDev
-6.5%
look: 3.5 | smell: 4 | taste: 3 | feel: 2 | overall: 3
This beer poured a very cloudy/murky light copper color and formed a huge foamy off white head that coated the glass with lace as it subsided. A medium amount of carbonation is present. An aroma of banana, cloves, spices and hops. The flavor was of hops, clove, bread and spices. The body was medium light and the finish sprite.
328 characters
3.28
/5
rDev
-3.2%
look: 2.5 | smell: 4.5 | taste: 3 | feel: 2.5 | overall: 3
The name of this brewery reminded me of Neil Young. So its Down by the River I go. Poured into a Paulaner Weisbier glass.
Single purchased at Pace-High for $1.99. Let's hope that is a good value for this beer.
Appearance
Muddy and dark. Its got the color of bruised fruit. It certainly is hazed, after I added the yeast at the bottom, which was fairly chunky as it poured in. The head is a decent size and retention seems to be good as well. It just has an ugly color.
Smell
Everything seems in order here. Lots of nice banana and lighter levels of clove. Moist banana nut bread, a little bit of bubble gum from time to time and plenty of spice. This smells really nice. I could sniff this all day.
Taste
The spiciness and clove seems to translate into the flavor with much more gusto that they did in the aroma. Also, the banana is weaker in the flavor than in the aroma. Its like the characteristics all flip-flopped. This makes for a very yeasty, spicy and clove-y hefe. Its pretty good, and I can't pick out much in the way of flaws, I'd just much rather taste that lovely banana. The back end seems to be healthily hopped, leaving with notes of grass and even pine.
Mouthfeel
Way too prickly. It really hurts the smoothness that this beer could have. One of the best parts of a hefe is the pillowy carbonation. This is to stabby and dry.
Overall
A solid beer from Neil House. Its the best one by them I've had thus far.
1,433 characters
4.17
/5
rDev
+23%
look: 3 | smell: 3.5 | taste: 4.5 | feel: 4.5 | overall: 4.5
Scored one of these from a friend who picked up a few bottles on a recent trip there. Crystal clear pour, odd for the style but looks ok.
The smell is your typical hefe.
Taste is very smooth, easy to drink, I really enjoyed it. Drinkability is a 5.
Perfect CO2 level, refreshing.
Would get this one again, perfect for the heat wave we are going through!
361 characters

3.5
/5
rDev
+3.2%
look: 3.5 | smell: 3.5 | taste: 3.5 | feel: 3.5 | overall: 3.5
Thanks Jason. Gotta love the extra he always sends me.
Pour is dark. I woud swear this was a Dunkel, but whatever. Not the head I want, but Ill take it.
Intially it was metallic and very sweet, but now I can get more of the banana flavors from the yeast. Its still very much dominated by the caramel notes from the malt. , its still light and theres too much of a metallic flavor to be great. Get rid of that metallic taste, and wed have something pretty good here.
Some tastes have this awesome caramelly banana flavor, but then I get overly metallic. I wish it would stick with the former.
595 characters
Buckeye Roots Hefeweizen from Neil House Brewery & Homebrew Supply
Beer rating:
3.39
out of
5
with
13
ratings