Four North Pale Ale
| Neil House Brewery & Homebrew Supply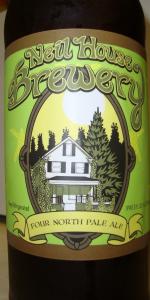 BEER INFO
Brewed by:
Neil House Brewery & Homebrew Supply
Ohio
,
United States
Style:
American Pale Ale (APA)
Alcohol by volume (ABV):
5.00%
Availability:
Year-round
Notes / Commercial Description:
No notes at this time.
Added by bluejacket74 on 06-04-2011
This beer is retired; no longer brewed.
Ratings: 6 | Reviews: 5
Reviews by beveritt:
3.2
/5
rDev
+19.4%
look: 3.5 | smell: 3.5 | taste: 3 | feel: 3.5 | overall: 3
Presentation: Had on tap at Minute Bar in Lancaster Ohio. Served in a standard pint glass.
Appearance: Arrives with modest head, about 1/4 inch of light tan foam. This settles quickly to a few spots here and there. The beer itself is the color of tarnished copper and completely clear.
Smell: Notes of pine and flowers.
Taste: Bitter hoppiness upfront with a strange bitterness that doesn't seem to come from hops; I would almost call it an off flavor. Strong caramel malt backbone. Lingering bitterness well after each sip.
Mouthfeel: Average carbonation level. Decent body.
Drinkability: Not the best beer I have ever had, but I can't knock it too much considering I finished two pitchers one night and a few pints the next. A decent start for this new brewery; shows some promise.
788 characters
More User Reviews:
2.6
/5
rDev
-3%
look: 3.5 | smell: 3.5 | taste: 2 | feel: 2.5 | overall: 2.5
22 ounce bottle, just picked this up yesterday from Blacklick Wine and Spirits. Served in a nonic pint glass, the beer pours a hazy orange/amber color with about a half inch off-white head. Head went away quickly, but there's a good amount of lacing left on the glass. Aroma is mainly citrusy and floral hops, and some bready malt. Nice but light aroma. Unfortunately the taste isn't nearly as nice. There's a weird bitter flavor that isn't hoppy bitter, and also a slight acidic/sour taste. Some hoppy flavors are noticable, but they're overpowered by the off flavors. It's just not a good tasting brew. Mouthfeel/body is light/medium, it's a bit creamy and watery and is well carbonated. Not one of the better pale ales I've had, and even for just $3.99 a bomber I think I paid too much for this. I'll try it again in the future, but not anytime soon.
853 characters
3.58
/5
rDev
+33.6%
look: 4 | smell: 3.5 | taste: 3.5 | feel: 4 | overall: 3.5
I purchased this beer at Palmer's Beverage in Columbus. I figured this for a new brewery out of Columbus, but had no idea how small they were. On Untappd, their beer is listed as homebrew. So, I feel an additional responsibility to give a fair, accurate and unbiased review of this beer. In this vein, I am particularly concerned with the two prior poor reviews, and wonder if they gave this ale a fair shake.
The label is a pale green with a Cape-Cod colonial style house on the label. Poured from a 22 oz bottle into a tulip glass. There was a bit of an incident uncapping this, as the beer erupted losing me a couple of ounces. This was likely due an excess amount of yeast added during the bottle conditioning process.
Pours a dark amber color, like the color of bow rosin. A thick, two finger creme colored head slowly reduces with plenty of lacing down the sides of the glass.
Smell is understated, with hints of citrus hops and caramel malt. Undertones of citrus and spice. Rather unremarkable.
Grape and citrus tastes initially present, with a creamy malt middle and a mildly dry and bitter finish. Easy tasting, this has session ale qualities to it. Certainly not offensive tasting.
Light to medium bodied, with a creamy middle and dry finish.
I have no idea why this has two negative reviews. I find this to be an average to above-average session ale. If I found this on tap in Columbus, I'd certainly order a pint. While it is no Columbus Brewing Co. HOP fresh, it is pleasant and easy enough drinking that I would have it again. And, based upon this first effort from these guys, I'd want to give them a chance to put out more quality brews and support them. You should do the same if you find it!
1,717 characters

1.39
/5
rDev
-48.1%
look: 3 | smell: 1.5 | taste: 1 | feel: 2.5 | overall: 1
Thanks(?) to Ryan011235 for this bomber, serving size that proved to be far, far too generous.
Ah, the humble pale ale. An often overlooked and underappreciated style, but a standby that demonstrates the brewer's got the basics nailed down. Or not…
Let the record show that there's nothing wrong with the appearance of Four North. Oh it's a little on the dark and mysterious side, but with a generous cap of frothy off-white head and a bit of lazy lacing. And there's nothing particularly noteworthy about the mouthfeel as well; mediumish body, moderatish carbonation. This is definitely not your standard pale ale, though.
Quite the bouquet on this stuff. Last week's newspapers stacked up in the garage, canned peas, stale sugar cookies, vague leafiness, way-past-its-prime citrus. At this point I realized there was zero possibility of finishing the bottle on my own, so I recruited my wife's assistance. (She's a fellow beer lover.) After a few big sniffs, a few shakes of the head and a WTF? Look, she bravely dove in and took a big sip. "Why'd they put rotten oranges in it?" And thus my hopes of assistance in finishing the bottle went down the drain, soon to be followed by a significant amount of said bottle's contents.
A head-scratching mix of the stale and the harsh. The wife nailed the rotten oranges thing, but neglected to prepare me for the accompanying mysterious chemical flavors. Butterscotch chips retrieved from a long-neglected spot underneath the fridge alongside dish detergent residue. Old cardboard paired with astringent bitterness. Even the malt itself seems stale. Was what I just experienced actually the brewer's intent??
1,680 characters

2.25
/5
rDev
-16%
look: 2 | smell: 2 | taste: 2.5 | feel: 2.5 | overall: 2
Had the trusty E&J Cask & Cream glass ready. Opened the bottle; it gushed. Thanks, Neil House.
Poured into a Duvel tulip on 9/28/11.
Muddy amber-brown; it looks murky just sitting there but not so bad when held to the light, I guess. Pours a three-plus finger head of sandy hued foam. The head starts to collapse slowly to a bubbly layer. The saddest thing being that it leaves hardly any lace (just one lonely clump). It's like the head just peeled away from the glass. Weak. Swirling keeps the head alive.
The aroma is less than pleasant. The hops are all sorts of earthy, leafy and dirty. Where is the citrus? A vigorous swirl drags forth a miniscule nip of pine. Suggestions of middle-aged potting soil. Lightly buttery; actually, the butter quotient is low for Neil House. Malts come across as stale bread and caramel. Uh oh - just got a few whiffs of over-ripe orange. This smells really soapy, too. Stale and rotten tones. The aroma is a total bummer.
Oh my word. The taste and feel are both so thin they are inseparable. Butter is low; that's good. Bitterness is pretty low, too; probably a good thing given Neil House's penchant for making beer taste like aspirin (oh, but as it warms up, sure enough, there it is...ewh). Tea leaves and hints of dirty, earthy hops. Floral notions are unpleasantly mixed int, too. hints of rotten citrus peel. Toasted bready malts; not much caramel, though. As far as drinking goes, the carbonation is pretty low; kind of a surprise there. Finishes with residual bitterness and a slew of dirt and earth.
Four North is something of an ok attempt as far as Neil House goes; then again, when it comes to the brewery that seems dead set on being a direct competitor with Indigo Imp, ok doesn't really mean much. Recommended for MbpBugeye and PDXHops; otherwise, pass.
1,811 characters
Four North Pale Ale from Neil House Brewery & Homebrew Supply
2.68
out of
5
based on
6
ratings.