Dismiss Notice
2010 Reserve Pale Ale
| Endeavour Beverages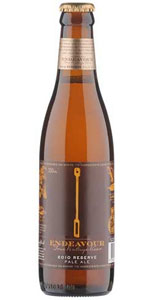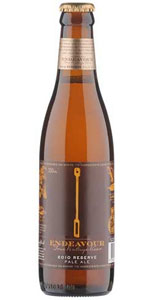 BEER INFO
Brewed by:
Endeavour Beverages
Australia
endeavourbeer.com
Style:
American Pale Ale (APA)
Alcohol by volume (ABV):
4.50%
Availability:
Limited (brewed once)
Notes / Commercial Description:
No notes at this time.
Added by laituegonflable on 10-05-2010
This beer is retired; no longer brewed.
HISTOGRAM
Ratings: 11 | Reviews: 8
Reviews by Macca:
2.9
/5
rDev
-7.3%
look: 4 | smell: 4 | taste: 2 | feel: 3 | overall: 3
Pours a cloudy bright golden colour with a dense bright white head.
For a year or more old beer this is still smelling quite fresh. Plenty of citrus hoppiness still coming through.
Geez the palate certainly doesn't back up the nose. Hardly any hoppiness and a flabby malt profile.
If I didn't have access to reviews of this beer when it was fresh I'd be prepared to give it the benefit of the doubt because of its age but I do and I reckon the nose would drop earlier than the palate anyway. Disappointing.
509 characters
More User Reviews:
3.1
/5
rDev
-1%
look: 3 | smell: 3 | taste: 3 | feel: 3 | overall: 3.5
Pours amber with a fading head.
Nose shows light fruity hops with white grapes and passionfruit at the forefront, very reminiscent of a white wine. Underneath is soft grainy malt.
Very similar flavours, although the malt is a bit more assertive with bolder grainy and bready notes.
A little plain but pretty easy drinking and refreshing.
337 characters


2.7
/5
rDev
-13.7%
look: 3 | smell: 3 | taste: 2.5 | feel: 2 | overall: 3
The packaging is outstanding. Trendy bottles, interesting labels. As for the contents....
a) Cloudy, pale amber burnished gold. Thin white head
s) Very citrussy, waxy, honeydew/tropical. Full of promise.
t) Fairly light-on, quite a disappointment considering the aroma. Some fruit salad, with a subtle malt structure, slight bready note.
m) Dry, quick finish...
d) I think this is constructed for a crack at the Gen-Y market: a dryish style with some fruity aromas. Not confronting, not challenging, but enough differentiation from standard offerings to appeal to the easily-influenced.
As for keeping this beer (as promoted by the brewer), forget it. There is nothing to support it: no alcohol, no hops, no big malts. Will turn to dishwater in 12 months...
$17.99 for a 4-pack is ridiculous. Some pretentious 25 year-old banker will pay it, though.
856 characters

3.34
/5
rDev
+6.7%
look: 3.5 | smell: 4.5 | taste: 2.5 | feel: 2.5 | overall: 4
Pours a hazy, very cloudy/translucent orange-amber with modest head at first that sinks to leave a ring of gold-tinged cream lace, nice stickiness to it. Not sure about that cloud though, it resembles a homebrew haze in a commercial pale. Colour is nice though.
Mmm, smells tasty. Lots and lots of citrus on that nose plus some passionfruit. Wonderfully fruity with a large lemon zest and a touch of pineapple as well. Hint of caramel malt hiding behind, but this nose is all about the hops. Delicious hops. Gimme more of those hops!
Taste is quite a letdown. Starts off kind of floral with hints of lemon zest and a nice grainy flavour, not too sweet. Quickly moves to the mid-palate where this slight wheat flavour comes in in a bready kind of way. It's not revolting but I am disappointed it's so dominant there. Only faint hints of those delicious hops on the back, they peek through without asserting themselves with any sass or confidence. Really needs more early/midway hopping to match those delicious late hop additions. That would really add a great finish to an otherwise fairly lacklustre palate.
A bit of viscosity in the mouth but otherwise not a lot of texture to this. Again, a bit uninspired.
Yeah, certainly a good drinking beer, better than a lot of stuff out there but just needs more flavour to it. I could see this being delicious since they're clearly using the right ingredients- just not enough of them.
1,432 characters
3.76
/5
rDev
+20.1%
look: 3 | smell: 4.5 | taste: 3.5 | feel: 3 | overall: 4
Pours a cloudy, but very pale light golden colour. Head is quite fine-bubbled but a little filmy, and it doesn't retain very well. Minimal lacing and carbonation. Looks a little flat overall. Not a great look, but decent enough.
Nose is pleasantly hopped, giving off some reasonable tropical fruit characters, and a light citric acidity. Slight hints of passionfruit and lemon zest; quite sharp and really quite pleasant. No sweetness to match with it, but that's no bad thing in a low-gravity pale ale. I have to say it's quite a delicious nose.
Taste is light, but also not bad. Light sharp fruit characters on the front, giving a subtle uplift to the palate, before it unfortunately disappears somewhat to a rather watery and flaccid ending. Minimal bitterness on the back; merely a light carbonic acid/soda stream character. Feel is very light, and does it no favours overall.
I feel this beer gets panned a lot for its rather mismanaged marketing campaign (at least in craft beer circles). For all its mangled claims to be a "vintage" beer, and its laughable assertions that it can be cellared for long periods, it's a very drinkable pale ale.
Just don't lie one down expecting it to be fantastic a year from now.
1,222 characters

3.07
/5
rDev
-1.9%
look: 3 | smell: 3.5 | taste: 3 | feel: 2.5 | overall: 3
Another fancy quaffing ale from a bunch of wine-makers who decided "lets get in on that craft brew action". What can one say about brewing beer with a viticulturist background. Making wine is more of an exact science than brewing from my understanding, and as I imagine a wine-maker would go into this exercise with the belief that X + Y = a great beer, however the outcome isn't always as predictable as one would think.
Poured from a 330ml bottle into a tulip pint.
A: Pale amber cloudy body with a dense-packed but quick fading white head. Fairly normal stuff here.
S: The nose is quite fruity in the hops; namely passion fruit and citrus with an underlying body of toffee malts, and a hint of honey. One other thing I would like to add: the hops are very upfront and bold which leads me to anticipate a decent APA style flavour, don't disappoint me Endeavour!
T: Not nearly as good as expected, but nonetheless drinkable. I can't help but feel that this ale suffers somewhat because of it's average ABV, and with a bit more refining it could have been the hop-slap-in-the-face that I was expecting. The flavours are all there; passion fruit, lemon citrus, toffee malt base and that hint of honey sweetness. Hardly any bitterness to speak of. Plus there is something similar to a Spumante in the flavour, a grape character.
M: The carbonation is a little on the light side, with a slight dense body that again draws comparison to a Spumante.
D: Overall it's not a bad drop. A little more expensive and blander than other APA's (especially Dr. Hops favourite: Little Creatures Pale Ale), but otherwise it's quite drinkable. I have marked it accordingly.
Food match: As it's on the sweeter side of APA's I would match it with light BBQ or even dessert. It really depends if you're drinking it with other brews in a multiple course meal, and I don't really buy into the "light to dark" beers concept personally, so often I will eat a meal with a dark beer (like a Stout or Porter) and finish dessert with a light beer (like a Pale Ale or Wit beer)... sometimes rules are meant to be broken.
2,097 characters
3.23
/5
rDev
+3.2%
look: 3.5 | smell: 3 | taste: 3.5 | feel: 3 | overall: 3
Another offering from my mate and it pours a cloudy pale golden hue with nice carbonation that leaves behind a frothy two finger head that stays and leaves clingy lacing,the smell is white grapes,grain and grassy lemon zest,the mouthfeel is just above light bodied and has tastes of light fruit salad,a tinge of passionfruit,pale malts and finished with a tinge of flowery hops and overall i think i need some new mates as this doesnt deliver what it states on the label cheers.
478 characters
3.27
/5
rDev
+4.5%
look: 3 | smell: 3.5 | taste: 3 | feel: 3.5 | overall: 3.5
Disclosure: This bottle was won as part of a promotion run by the brewery.
The Pale pours a cloudy, straw colour with a moderate white head. Poor head retention.
The aroma is light with mild notes of orangey Cascade hops and some mild graininess.
Light, grainy malt profile with very mild hops. This is almost like an expensive version of Fat Yak.
Medium-light body with moderately-low carbonation.
I really don't know how this is supposed to work as a beer for aging as is recommended by the brewer. It seems like they have unfortunately gone for a bit of style over substance and the final product reflects that.
619 characters
2010 Reserve Pale Ale from Endeavour Beverages
Beer rating:
3.13
out of
5
with
11
ratings