2010 Reserve Amber Ale
| Endeavour Beverages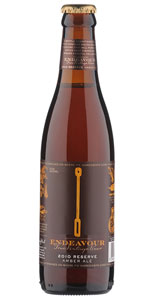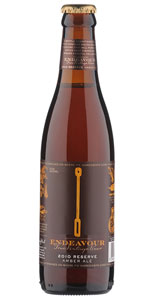 BEER INFO
Brewed by:
Endeavour Beverages
Australia
endeavourbeer.com
Style:
American Amber / Red Ale
Alcohol by volume (ABV):
5.20%
Availability:
Year-round
Notes / Commercial Description:
No notes at this time.
Added by vancurly on 10-14-2010
HISTOGRAM
Ratings: 12 | Reviews: 10
Reviews by Macca:
3.06
/5
rDev
-1.3%
look: 4 | smell: 3 | taste: 3 | feel: 3 | overall: 3
This pours a slightly cloudy copper colour with a decent off white head.
Slightly sweet maltiness on the nose. Not a lot of contribution on the aroma front from the POR hops.
Not a lot happening on the flavour front but I'm willing to give it the benefit of the doubt given it's last years batch. Some bready malts but again not a lot of hoppiness. Not as sweet as I expected.
Quite a bit of carbonation.
An ok beer but I think it might have seen better days (at least I hope so).
484 characters
More User Reviews:
3.24
/5
rDev
+4.5%
look: 3 | smell: 4 | taste: 3 | feel: 2 | overall: 3.5
Pours brown with a small head.
Nose shows nutty and toasty malt, soft chocolate and caramel. Pretty nice start.
Flavours are a bit of a let down after that though, with just a little caramel and nutty malt. Pretty plain.
Watery body. Could use more carbonation.
261 characters

3.02
/5
rDev
-2.6%
look: 3 | smell: 3.5 | taste: 3 | feel: 3 | overall: 2.5
Pours a reddish brown color with almost no head, but does leave a ring around the edges to lace the glass. Smells of chocolate malt and fruity esters. Tastes fairly sweet with malt, not much in the way of hoppyness or bitterness. Mouthfeel is pretty watery, a little heavy. All in all, it's a drinkable beer, only because there's not much flavor to object to.
359 characters

3.03
/5
rDev
-2.3%
look: 3.5 | smell: 3 | taste: 3 | feel: 3 | overall: 3
a) Appealing chestnut amber, offwhite 1" head
s) Chocolatey, slightly floral note, perhaps resinous.
t) Chocolate and caramel again, fairly 2-dimensional. No significant hop character on the palate that I could discern.
m) More body than the Pale Ale, but still quite lighyt and dry. Touch astringent.
d) Quite easy to put away. it's not very complex.
Again, I perceive this as a Gen-Y initiative; give them a non-challenging Pale Ale, and a chocolatey darker ale for something different, but don't scare them off with too much hop or bitterness.
They market this as being cellarable. I disagree. The chocolate may turn to raisins and sweet sherry, but the body will think out and it'll lose all appeal.
709 characters

3.08
/5
rDev
-0.6%
look: 3.5 | smell: 3 | taste: 3 | feel: 2.5 | overall: 3.5
Pours an ominous red-tinged deep amber with a bit of cloudy haze. Head is off-white, quite nice when poured but doesn't have much fight against the evil forces of gravity. Quick bead keeps a small film alive but it's like trying to give CPR to a decapitated man. Not only is he not going to make it, there's nothing there to act upon. Lace, however, is nice and sticky, and overall doesn't look too shabby. For a headless corpse.
Smells quite sweet with a lot of grain character. Hints of dry-roasted barley and some nutmeggy spice that doesn't cover up that odd citric tartness that spells 'weak aroma'. Chocolatey note and almost cola coming off as well. Quite nutty, really, but light and without much earthy bitterness. Bit of a mish-mash and nothing truly great.
Taste is a similar kind of blend. Flavours kind of all hit at once, with not a lot of development in the palate. Sweet grain, rye bread and some cocoa notes on there, while hop notes follow shortly afterwards but don't make much of an impact. Slightly citric with passionfruit and kiwi on there as well. A light bready flavour pops up at the end, exposing the shortcomings of the hops. Yet the texture is oddly dry at the back; for the most part it's fairly thin with a lot of carbonation sizzle, and I think that's what's dessicating the palate here. But in spite of the confusion, this is not unpalatable, and the welcome bitter touches add a drinkability to an otherwise fairly bland affair.
1,464 characters
2.92
/5
rDev
-5.8%
look: 2.5 | smell: 3 | taste: 3 | feel: 2.5 | overall: 3
Pours a slightly dark orange, but certainly light for an amber amber. Head is filmy from the start, a faint but fine bubbled crown of white. Minimal lacing, no visible carbonation. Looks mediocre at best, and extremely disappointing at worst.
Nose has slight hints of nutty grain, and a whiff of carbonic acidity, otherwise the grain character becomes a bit muted and slightly rank. Bit of burlap sack to it, which is rather unpleasant. It's very light on though, so while it's not particularly exciting, it's not very offensive at least.
Taste is very thin indeed, very lightly sweet grain character on the front, with a reedy finish of husk and faint acidity. Very little on it, and the characters it does have are disappointingly weak. Feel is exceptionally lacklustre, a thin and uninspired body to match the minimal flavours.
Certainly not a very good beer, and far worse than their Pale Ale. The lack of body is atrocious for a beer they think will age well, and this beer makes me feel scornful of their whole claim to "vintage" beer. Very mediocre indeed.
1,066 characters
3.35
/5
rDev
+8.1%
look: 3.5 | smell: 3.5 | taste: 3.5 | feel: 3 | overall: 3
The brew pours a see through light red amber hue with decent carbonation that leaves behind a two finger fast vanishing head and some bubbly clingy lacing,the smell is oak,vanilla pods,dark malts and herbal hops,it has a rather smooth well carbonated light bodied mouthfeel and has tastes of oak,tobacco,bready caramel malts and dark bitter chocolate which is finished off with a herbal hoppy bitterness and overall its not bad and kind of reminds me of James Squire Amber Ale in some sort of way.
497 characters


3.44
/5
rDev
+11%
look: 3.5 | smell: 3.25 | taste: 3.5 | feel: 3.5 | overall: 3.5
I had a 330ml bottle bottle 2013 harvest.
Appearance: poors clear golden Amber with slight off white tinge to the head.
Aroma: good malts aroma.
Flavour: smooth mouthfeel, good caramel malty flavours with mild bitterness on the finish. Very drinkable and satisfying.
Overall: great beer, very good flavour worth a try.
318 characters

3.17
/5
rDev
+2.3%
look: 3 | smell: 3.5 | taste: 3 | feel: 3.5 | overall: 3
Chimay chalice.
A: Visibly thin head. Dark brown/amber colour. 3
S: Relatively pleasant (green) apple and roasty notes. PoR metal. 3.5
T: Again a sort of subtle fruity, appley roast. PoR metal and the associated unpleasant bitterness. 3
M: Body is fine for the proported style. 3.5
D: It is relatively drinkable and would be a 4 but it's getting knocked down to a 3 for the following reasons:
I really dislike the disingenuous packaging/marketing of this beer. It is not a "vintage" beer in any sense of the word. In fact I'm skeptical about calling it a craft beer, considering the use of PoR hops which as far as I'm concerned are usually a tool of the macro devil.
The price is a ripoff. And the 4-pack packaging is a disingenuous attempt to be associated with genuine, high-quality craft.
Seeing as it's incredibly hot I'm just freezing my bottles and downing them like I would a cheapish half-macro half-craft offering likes James Squires. This beer is not worth the price.
I actually think this beer's malt body has potential if they:
a) stop marketing it as vintage, its style clearly precludes it from being cellared
b) reduce the price
c) use anything other than PoR hops
1,193 characters
2.93
/5
rDev
-5.5%
look: 3.5 | smell: 3 | taste: 2.5 | feel: 3 | overall: 3.5
Disclaimer: This bottle was received as part of a promotion run by the brewery.
This pours a mostly, clear amber-copper colour with a small, short lasted off-white head.
Dull lifeless aroma. Mild Pride of Ringwood notes and a hint of malt but there's an underlying, unpleasant metallic note.
Smooth and malty with the every present dull Pride of Ringwood hop character. i really don't know why anyone uses them as they destroy a beer with their odd metallic, herbal character. As a plus the malt is reminiscent of a decent amber ale.
Medium to medium-full body with moderate carbonation. Fine but it's almost a little soapy.
This is not a great beer. The flavours are less than average and this seems to be another triumph of marketing over flavour.
754 characters
2010 Reserve Amber Ale from Endeavour Beverages
Beer rating:
3.1
out of
5
with
12
ratings