Tavern Ale
| Cooper's Cave Ale Company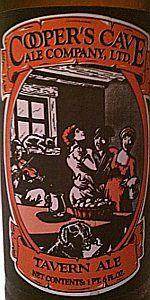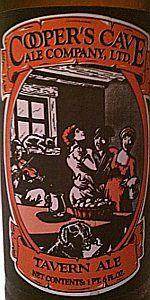 BEER INFO
Brewed by:
Cooper's Cave Ale Company
New York
,
United States
cooperscaveale.com
Style:
English Bitter
Alcohol by volume (ABV):
not listed
Availability:
Year-round
Notes / Commercial Description:
No notes at this time.
Added by syrbeer on 03-09-2003
HISTOGRAM
Ratings: 12 | Reviews: 10
Reviews by williamherbert:
1.15
/5
rDev
-50.9%
look: 3.5 | smell: 1 | taste: 1 | feel: 1 | overall: 1
Has a light goldenrod color. Very clear with a decent head. Zero carbonation with a light lager look.
Smells like a swimming pool. It's like chlorine with a sour scent. Absolutely wrong in every sense. Not well kept. This is a skunked beer: Smells like wet cardboard, or better yet, suntan lotion. Absolutely awful. Normally, I would not blame the brewery for this, but I got it directly from the brewery. There is something wrong with their bottling process.
It's identical to this brewery's IPA. Has a stale, wet cardboard flavor. A far cry from the samples given out in the brewery. Just terribly wrong. The malt could have been an appealing biscuity malt flavor, but the malt is bitter, and not intentionally so.
Feels normal, but not a good taste in any way. Awful aftertaste. This is a really terrible beer. Totally unacceptable. This place does a terrible job of bottling.
[Beware this brewery: the samples are excellent. If you are to get beer from this brewery, make SURE you get the growlers, as they seem to keep the samples fresh. However the 22oz bottles are not reliable. They seem to have no idea how to keep their beer fresh. It's good at the brewery; not so good when you bring it home in bottles. You have the right to know.]
1,256 characters
More User Reviews:
1.22
/5
rDev
-47.9%
look: 3 | smell: 1 | taste: 1 | feel: 2 | overall: 1
Purchased this beer in a 22oz bottle a year ago, along with others from same company. All horrible, but tasted like a tainted batch. E-mailed owner - who was unaware of any problems.
Visited the pub to give another shot, and to sample off tap in case their bottling was the problem. Unfortunately, more of the same.
Appearance - Light, darker gold color. Some lacing. Minimal head.
Smell - Awful Awful Awful. Immediately get a musty, moldy smell on the nose.
Taste - Same as smell. Wet cardboard. Some citrus coming through.
Mouth feel - Light and watery. Little body. One dimensional.
Drink ability - Like it's bottled version, straight to the drain.
Sad to say, this was by far the worst "craft" beer I've ever had. I don't understand how someone could taste this and say ' this is acceptable for public consumption' . The fact that the owners are fine with selling this is beyond me. All of my professional brewing piers hold the same opinion. Horrible beer apparently aimed at people who don't know what good beer is. How they stay in business - that's a mystery.
I can only hope enough complaints come through that they fire their brew master, choose a different yeast (it seems all their beers are affected by the same taint) and start over.
Will keep an eye out for more favorable reviews that come down the pipe to see if operations are improved. UNtil then - avoiding at all costs.
1,399 characters
1.23
/5
rDev
-47.4%
look: 4 | smell: 1 | taste: 1 | feel: 1.5 | overall: 1
Like the below review suggests, I can't add much that's new to this review. I wouldn't suggest drinking this unless you like the flavor of beer infection.
The sample at the brewery was unremarkable, but drinkable. The growler smelled like a combination of bleach, mold, and wet cardboard. I poured a glass, but couldn't muster up the courage to drink any after the horrible experience I had with their bottled beer just moments earlier.
This beer was transported directly from the brewer in a cooler to home, then opened.
Yuck!
Avoid these beers!
553 characters

2.96
/5
rDev
+26.5%
look: 3.5 | smell: 2.5 | taste: 3 | feel: 3.5 | overall: 3
The beer pours a translucent light brown color with a thick frothy white head that fades to lacing. The aroma is not that good. It has a light, slightly malty scent with a musty aroma. The taste is average. It has a slightly malty flavor with a dry bisquity aftertaste. The mouthfeel is fine. It is a low/medium bodied beer with good carbonation. This is an average beer. It has some good qualities, but the yeast ruins it.
423 characters
2.25
/5
rDev
-3.8%
look: 3.5 | smell: 2.25 | taste: 2 | feel: 3 | overall: 2
A- yellow clear straw slight off white head golden and a bit cloudy in appearance
S- a hint of fruity yeast sweet aroma with some bitterness
T- much like the smell but the bitterness is somewhat unpleasant
M- nice carbonation medium light bodied
O- overall a decent offering and refreshing but the bitterness is off putting
327 characters

1.96
/5
rDev
-16.2%
look: 3 | smell: 2 | taste: 1.75 | feel: 2 | overall: 2
This was better than the Abbey Ale I had but still not great. It looked okay, a dull golden color and had a nice white head. For the style however this was way over-carbonated. The mouthfeel wasn't bad, but again, for the style it was not creamy enough and too much carbonation. The smell and taste went hand in hand with a musty dampness that reminded me of a basement. This could be from the yeast or maybe from oxidized hops? Malt was there but overshadowed.
I didn't know this was supposed to be a Bitter when I drank it. It wasn't a great beer by any means but was drinkable. Knowing it was supposed to be a Bitter lowered my review since it wasn't really close
667 characters

2.22
/5
rDev
-5.1%
look: 3.5 | smell: 1.5 | taste: 2 | feel: 3.5 | overall: 2.5
22oz Bomber, poured into a pint glass
Pours a hazy straw color with a frothy white head. Decent lacing in the glass
Very musty aroma, hints of damp basement, mildew, etc. Certainly not a desirable scent. Masks anything else that may be going on in the beer.
The mildew flavor is almost overpowering, which is sad, since the underlying flavors seem alright. Some good honey-ish malts underneath and a clean hop bitterness. If I could only get that "other" taste out of my mouth...
Carbonation medium to medium-low, good for style. Body feels a bit thin, and there is a slight sour tang that seems out of place. I'd definitely want a chewier mouthfeel in an English Bitter.
Overall, not great. I'd love to see this brewery clean their act up a bit, seeing as how my dad and other relatives are friends of the brewer. For a hometown small-scale brewery, they're not awful, but by allowing these off-flavors to persist (and they are prevalent in all of their beers I've tried) the brewers are only doing a disservice to Upstate New York beer lovers.
1,050 characters

3
/5
rDev
+28.2%
look: 3 | smell: 3 | taste: 3 | feel: 3 | overall: 3
A - Pours 2 fingers of soapy white head, that has an ok retention, but doesn't really stick. The beer is a clear golden straw color with plenty of carbonation.
S - Smells lightly of sweet malts and a hint of lemon.
M - A light bodied beer with active carbonation. It's finishes nice and crisp.
T - A little bit of floral hops and some spice up front. It has a sweet malty finish. Decent for the style.
So far this is my favorite of the brews I've tried from Cooper's Cave. It's a nice session beer.
502 characters
2.97
/5
rDev
+26.9%
look: 2.5 | smell: 3 | taste: 3 | feel: 3 | overall: 3
There is something about Coopers Cave brews that make them all taste the same...yeast maybe?. This has to be one the better Cooper's ales because of the drinkability. Pours a fairly orange to copper color with some citrus/malty odors. I believe they mix this with their Sagamore Stout to create their Black and Tan. Very average beer. Give it a try, but don't go out of your way to do so.
388 characters

2.6
/5
rDev
+11.1%
look: 3.75 | smell: 2.5 | taste: 2.5 | feel: 3.25 | overall: 2.25
Dms and maybe infected too. Corn, wet cardboard, and maybe acetone, full of off flavors, this is really bad, strikingly so it really stands out even relative to their other problematic offerings.
195 characters

2.5
/5
rDev
+6.8%
look: 2.5 | smell: 2.5 | taste: 2.5 | feel: 2.5 | overall: 2.5
Tavern Ale from Cooper's Cave Ale Company
Beer rating:
2.34
out of
5
with
12
ratings