Highwater Hoppy Tripel
| Blue Pants Brewery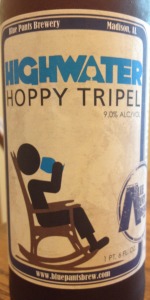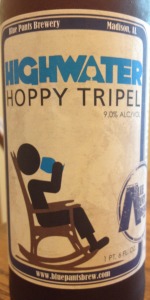 BEER INFO
Brewed by:
Blue Pants Brewery
Alabama
,
United States
bluepantsbrew.com
Style:
Belgian Tripel
Alcohol by volume (ABV):
9.00%
Availability:
Year-round
Notes / Commercial Description:
None provided.
Reviews: 6 | Ratings: 33

3.52
/5
rDev
-3.8%
look: 3.75 | smell: 3.5 | taste: 3.5 | feel: 3.5 | overall: 3.5
A-hazy gold color with a very large white head that fades slowly and leave a great lace on the glass
S- Spice, some citrus, and hop aroma
T-hops comes though the spice and malty flavor, with some citrus in there also. Has a hop bitterness in the aftertaste with a spice and pepper taking over in the finish
M-medium body and high carbonation
O-the hops in this Tripel was nice but would liked to have not so much hops. It had all the spicy , peppery, and other flavors of a tripel, and by the name I guess that was the taste that was being shot at. Nice Alabama beer! Make one without all the hops I will try it.
612 characters
3.65
/5
rDev
-0.3%
look: 4 | smell: 4 | taste: 3.5 | feel: 3.5 | overall: 3.5
Pours an effervescent gold/amber with a pinky of pearl colored head. Good lacing & head retention
S: Pears, appleskins & cereal notes, some perfumy hops as well
T: Pineapple, slightly boozey breadyness, grassy notes, & wet cereal up front. Bitterness is pronounced as this warms, some aspirin, some grapefruit, white grape & canned pears as well, more porridge type flavors as well & little bit of honey crisp apple. Finishes with pineapple, pears & a bit of grapefruit
MF: Medium bodied, slight carbonation
An alright tripel, but I wouldn't buy this again
561 characters

4.5
/5
rDev
+23%
look: 4.5 | smell: 4.5 | taste: 4.5 | feel: 4.5 | overall: 4.5
Poured from the bottle into a large tulip on 4/18/13. From the pour this beer produces piles of bone-white head the fervently resists assimilation back into the beer. It also leave thick cobwebs of sticky lacing all over the glass. The liquid itself is quite dense, hazy and boasts the color of butternut squash or a ripe pumpkin. Light penetration is minimal, but holding it to the light gives the beer a bright, cheerful note to it. The nose is quite active and zippy thanks to the carbonation of the beer. The Belgian yeast produces some great clove and maybe a minimal banana smell, but there is some hop synergy going on in there too. There is some bright fruits like oranges and melons on the nose as well. Really good smells going on there. The first taste I got was watermelon; first time I've ever gotten that one out of a beer. There was also a lot of sweet peaches and cream flavors going on as well. Bitterness was there to balance it out as well. The mouthfeel was the typical dry-as-concrete champagne feel to it and very good carbonation. Light bodied overall. This beer was really great; the hops in the beer really produced a great synergy to the nose and the flavors of the beer to give some good, unique character to the beer.
1,245 characters
4.32
/5
rDev
+18%
look: 4 | smell: 4.5 | taste: 4.5 | feel: 4 | overall: 4
(Served in a chalice)
A- This beer pours a solid glass full of egg-shell colored head that pushes above the glass and holds its shape. The meringue textured head eventually breaks down into a slightly hazy golden yellow body with a strong carb of microbubbles. Each pour of the bottle makes the beer hazier.
S- The nice dry fruity esters from the yeast are full with some green hops that compliment the yeast but grow green and woody on their own.
T- The slightly dry yeast esters are classic Tripel with some nice juicy fruit gum flavors to them with a slightly fruity unripe fruit hops in the finish. There is a nice dandelion weed pungency that lingers but no hop bitterness. As the beer opens up there are some bubble gum yeast flavors and nice green woody hops flavor grows in the finish.
M- The light mouthfeel has a zippy fizz that boost the dry hops in the finish and the alcohol heat is hidden.
O- This is a great Tripel with a delicious hop support that really compliments the other flavors. This beer would have gone down very fast if I didn't have to wait for the head to dissipate before sipping and filling again. Thanks to Coldchill for sending me this gem.
1,179 characters

3.33
/5
rDev
-9%
look: 4 | smell: 3.5 | taste: 3 | feel: 3.5 | overall: 3.5
Tasted On: 09-15-2012
Freshness: Not indicated
Packaging: 22 oz. brown bottle, pry-cap
Glassware: Tulip
Purchased: Single from Liquor Express, Huntsville AL
A: Nice white head on a cloudy, dark orange or apricot colored beer. Retention is OK and lacing is good.
S: Smells are mainly of hops, both citrus and piney, plus a little grape fruitiness, but overall aromas are not strong.
T: Some Belgian yeast notes, but the main taste is that of citrus hops.Very little malts or sweetness. Tastes much like an IPA to me.
M: Moderate to high levels of carbonation with a medium body. Aftertaste is hoppy and bitter. The flavors smooth out and seems less harsh as it warms up.
O: It was interesting to try my first Blue Pants offering. They hit the mark on the hoppy part of the name, but it didn't seem much like a Tripel to me.
827 characters

4
/5
rDev
+9.3%
look: 4 | smell: 4 | taste: 4 | feel: 4 | overall: 4
a - poured a one finger thick, creamy, light tan head into a tulip glass that left a thin ring of lace throughout. the body was a bright golden color.
s - floral hops, yeasty, bready, a pilsner type aroma comes through as well.
t - bready with some piney hops. hint of apples with a caramel finish.
m - medium and slightly bubbly.
o - nice take on a tripel. really like blue pants stuff since they moved into their new brewhouse.
433 characters
Highwater Hoppy Tripel from Blue Pants Brewery
Beer rating:
3.66
out of
5
with
33
ratings