P-51 Coconut Porter
| Wingman Brewers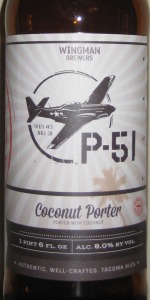 BEER INFO
Brewed by:
Wingman Brewers
Washington
,
United States
wingmanbrewers.com
Style:
American Porter
Alcohol by volume (ABV):
8.00%
Availability:
Fall
Notes / Commercial Description:
No notes at this time.
Added by rab53 on 10-19-2013
Ratings: 13 | Reviews: 3
Reviews by grittybrews:

More User Reviews:
1
/5
rDev
-63%
Infected. I usually avoid reviewing things that are infected but it seems to be a pretty high rate with Wingman. I've had a good bottle which was nice and a bad bottle which tasted like wood varnish, dried limes, dill, and a coconut layer just for truth in advertising. Carbonation was intensely off, aroma gave away the sour, acrid, chemical flavor that was soon to follow. Drink at your own risk.
398 characters

3.5
/5
rDev
+29.6%
look: 3.5 | smell: 3.5 | taste: 3.5 | feel: 3.5 | overall: 3.5
3.29
/5
rDev
+21.9%
look: 3.5 | smell: 3.25 | taste: 3.25 | feel: 3.5 | overall: 3.25
Appearance- Pours up almost no head which has about as much retention as it can. The head is a dark beige with notes of burnt umber while the body is pretty much an opaque, dark chocolate black. Spots of lacing with minor sheeting that extends from the surface of the beer.
Nose- This is where it gets interesting. Definite note of coconut with a slightly sour tail from the bottle. There is also noticeable coconut on the glass but it is taken over by this almost shampooed rug, vacuum cleaner smell. Thought there was some burlap earlier but the carpet and shampoo smells are unmistakable. Very odd for a beer but doesn't necessarily bother me. Some light caramel and toffee. Swirling shows some sourness, possible acridity from roasted malts.
Taste- Starts off with pretty noticeable coconut notes but they aren't as mild or rounded as I find with many of the beers that have coconut notes. Some light notes of the nose's shampoo/carpet deal. Not as potent and not too much of distraction but it is pretty odd. Woody bitterness mixed with slight citrus sourness, pine and resin, and some earwax. Seems a little off balanced at the moment and I would like to see more of a toasted, rounded coconut that dominates the flavor profile. Some roasted malts that hint at coffee and add a slightly sour note that doesn't seem to work well with the finish at the moment. There's definitely some complexity to this beer but it hasn't started to mesh at all and I'm beginning to wonder if it will. The coconut has mellowed at bit but it still tastes a little artificial. Most of the bitterness fades away but that carpet/citrus/shampoo note doesn't seem to go away. Not as bad as it sounds but still has a significant impact on my assessment. Pretty much just an average to above average beer. When I try to think of the off-note as just citrus, it's above average. Otherwise, it's just average.
Mouthfeel- Medium bodied with pretty light carbonation. Some smoothness to the texture.
Drinkability- It's easygoing if I drink it fast but if I have time to mull over the flavors, it becomes less so. At 5 bucks a bomber, the price is okay but I don't think I would buy this again.
Overall- Average to above average. I would give it a try because you probably won't get the same odd note that I do. It would be a good to pretty good beer without it. Unfortunately, I will not be buying it again.
2,393 characters
4.25
/5
rDev
+57.4%
look: 4 | smell: 4.5 | taste: 4.5 | feel: 3.25 | overall: 4
3.13
/5
rDev
+15.9%
look: 4 | smell: 3.5 | taste: 3 | feel: 3.5 | overall: 2.5
I bought a bomber of P-51 Coconut Porter in a bottle shop, poured in to a pint glass.
Pours a black walnut color, translucent with a garnet red hue when held up to the light. Modest creamy tan head.
Smell is a boozey aroma like bourbon, with some coconut scent along side.
Taste is a charcoal and chocolate flavor up front, with a black licorice flavor and a sweet coconut flavor on the finish.
Mouthfeel is medium bodied but not particularly cloying. Dry bitter sweet aftertaste.
Overall a very sweet version of a porter. Interesting, but I don't think I would have it again.
586 characters


P-51 Coconut Porter from Wingman Brewers
2.7
out of
5
based on
13
ratings.