Dismiss Notice
Extreme Beer Fest:Los Angeles
Join us December 9th in Los Angeles for the ultimate throwdown of craft beer creativity!
Learn more...
Dismiss Notice
Heritage Maple Bush Lager
| Kichesippi Beer Co.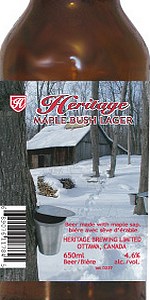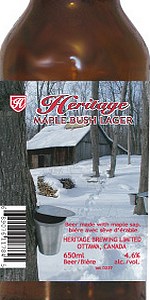 BEER INFO
Brewed by:
Kichesippi Beer Co.
Ontario
,
Canada
kbeer.ca
Style:
Smoked Beer
Alcohol by volume (ABV):
4.50%
Availability:
Spring
Notes / Commercial Description:
No notes at this time.
Added by allergictomacros on 06-08-2006
This beer is retired; no longer brewed.
HISTOGRAM
Ratings: 14 | Reviews: 12
Reviews by Conrad:
2.92
/5
rDev
+9.4%
look: 3 | smell: 3.5 | taste: 2.5 | feel: 3 | overall: 3
A nice big bottle with a picture of a maple sugar bush on the label.
A: Very light copper, clear brew. No head to speak of. Low fizz.
S: Very light. Hops up front. Some maple aroma.
T: This is where it gets interesting. Right off the top - Maple!
And not your Aunt Jemima Table Syrup either, this is the real stuff. Like they used maple sap instead of water to make this brew. This is more like a maple fruit drink that a lager. It has a long finish.
M: Easy on the tongue. After a few sips, there is a sweet stickiness on the lips as though you have been drinking liquid sugar.
D: Nice to try once. Good for a special occasion, like a trip to the sugar bush. It's way too sweet for a regular tipple. The way it coats the throat, it would be a good alternative to candied cough drops.
791 characters
More User Reviews:
3.39
/5
rDev
+27%
look: 2.5 | smell: 3.5 | taste: 3.5 | feel: 3 | overall: 3.5
Strange looking beer. Dirty brown, but bizarrely hazy for a non-bottle fermented lager. No head or lacings whatsoever. She's not a looker.
A vague sweetness to the aroma, but it doesn't jump out at you, certainly not sickly. I'll say maple just because I know that's what it is, otherwise I would be comfortable going with honey or caramel.
It's not the most complex beer I've ever had. The straight-forward Heritage lager base is there, with a bit of an orangey flavour. Nothing stands out until you get to the aftertaste, that's when the maple really comes through. Not cloying like others have mentioned (I don't know whether it has changed since last year, or if their bottles were off), but a light maple taste at the back of the tongue. Quite nice, not over the top.
Mouthfeel is unfortunately thin. Could also use a touch more carbonation.
This is a drinkable beer that succesfully incorporates maple syrup, but it's not a standout.
945 characters
3.15
/5
rDev
+18%
look: 3.5 | smell: 3.5 | taste: 3 | feel: 3 | overall: 3
Bottle: Poured a clear copper color lager with a medium foamy head with average retention and no lacing. Aroma of light maple taste with some good caramel malt notes. Taste is a mix between some light fruity ester, some light maple syrup and some caramel malt notes. Body is average for the style with some average carbonation. Not too bad for the style but turn bad when gets too hot, this one must be drank cold.
414 characters
2.11
/5
rDev
-21%
look: 3 | smell: 2 | taste: 2 | feel: 2.5 | overall: 2
I know, you see some of us beer obsessives fervently researching on their PDAs whatever's in front of them at the store or on the tap list. OK, maybe you see just my dorky @$$ pullin' that $#!+. Well, sitting outside at Volo with the Beautiful Bride on our anniversary, I tossed caution to the wind and said, "serve me up a Maple Bush." Let's just say this wasn't one of those Costanza moments where doing the opposite of your first thought will meet with incredible success. Allow me to explain this offering served up in an Imperial pint glass off the tap...
OK, it's not all bad of a first impression. It actually pours a nice dark honey with a rather light head dissipating rather quickly. Could be much worse. Looks like it could be promising with a little maple color and cloudiness.
At first this has a slightly sour taste - is this infected After a while I conclude that no, it's not infected. At least that would give it an excuse. There's a little maple sweetness. A little earthy stewiness with noble hops. Not what we're looking for.
First impressions: Tastes like dirt underneath a maple tree running with sap. The BB says it's like "licking a shoe." Very slatish. Sourness dissipates but still tastes like dirty lines for a while. Or, more accurately a messy, poorly-constructed beer.
The blessing: goes quicker than it tastes, 'cause I'm rushing. There's still a slight sour earth feeling, but this isn't making the taste buds dance...it's making them run. Grassy, dirty, maybe some noble hops pucker up the palate a bit?
Please make this go away. This was my mistake. Sure, maybe there are degree of difficulty points for Canadian tap lists since I'm quite unfamiliar with the lesser-known local offerings but the information was there and I didn't use it to the best of my abilities. This is a dirty-tasting musty offering. Next.
1,852 characters
3.32
/5
rDev
+24.3%
look: 3 | smell: 3.5 | taste: 3.5 | feel: 3 | overall: 3
The body is deep amber topped by a half frothy cap. Huge maple aroma with burnt sugar aroma, roasted nits. Very sweet profile in the flavour, with malted nutty roasty flavours, Its pretty sweet but not overly so and very pleasant. A well crafted brew from this brewer, Thanks Ron!
280 characters
2.04
/5
rDev
-23.6%
look: 4 | smell: 2.5 | taste: 2 | feel: 1 | overall: 1.5
22 oz bottle from the LCBO.
Pours a clear dark orange, some reddish highlights, thin white head forms, quickly drops to a thin ring around the glass, some lace spots, nice colour. Smell is interesting, very floral, honey, not a lot of maple, bit of caramel and grapefruit, bready, lightly smokey, almost a barnyard/sweaty balls sort of aroma. Taste is weird, very sharp, watery, some iron, lightly fruity, honey more so than maple, not quite sour, but very dry in the finish, kind of musty, very weird. Mouthfeel is light bodied with low carbonation, very watery finish but pretty astringent, not quite sure what is going on but the maple is no where to be found.
664 characters

2.28
/5
rDev
-14.6%
look: 2.5 | smell: 2 | taste: 2.5 | feel: 2.5 | overall: 2
Late to review this one,,,copped a bottle at the new Waterloo SQ LCBO....God knows how old it is and what room temp storage does to this beer....I'm thinking it dropped out the malt proteins and hop alphas because this was really one dimensional.
Weak heading...sweet graininess in the aroma is wiped out by the over powering smoky-burnt maple tones.
Light body weak mouth feel..big whack of sweet maple taste and little else...no off tastes.
Not a good beer... seems poorly put together and it certainly has no balance...I'm going to be kind and assume my sample was stale/ruined.
592 characters
3.1
/5
rDev
+16.1%
look: 3.5 | smell: 3.5 | taste: 3 | feel: 3.5 | overall: 2.5
On tap at Volo. Coppery, clear beer with a thin, white head. Caramel in the aroma with perhaps a bit of maple. Holy crap is this a sweet beer! Marshmallow, caramel, fruity sweetness with a hint of vanilla and a twig-like woodiness. Soft carbonation with a lightish body. An interesting experiment, but this was definitely too sweet for my tastes. I made it through a pint, but that's all I could handle in a session.
416 characters

1.62
/5
rDev
-39.3%
look: 3 | smell: 1 | taste: 2 | feel: 2 | overall: 1
Pours...well, it looks like a standard lager. Maybe a bit more amber. Lacing is thin and spotty. No head retention to speak of.
Smells very grainy and biscuity and there's a really unpleasant musty vegetal (boiled cauliflower) going on that makes me wish I was drinking it from the bottle or had a massive head cold. I'm not getting any maple. Not even a hint. Honestly it smells pretty gross.
Tastes like sour corn juice. No maple to speak of. None. Zero. Zip. Nada. Hops are nondescript and difficult to place but the bitterness at least gives the beer some redeeming flavor. The malt is grainy. This isn't even a good lager much less a good maple lager. Blech.
Mouthfeel is thin and my god why does it have to come in such a big bottle?
This is my second beer from Heritage and both were all but complete disasters. The only thing that's keeping me going to the bitter, sour end is that I paid $5 for this.
This beer is a total failure.
945 characters
2.2
/5
rDev
-17.6%
look: 2.5 | smell: 2.5 | taste: 2 | feel: 2.5 | overall: 2
$5 for a bottle is pretty steep, but Heritage don't exactly have the same economies of scale of a Molson or Labatt, so I can kinda let them off the price tag. Kinda... well actually I would let them off, but this is one hell of a mediocre beer. I don't really like to criticise local brewers too much because like the rest of us they work hard to pay the bills and are generally nice people. However, I think its important for them to have a feedback mechanism, and hopefully every once in a while a brewer may come on here and take on board suggestions from their customers that will help them improve their products. Here's my advice to Heritage: improve the base beer and add more maple.
The bottle design is cool, with a nice Canadian winter feel to it, and the contents look alright too. The pour kicks up a finger of off-white head on a clear orange body. Unfortunately the retention is quite poor, but it does leave behind a few isolated spots of lace before departing. The aroma is vaguely sweet muted grain notes with a touch of dusty lemon. Its bordering on the macro, and doesn't imbue a beer lover with hope that he spent his money well.
The taste is extremely bland lager, and that's about it. There's absolutely no hint of maple in the beginning, middle or end of this beer. Its like they took a mediocre base beer and forgot to add in the syrup. I can see what has happened, though. Previous editions sound overdone and cloyingly sweet, so I expect the brewer was far more careful with his pour this year. Sadly, he was too careful, and I feel its inexcusable to market a beer on its maple content, but have absolutely none of it in the character. What we're left with is a grainy beer with a touch of orange peel and lemon sourness. Its only real plus point is at least you can detect the use of some hops. The mouthfeel is also a little too thin, and could do with a bit of a boost to elevate it above wateriness.
I don't know what Heritage were thinking. I would not have let this beer leave my brewery. I'm not a guy who will drink any beer at the store to write a review. Frankly, those guys need to exercise some quality control and spend their money on good beers, rather than trying something for the point of it. Sadly, heritage also need to exhibit a bit of quality control too. They can produce good beer, and they shown that with the continued high quality of the Scotch Irish brews that they acquired when they purchased that brewery, but they really need to review their own recipes and overhaul or dump them because its dragging them down.
2,572 characters

1.48
/5
rDev
-44.6%
look: 3 | smell: 2.5 | taste: 1 | feel: 1 | overall: 1
Sorry, but this was hands down one of the worst beers I've ever had. Looks good enough and has a palatable maple aroma, but it is just way too sickly sweet to be anything approaching enjoyable (and for the record I LIKE maple syrup).
The backbone of the beer is recognizable as something similar to Heritage's Traditional Dark, but is just overwhelmed by a burned sugary taste. There are other maple beers out there that do a better, albeit more subtle, job with maple syrup (or sap in this case).
I enjoy some of Heritages other beers well enough, its just a shame that this one is not up to par.
Try it out of curiosity, but don't be surprised if it ends up in the sink.
681 characters
3.28
/5
rDev
+22.8%
look: 3.5 | smell: 3 | taste: 3.5 | feel: 3.5 | overall: 3
I'm calling this a herbed/spice since pine needle-flavoured beer is in this category. Supposedly it contains maple sap. Comes in a bomber like the other Heritage seasonals. Hopefully this fares better than the others.
A - Clear copper, dark for a lager and inviting. Head is weak though, even with a hard pour.
S - Characteristic plummy aroma I associate with Heritage. Otherwise, crisp and sweet.
T - Extremely sweet, maple syrupy flavour is barely there in the beginning but really comes through in the finish. Sticky honey-like aftertaste. I actually taste some hop flavour in this as well (in addition to the aftertaste), and it seems to work with the maple.
M - Carbonation is mild-ish, mouthfeel syrupy. Really coats the back of the throat.
D - Hmm. Extremely sweet, it's not without interesting flavours, but I would have a hard time drinking a lot of this. Better than the previous 2 seasonals I've had.
Overall, better than expected, and maybe has potential, but a little rough around the edges. Less fruitiness and really let the maple flavour complement the hops. I can see how the extreme sweetness might not be palatable for some people though.
1,176 characters
Heritage Maple Bush Lager from Kichesippi Beer Co.
Beer rating:
2.67
out of
5
with
14
ratings