Howling Pumpkin Ale
| Wild Wolf Brewing Company
BA SCORE
83
good
10
Reviews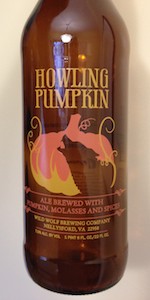 BEER INFO
Brewed by:
Wild Wolf Brewing Company
Virginia
,
United States
wildwolfbeer.com
Style:
Pumpkin Ale
Alcohol by volume (ABV):
7.00%
Availability:
Fall
Notes / Commercial Description:
A wonderfully spiced nose and a beautiful orange color lead into this perfectly balanced fall beer. Just the right amount of molasses and pumpkin pie spice make this a must have for the pumpkin beer lover.
Added by dbrauneis on 08-22-2013
Reviews: 10 | Ratings: 36
3.46
/5
rDev
-4.2%
look: 3.75 | smell: 3.25 | taste: 3.5 | feel: 3.5 | overall: 3.5
Poured from a bomber into a shaker pint, the beer is a bright, caramel-copper coloring, crystal clear, with a steady flow of carbonation throughout the body, and a foamy, low profile, white head. Aromas of pumpkin spice, molasses, cream, and a bready backbone. Subtle, but balanced. Flavors are a bit more roasted forward, with a darker and heavier molasses character leading the charge. Richly sweet underneath, with notes of pumpkin, cream, and subtle caramel. The spice blends of cinnamon, nutmeg, clove, and all spice give a subtle edge to all the sweet and rich characteristics. The body is smooth, full, and has a subtle edge from the carbonation. The aftertaste is more of the pumpkin spice, but the rich and dark molasses still lingers on a bit, too. Smooth, slow, lingering finish. Decent beer, and light enough to drink en masse.
839 characters

3.49
/5
rDev
-3.3%
look: 3.75 | smell: 3.5 | taste: 3.25 | feel: 4.25 | overall: 3.5
22oz bottle gushed onto the floor upon opening, covering my living room floor, great start
A- pours a clear bright amber color with a two-finger creamy and foamy off-white head that retains long after the pour, although it was just remains of the gushing foam
S- smell of aluminum up front, underlying aroma of nutmeg & pumpkin, some caramel malt sweetness & potpourri to close it out
T- the base beer is sweet and malty with some caramel notes, the addition of the spices leaves a strange bitterness after providing flavors of cinnamon and nutmeg, hints of raw pumpkin kick in, eventually finishing dry & nutty with more cinnamon
M- medium body and carbonation leads to a foamy mouthfeel and a creamy finish
O- this one has the potential, but the flavor is just all over the place. Slight metallic notes probably have something to do with the gushing bottle
865 characters

3.76
/5
rDev
+4.2%
From 12/09/14 notes. 22 oz. bottle poured into a tulip. Thanks to nimbleprop for gifting me this one; thanks Mac.
Pours a somewhat clear deep reddish-amber color with two inches of light tan head and moderate carbonation evident. Spices, cinnamon, nutmeg, pumpkin, bready malts. dough, and graham crackers. Thin, light body and low to moderate carbonation. Little bit watery.
Overall a decent pumpkin beer but a bit thin and heavy on the spices. Nice nutmeg and pumpkin, wish it was a bit thicker and had less pepper and spice. If you like the spice heavy pumpkin beers worth checking out.
591 characters

3.4
/5
rDev
-5.8%
look: 4 | smell: 3.25 | taste: 3.25 | feel: 3.75 | overall: 3.5
Good looking beer. Pours a very bright orange color, can almost discount the meager head and lacing. Aroma and taste, very mild. Hardly any spices or pumpkin in the aroma. Flavors are very subtle in the taste. I probably should have let this one warm up to see if the flavor profile was any better. Mostly a slightly sweet malty beer (caramel malt) wit just a bit of spicing and pumpkin flavor.
Mouthfeel is pretty solid. Rich and malty with a little spicing.. I would like to see a more robust taste in this beer.
522 characters
3.5
/5
rDev
-3%
Tasty pumpkin ale that hits all of the flavors that I would expect from the style. Plenty of deep brown sugar, toasted malt, and pumpkin spice. A good beer, but I have had better in the style.
193 characters
3.83
/5
rDev
+6.1%
look: 4 | smell: 4 | taste: 3.75 | feel: 3.75 | overall: 3.75
Draft. Pours with minimal head. Dissipates quickly. Golden orange color. Smells of pumpkin, spices and sugar - maybe molasses? Light and light on pumpkin pie-like flavor as well. No Alewerks or Schlafly. Just a hint of sugar, cinnamon, nutmeg and pumpkin pie spice. Not bad - just not up there with Alewerks or Schlafly. Not bad though. Liked it. ABV is 7% with very little bitterness. Not much pumpkin pie aftertaste either. Still, solid effort.
446 characters
3.74
/5
rDev
+3.6%
look: 4 | smell: 3.75 | taste: 3.75 | feel: 3.5 | overall: 3.75
Poured from a brown 22 oz. bottle. Has a bright auburn color with a 1/2 inch head. Smell is spicy, some pumpkin. Taste is spices, namely nutmeg, some malts and pumpkin, flavorful and easy drinking for the abv. Feels medium bodied in the mouth and overall is a quality beer.
273 characters
3.47
/5
rDev
-3.9%
look: 3 | smell: 3.5 | taste: 3.5 | feel: 3.5 | overall: 3.5
Pours a dark copper color, nearly amber, with minimal head. Aroma of pumpkin and a bit of spice. Caramel and fresh pumpkin. In the taste, caramel, brown sugar, molasses and some pumpkin. Cinnamon, sugar, pretty agreeable flavor. Little leafy hop and faint bitterness riding with cardamom, clove and cinnamon. Nice sugary flavors. Medium bodied, smooth and well carbonated. Overall this is pretty decent pumpkin.
411 characters

3.93
/5
rDev
+8.9%
look: 3.75 | smell: 3.75 | taste: 4 | feel: 4 | overall: 4
22 oz. bottle from Kroger #401 in Roanoke.
Deep orange against my white computer screen, but light amber against my wall. A 1 1/2 finger light tan head that leaves a smattering of lacing, a thin film on the surface and a bubbly ring around the glass. Very tiny bubbles of carbonation are evident.
Pumpkin pie spice and roasted pumpkin in the aroma as one would hope.
Starts caramel sweet, but then a more tart aspect takes over. Pumpkin and pumpkin pie spice rise in the back. Finishes with sweet/bitter molasses. A bit of coffee in the aftertaste to accompany the pie.
The feel lies rather thick on the tongue. Call it medium full in body. Slightly sticky. Light peppery carbonation. A significant warming in the throat.
Best pumpkin ale I've sampled yet. It actually smells and tastes like pumpkin pie instead of barely hinting at it. More like the way I've always imagined a pumpkin ale should be.
905 characters
3.84
/5
rDev
+6.4%
look: 4 | smell: 3.75 | taste: 4 | feel: 3.5 | overall: 3.75
Served on-tap at Wild Wolf Brewing Company in Nellysford, VA
A: Pours a clear copperish amber in color with light amounts of visible carbonation and some orange highlights. The beer has a finger tall creamy tan head that slowly reduces to a medium sized patch of thin film surrounded by a very thin film covering the majority of the remainder of the surface of the beer and a thin ring at the edges of the glass. Light to moderate amounts of lacing are observed.
S: Moderate aromas of pumpkin and pumpkin pie spices (cinnamon and nutmeg stand out). Light amounts of caramel sweetness.
T: Upfront there is a light amount of sweetness to the caramel malts which is followed by light to moderate flavors of cinnamon, nutmeg, and pumpkin. Light amounts of bitterness in the finish which fades pretty quickly.
M: Medium bodied with moderate amounts of carbonation.
O: Overall this is a pretty enjoyable pumpkin ale due to the fact that it is not overly sweet and has a good pumpkin flavor without tasting like a liquid pumpkin pie. Fairly easy to drink and the alcohol is well hidden. Definitely worth a try and I would grab one again if I was in the area during the time the fall seasonals are available.
1,215 characters
Howling Pumpkin Ale from Wild Wolf Brewing Company
3.61
out of
5
based on
36
ratings.