Steam Brew Imperial Stout

Privatbrauerei Eichbaum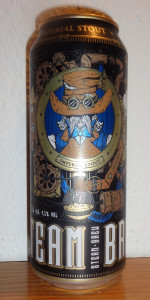 Write a Review
Beer Geek Stats:
| Print Shelf Talker
Style:

ABV:

7.5%

Score:

Avg:

3.18

| pDev:

17.61%

Reviews:

14

Ratings:

From:

Avail:

Rotating/Seasonal

Wants

Gots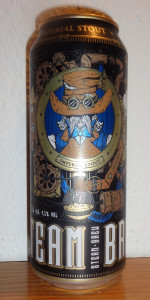 Notes:

VicCooper from Ireland
2.46
/5
rDev
-22.6%
look: 3.5 | smell: 3 | taste: 2 | feel: 2.25 | overall: 2.5
After having many different Irish and American stouts, let's see what Germany has to offer.
Top: 2" of tan head, slowly recessing. So far so good.
Colour: the expected cola-like dark brown, it's alright.
Smell: after decanting, malty, hints of white bread, very little rye and raisins in the background. Not unpleasant, but I expected better. Although it's cheap as chips. (1€ for 500ml in Hungary).
Taste: meh. Feels like alcohol has been added after brewing, still, doesn't feel strong enough for an imperial. The body is medium at best, and the taste has something weird, reminding me of Muscateller wine. And water...
Semi-dry finish. No cocoa, no coffee, no smokey malts marks to be discovered, very strange. Low carbonation.
Summary: for this price, it's okay(ish) for one. If you've never had a real stout before. It lacks the character of a stout, nevermind an imperial. And it lacks the body too. I wouldn't say it's disgusting, but I'd rather have a lager (bear in mind that isn't my favorite beer type).
It's beyond me, how this has "very good" rating. Mediocre is the word what would be more accurate, but it doesn't even reach that level. Seriously, don't be so generous when reviewing.
Aug 06, 2020
Snowcrash000 from Germany
2.94
/5
rDev
-7.5%
look: 3.75 | smell: 2.75 | taste: 2.75 | feel: 3.5 | overall: 3
Pours a pitch-black coloration with a medium, fluffy head. Smell is pretty bland. with some slightly toasted, caramel malt and the merest hint of coffee coming through. Taste is a poor balance of slightly toasted, grainy and overly sweet caramel malt, brown sugar and molasses, with only slight hints of coffee, licorice and bitter, herbal hops. Finishes overly sweet, with a very light bitterness and some brown sugar and molasses lingering in the aftertaste. Smooth mouthfeel with a light/medium body and carbonation.
I really hated this at first, but it grew on me *just a little bit* as it warmed. Maybe I just had too high expectations of it after their Imperial IPA, which wasn't great, but kinda drinkable for 0.65€. This, I wouldn't even drink for free though, not that I would really purchase their Imperial IPA again either. It's just incredibly sweet and one-dimensional, lacking any proper malt richness and and just remaining barely drinkable due to to some rather light coffee, licorice and bitter hop notes that are powerless against the cloyingly sweet onslaught of caramel malt, brown sugar and molasses though. Mouthfeel is not great, but reasonably smooth and velvety, probably the "best" aspect of this.
Aug 04, 2020

jonb5 from England
3.29
/5
rDev
+3.5%
look: 3.5 | smell: 3.25 | taste: 3.25 | feel: 3.5 | overall: 3.25
Half litre can poured into pint shaker.
A: Jet black, opaque, small tanned head which disappeared fairly quickly, didn't leave any lacing.
S: Coffee with a hint of malt.
T: Cocoa beans, hints of dark chocolate gave way to a bitter edge, some vanilla.
M: Medium body, low carbonation.
O: Missing the complexity of genuine Craft offerings but a decent budget beer from Lidl.
Dec 18, 2019
Gajo74 from New York
3.3
/5
rDev
+3.8%
look: 3.75 | smell: 3.75 | taste: 3.25 | feel: 2.75 | overall: 3
Pours a black color with a large foam head. The head soon dissipates and yields some lacing.
The nose has some complexity to it. Sweet notes of chocolate cake, honey, dark caramel and toffee, vanilla and a touch of dark fruit. The malts smell more toasty than roasty.
Sweet tasting overall, with notes of chocolate, toffee and dark fruit. These flavors are somewhat balanced by a light bitterness along with earthy hops notes of wood and bark. I feel like it could have used more roasted malt flavors.
Medium bodied and not as full as other imperial stouts, in fact, the body felt a bit thin. Smooth and creamy, yet not as mouth coating as other better examples of the style. The finish is sweet and doesn't have much of that roasty bitterness I enjoy in other examples. The carbonation starts of ok, however, it soon dies down, redolent of flat cola.
My 2nd review from this brewery, I felt their DIPA was a miss, while this one was only slightly better.
Nov 30, 2019

mothman from Minnesota
3.37
/5
rDev
+6%
look: 3.5 | smell: 3.25 | taste: 3.5 | feel: 3.25 | overall: 3.25
Can. Roasted malts. Dry. Caramel, chocolate, molasses, dark dried fruits. A bit too much carbonation. Medium bodied. Decent stout for the price. Nothing crazy though.
Sep 27, 2019
josanguapo from Spain
4
/5
rDev
+25.8%
look: 4 | smell: 4 | taste: 4 | feel: 4 | overall: 4
De Lidl. En vaso shaker. En minidisco de Elba Costa Ballena. Mas que de impy, perfil de schwarz subida de grados. Tostado dulzon, con notas frutas oscuras y ligero metal.Buena pa los 70.x cts que costó
Aug 06, 2019

Beertsipper from New York
1.21
/5
rDev
-61.9%
look: 2.25 | smell: 1.25 | taste: 1 | feel: 1.25 | overall: 1.25
This "beer" tasted similar to the German Red Ale of theirs.... only WORSE. Especially the after taste. Can't remember last time I drain poured, but that's what I did to the rest of this can, and the other one. Awful...
May 30, 2019
BrewMaven from New York
2.28
/5
rDev
-28.3%
look: 4 | smell: 2.25 | taste: 2.25 | feel: 2 | overall: 2
Imperial WHAT? The only thing stout about this beer..?? is the balls of the distributer calling it a AIS. It has the look...it has an artificial aroma and taste and pretty much sucks as bad as the DIPA from this "brewery". Nuff said.
Mar 13, 2019
Thisdrinkinglife from Switzerland
3.77
/5
rDev
+18.6%
look: 3 | smell: 3.5 | taste: 3.5 | feel: 5 | overall: 4.25
Review: 0,5l can of Steam Brew Imperial Stout: 7.5% vol.
Brewed for LIDL Germany, which shows how much the retail supermarket is trying to tap into the craft beer scene.
"Let's oil the gears of life", as it says on the rather cool looking can, which has a very detailed picture of a steam room and some sort of brewer extraordinaire.
Pitched black in colour as you would expect from a stout, decent sized white head, looks pretty good on pour. Some lacing, but the head does go a bit flat though. Ok as a looker, will do!
Get a lovely stouty smell on the nose, faint but nice enough to enjoy. Get the roasted malt, coffee and grain aromas all over.
Initial taste is….mmmmm, very tasty!! Coffee flavoured with a typical pleasant stouty taste, nice and soft on the tongue, very good.
For a stout, it is not as bitter or strong in the taste that it should be, its a bit light in that regards, and I really cant feel the 7.5% vol. but it is tasty enough to allay any of those fears that it might be another limp wristed stout. Good enough to enjoy and goes down the hatch very easy. Also get a lot in the can too, so happy days!
Stouty taste on the low level, 7.5% finally kicks in after the 2nd can, albeit on the low bar!
Roasted malts, coffee flavours with a bit of sugar hitting the spots. A light stout but I will forgive that since it does go down very smooth and no inoffensive tastes.
Overall, I liked it, very smooth and oh so tasty and I will definitely be trying this stout again in the near future. Nice one!
Mar 09, 2019
drmeto from Germany
3.01
/5
rDev
-5.3%
look: 4.75 | smell: 2.5 | taste: 3 | feel: 3.25 | overall: 3
L:
-pours the darkest of brown with no light coming through with a medium,frothy,beige head
S:
-spicy,slight coffee,milky
T:
-spicy,latte macchiato,malt sugar,plums,raisins
F:
-medium carbonation
-light to medium body
-slight alcohol noticeable
O:
It's a bit dull.Light on the roasty aromas.Far from terrible though.
Nov 06, 2018
metter98 from New York
3.28
/5
rDev
+3.1%
look: 3.5 | smell: 3.5 | taste: 3.25 | feel: 3.25 | overall: 3
A: The beer is jet black in color. It poured with a half finger high off white head that settled down, leaving a thin layer of
S: Moderate aromas of dark malts are present in the nose along with hints of fruity yeast.
T: The taste follows the smell and has flavors of dark malts along with notes of fruity yeast.
M: It feels medium-bodied on the palate and has a moderate to high amount of carbonation.
O: This stout is a little fruitier compared to its American counterparts, although it is interesting to see this style made by a German brewery.
Serving type: can
Oct 21, 2018

EMV from Pennsylvania
3.48
/5
rDev
+9.4%
look: 4 | smell: 3.5 | taste: 3.5 | feel: 3 | overall: 3.5
Poured from a 0.5 L can into a Dogfish Head tulip
L: Clear dark mahogany pour... nearly black with thick foamy white head. Great retention and lacing. Delicious looking beer.
S: Roasted malts/sugars. Grainy... mild coffee.
T/F: Surprisingly light bodied.. bordering on watery. Sweet burned sugars and roasted grains. Light espresso and cocoa. Flavor isn't bad... mild for the ABV. Well carbonated. Roast and bittersweet roast at the finish.
O: A lightweight as far as Imperial Stout's go. Great looking beer... so-so on the flavor. Not one I'd revisit. Good for the price I guess?
Oct 05, 2018
Mindcrime1000 from South Dakota
2.5
/5
rDev
-21.4%
look: 2.5 | smell: 2.5 | taste: 2.5 | feel: 2.5 | overall: 2.5
Poured from a 16oz can into a stout glass.
Pours a remarkably thin not-quite opaque brown with a fast-leaving head.
The first aroma is "metal" followed by some toasted coffee and chocolate notes.
The flavor follows the nose and not in a very good way. Very bland and metallic, with only hints of classic stout flavors.
The mouthfeel would be good--if this was something other than a stout. Thin with high fizzy (not creamy/foamy) carbonation.
Pass.
Jul 07, 2018

Dentist666 from Russian Federation
2.39
/5
rDev
-24.8%
look: 3.5 | smell: 3.25 | taste: 2 | feel: 2 | overall: 2
0,5l can. 16,5% Plato.
Pours deep dark brown beer with beige head, moderate retention.
Smell - sour cream, metallic, roasted, chocolate.
Taste - malts, sugar, molasses, roasted.
Medium body and carbonation.
Dramatical lack of character and charisma.
Jun 08, 2018
Steam Brew Imperial Stout from Privatbrauerei Eichbaum
Beer rating:
84
out of
100
with
32
ratings