Liber
| Companhia Cervejaria Brahma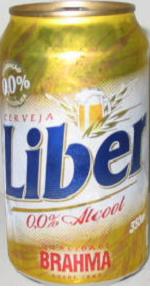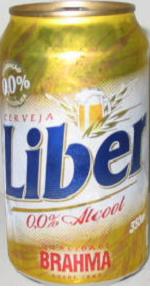 BEER INFO
Brewed by:
Companhia Cervejaria Brahma
Brazil
brahma.com.br
Style:
Low Alcohol Beer
Alcohol by volume (ABV):
0.01%
Availability:
Year-round
Notes / Commercial Description:
No notes at this time.
Added by soper2000 on 03-01-2005
HISTOGRAM
Ratings: 6 | Reviews: 4
Reviews by FLima:
1.12
/5
rDev
-3.4%
look: 2 | smell: 1.25 | taste: 1 | feel: 1 | overall: 1
Yellow golden color with a thin aired head with low retention.
Light aroma of corn syrup.
Weird flavor, it doesn't feel like beer, and I consider my concept of beer quite broad. It tastes predominantly like corn syrup with practically no hops. Hints of diacetyl and cooked vegetables.
Watery body with medium carbonation.
This is really bad, cold water mixed with a spoon of Karo corn syrup. Undrinkable.
404 characters
More User Reviews:
1
/5
rDev
-13.8%
Why does the AMBEV launched Brahma 0.0%, considering that already had something less worse?! Hops?!
99 characters
1.33
/5
rDev
+14.7%
look: 2 | smell: 1.5 | taste: 1 | feel: 1.5 | overall: 1.5
Although Liber is the first brazilian lager with a modern process to dealcoholise beer after complete fermentation, something is going wrong at the moment, the beer ester profile was awful and there were many stale flavors.
Need a strong work on it to improve taste enough to be considered a good non alcoholic lager.
318 characters

1.22
/5
rDev
+5.2%
look: 3 | smell: 1 | taste: 1 | feel: 2 | overall: 1
I saw this in the fridge at the house I´m staying at. Beer with absolutely no alcohol? Or as Dean Wormer from Animal House would say `ZERO POINT ZERO!´. From a 350 ml can, on to the beer (wait, is it actually beer?):
It looks like beer. Faded sunshine color, topped by a fuzzy head that is still staying on top. It eventually drops to a thin lace. So my dog has no nose. How would it describe the aroma of this beer? Awful! Smells like body sweat with a disgusting twist of rotten pineapple. The taste is...well....there´s next to nothing to taste. More pineapple gone bad, but then again, I could be smelling what I´m tasting because the odor is so strong...or that there´s nothing to actually taste. It´s not totally watery, so I´ll give them that. It actually feels like a little substance to beef up the liquid.
Perhaps it goes without saying that this beverage found its way to the sink. Terrifyingly terrible!
925 characters

1.29
/5
rDev
+11.2%
look: 3 | smell: 1.5 | taste: 1 | feel: 1.5 | overall: 1
My girlfriend brought me back a couple random beers from Brazil, this being one of them. Poured from a 12 oz. bottle into a pilsener glass.
a - Pours a very clear golden color with one inch of fluffy white head that lasts for a few seconds and very high carbonation evident.
s - Smells of musty notes, vegetables, light bread, light manure and earthy notes, and something else weird I can't put my finger on. Very odd and unjoyable; not the most offensive beer I've ever smelled, but very odd.
t - Tastes of vegetables again, sweet sugar, corn, bready, odd musty and earthy notes. Very off and unenjoyable again. There is just something about the sweetness mixing with the vegetables that makes my stomach uneasy; probably the worst tasting beer I've ever had.
m - Pretty light bodied beer with very high carbonation that stings the tongue. Way overcarbonated.
o - Overall probably the worst beer I've ever had; it's definitely down there. Very odd smell and the sweetness in the taste makes that even nose than the nose. Would recommend drinking anything over than this beer if you find yourself in Brazil.
1,113 characters
Liber from Companhia Cervejaria Brahma
Beer rating:
1.16
out of
5
with
6
ratings