Point Loma Porter
| Coronado Brewing Company
BA SCORE
83
good
15
Reviews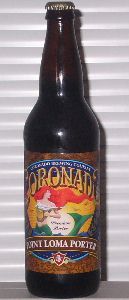 BEER INFO
Brewed by:
Coronado Brewing Company
California
,
United States
coronadobrewing.com
Style:
American Porter
Alcohol by volume (ABV):
not listed
Availability:
Rotating
Notes / Commercial Description:
No notes at this time.
Added by xlperro on 11-06-2003
Reviews: 15 | Ratings: 18

2.93
/5
rDev
-18.6%
look: 4 | smell: 3.5 | taste: 2.5 | feel: 3.5 | overall: 2.5
8/13/2011
On tap at Coronado Brewing
A: Black with a big frothy dark brown head. Retention is very good, and much lacing is left behind.
S: Dark chocolate with a faint nuttiness and moderate roasted malt. Hops impart an earthy quality. There's some toasted bread as well.
T: Chocolate and moderately roasted malt with an unpleasant harsh moderate bitterness. Very astringent. Light citrus.
M: Lower full body with moderate carbonation. Mouthfeel is creamy and smooth.
Overall: I like the aroma but the bitterness is off-putting and ruins the beer for me.
560 characters
3.83
/5
rDev
+6.4%
look: 4 | smell: 3.5 | taste: 4 | feel: 3.5 | overall: 4
On tap at the brewpub
A - Poured a black color with a tan head that leaves lacing behind
S - Is of roasted malt with chocolate and coffee scents
T - Follows the nose with the roasted malt chocolate and coffee with a hint of hops in the finish
M - This beer has a medium body with medium carbonation to it
O - This is an enjoyable porter with a good taste and a not watery body like most made this one easy to drink worth getting if you see it around
454 characters

3.52
/5
rDev
-2.2%
look: 3 | smell: 3.5 | taste: 3.5 | feel: 4 | overall: 3.5
On tap at the Coronado Brewing Company. Poured dark brown with a very small, white head that left lacing around the glass. The aroma is very faint... some burnt chocolate notes and some hops. The taste is smooth; starts out with some roasted malts, chocolate and espresso up front, and follows with a medium hop-presence. This was a decent porter, but a little more hoppy than I'm used to. I think I prefer malts to be dominant if the beer isn't balanced... it was decent and drinkable, but not one of my favorite porters.
526 characters
3.88
/5
rDev
+7.8%
look: 4 | smell: 3.5 | taste: 4 | feel: 4 | overall: 4
On tap at the Stone Brewery on 6/30/11
A - Poured black with a small amount of brown head.
S - Roasted malts, some smoke, chocolate.
T - Roasted malts. A hint of smoke. Coffee. Good bitternes.
M - Medium body. Light to moderate carbonation.
O - A solid example of they style.
283 characters

3.97
/5
rDev
+10.3%
look: 3.5 | smell: 4 | taste: 4 | feel: 4 | overall: 4
On tap. Pours a dark chestnuty brown/black color with an inch of frothy light brown head. Nice lacing. Aroma is smoky chocolate. Some coffee and roasted malts. Taste is a smoky almost burnt coffee kind of taste. Dark chocolate as well. The smoky flavor is really good and is the most dominant of the flavors. Somewhat of a creamy mouthfeel. Not sure of the ABV since its not listed on BA, but I was served the beer in a snifter so I'm guessing its on the high side. That being said, very little alcohol burn to this one. Overall, this is a very good Porter that I hope to have again. Worth seeking out for sure.
611 characters
3.58
/5
rDev
-0.6%
look: 4 | smell: 3.5 | taste: 3.5 | feel: 4 | overall: 3.5
On-tap at Churchill's, on to the beer:
It's black! The head is tanned, sturdy on top, retains well and leaves some lacing. Point Loma makes me think of one thing; mild smoked cocoa beans. The aroma brings me to that note, and so does the taste. Well, in the taste, it does get a little roasty towards the back end. Overall, the intensity of the flavor is on the lighter side, but still a porter that fills the bill.
416 characters

4.21
/5
rDev
+16.9%
look: 4.5 | smell: 3.5 | taste: 4.5 | feel: 4 | overall: 4.5
Had this one at the Stone 12th Anniversary Brewfest.
---
App: Nice dark, black color and even held up to light, it's dark. Nice thick, 1/2" tan head with medium lacing left on the glass.
Sm: Smoky, roasted malt aroma, with a little espresso, sweetness and mild alcohol aroma
Mouth: Medium body feels thinner but still sits on tongue fully.
Taste: Nice balanced, roasted flavor with hints of chocolate and coffee and a mild alcohol flavor. None of the flavors are overpowering but complement the others. It does have an interesting spicy, dry start and a sweet, smoky ending that was quite tasty and just made me want to drink more.
Drinkability: High! The sweetness in the beer makes you want to drink more and the smokiness isn't so much that it's overly dry or bitter. I could have a couple of these easy.
---
817 characters
3.83
/5
rDev
+6.4%
look: 4 | smell: 3.5 | taste: 4 | feel: 3.5 | overall: 4
Enjoyed at th eStone 12th anniversary.
POured a dark brown, nearly black. Big tan head. Nice chocolate and coffee flavor and smell. REally wasn't expecting anything, but found this to be a nice solid porter, with a good bubbly mouthfeel. A bit one dimensional, but solid. Very drinkable.
289 characters
4.18
/5
rDev
+16.1%
look: 4 | smell: 3.5 | taste: 4.5 | feel: 4 | overall: 4.5
I had this on tap at the Coronado Brewery. The color was very dark, almost black. Although the glass was filled pretty near to the top, leaving only a little room for the head, what head there was was pretty dense and moussey. The most notable thing about the beer, for me was it's nice, sweet, slightly chocolatey flavor. Some porters seem overly smokey to me. Though there were definitely nice roasted malt notes, this beer was not at all smokey or burnt in flavor--and I appreciated that! The mouthfeel was fairly full-bodied and low to moderate in carbonation with a clean (neither sticky nor dry) finish. Even though it was my second beer, I finished my pint pretty quickly and would have enjoyed another if not for the fact that I wanted to try a different beer (since it was my first time visiting CBC and I don't know when I'll go back)--all of which is to say that it is a very drinkable beer. I'll be sure to have it again next time I am there.
954 characters

3.65
/5
rDev
+1.4%
look: 4 | smell: 4 | taste: 3.5 | feel: 3.5 | overall: 3.5
Out of the 650ml bottle pours a very dark, almost black, rich brew with a light brown finger and a half of creamy head. Firm lacing follows.
The first wiff is a bitter dark chocolate, very roasted (almost burnt smell) expresso coffee odor. Definitely a robust Porter is about to be quaffed. As it smells a verrry roasted chocolaty caramel malty, rich (almost smokey) flavor fills the mouth with a bitter expresso coffee grounds finish.
This is a very earthy, hearty medium bodied Porter that fills the palate with full flavor leaving a dry but pleasant bitter finish. Easy to drink if you like this style, filling none the less. Nice occasional drink...
659 characters
3.41
/5
rDev
-5.3%
look: 4 | smell: 3 | taste: 3.5 | feel: 3.5 | overall: 3.5
Served on-tap at T. Phillips Alehouse in La Verne, CA. This place is one of my regular haunts and they recently started carrying this Coronado B.C. offering along with their Golden Ale and Mermaid Red. Served in a standard pint glass.
Point Loma Porter had a uniformly black appearance and was topped by a modestly sized creamy light tan head. A slight residual lacing was deposited, giving the glass an etched look.
The smell was pretty mild, consisting mainly of light coffee notes, some caramel and sweet grains. Just the faintest hints of smoke. It was rather difficult pick out the aromas.
The taste had an immediate coffee bite to it, but not very bitter. More like a caffe mocha with a definite sweet edge to it. Oddly devoid of flavor mid-palate before a mild earthiness and wisps of smoke flickered over the tongue. Sweet chocolate and malt resume at the back of the tongue in the absence of the anticipated bitterness. The feel was light and a bit thin. Kinda watery, too.
Overall, this porter is pretty benign and in-offensive. You know, the kind you'd probably want to use to introduce one of your "I don't like dark beer" friends to in an effort to convince them that 'dark beers' aren't scary. Not very bold, not very innovative, just your run-of-the-mill ho-hum porter. Hoped for more but, given my experience with previous Coronado Brewing Co. brews, got what I suspected.
1,392 characters
3.48
/5
rDev
-3.3%
look: 4 | smell: 3.5 | taste: 3.5 | feel: 3 | overall: 3.5
Presentation: After trying the rather weird Mermaid's Red and very average Coronado Golden a few weeks back, I spied this other beer from Coronado whilst perusing one of my local Long Beach Beer Stores with fellow BA Ericaweizen.
As with the previous two offerings from Coronado it has a very colorful plastic-like label has the requisite red-haired Mermaid beauty politely holding a large glass of frothing ale in front of what should be her naked breasts [robbed again!]. Labeled as Coronado Point Loma (Premium) Porter. No freshness or strength listed.
Appearance: Nice dark black body that absorbs 99% of all light that falls on it, only the edges of the glass hint at the truer dark brown body. Classic brown head, thick and foamy at first it slowly settles down to a uniform ½" thick which had good staying power. Solid conditioning.
Nose: Firm roast coffee nose with a smoked malt kick in the back end. Light alcohol nose with some warmly dissolved brown sugar. Dark chocolate hints too.
Taste: Strange profile, almost like a back-to-front Porter it finishes with a nice sweet malt ending and a dry coffee start. Smoky middle and some bitter traits start in the second quarter and fade in the third.
Mouthfeel: Thin feel but the dark creamy coffee tastes lend assistance to the wanting body. A tad watery overall though.
Drinkability: Supped this quite quickly, the chocolate part of the Porter is appealing but it fails to get impressive thanks to the thin body and lacking mouthfeel.
Overall: Cost $3.59, has coffee in the nose and chocolate in the taste but it's nothing that special really. A reasonable effort but I'm not sure that this is one that I'll buy again. Save the empty bottle, or just the label, and you can get 10% off your next purchase when you visit the Brewery, a nice touch!
1,832 characters
3.48
/5
rDev
-3.3%
look: 4 | smell: 3.5 | taste: 3.5 | feel: 3 | overall: 3.5
Nearly black with no visible highlights topped by a light brown lace of head composed of fine bubbles. Retention was excellent and bits of foam stuck to the glass as the beer disappeared. Malty aroma with some burnt character and slight roastiness and very light earthy hops. Malty burnt flavour up front with some astringent dryness from the dark malts. Light floral hop flavour. Sweetness is fairly well balanced with a moderate hop bitterness and some bitterness due to black malt. Chocolate flavours appear as it warms. Longish finish with some bitterness from the grain and hops followed by more roasted and burnt. Medium-light body and carbonation. Not bad overall, but the dark malt seems a little too strong.
22 oz. brown bomber, no apparent freshness date. Purchased at the brewpub.
794 characters
3.47
/5
rDev
-3.6%
look: 3 | smell: 3.5 | taste: 3.5 | feel: 2.5 | overall: 4
On tap at the CBC. Dark brown/black color, with a very thin head. Lots of roasted and caramel aromas. Mouthfeel is just a bit watery for a porter. Flavor is like the aroma - lots of roasted malt, and some caramel in there as well. Very smooth and drinkable.
257 characters
3.48
/5
rDev
-3.3%
look: 4 | smell: 3.5 | taste: 3.5 | feel: 3 | overall: 3.5
A very dark porter with a nearly-black body of very dark brown. Capped with a thin nearly white head and moderate lacing at the start. Nice roasted coffee aroma. The taste is quite smoky and definitely gives roasted coffee notes. The body is thin, weak, and watery to a fault. The feel definitely hurts the drinkability dimension.
330 characters
Point Loma Porter from Coronado Brewing Company
3.6
out of
5
based on
18
ratings.