Blonde Lager Ale
| Daleside Brewery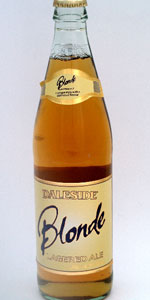 BEER INFO
Brewed by:
Daleside Brewery
United Kingdom (England)
dalesidebrewery.co.uk
Style:
English Bitter
Alcohol by volume (ABV):
4.30%
Availability:
Year-round
Notes / Commercial Description:
No notes at this time.
Added by yen157 on 05-19-2004
Reviews: 5 | Ratings: 7

2.56
/5
rDev
-24.7%
look: 3.5 | smell: 2.5 | taste: 2.5 | feel: 2.5 | overall: 2.5
A 500ml bottle with a BB of May 2013. Looks like they've now switched to brown glass. Described on the label as an English ale that is cold-conditioned like a lager. I guess Daleside are shooting for the lager market with this one.
Poured into a Sam Smith's pint glass. A clear golden-amber hue with plentiful carbonation. Forms a smallish head of creamy white foam that hangs around for a few minutes before subsiding. The aroma is exceptionally weak. Faint whiffs of stewed hops and ale yeast.
Tastes of light malt with a harsh, dry finish. Notes of stewed hops and a hot solvent note in the background. Bitterness is mild, but harsh and dry. Mouthfeel is smooth and tingly, yet insubstantial. Somewhat astringent. Aftertaste of unpleasant stewed hops.
Not particularly nice - I'm surprised at the other reviews that describe it in more glowing terms. Bland, with no aromatic hop character whatsoever. Possibly the weakest smelling beer I've come across; it's like there's nothing there. A vile stewed hop flavour with faint malt and yeast. It's just bad; save your money.
★
1,077 characters
3.74
/5
rDev
+10%
look: 3 | smell: 4 | taste: 4 | feel: 3 | overall: 3.5
Now labelled as 'Lagered Ale' rather than 'Lager Ale', still sold in clear 500ml bottles and at 4.3% ABV. Poured into a Corsendonk Grand Cru tulip. Best before the end of April 2010, drank and reviewed 8th April 2010, so just in date.
Looks like a lager, smells like an ale. Bright golden body with a pure, snow white head, thick and creamy. Hops leap out the glass into your nose just to remind you this is an ale, not a lager.
Strange blend of lager/ale tastes/flavours, the body is also half and half!
Interesting and worth finding.
★
538 characters

3.37
/5
rDev
-0.9%
look: 3 | smell: 3.5 | taste: 3 | feel: 3.5 | overall: 4
50CL Bottle poured into my HB pint glass.
A- Apple Juice concentrate golden hue, clear, 2 finger white fluffy head, reduces very quickly to a crown, lacing is minimal, sticky.
S- Lots of lemon sweetness,not bitter, a malty background. A faint italian tomato marinara-esque sauce quality.
T- Lemons sweetness in the foreground, a faint hop bite in the finish which unfortunately is a little thin.
M- Medium carbonation, thin bodied.
D- The lemon notes are refreshing albeit its all a bit of an anticlimax. The hop bite is there but dies quickly to give a watery texture. Just needs a bit more body and more hop character, this would be a nice offering. Refreshing nonetheless. Easily drinkable, just not moreish.
★
717 characters
4.19
/5
rDev
+23.2%
look: 3.5 | smell: 4.5 | taste: 4 | feel: 4 | overall: 4.5
Tasted this beer by a pint at the Lord of the Mall, a Wetherspoon's pub nr. the Trafalgar Sq., London.
A: bright and clear dark-golden hued, with a dissipating beer head and very low carbonation.
S: grapefruit-peel dominated hop aroma in full force!! with a touch of honey, cherry and overwhelmingly citrus-zesty fruitiness almost melting in front of my nose--at a closer sniff, the fruitiness combines the strong fragrance of Gewürztraminer white wine's refreshingly sweet lychee-scent with a touch of spice, with Sauvignon Blanc's tangy and dryish citrus note. Very complex fruity nose, and I suppose the beer is utterly fresh as well.
T: on the palate, it's like elder-flower cordial+tonic!! So deliciously fruity--grapefruit peel, tropical fruitiness, Sauvignon Blanc wine's slightly lemony and mineral touch... with good body of bitterness in the end.
M&D: attenuated texture for its delicious, full-flavoured, almost white-wine like vinous taste. I suspect it could taste more lively with the help of some more fizz, but it already is one of the ultimate delicious hoppy golden ale/bitter I've tasted. Highly recommended on cask.
★
1,140 characters
3.33
/5
rDev
-2.1%
look: 3.5 | smell: 3 | taste: 3.5 | feel: 4 | overall: 3
Yes, the name is "Lager Ale". While I have certainly heard of this being done, I've never seen it acknowledged on the label. Odd ploy. Anyway, it comes in a 500ml clear slender bottle, shaped something like a Schneider beer. Deep gold in color with a fleeting head that leaves a sticky trace on the glass.
Nicely hoppy nose with Sorrento lemon notes. Rich, but not overpowering, malt lingers in the background. Everything from the nose is projected onto the palate. Hops provide bitterness to balance the malt in the finish as well as suitable flavor all along the way. A most unusual beer, any rough spots were most definitely smoothed out by the lagering. Surprisingly hoppy. Perhaps a bit of diacetyl.
★
710 characters
Blonde Lager Ale from Daleside Brewery
3.4
out of
5
based on
7
ratings.