Bad Attitude Two Penny Uischi Cask Aged Porter
| Birrificio Ticinese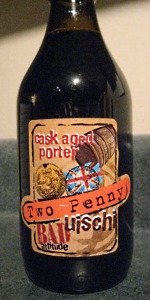 BEER INFO
Brewed by:
Birrificio Ticinese
Switzerland
birrasanmartino.ch
Style:
American Porter
Alcohol by volume (ABV):
10.02%
Availability:
Rotating
Notes / Commercial Description:
No notes at this time.
Added by stcules on 06-01-2012
Reviews: 6 | Ratings: 16
3.78
/5
rDev
+10.5%
Pours a black color. 1/4 inch head of an off-tan color. Great retention and good lacing. Smells of strong wood, sweet malt, strong alcohol, slight dry hops, hint of roasted malt, hint of yeast, and strong grass/mustiness. Fits the style of an American Porter. Mouth feel is sharp and clean, with an average carbonation level. Tastes of roasted malt, sweet malt, dry hop, alcohol, slight yeast, and strong grass/mustiness. Overall, good appearance, aroma, blend, and body, but the grass/mustiness is interesting, not quite pleasing but not quite unpleasant.
564 characters
3.75
/5
rDev
+9.6%
A very deep brown, very little foam. Complex, sweet and a little sour and faintly bitter. Cherries? The high alcohol content gets masked by the other flavors. Not the heavy feel from a porter that I was expecting, feels a bit lighter. Not what I was expecting but pretty good.
276 characters

3.73
/5
rDev
+9.1%
look: 4 | smell: 3.5 | taste: 4 | feel: 3.5 | overall: 3.5
330ml bottle served in a tulip glass.
An English Porter aged in Whisky barrels. ABV is actually 10.02%, not 8.15% as the "regular" Two Penny.
A: Pours a deep brown color forming a medium and thin bubbled beige head. Low retention and only few spotty lacings left in the glass
S: Roasted, woody and tart in the nose. Light notes of whisky. Cherry wood. Roasted malts, light notes of chocolate. Grassy hops in the end. Alcohol is well hidden by the wood tartness
T: Slightly sweet upfront. Quite roasted and tart. Again, some light notes of whisky and cherry wood. Nice hops bitterness. Good herby and grassy notes of American Chinook and Amarillo hops
M: Medium to full body. Low carbonation and nice roasted and tart aftertaste
O: Good drinkability. Seems to be a bit infected by the barrels which gives it an acid and tart taste that does not fit with the style. However, I have the impression that's done on purpose, to give it a wild beer profile.
956 characters

2.24
/5
rDev
-34.5%
look: 3.75 | smell: 2.25 | taste: 2 | feel: 2.75 | overall: 2
330ml stubby bottle poured into tulip 21/9/13
A darkest brown with deep cola edge, two fingers of tan foam sits around for a few sips leaving a few random spots of lace
S I've had two bottles and each has been infected, funky fruit, moldy wood, vanilla, coco and chocolate covered cherry with some cola, hard to miss the nasty though, reminds me of a flooded basement
T much like the nose, rancid fruit, musty, moldy wood, and coco, there's some booze but its hard to shake the off notes
M foamy, slick and a little heat, thin for the color and even though its lacking in this area it may be a highlight
O I gave this one a second chance and it was brutal both times, I didn't finish either bottle
this one picked up some nasty in the barrel, not recommended
769 characters
3.08
/5
rDev
-9.9%
look: 3.5 | smell: 3 | taste: 3 | feel: 3.5 | overall: 3
330ml stubbie, 10.02% ABV (how so very precise).
This beer pours a very dark brownish cola hue, which the attendant basal highlights, and a thin wisp of filmy pale beige head, which settles into nothingness quite understandably quickly, leaving a few bubbly specks of lace around the glass.
It smells of woody grain alcohol, roasted caramel malt, sharp vanilla syrup, soused sultana raisins, an earthy mustiness, and leafy hops. The taste is nutty, bready, grainy malt, pithy wood fiber, dry fleshy black fruit, a slight lactic sourness, more of that musty, dusty earthiness, a softened dead leaf hoppiness, and an agreeably subtle simmering underlying booze warmth.
The carbonation is rather tame, though not completely absent, the body medium-light in weight, and a tad too astringent to be considered all that smooth. It finishes off-dry, that musty, almost vegetal essence continuing its slow absorption of all other lingering flavours.
Another decent base beer (I recall enjoying the Two Penny porter), more or less screwed up by an eneven barrel treatment. Beyond the mustiness, everything else is just too thin and anemic, unfortunately. Can't win 'em all in the wood game, I suppose.
1,195 characters
3.6
/5
rDev
+5.3%
look: 3.5 | smell: 3.5 | taste: 3.5 | feel: 3.5 | overall: 4
Black, with one finger ofa decent beige head.
In the smell a lot of whisky notes, vanilla, some toasted. Quite smooth, though.
A lot of cask effect.
Same notes in the taste, the woody note over all, along with the vanilla, and the toasted. Not too much hop.
In the aftertaste wood, whisky and peated. Pleasant.
Not a bad beer at all, easily drinkable, too. But you have to note that the dominant effect is dued to the cask, and whisky.
440 characters
Bad Attitude Two Penny Uischi Cask Aged Porter from Birrificio Ticinese
3.42
out of
5
based on
16
ratings.