Dismiss Notice
Dismiss Notice
Bucky Blonde Ale
| Lithia Brewing Company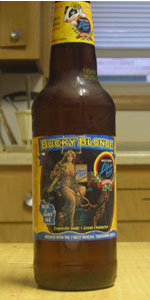 BEER INFO
Brewed by:
Lithia Brewing Company
Wisconsin
,
United States
|
website
Style:
American Blonde Ale
Alcohol by volume (ABV):
4.50%
Availability:
Rotating
Notes / Commercial Description:
No notes at this time.
Added by WastingFreetime on 11-16-2011
Reviews: 3 | Ratings: 8
3.33
/5
rDev
-7.8%
look: 3.25 | smell: 3.25 | taste: 3.25 | feel: 3.5 | overall: 3.5
Pours golden with a thin fizzy head that collapses to a wide patch. A little lacing sticks.
The smell is of grain, bready yeast with light floral notes.
The taste is very mild - some grain, a bit of yeast and a soft floral touch.
It is light-bodied and crisp. A bit fizzy. It has a refreshing dry character to it.
An average-ish, or top-end to above average brew. The best part, in my opinion, is the dry, refreshing character. Easy-drinking.
★
447 characters
3.58
/5
rDev
-0.8%
look: 3.5 | smell: 3 | taste: 3.75 | feel: 4 | overall: 3.75
6-pack of bottles purchased at a liquor store 8 miles from its home city of West Bend and poured into a 16-ounce pilsner glass.
Presentation: Brown twist-off 12oz bottle with more slogans on the labels than a bottle of Bronner's Soap. Has about a dozen marketing quips in all different fonts. The graphic designer should be sent back to the table with instructions to dial it down a bit. I liked Lydia on the front of the main label though. She can stay. That's classic Lithia there.
Appearance: Straw colored, slightly cloudy. 1" head disappeared almost immediately; not even any lacing left. That's odd.
Smell: Am I catching a cold? Not much here for me. Hops, maybe a little barley. However, this is a blonde ale...
Taste: Not getting much for standout flavors. Malts are just biscuit-y, hops don't bring any fruit flavors at all. But malts and hops are really well balanced. It's just hoppy enough - the flavor is just crisp, clean bitterness. Whatever is in here all works well together with no off flavors. The hoppiness comes out more as it warms.
Palate: Lots of body for what it is - not thin or watery at all. I'd call it just right for the style and very enjoyable. Extremely dry. I get a slightly metallic feel after swallowing. It's almost like drinking beer-flavored sparkling mineral water. Leaves nothing behind on the tongue.
Overall: I'm happy with it. Could drink a bunch of these on a hot day or to wash down spicy food. Wouldn't go out of my way to get it, except for the sentimentality. This is currently being contract brewed by Sprecher in Milwaukee, and you can get it there now too.
★
1,620 characters
4.01
/5
rDev
+11.1%
look: 3 | smell: 4.5 | taste: 4 | feel: 3.5 | overall: 4
The label presentation is pretty funny on this one, aside from a really neat main picture front and center, there are little catch phrases printed all over the place such as, "Arguably, The Most Complex," "Liquid Gold," "Rich and Sassy Ale," "Exquisite Body" etc....etc...etc... Its as if the marketing department couldn't make up their mind on what the tagline ought to be during the brainstorming session, so they used all of them at once. The main extra thing I do appreciate on the label is that this is the first beer I have ever seen to actually tell me on the label how many calories it contains! But lets get down to business, here.
Appears on the golden edge of straw colored, semi-hazy with a tiny sad head that fizzled down to a thin froth layer in less than a minute, obviously as a result of visibly lackluster carbonation in the glass and across the tongue. Body is on the lighter side of medium, but maintains a creamy sort of texture that I do enjoy quite a bit.
Smells intensely bready and biscuit-like for a blonde ale, with honeyed undertones. For a 4.5 ABV this brew does a great job of smelling higher gravity than it actually is. Flavor follows suit, nice initial blend of pilsner / cracker malt blend of sweetness that gets tempered by a rise of gentle earthy / herbal hopping towards the finish. Stays semi-dry throughout...in conclusion this is a blonde ale that manages to leave an impression on me, mostly due to being drier than most blondes I have tasted.
★
1,486 characters
Bucky Blonde Ale from Lithia Brewing Company
-
out of
100
based on
3
ratings.