Panil Enhanced (Final)
| Panil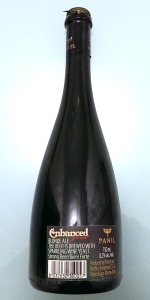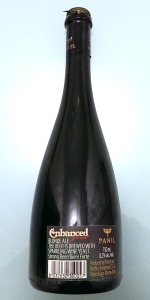 BEER INFO
Brewed by:
Panil
Italy
panilbeer.it
Style:
Bière de Champagne / Bière Brut
Alcohol by volume (ABV):
8.20%
Availability:
Rotating
Notes / Commercial Description:
No notes at this time.
Added by 4ster on 11-09-2013
HISTOGRAM
Ratings: 13 | Reviews: 6
Reviews by evil_liver:
More User Reviews:
3.71
/5
rDev
-3.4%
look: 4 | smell: 3 | taste: 4 | feel: 4 | overall: 3.75
4.28
/5
rDev
+11.5%
look: 4.75 | smell: 4.25 | taste: 4.25 | feel: 4.25 | overall: 4.25
Bottle: Poured a light dirty beige color ale with a large foamy head with OK retention and some good lacing. Aroma of pongy rustic malt with light tart undertones is quite sublime. Taste is also a great mix of rustic malt with dry Brett notes with light funky yeast and some pungent notes also noticeable. Body is quite full with super great carbonation. A perfect mix of complexity and drinkability which appears to be a common thread form this brewery.
454 characters


3.41
/5
rDev
-11.2%
look: 4 | smell: 3.5 | taste: 3 | feel: 3.75 | overall: 3.75
3.84
/5
rDev 0%
look: 3.75 | smell: 4 | taste: 3.75 | feel: 4 | overall: 3.75
The beer is an incredible gusher. Pour is almost all head, and some gets lost on the table. Head is huge and snow white, very thick. The beer (that is visible) is opaque golden. Very long retention and lots of lace.
Nose contains green grape, honey, light fruits (peach), yeast and flowers.
Taste is like the nose. Very fruity, lots of light fruit flavours. Honey and a notable sweetness. Grape. An odd finish and a surprising dryness. Some yeast.
Light bodied (surprisingly), very creamy with a very delicate carbonation from champagne yeast. A bit cloying.
The taste is initially good, but grows tiresome. Fruits and yeast clash a bit. I would have slotted this under the Biere de Champagne style.
705 characters
3.9
/5
rDev
+1.6%
look: 3.75 | smell: 3.75 | taste: 4 | feel: 3.75 | overall: 4
Props to my in-laws for grabbing a bottle of this. I lost about 1/4 of the bottle as it erupted like a volcano...
A - Pours a hazy pale golden colour, two thumbs of head with solid retention, some sporadic lacing and heavily visible body carbonation.
S - Nose is sour citrus rind, musty cork, grassy notes, and a candied apple finish.
T - Nice tart citrus flavour, grassy hop notes, citrus rind, apple cider, hints of Chardonnay, and hints of burnt sugar and caramel linger alongside sour citrus rind.
M - Heavily carbonated, light bodied, smooth and a touch of dryness.
O - A great twist on the traditional Belgian pale, offering up a nice tart flavour that pairs nicely, but the volcano aspect was rather disappointing. I'm wondering if the bottle would've been ok had I let it warm a bit since I've known some beers whose heavy carbonation settled as it warmed up. In any case, a worthy brew and thoroughly enjoyed what was left of the bottle.
951 characters
4.24
/5
rDev
+10.4%
look: 4 | smell: 4.25 | taste: 4.25 | feel: 4.25 | overall: 4.25

4.03
/5
rDev
+4.9%
look: 3.75 | smell: 3.75 | taste: 4.25 | feel: 4 | overall: 4
Panil Enhanced (Final) apparently refers to 'enhanced carbonation' - I should have expected as much from a beer fermented with Prosecco yeast. A quarter of the bottle ended up in the sink and I even had to enlist the help of a big spoon with what content actually made it into the glass. Once all settles, however, what's left is a pretty and luminous golden ale.
The aroma isn't good enough to make me float like in the cartoons, but I do have a hard time prying my nose from it. It's rather reserved, a bit buttoned up at first - ironic consider it literally spewed from the bottle - but more and more can be appreciated with warmth; in time, coriander, lemongrass and citrus zest come to the fore.
The taste is remarkable: a combination of Belgian-style Pale Ale and Prosecco. It has a clean, oven-fresh breadiness and competing notes of green apple and green grapes, apricot and nectarine, lemon and other citrus, and a touch of garden herbs. There's also a bit of a barnyard-like profile on some sips - a combination of sparkling wine, sour and sweet beer.
As you'd expect, the mouthfeel is sparkling and effervescent, with a refreshingly acidic lemony twang. I honestly have no idea what food you'd pair this with (lobster maybe?) but make sure it's upscale fare; this beer is cleverly conceived and masterfully crafted, it honors Italy's proud gastronomic heritage so be sure to pay it the same respect.
If you like the sound of Belgian-style Pale Ale and dry Prosecco then Panil Enhanced (Final) is the beer for you (and, to be sure, it's one of the only such beers in existence). Me, personally, I liked it a lot - it's nearly worth the stains it left on my kitchen wall. Considering it costs only as much as the cheapest sparkling wine - and is far more special - consider this a 'must buy'.
1,809 characters

4.1
/5
rDev
+6.8%
Bottled in 2011, so quite old.
Obviously, a gusher, aggressively so. After it finishes the show, the pour make a big fluffy head, but very short-lived, reduced to a small lace in seconds. Hazy, shiny orange.
Smell of apricot, apple, pear, a bit of bubblegum, with a mild barnyard note, sweet Noah white grape, hint of floral spicy hops and some faint peppermint.
Tons of lemon and white grape in the taste, some light sour cherries too. Nice bit more than moderate tartness. Fermenting fruit too, with almost cidery apple, yellow pear, quince. Nice barnyard funk, chalk, hay, lemongrass. Nice herbal feel enhanced in the end by some floral notes (with hints of honey sweetness) and mild spicy hops. The faintest bit of wood, champagne dry finish with a bit of alcohol and bitterness too.
Medium body, prickly "festive" carbonation. Aftertaste is fruity, white grape and apple, with some light honey sweetness. Really nice.
Didn't expect this. Really nice for its dirt cheap price. Probably because it was "expired". Nope, no problems with that here.
1,049 characters

3.9
/5
rDev
+1.6%
look: 4.25 | smell: 3.5 | taste: 4 | feel: 4 | overall: 4
Not a lot of information out there on these beers, but it doesn't seem to be the "regular" or "reloaded" style of this beer (as the label clearly says "final", whether or not that means anything, or that it is the same I'm not sure but if someone wants to put these reviews together that's fine.
Poured into a large wine glass. Classic green prosecco style bottle. As with some others of this, caution is advised when opening over your fancy leather sofa or nice clothes, this one will burst forth from the bottle, so be ready with glass in hand.
A: Pale, straw coloured, cloudy, lots of carbonation if you hold it up to a light, explosive head, fist thick, bright white, lots of micro bubbles but does die down pretty quickly.
S: On the nose sour grapes, grape skins, yeast, generally fruity.
T: Imagine prosecco mixed with a Belgium blonde, that is pretty much how I would describe the taste of this beer. The prosecco yeast really stands out in the sour and grape flavours of this beer, green apple in the middle, followed by the Belgium bitterness and bit of hops at the end.
M: High carbonation, very light and sparkly, slightly dry.
O: Overall I quite like it. Not a typical style but a nice use of wine yeast, though almost falls too much into being like a wine, even if I would assume there is no grapes in it.
1,324 characters
Panil Enhanced (Final) from Panil
Beer rating:
3.84
out of
5
with
13
ratings