Lager Heads Smokehouse & Brewing Co.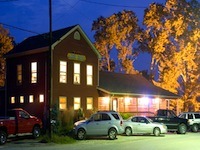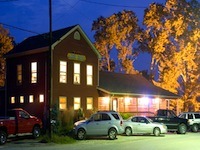 Brewery, Bar, Eatery
2832 Abbeyville Rd
Medina
,
Ohio
, 44256
United States
(330) 725-1947 |
map
lagerheads.us
Notes:

4.08
/5
rDev
+11.8%
vibe: 4 | quality: 4 | service: 4.5 | selection: 4 | food: 3.5
Lager Heads is just outside of Medina and is a bit off the beaten path. Inside there is typical bbq and beer vintage advertisements. The quality of the beer was good ...the quality of the food was sub-par. Service was very friendly and attentive. I thought the beer menu was decent they had 7 of their own available. I had the brisket platter and it was tough and chewy. The mac and cheese / Cole slaw sides were nothing to write home about....so O thought the food was now average.
488 characters

3.03
/5
rDev
-17%
vibe: 3.5 | quality: 3.5 | service: 3 | selection: 2 | food: 3.75
Lagerheads is a good ways away from any highway, and as such is pretty difficult to get to via a very busy two-laned road through the shopping orientated part of Medina. It's beyond all that, out in the country, past a golf course and surrounded by farms.
Lagerheads has a pretty big gravel parking lot, a large, long, lacquered wooden bar in the one wide open room with numerous sports-focused TVs, with a smaller room off to the side with more tables.
This is an old school brewery, so much so you'd think this was born pre-90s given the more standard, classic and limited number of taps and styles. They seem frozen in time with the craft beer industry having exploded and evolved all around them, leaving them untouched. The beers are okay, pretty basic, but of a higher quality than some other local breweries in NEO.
The food is pretty good, that is, for Ohio BBQ, which is a non-existent scene. They give huge portions, including the appetizers. It all hits the spot, with the barbecue not being overly dry and flavorless, although obviously this isn't the South, they do their best and it's not bad at all. Brisket is really fatty, pork is a touch dry but not too much, chicken wings aren't extremely smokey but are well done and have great sauces that are used in the right portions, and their sauces are unique, peppery but sweet.
1,343 characters
2.04
/5
rDev
-44.1%
vibe: 2.75 | quality: 1 | service: 3.5 | selection: 1.75 | food: 1.5
Ouch. I hate throwing bricks at microbrewers, especially one that I have never visited before, but I can't help it this time. Lagerheads is a bit out of the way and really not worth the journey despite the nearly full parking lot at dinnertime on a Saturday night.
I tried the pulled pork which was largely tasteless even doused with their own BBQ sauce.
Worse their Belgian Witt beer was completely without flavor or character. It wasn't flat it was just a glass of tasteless, character-less fluid.
500 characters
3.84
/5
rDev
+5.2%
vibe: 3.75 | quality: 3.75 | service: 4 | selection: 3.75 | food: 4
I decided to check Lagerheads out on a trip to Akron. I thought it would be a nice stop on the way home. I turns out, it was kind of out of the way and out in the country. I finally made it here around 2:30pm EST on a Friday afternoon. I was surprised at the number of cars given the secluded location and the off hour.
I walked into the establishment. It had a lodge type feel to it. There was a lot of wood. There were exposed wooden beams that projected a barn atmosphere. I found it cozy. My friend and I bellied up to the bar. There was only one person working. She had to cover the tables and the bar. As I mentioned, it was fairly busy for the time of day. Eventually, another server was called in to help. The service was fine given her situation.
I ordered a sampler of the beers that they offered. There were six in total. They were average. I believe the tripel was the best of the bunch. I ordered a brisket sandwich that came with sauteed mushrooms and onions and cheddar cheese with homemade chips. The sandwich was messy but oh so good.
Overall, I thought it was too out of the way for me. The food was great. If they had better beer I would probably stop again, but the location makes it a hassle. It's worth at least one stop though.
1,256 characters
4.13
/5
rDev
+13.2%
vibe: 3 | quality: 4.5 | service: 4.25 | selection: 3.75 | food: 4.75
An old barn turned into excellent smokehouse food, the brisket must be eaten with a fork. Good selection for a smokehouse, food is all very good. Add in fresh beer, great place to go. Even the wife like going here to eat, that is rare. She even like the BedHeadRed. Overall a place that my wife and I can go eat, drink, and look forward to going back to again.
360 characters

4.1
/5
rDev
+12.3%
vibe: 4.5 | quality: 4 | service: 4.5 | selection: 3.5 | food: 4.5
A: This is a nice brewpub, set in an out-of-the-way crossroads country area.
Q:beer quality was good, had a Savage Stout, and a Bedhead Red, both very tasty, and the red, very malty.
Serv: We were there on a weekday for lunch, and got great service at the bar.
Sel: I think there were about 5 different of house beers on tap.
F: we had the half-chicken lunch special for 9 bucks, with 2 sides, and barbequed to perfection.That lead us to buy a bottle of the house bar-b-q sauce to go. Also had the 'sloppy' bar-b-q sandwich - delicious - and huge, and came with a TON of fries.
V: House beers were 5.50, a little on the high side, but they are out of the normal business district, so that might be the reason.
714 characters

3.6
/5
rDev
-1.4%
vibe: 4 | quality: 3.5 | service: 3.5 | selection: 3.5 | food: 4
(Visited 11/2011): Lagerheads is located in Medina on Abbeyville Road which is right off Hwy 75 and a few miles off I-71. They have a relatively large parking lot to the right of the building.
The interior is rustic with a lot of wood and outdoorsy decor. There is restaurant seating to the left and the bar is on the right side and has a few TVs.
Lagerheads has around 12 taps, 5 of which are house beers (the others being mostly macros). On my visit these included their standard offerings like Barnburner Lager and Bed Head Red plus Winter Mischief, Imperial Stout and the Brewzilla Styrian Celeia single hop. All of the beers are decent to above average.
Service on a Saturday late lunch at the bar was good. The server was attentive and had a decent knowledge of the beers.
The food at Lagerheads is barbecue-oriented. My pulled pork sandwich was tasty.
Overall this place is a little out of the way but I enjoyed the visit and would go again.
954 characters
3.86
/5
rDev
+5.8%
vibe: 4 | quality: 4 | service: 4 | selection: 3.5
My girlfriend and I tried lagerheads out for the first time and had a great experience! We had 3 different beers all of which I liked, especially the winter ale. It was very cinnamony/spicy and good, infact we both thought it was the best holiday ale we hav ever had, yes better than great lakes Christmas ale, which if you're from northeast Ohio is a bold statement.
The vanella bean cheese cake we had was excellent my girlfriend practically orgasmed eating it, and it paired well with their imperial stout (my favorite). The other beer we had was good too, the barnburner, it was a "lighter" sweeter tasting version of a dortmunder lager.
Overall we were both very impressed. We left with a growler, and a new favorite date spot. Can't wait to go back to try the BBQ
P.S small parking lot might have to "make your own spot"
830 characters
4.4
/5
rDev
+20.5%
vibe: 4 | quality: 5 | service: 4 | selection: 4 | food: 5
The previous review is completely unwarranted! The food and the craft beer are always exceptional at Lagerheads. klewis=Clueless! The crowd is always a friendly mix. I have no agenda, ownership, allegiance, or even friendship with the staff or owners of this great local restaurant. Trust me, it is worth the drive or if you are in the area, it's worth the stop! One bad review filled with contradictions should not discourage anyone from this gem! I have had many meals and I have had many of their craft beers. I always have been very pleased with both.
557 characters
1.85
/5
rDev
-49.3%
vibe: 2 | quality: 1.5 | service: 2.5 | selection: 1.5 | food: 2
A rustic redneck atmosphere complete with dead animals and novelty signs adorning the walls. At 10 PM on a Friday night, the crowd was uncharacteristically sparse for a bar. Our bartender was prompt and friendly but not very knowledgeable - or at least inarticulate - about the beers they had. Five or six house beers on tap along with a Thirsty Dog tap, Bud Light, and Miller Lite. Bottle selection features BMC, Amstel, Rolling Rock, Corona, Heineken, etc., etc., etc., and a few token craft beers thrown into the mix. I sampled three of the house beers - served in frozen glasses - and found all to be drinkable but mediocre. My brisket sandwich was good, but the heaping pile of undercooked fries was practically inedible. Overall, a poor experience, and I would not recommend this establishment.
800 characters
Lager Heads Smokehouse & Brewing Co. in Medina, OH
Brewery rating:
3.66
out of
5
with
296
ratings