Perverse Sexual Amalgam

Moon Dog Craft Brewery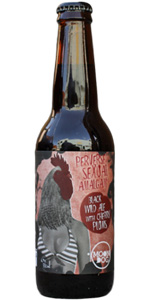 Write a Review
Beer Geek Stats:
| Print Shelf Talker
Style:

ABV:

6.1%

Score:

87

Avg:

3.69

| pDev:

11.11%

Reviews:

9

Ratings:

From:

Avail:

Retired (no longer brewed)

Wants

Gots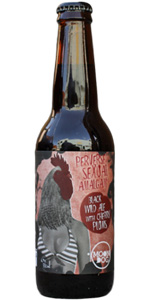 Notes:

3.69
/5
rDev 0%
look: 3 | smell: 4 | taste: 3.5 | feel: 3.5 | overall: 4
A - pours a thin coke like black with red-brown glints. a few wispy bubbles decorate the surface, no lacing.
S - sour black cherries, toffee apple, smoke.
T - really different, love the inventiveness of these guys, funky, tart, sweet. Cherry, plum, oak, cola.
M - light to medium body, moderate carbonation, interesting and complex.
O - like nothing else on the market im aware of. Definately worth a try.
409 characters
3.42
/5
rDev
-7.3%
look: 3 | smell: 3.5 | taste: 3.5 | feel: 3 | overall: 3.5
Another Moon Dog first for me and pours a dark black hue with mahogany highlights a fast vanishing half finger head and no lacing,the smell is black cherries,funk,off fruit,red wine and oak,the mouthfeel is medium bodied with minimal carbonation and has tastes of sour black cherries,blackcurrants,oak,barnyard funk and finished with a sour tart herbalness and overall i liked the idea of this brew but i dont think they pulled it off and definately something you have to try for yourself.
489 characters

3.07
/5
rDev
-16.8%
look: 3 | smell: 3.5 | taste: 3 | feel: 2.5 | overall: 3
From Jim's Cellars. No BB.
Pours a black body, red highlights, with no real head. Dies to film quickly, then leaves a ring only after a while. No lace.
Aromas of vinegar, cherries, plums. Yep!
Taste is a less complex affair. Some sourness up front, the the cherry fruit kicks in, and some vinegar on the back palate. A little funk, not much.
Mouthfeel is lowish carbonation, and this is a let down, i think the beer would benefit from extra zest.
Not Moon Dog's best brew, sadly.
484 characters
2.96
/5
rDev
-19.8%
look: 2 | smell: 3.5 | taste: 3 | feel: 2 | overall: 3
Pours black with an almost non-existent head.
Nose shows tart plums, soft funk, musty oak, brown sugar, cherries and a bold wild yeast sour character.
Flavours include more oak, lacto acidity, roasted malt. The roasted malt jars a little with the plum and acidity.
Carbonation is a little over the top.
303 characters

4.22
/5
rDev
+14.4%
look: 4 | smell: 4.5 | taste: 4 | feel: 4 | overall: 4.5
This was from the recently released (I believe) batch.
Appearance is simply black with a faint amber/marron when held to the light. Nice head which rapidly recedes but the lacing doesn't.
Can smell vanilla as soon as I crack the bottle. Get vanilla, fruity, earthy, nutty flavours in conjunction with sourness. Also some black cherry/plum.
Taste is nice, sour plum. Could stand for a bit more sour complexity here but the flavour is nice and clean.
Mouthfeel is good, clean, sour.
This is a great fruited Wild Ale at its most basic. I reckon this is comparable to something like the New Glarus Fruit Beers. Moon Dog are really doing some exciting things.
659 characters

3.89
/5
rDev
+5.4%
look: 3.5 | smell: 4.5 | taste: 3.5 | feel: 4 | overall: 4
Pours a very dark brown, but clearly brown, nearly orange, up to the light. Head is disappointing but where beer hits glass it leaves some very nice lace. Pretty good; could be better.
Smells lovely and funky. So much barnyard funk with citric acidity, but also an impressive array of good dark malty notes as well. Chocolate meets vinegar; is this the creation of a new culinary sensation? Probably not. Something about this aroma gives me a headache, but I can't deny it's very impressive and intriguing.
Taste is sour from the assault - probably not to its advantage. Some slight dark grain, chocolate and buttery notes that just get immediately sour with sharp vinegar notes, quite nice and refreshing but it can't quite last to the finish, which is fairly sweet with hints of carbon and lemonade. The bretty vinegar character is still present but its dominance peaked in the late-mid and more on the finish would make it cleaner and more inspiring.
Bit sharp and infected on the back, but a good texture otherwise. Decent body.
Sour, refreshing enough brew. Not quite sure why it was chosen to be dark, it could work just as well in a paler version. Nice, though.
1,172 characters
3.83
/5
rDev
+3.8%
look: 4 | smell: 3.5 | taste: 4 | feel: 3.5 | overall: 4
Pours a faint, uncarbonated red-black, turning to brown at the edges. Lacing is fine and patchy, leaving tiny dots on the side of the glass. The head itself, however, is disappointingly non-existent, only forming as tight lace around the edge. Body is pleasantly fine and buoyant for the ABV, leaving a fine shape of static carbonation when tilted. Looks good.
Nose is immensely sharp and acidic, even giving some Gueuze-like tones of plastic and rubber. It has some mild oaky characters to it, but it is undeniably a little one-dimensional, relying on that lambic-style funk to bring it's interest and sharpness.
Taste is crisp and acidic, with a light, almost empty finish. Some slight fruity aromas come through on the back (possibly the cherry plums), but they're ghostly; almost as though they appear in aroma only. Oak is noticeably absent on the palate, and I feel like some more fullness in this regard would really help it. Feel is light and somewhat empty.
This feels a little bit like a poor man's Rodenbach Grand Cru. It has the pleasant sharpness, the crisp acidity, but not the fullness of palate or the depth or complexity. I'm very impressed that a brewery from Australia got this close, but it's a case of "close, but not quite there".
1,255 characters
3.87
/5
rDev
+4.9%
look: 3.5 | smell: 4 | taste: 4 | feel: 4 | overall: 3.5
Murky dark brown colour with no head. Not the most attractive beer really but the appearance is acceptable for a sour ale.
The aroma is quite subdued with a frutiness and earthy character that are quite nice. The Brett character is present with a touch of barnyard funk. Nonetheless, it feels a little empty. Better as it warms.
Lightly sour with a Rodenbach type character. Some fruit with the cherry plums playing a role and some Brett. A little thin and watery on the palate. It gets a little better as it warms with the tartness becoming more prominent but it still lacks some complexity.
Medium body with moderate carbonation. Good.
This is a nice beer and I appreciate that Moon Dog is trying out these more adventurous styles. Here I think they are lacking the depth that is expected in a sour ale but I appreciate what has been done.
845 characters
4.06
/5
rDev
+10%
look: 3 | smell: 4.5 | taste: 4 | feel: 4 | overall: 4
One of 3 new ones from Moon Dog at my local bottle shop. A black wild ale with cherry plums the label informs me. Poured into a tulip.
A- Pours a really murky, greenish/brown/black, swampish perhaps. Careful pour but still managed to get a lot of visible sediment floating around, about 1cm of head, that leaves a film on the top. kinda ugly, yet i cant look away.
S- pretty tart on the nose, with a slight fruitiness that i assume is the cherry plums, the fruit comes through a fair bit more once you get used to the tartness. smells pretty damn good.
T- straight up getting some fruit, which again i can only assume thats what a cherry plum tastes like, theres a tartness throughout but it builds to a sourness by the end. There is a slight bitterness in there too that comes out a bit more when you get used to the tartness.
M- very little carbonation, nice body, the tartness really seems to tingle and get the saliva flowing, length isnt too bad either.
O- overall a tasty and interesting beer. i wasnt really too keen on it to begin with, but the more i had the more i liked it. another interesting beer from moon dog, will be interesting to see what comes next.
1,188 characters
Perverse Sexual Amalgam from Moon Dog Craft Brewery
Beer rating:
87
out of
100
with
20
ratings