Paw Paw Brewing Company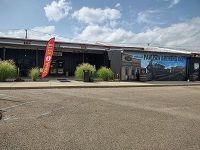 PLACE INFO
Type:
Brewery, Bar
929 E Michigan Ave
Paw Paw
,
Michigan
, 49079-9488
United States
(269) 415-0145 |
map
pawpawbrewery.com
Notes:
No notes at this time.
Added by Dcv on 01-31-2011
Reviews: 15 | Ratings: 44

4.77
/5
rDev
+24.2%
vibe: 4.25 | quality: 5 | service: 5 | selection: 4.5
Small, clean facility wit a very relaxed atmosphere and friendly service. The 7 beers I tried were all high quality and true to style. They specialize in panini sandwiches. The three people in my group each had one and all three sandwiches were delicious. We also made a stop at their brewing/gift shop facility several blocks away and picked up a pint glass and several bombers to take home with us. The guy that called this place sketchy must either work for a competitor or not like bars which don't have multiple big screen TV's. Paw Paw is focused on making good beer and good food, which is obvious to anyone who stops by for either. I highly recommend paying them a visit if you are anywhere near Paw Paw, Michigan.
722 characters
4.37
/5
rDev
+13.8%
vibe: 4.75 | quality: 4 | service: 5 | selection: 4
Vibe - Kind of a metal shack building, with outdoors-y kind of decor inside. Cozy. Mug club mugs hanging all over. Very friendly.
Quality - I tried 7 different beers, and I thought they were all pretty solid. I liked some better than others (and thought some were objectively better), but every one I tried was true to style, had no off flavors, and were poured at a good temperature and were fresh.
Service - The bartenders/ servers were great. Very friendly, very into beer. Made good suggestions, and even pointed me in the direction of a couple other (also pretty good) breweries to check out on my trip.
Selection - Plenty of beers on tap (I think maybe 20?) Pretty sure they were all Paw Paw beers, I don't remember seeing any guest beers. Plenty of different styles as well, so something available for everyone.
Overall/ opinion - I'm really glad I randomly decided to stop at this place, and I will definitely stop again if I am in the area. I walked in by myself as a stranger, and was whole-heartedly welcomed by the patrons and staff alike. And their beer was pretty impressive (in quality and selection). I think I live near here this would be my favorite spot to hang out.
1,189 characters
3.8
/5
rDev
-1%
vibe: 2.5 | quality: 3.75 | service: 4 | selection: 4.25
V- Very small place, tin roof shack, alright for a few drinks but not really conducive to eating.
Q- Food is just stuff made on a panini press but once a week the do burgers on a grill outside. Drinks are very good, the seem to release a new pub only beer each week and they have meads that are pub only.
S- Only had one guy doing things when I was there on a weekday afternoon. Wasn't too big a deal as there were only a few people there. Guy was very nice and talkative about beer and upcoming releases.
S- Good, a few dark beers, 3-4 hoppy things, occasionally they have a sour which are usually pretty good, a few different meads on tap as well.
Overall I'd say the drinks are worth the trip but maybe come here for a few drinks then go to Bell's or Latitude 42 for food and obviously more beer.
809 characters
3.7
/5
rDev
-3.6%
vibe: 4 | quality: 3.5 | service: 3.75 | selection: 3.75
Nice small establishment with a well selection of on taps. Friday is a 6 sample flight for six bucks. The waitress was both very friendly and knowledgeable. Many what appeared to be local patrons, which to me is always a good sign. I would suggest this small brewery/eatery if you are in the Paw Paw area.
309 characters
4.13
/5
rDev
+7.6%
vibe: 3.75 | quality: 3.75 | service: 4.5 | selection: 4.5 | food: 3.75
We took a wrong turn and just happened to be passing through Pawpaw, Mi. on the way south from our Mi pub crawl. I knew the pub was here so we checked it out. It is small with about an 8 seat bar that was of soapstone or something with comfortable metal backed chairs. There is also seating outside and about 8 or so tables inside.
We asked for 4 samples which were about 4oz and they were all very good. I especially liked King James Scotch Ale, but at 10% and a long drive ahead, the sampler was perfect. Keith, the very friendly bartender, also fixed us some very tasty sandwiches. They also have their beer in bottles and fill growlers.
This pub was a great discovery and we look forward to visiting again. We highly recommend this laid back place and the great beer.
775 characters
3.66
/5
rDev
-4.7%
vibe: 3.5 | quality: 4 | service: 3 | selection: 4
Very cool little place. This is a small hole in the wall, but the atmosphere is funky and the beer is very good. I tried a sampler of 6 beers and they were all good to great. We did not eat, so can't comment on the food. I would say this is yet another must stop if you are driving the I-94 brewery corridor between the Indiana border and Kalamazoo. If you are looking for small, homey, funky place with great beer, this should be on your list.
446 characters
3.82
/5
rDev
-0.5%
vibe: 3.75 | quality: 3.75 | service: 4.75 | selection: 3
Very small brewery in southern michigan. The staff is always friendly and keep us coming back whenever we are in town. There is a low selection of beer but I am yet to find one I do not like to drink. They have about 6 beers normally, but a pretty cool little selection of yeast strands and home brewing equipment. It can be a little bit pricey. They are often brewing when you visit and the smell from the kettles is always welcome. If you are in town it may be worth it to check them out, they don't have the facility that bell's does, and their beer is not founder's quality, but the staff is knowledgeable and friendly and the beer is still quite tasty.
657 characters

4.19
/5
rDev
+9.1%
vibe: 5 | quality: 4.75 | service: 3.75 | selection: 3.5 | food: 4.5
I was originally from the area but moved away and discovered this gem when a friend brought me there for lunch on a visit. It's a wonderful "hole in the wall" type place and a great addition to the area. I will say that I went for lunch during one of the days they sell prime rib burgers for 5$ and it was killer! The beers are very good as well, I ordered a flight to try a wide variety and truly enjoyed them all. If you live in the area I would suggest looking into their beer club. I can't remember the specifics but i think my buddy said it takes a dollar off of every beer plus you get a fancy stein. They mostly serve sandwiches and other simple things when it comes to the food. I had a great overall experience and would recommend it to any craft beer enthusiast in the area. I will definitely go back when I get chance.
829 characters

4.11
/5
rDev
+7%
vibe: 4 | quality: 4.25 | service: 4.5 | selection: 3.75 | food: 3.75
Cool little joint in Paw Paw. Good beers, cheap food and great service. We just ordered some appetizers and a flight of four beers. They played some great music and were grilling prime rib burgers which they were selling for $5! Very impressed and will definitely return.
271 characters

3.44
/5
rDev
-10.4%
vibe: 2.5 | quality: 3.75 | service: 3.75 | selection: 3 | food: 3.75
A small place that does not look particularly inviting (or even good) from the outside or the first impression of the inside either. From the looks of the place you figure the food/beer either have to be very good, or you fear for your health. Fortunately, for all the lack of ambiance, the food is good and the beer very good. The service was friendly and attentive.
It is the sort of very low key, no frills sort of neighborhood place one could enjoy as a regular hang out.
477 characters
4.15
/5
rDev
+8.1%
vibe: 4 | quality: 4.25 | service: 4.5 | selection: 3.75
A very nice addition to the W. Michigan craft brewery scene, especially if you like the smaller "nano brewery" establishments. An excellent, if perhaps basic, line-up of very well made beers, from the Weiss, an interesting English Mild, a solid Pale Ale, and (probably the best) a Stout. Both customers and servers extremely welcoming, so it's absolutely worth your time.
371 characters
3.94
/5
rDev
+2.6%
vibe: 3.5 | quality: 4 | service: 4 | selection: 4
Located on Michigan Ave on the east side of Paw Paw. Small place with seating for 8-10 at the bar,and a few tables.
The beers I tried were all really good, the Scotch ale, IPA, and Black IPA were all very nice indeed. I was very impressed with the beer quality. 7-8 different beers to choose from, no guest taps. Pints, or 20 oz servings available. Prices were very reasonable.
Service was good,despite being quite busy. Mostly local customers,and they were friendly,and fun to talk with.
Did not try the limited food options.
A worthwhile stop,we will return.
564 characters
3.85
/5
rDev
+0.3%
vibe: 4 | quality: 3.5 | service: 4.5 | selection: 3.5 | food: 4
Small place with room for about 30. I really enjoy coming here. No one here is uptight or too busy to talk with you. Above average beers. Very small food menu, but what they have is very good. Has a nice local pub feel to it. Was lucky enough to stop by here for their 1st anniversary party. Everyone there was very nice and enjoyed craft beer. They seemed to be a local crowd that was'nt into beer to the extent most of us are. Nice relaxing time with people that just enjoy beer other then the flavorless stuff put out by the Macros.
535 characters
3.34
/5
rDev
-13%
vibe: 2 | quality: 4 | service: 2.5 | selection: 4
Decided to give this place a try over the weekend. It's small and reminds you of a converted garage. That's ok because I think the quality of beer made up for any other issues. The IPA was solid as was the twisted pumkin ale. One of the brewers was serving and he seemed nice, but was more interested in working on a scissor cutting project than smoozing with the clientele. Thought that was uncool. The beer was really good and the food coming out smelled delicious. Worth a visit if you are in the area.
505 characters
3.66
/5
rDev
-4.7%
vibe: 3.5 | quality: 4 | service: 4 | selection: 3
My friend and it tried this place out on our last trip up north a few weeks ago. They have a small patio up front where they were giving a brewing demonstration. The bar area is small and same area where they have merchandise and already filled growlers to go. a separate area in the back had tables and was more for people ordering food which we did not. The beers on tap were about most that they had. The area behind bar seems to be where they do the brewing. I met the two young owners who were very personable. The beers themselves were pretty good but definitely showed they are in the early stages as a brewery.
618 characters
Paw Paw Brewing Company in Paw Paw, MI
3.73
out of
5
based on
400
ratings.