Serramalte
| Antarctica (Companhia Brasileira De Bebidas)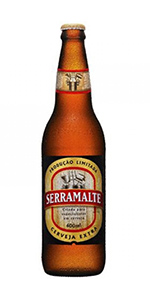 BEER INFO
Brewed by:
Antarctica (Companhia Brasileira De Bebidas)
Brazil
antarctica.com.br
Style:
American Adjunct Lager
Alcohol by volume (ABV):
5.50%
Availability:
Year-round
Notes / Commercial Description:
No notes at this time.
Added by DoubleJ on 10-14-2010
Reviews: 6 | Ratings: 24
3.4
/5
rDev
+17.6%
look: 3.5 | smell: 3.5 | taste: 3.25 | feel: 3.5 | overall: 3.5
300 ml bottle (exp. 08/2016), drinking in a pilsner glass. As of now, it mentions no adjuncts anymore. Contains antioxidants. 5,5% ABV. Yellow to golden color, with short retention foam. Nice aroma of grassy hops and bread (or crackers). On mouth, carbonation is not overwhelming and there's no significant sweetness. Very dry finish. Light to medium body. Flavor has an off note that shows quite weakly, but which doesn't allow the nice aromas to translate correspondingly to mouth. When it gets warmer, aroma gets worse. Overall, it's worth the low price, and much better than similar mass beers from Brazil.
610 characters
2.26
/5
rDev
-21.8%
look: 2.5 | smell: 2 | taste: 2 | feel: 2.75 | overall: 2.75
Espuma abundante e estável, cor muito bonita amarelo claro. Amargor alto apresenta sabor levemente adstringente e um pouco azedo, corpo médio com CO2 alto. Aroma frutado de maçã com forte oxidação.
203 characters
2
/5
rDev
-30.8%
look: 2 | smell: 2 | taste: 2 | feel: 2 | overall: 2
LIght golden color and poured a one finger head. Distant smell of hops and grains. Good carbonation with small bubbles. Light body, but with more malty than other Brazilian adjunct lagers made by Inbev. It has been better, it would be a more balanced beer if they combined its malt quantity with the hops (still faint) from its Bohemia brand.
342 characters
3.16
/5
rDev
+9.3%
look: 4 | smell: 3 | taste: 3 | feel: 3 | overall: 3.5
Poured into a 22 oz. mug.
Heavy sheet of lace around the edges after a good pour. Lasting head retention for the duration of the glass. Brassy dark gold, rapid streams rising through the beer.
Aroma is mainly husky grain, vaguely toasty, some yeast esters lending dried fruit notes also.
Flavor is straightforward and a little bit bland, seems like minor oxidation creeping in. Crackers and honey comprise the key flavors. it's fairly gaseous and well carbonated at first, becoming watery and a touch malty sweet in the aftertaste. Not bad, seems slightly aged and papery, and a little heavier bodied than the Original I just had.
Obrigado Paulo e Duda!
658 characters
3.33
/5
rDev
+15.2%
look: 3.5 | smell: 3 | taste: 3.5 | feel: 3 | overall: 3.5
It's hard to review Brazilian beers in the same way that you do American or European ones. As with most countries, brazilians have the large market beers that are made cheaply with corn or rice and are drank super cold and in large quantities. That is changing however, yet where as most countries develop more complex or darker beers as the brewing culture grows, Brazil is slowly trying to perfect a truly drinkable "session" beer, and SerraMalte is a step in that process.
Appearance: there is true attempt to make this beer appear as a light amber or dark pale ale.
It pours to a nice head, although it dissipates rather quickly, which is why you drink it out of a very small glass (called ironically a copa americana)
The taste is malty with a slight caramel sweetness that is lacking in any real complexity.
Overall, this beer is an attempt to make a slightly better quality beer that you can drink every night with friends. It does this job well but I wouldn't spend the money on it imported, but if your in brazil its certainly worth a try.
1,049 characters
2.49
/5
rDev
-13.8%
look: 3.5 | smell: 2 | taste: 2.5 | feel: 3 | overall: 2.5
Split a big bottle of this with a churrasco lunch earlier, on to the beer:
The lace and froth levels are respectable for this typical yellow colored beer. Processed bitterness dominates the nose with a light chemical hint and malt sweetness. Surprisingly bitter for the style, but also on the clean side. Sourdough bread foreshadows the tidal wave of processed hop bitterness left on the palate. A little dash of chemicals reminds that, yep, this is Brazilian industrial lager. Half-decent to drink.
For what it´s worth, it´s superior to #1 selling Skol. That said, if I were stuck drinking Brazilian industrial lager, I´d rather have a Bohemia.
655 characters
Serramalte from Antarctica (Companhia Brasileira De Bebidas)
2.89
out of
5
based on
24
ratings.