Not Your Father's Root Beer (19.5%)

Small Town Brewery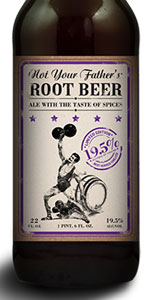 Rate It
Beer Geek Stats
| Print Shelf Talker
Style:

ABV:

19.5%

Score:

97

Avg:

4.52

| pDev:

9.29%

Reviews:

10

Ratings:

From:

Avail:

Retired (no longer brewed)

Wants

Gots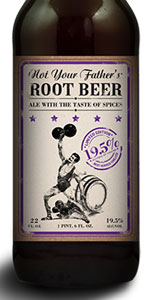 Ristaccia from Nebraska
5
/5
rDev
+10.6%
look: 5 | smell: 5 | taste: 5 | feel: 5 | overall: 5
Extremely dangerous. Easily the best of the three NYFRB versions, the medicinal taste found in the 5.9% version is gone. Very dark with minimal head. This is extremely sweet, similar to other 'dessert' beers such as Southern Tier's Creme Brulee, with no hint of alcohol present whatsoever. A great sipper. As others have mentioned, I wish it were more available.
Jul 09, 2015

mmahanna41 from Illinois
5
/5
rDev
+10.6%
look: 5 | smell: 5 | taste: 5 | feel: 5 | overall: 5
Dangerous!!! This is the best tasting, NYFRB in comparison with the two lesser ABVs. Everything is balanced correctl. Unlike the lessers, this one it's not too sugary. I wish the more readily available ones tasted like this.
Apr 19, 2015

larryarms847 from Illinois
4.75
/5
rDev
+5.1%
I do want to point out that this heftier variant is called "Not Your Grandfather's Root beer." But now that I have that out of the way...
Pours a thick motor oil like dark brown with less carbonation that it's (relatively) weaker counterpart.
Heavy aroma of spice and of course root beer.
Strong flavor of root beer and spice entirely masks the roughly 20% of alcohol that lies below the frothy caramel tinged head.
Mouthfeel is silky smooth, with plenty of sweet, but enough carbonation balances it well.
Overall, THE best hard root beer I've had and always worth a sample if you have access. Just be careful, these will definitely creep up on you.
Apr 10, 2014
jlindros from Massachusetts
4.62
/5
rDev
+2.2%
look: 4.5 | smell: 5 | taste: 4.5 | feel: 4.5 | overall: 4.5
Huge thanks to rudzud for sharing this awesome beer with me.
Very small fizzy head, super dark caramel molasses brown color hint ruby light nice legs.
Nose is like perfect root beer, that earthy spiced like perfect smelling root beer, little vanilla and candy syrup. Just rootbeer.
Taste has some rootbeer, big sweet syrupy soda rootbeer, with the earthy herbal herbs and root fermented, etc. Little vanilla. However, there is a little woody root thing, and mild phenolic fusel booze but not nearly the real abv. Mild slick estery note. Finish is long rootbeer, little fusel booze but very little for what it really is, little syrupy sticky. Like pouring clean rum or bourbon into A&W rootbeer with less vanilla.
Mouth is med bod but syrupy, nice carb.
Overall awesome, just like a blended A&W and Barqs rootbeer with a shot of bourbon or rum in it but very smooth. Delicious!
Mar 01, 2014
rudzud from Massachusetts
4.65
/5
rDev
+2.9%
look: 4.5 | smell: 5 | taste: 4.5 | feel: 4.25 | overall: 4.75
Got this in a trade, super excited. Poured into a tulip.
A - Pours a nice well, root beer hue with a thin w quarter inch head that fades quickly to leave a light halo.
S - Aromas explode of root beer! Vanilla, no alcohol. Smells just like root beer should.
T - Taste is nice rootbeer up front then slammed with booze. It still drinks like there is alcohol, but no where near this level. The vanilla is great, again, drinks like rootbeer!
M - Mouthfeel is under carbonated. Probably due to the growler. Alcohol is hidden nicely.
O - Overall this was awesome. Stuff drinks like rootbeer, awesome.
Feb 26, 2014

blue-dream from Virgin Islands (U.S.)
4.91
/5
rDev
+8.6%
look: 4.75 | smell: 5 | taste: 5 | feel: 4.75 | overall: 4.75
I have been buying this in kegs for my kegerator for the last 3 months. It is a real hard beer to get your hands on. The deposits for the kegs started out @ $40, now they are $100, and this is for a 1\6th keg. I spoke to the owner\ master brewer about this and he told me it was because to many people were coming from out of state and not returning his kegs. They are a real small brewery so i can understand this and the owner was very nice in explaining this to me. So here is the review. A- very dark with little head some lace. S- smells just like root beer no alcohol smell at all, witch might be dangerous. T- taste just like root beer with a little bite not a bad bite but a good bite. M- crisp and feels great in the mouth goes down real smooth. O- I love root beer and if you do too i feel you will like this too. If your not a root beer lover your probably wont like this. This goes down very easy for having a 19.5% abv witch as long as you remember that is a good thing. Just dont forget it or you wont be able to walk after a few drinks.
Aug 23, 2013
beerhan from Ohio
4.61
/5
rDev
+2%
look: 4.5 | smell: 4.75 | taste: 4.75 | feel: 4 | overall: 4.5
Served in a snifter at the lockdown bar in Chicago
A-Incredibly dark, almost black. Almost no head whatsoever and minimal carbonation.
S-Well it smells just like root beer. Perhaps a little alcohol shines through and a bit of toffee and malt.
T-Tastes just as it should. Heavy root beer flavor with a alcohol taste that is hidden in the background. I am not going to describe what root beer tastes like because I think we all know that.
M-The only thing that this beer lacked was carbonation. Granted at nearly 20 percent I don't expect there to be much as it is but it would have been nice. Dangerously drinkable to as it goes down just like root beer.
O-Phenomenal effort to make this beer because it is damn close to perfect. The only issue I really had was as this gets warmer the alcohol taste is very strong. Many people around us were actually putting this beer on ice to hide the burn. Regardless I could drink this until I stopped moving it is that good.
Jul 19, 2013
schimiggy from California
5
/5
rDev
+10.6%
look: 5 | smell: 5 | taste: 5 | feel: 5 | overall: 5
My first beer review so please let me know if I am wrong about anything.
The color appears dark much like a thick root beer.
The smell is sweet and reminiscent of root beer non-alcoholic beverage. Strong molasses smell and flavor. The flavor is very sweet and bitter. The carbonation evident but not overpowering.
The mouth feel is spritzy and thick due to the molasses and brown sugar content most likely.
Overall this beer is very tasty and one word I use to describe it is misleading. The sweetness of the beverage masks the ABV and makes it enjoyable to those with the least inclination to desire a beer or any hoppy beverage for that matter.
This drink would be my go-to if it were available in my hometown. Until then, I'll have to revisit Chicago to enjoy another taste!
Apr 23, 2013
beergurujr from Illinois
4.7
/5
rDev
+4%
look: 5 | smell: 5 | taste: 4.5 | feel: 5 | overall: 4.5
Giant alcoholic root beer. Just the slightest hint of booze heat in the flavor. Compared to the 10% version, this is more full-bodied, a bit drier, and you can smell the alcohol. Great stuff in small doses! Dangerous. Do not drink a lot of this, you will get in trouble if you do.
Oct 31, 2012

TMoney2591 from Illinois
4.1
/5
rDev
-9.3%
look: 4 | smell: 4 | taste: 4 | feel: 4 | overall: 4.5
Served in a small mug at Bliss.
You have no idea how great the intrigue within me bubbled when I was told there was a 20% ABV hard root beer out there. I had to try it. It pours a clear dark garnet-brown topped by a healthy bit of sandy tan froth. The nose comprises...well, root beer: molasses, light maple syrup, light wintergreen, and mild cola. If there's as much alcohol in there as they tell me, I can't smell it. The taste brings in more of the same, though a hint of the booze finally makes itself known. Nothing detrimental to the taste, though. The body is a light medium, with a moderate (fizzy) carbonation and a slick feel. Overall, a delicious root beer, one that shows what brewers can do when they put their minds to it.
Apr 02, 2012
Not Your Father's Root Beer (19.5%) from Small Town Brewery
Beer rating:
97
out of
100
with
90
ratings