Harriet Pils
| Harriet Brewing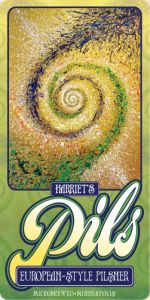 BEER INFO
Brewed by:
Harriet Brewing
Minnesota
,
United States
|
website
Style:
German Pilsener
Alcohol by volume (ABV):
5.20%
Availability:
Rotating
Notes / Commercial Description:
No notes at this time.
Added by KarlHungus on 04-30-2011
Reviews: 8 | Ratings: 25
3.52
/5
rDev
-7.4%
look: 3.75 | smell: 3.5 | taste: 3.5 | feel: 3.5 | overall: 3.5
at the brewery, pours a solid gold with a white crown and a steady stream of bubbles. nose that is grainy and grassy but quite faint. taste is similar to the nose, though the bready malts come through better, and win out over the grassy hops which gain some spice too. mouthful is surprisingly substantial and my tongue is coated...pretty soft and lacks the crispness I love in the best pils.
★
394 characters

3.97
/5
rDev
+4.5%
look: 3.5 | smell: 4 | taste: 4 | feel: 4 | overall: 4
The beer arrived, from the tap, a dark golden color with a modest cap of foam. The aroma was dominated by bready malt with a hint of spicy hops. This continued on the palate, however the hops provided stronger balance. The spicy, somewhat herbal, hops were a nice counterpoint the the sweet, bread-like malt up front. A clean, tasty, well constructed beer.
★
356 characters

3.76
/5
rDev
-1.1%
look: 4.5 | smell: 3.5 | taste: 4 | feel: 3.5 | overall: 3.5
On-tap at the Birchwood Cafe in Minneapolis. Harriet is my local brewery, less than a mile from my house. I'm trying to catch up on Harriet's summer beers before they go out of season. Tasted 12 August 2012, reviewed from notes.
Pours pale golden yellow, very clear; a delightful color. Dense white head, to the top of the glass. Good head retention, and the lacing looks like frosting on the sides of the glass. Wow.
Smell is faint, but I'll reassess once it's warmed up some. Crisp noble hops and some faint pale malts.
Taste has some bite! Clean grainy opening, before a big burst of spice and bitterness. Hop presence is high, fading in and out with the soft herbal spiciness. Interesting, though I find that the rest of the beer doesn't hold up to the strength of the hops. So other flavors that might be present (notably from the malts) are masked. Finish is crisp and lightly bitter as the hops drift out. It also has a tiny touch of medicinal bend to the bitterness.
Mouthfeel is just fine. Medium-light body, but juicier than I was expecting, and the carbonation is low. Finish is dry and crisp.
A good pilsner, though I find the hops to a bit overpowering. Tone down the bitterness a hair, and it'd be a much tastier beer.
★
1,237 characters
3.72
/5
rDev
-2.1%
look: 3.5 | smell: 4 | taste: 3.5 | feel: 3.5 | overall: 4
Had both a sample glass and then a full glass from a different tap. They were different in hopping. The sample glass had a much more pronounced hop flavor and longer more prominent hop finish and lingering fairly strong bitterness. The full glass was reportedly fresher (just tapped) and more malt forward. Both were good and enjoyable on a hop summer day.
Nice grainy quality to the aroma. Flavors held soft grain and strong dough and bread quality.
Smoother lager quality with some crispness, but generally softer than that. Moderately carbonated and a lighter feel.
Many classic qualities and an overall enjoyable beer.
★
624 characters
3.88
/5
rDev
+2.1%
look: 4 | smell: 3.5 | taste: 4 | feel: 4 | overall: 4
Serving glass: Poured from tap into Harriet chalice.
Appearance: Clear straw with nice sized stark white head and lacing rings.
Smell: Straw, grass, apple and general spiciness.
Taste: Base of apple and straw, with a spicy, lightly bitter layer on top, which lingers long after ech sip.
Feel: Ridiculously light bodied but it fits the higher carbonation and the style. Very dry, crisp and clean.
Overall: This is a very elegant, light Pilsner. Essentially it is the better, craft version of Stella.
★
503 characters

3.76
/5
rDev
-1.1%
look: 4 | smell: 3 | taste: 4 | feel: 4 | overall: 4
On-tap at the brewery - served in a Harriet pils glass.
Clear gold/straw liquid with a lasting layer of thin ghost white foam. Pasty lacing, good retention.
Unfermented wort, biscuits, and spent grain in the nose. Little else.
Moderate clean bitterness with grassy noble hop flavors. Clean well lagered pils malt profile. Crisp finish.
Light-bodied, well carbonated...
A nice style-appropriate lager, a bit "green" as if not fully conditioned, but the purity and balance of ingredients shines through.
★
508 characters

4.05
/5
rDev
+6.6%
look: 4 | smell: 4 | taste: 4 | feel: 4.5 | overall: 4
Harriet's Pils. Growler purchased Saturday afternoon. In a hastily prepared blank, transparent vessel. I recall my disappointment when my first growler was replaced with a white-lettered one. Compare this to the man ahead of me in line who insisted on getting his green lettered growler back. Oh, but these are fleeting matters, people, ephemeral details that mean nothing compared to the beer.
And how about that beer?
Bright golden hue, slim white head. Beautifully clear and inviting.
Aroma, clean, slightly sweet, hoppy. Awfully nice.
Taste: mouth is gripped with hops first up, then it's nothing but sweet malt and crystal clear and clean refreshment. Hops, just slightly bitter, maintain a hold on the palate. I've never crazy on pilasters, never found enough to like in them. Perhaps I find them too one-dimensional, lacking certain elements I find in ales.
This, though, is damned good.
★
900 characters
4.3
/5
rDev
+13.2%
look: 4 | smell: 4 | taste: 4.5 | feel: 4 | overall: 4.5
This beer pours a clear golden color. The head is one inch in height, and recedes slowly into minimal lacing. The aroma is of bready malt, fresh cut grass, and spicy hops. The taste leans slightly toward the hoppy side, but is very balanced overall. There is a wonderful interplay between the bready malt, and the spicy hops. The mouthfeel is medium bodied with moderate carbonation, and a velvety texture. Overall, this is one of the better pilsners I've drank. I will certainly be drinking this again.
★
503 characters
Harriet Pils from Harriet Brewing
3.8
out of
5
based on
25
ratings.