American Standard Ale (ASA)
| Tap It Brewing Co.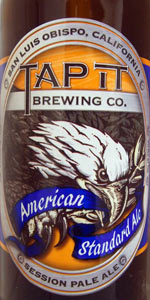 BEER INFO
Brewed by:
Tap It Brewing Co.
California
,
United States
tapitbrewing.com
Style:
American Pale Ale (APA)
Alcohol by volume (ABV):
5.00%
Availability:
Rotating
Notes / Commercial Description:
No notes at this time.
Added by UCLABrewN84 on 09-05-2012
Reviews: 8 | Ratings: 37
3.84
/5
rDev
+4.3%
look: 3.5 | smell: 3.75 | taste: 4 | feel: 3.75 | overall: 3.75
Poured from the bottle into an American pub glass. A light golden orange color with ample white frothy head that breaks down relatively quickly, this "session ale" smells like mixed citrus iced tea, very mellow toast and caramel, biscuit, a nondescript peppery spice, red berry, faintly medicinal and leafy. Overall subdued aroma. Tastes initially of light orange and lemon, powdery sugar, pine, a flicker of white pepper and grass. Although the taste began as mellow and low-key as the smell, the flavors gained traction after each sip, particularly the lemon and crystal malts. Develops into something quite tasty, with a good balance of sweet lightly toasted malt, citrus/pine, and peppery spice. Moderately carbonated, maybe just veering into heavily so, with a body on the thin side and a piney, dry, citrus rind-laden finish. Perhaps I am falling prey to a marketing gimmick, but I rather like many of these "session" IPAs and pale ales. Great for summer sipping if one is not in the mood for wheat.
1,005 characters
3.79
/5
rDev
+3%
look: 3.5 | smell: 3.75 | taste: 3.75 | feel: 3.75 | overall: 4
12oz bottle, day 22 of the 2013 Craft Beer Advent calendar. 4.5% ABV.
This beer pours a slightly hazy pale golden yellow hue, with one finger of puffy, loosely foamy, and somewhat bubbly off-white head, which leaves a bit of sea-spray lace around the glass as it evenly subsides.
It smells of biscuity, bready pale malt, saltine crackers, bitter orange and grapefruit pith, pine resin, a subtle honey sweetness, and a flinty mineral essence. The taste is more grainy pale malt, a touch of toasted cracker top, pine needles, dried citrus peel, a light, indistinct peppery spiciness, and further low-key herbal and leafy hops.
The carbonation is a tad peppy up front, and holds on for a spell, before settling down to a soft hum, the body medium-light in weight, and fairly tacky in its plain Jane smoothness. It finishes rather dry, the graininess, fruit rind, and pine cone essences all coalescing as such.
A decently non-malty APA, but not a hop-bomb either - the bitterness is ingrained, and easily digestible, engendering a desire for another swig, in the manner of the best bitters and dry pale ales.
1,108 characters

3.48
/5
rDev
-5.4%
look: 3.5 | smell: 3.5 | taste: 3.5 | feel: 3.25 | overall: 3.5
Golden amber color in the wine glass with a decent foam in the tall glass. Pleasant flowery aroma.
Resiny tang with a modest malt flavor. A little grainy with some sweetness. Rather tangy with a dark hint of nut shells. Slight bitterness at the finish. Tastes like a Pale Ale with a lighter body. Less refreshing than some.
From the 22 oz bottle purchased at Lee's Discount Liquor in Mesquite, Nevada.
404 characters

3.67
/5
rDev
-0.3%
look: 3.75 | smell: 3.5 | taste: 3.75 | feel: 3.5 | overall: 3.75
22oz bottle to standard pint glass
Notes taken from 10/19/13
A: Exceptionally light golden straw color body. Blonde almost with some really great clarity. Effervescent with bubbles and a big double finger width of soapy white suds that a succumb with ease leaving light dots and etch work behind.
S: Smells of piney hops and some spice with light hints of citrus fruits. There is some underlying honey like malt sweetness as well. Fairly delicate aromas however still nice and pleasant.
T: Follows the nose with some sappy pine and a bit of restrained citrus peel character. More tangerine and orange. There is a fairly firm malt graininess to the beer like that of a pils with some soft sweetness added. Decent hop bitterness across the palate and no alcohol noted in the flavor. The finish kicks out with a touch of herbal hops. Very crisp and refreshingly drinkable.
M: Very light frothy body with a seemingly high level of carbonation. Moderate bitterness and a nice drying crisp in the finish with a rather clean result.
D: This is a very nice hoppy sessions ale. It has some delicate balance and is pretty satisfying to drink. Quite crushable.
1,156 characters
3.81
/5
rDev
+3.5%
look: 3.75 | smell: 4 | taste: 3.75 | feel: 3.75 | overall: 3.75
From 22 oz bomber to pint glass
A: Straw appearance with a golden hue, the pour forms a small wispy head that quickly dissipates leaving scant lacing.
S: Medium hop-presence yielding notes of lemongrass and grassy earth, quickly met honey-sweet malts. Alcohol is present but just.
T: Citrusy hop notes hit first, again quickly met by sweetbread malts. The brew has a snappy, peppery middle that dries the palate toward the finish. Hoppy for a session brew, but still refreshing and drinkable. Finishes short and bittersweet.
M: Medium-light bodd, again complimenting the refreshing aspects
Nothing breakthrough, but I wouldn't pass it up. Quaffs easily and fast.
667 characters

3.41
/5
rDev
-7.3%
look: 3 | smell: 3.25 | taste: 3.5 | feel: 3.5 | overall: 3.5
Clear amber colored ale with a medium sized white colored ale.
Smells malty and slightly woody with a strong tea aroma. Grass and light pine with a toasted grain aroma. Fairly clean smelling not a hop head brew.
Starts out mildly sweet with a moderate hop bitterness. Nicely balanced ale that isn't trying for greatness. This is a pale ale that says HI! and gets along with everything.
Mouthfeel is good.
Overall just a good middle of the road ale. No 7 types of hops here or spring water from Brazil, just plain easy drinking pale ale.
540 characters

3.93
/5
rDev
+6.8%
look: 4 | smell: 3.5 | taste: 4 | feel: 4 | overall: 4.25
On tap at Harry's in Redwood City.
Clear and bright pale gold body capped by a thin layer of froth. Aroma is mild but pleasant, with clean pale malts alongside citrusy tropical fruit hop notes (mango and pineapple). The same citrusy hop character is dominant on the palate. Very light, clean and soft, with almost non-existent bitterness. This is dry front to back, and supremely quaffable. The lack of bitterness causes the bready, doughy malt flavor to come out a bit more in the finish. This is my third beer from Tap It and I continue to be impressed.
556 characters
3.55
/5
rDev
-3.5%
look: 3.5 | smell: 3.5 | taste: 3.5 | feel: 4 | overall: 3.5
On tap at Tap It Brewing in San Luis Obispo, CA.
Pours a clear orange with a foamy bone colored head that settles to a film on top of the beer. Small streaks of lace form around the glass on the drink down. Smell is of malt, grain, and some grassy/weed aromas. Taste is much the same with a mild hop bitterness on the palate with each sip. This beer has a good level of carbonation with a crisp mouthfeel. Overall, this is a pretty good beer that is drinkable and pretty tasty.
481 characters
American Standard Ale (ASA) from Tap It Brewing Co.
3.68
out of
5
based on
37
ratings.