Koperen Ketel
| Sound Brewery
BA SCORE
84
good
10
Reviews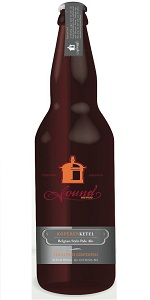 BEER INFO
Brewed by:
Sound Brewery
Washington
,
United States
soundbrewery.com
Style:
Belgian Pale Ale
Alcohol by volume (ABV):
5.00%
Availability:
Rotating
Notes / Commercial Description:
No notes at this time.
Added by barleywinefiend on 03-04-2011
Reviews: 10 | Ratings: 17

3.73
/5
rDev
+2.5%
look: 3.5 | smell: 3.5 | taste: 3.75 | feel: 4.25 | overall: 3.75
Pours quite a lovely amber color with a nice foam in the Saxo tall tulip. Interesting nose of cider.
The taste is surprisingly tart at first sip. Fairly rich with malt, plus a mouth-filling sudsy carbonation, makes for a satisfying quaff. Some appley flavors. The Belgian yeast taste is less murky than some, and adds the drying sensation. Fruity sort of hop flavors. Love those Slovenian hops!
From the 500 ml bottle purchased at Bottleworks in Seattle.
457 characters

3.38
/5
rDev
-7.1%
look: 3.5 | smell: 3.5 | taste: 3.75 | feel: 1.75 | overall: 3.25
Yet more well deserved thanks to beertunes for even more fruits of wonderful generosity to fill this glass.
Pours a murky amber with a lathery two fingers of off white head. A righteous lace panorama coats the inner glass.
Light aroma of caramel, toffee, spicy citrus behind it, tart yeast that has some fruitiness accompanying. Sweet and pleasant.
All the flavors of the nose in a stronger rendition. Yeast still a major player, but the spice is a bit too much and the tart not quite enough. For all its brighter taste, it still isn't the bright and dry the style demands, and its betters achieve. Pretty tasty though.
Very coating yet thin,, and less refreshing than optimal, a bit of cling that is too much, and a finish that is too juicy, not delicious or interesting.
Decent enough beer to sip, but with so many great Belgian Pales out there nowadays it suffers by comparison. Glad I tried this, and will have no trouble finishing it gladly. Edit: just read other reviews and it makes me wonder if we drank the same beer?
1,031 characters

3.37
/5
rDev
-7.4%
look: 2.5 | smell: 3 | taste: 4 | feel: 3 | overall: 3
22oz bottle into a tulip. Pours a clear copper color w/ a disappointing head, almost zero carb. My second Belgian-style beer from Sound Brewery that lacks expected carbonation/head.
Aroma is damp moldy basement, stale water. Some floral notes.
Taste is better than the appearance or aroma. Has a light, floral, tea-like quality that I haven't encountered in a beer before. If carbonation was right this could be downright enjoyable.
Lack of carbonation docks points here. It's practically flat, and this affects mouthfeel.
Overall this is a tough beer to review. Solely on taste I'd give it a 4. But other elements bring the score down substantially.
654 characters
3.63
/5
rDev
-0.3%
look: 4 | smell: 3.5 | taste: 3.5 | feel: 3.5 | overall: 4
22 picked up tonight at Bier Thirty for $5ish... New brewery in Boise!! Thanks Chris.
Poured into my slim tulip.... eggshell head sticks around for a bit... nice lacing ... the brew is sparkling dark golden.
Nose shows nice yeasty notes... hints of clove and some red apple... malt profile is a bit off with some dry toast...
bready pale malts and dry caramel essence ... some apple ester mid palate blooms with the residual sugars.... but the finish is a lingering light phenol... some bubblegum and clove .... pretty good.
For a Belgian pale ale of such a low ABV... this is too thick and too sweet.... but still it is damn good ... I think this is far and away the best Sound Brewery beer I've had yet. Huge potential is there for sure.
4/3.5/3.5/3.5/3.5/4
764 characters

3.5
/5
rDev
-3.8%
look: 3.5 | smell: 3.5 | taste: 3.5 | feel: 3.5 | overall: 3.5
Poured from 22oz bomber into a tulip.
Appearance: nice light-golden hue with a light effervescence and a touch of haze. Head poured a finger of frothy ivory foam. Pretty decent.
Smell: light malt aroma with a hint of spicy Belgian yeast character. Decent but unimaginative.
Taste: dryish malt flavor with a big helping of biscuity character. Mild spicy yeast character remains. It's not bad, but it doesn't really float my boat.
Mouthfeel: medium-light body with a low level of carbonation which yields some creaminess with coaxing. Not too bad.
Overall: I've usually been pretty impressed with Sound Brewery's offerings, but Koperen Ketel seems a little plain and middle-of-the-road for me.
696 characters
3.28
/5
rDev
-9.9%
look: 3.5 | smell: 3 | taste: 3.5 | feel: 2.5 | overall: 3.5
Served in bubble pint glass. Poured a hazy golden straw color with about a half-inch of head that short retention and moderate lacing.
The aroma had a nice bit of yeasty spice upfront with good, earthy grains in the background. The flavors were pretty similar, but the beer had just a bit of a funk that I don't think was intended. the yeast didn't have as much of presence as the aroma had led me to expect.
The body was very thin, I look for a bit more backbone in this style. Drinkability was decent, I enjoyed the beer, but I'm not sure I'd have 2 in row. Overall, this is a pleasant brew, one worth trying if you see it, but probably not worth a lot of effort to find.
675 characters

3.63
/5
rDev
-0.3%
look: 4 | smell: 3.5 | taste: 3.5 | feel: 3.5 | overall: 4
Poured a light orange-gold with a finger of loose white head. Mild aroma of bready spice and grass.
Moderate carbonation and a very light mouthfeel. Grainy pilsner quality up front with some cereal and grass, but the finish is a little more complex with a bit of citrus, pepper, and earthy yeast.
Light but not boring -- nice beer.
333 characters

4.15
/5
rDev
+14%
look: 4 | smell: 4 | taste: 4.5 | feel: 3.5 | overall: 4
Poured into an Ommegang flute. Pours a light to medium orange amber. Thin fine off-white head that forms a ring with good retention and lacing. Aroma of bready malt, light fruit, Belgian spicing. Taste is a nice bready malt with some pilsner characteristics with hops asserting themselves in the middle and finish. Medium mouthfeel. Nice flavor progression. A very well made 5% ale.
382 characters

3.95
/5
rDev
+8.5%
look: 4 | smell: 4 | taste: 4 | feel: 3.5 | overall: 4
On draught at the Collins Pub, served in a small chalice, Koperen Ketel is hazy burnt gold with a small white collar leaving scattered lace.
Smell is earthy, yeasty, a little herbal, damp moss.
Taste is spot on for the style, a nice clean bready pils grain flavor with plenty of yeast character and a fresh snap of herbal hops.
Mouthfeel is a bit thick, dry though.
Drinkability is pretty good, a nice balance of cereals, yeast and hops, all firm in the BPA style. A bit more attenuated and it would be really awesome.
526 characters
3.5
/5
rDev
-3.8%
look: 3.5 | smell: 3.5 | taste: 3.5 | feel: 3.5 | overall: 3.5
A: Poured a light golden color with good carbonation leaving a nice white cap
S: A lightly fruity and floral nose
T: Fruity, yeasty, a subtle crispness, dry but not clean and crisp as I like from this style
M: Lighter to Medium bodied beer, a bit of sweetness
D: Really easy to drink, a pretty good take on the style
320 characters
Koperen Ketel from Sound Brewery
3.64
out of
5
based on
17
ratings.