The Tradition

DC Brau Brewing Co.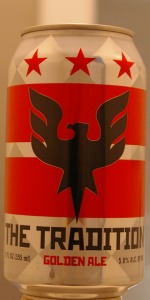 Write a Review
Beer Geek Stats:
| Print Shelf Talker
Style:

ABV:

5%

Score:

Avg:

3.45

| pDev:

12.17%

Reviews:

11

Ratings:

From:

Avail:

Rotating

Wants

Gots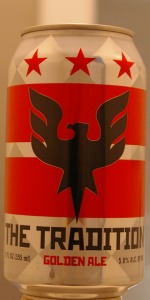 Notes:
3.59
/5
rDev
+4.1%
look: 4 | smell: 3.75 | taste: 3.5 | feel: 3.5 | overall: 3.5
Solid, clean, and crisp American Blonde Ale. Taste is of light hop, grass, and toasted malt. Very well balanced. I have others that I prefer in the style, but this is certainly worth trying.
193 characters
3.67
/5
rDev
+6.4%
look: 4 | smell: 3.25 | taste: 3.75 | feel: 4 | overall: 3.75
Pours on the lemony/straw side of golden. Thin ring of lacy fizz. No read head. Initial impression of taste is sweet orange. Mild hop bitterness, also in the nose. Very faint nose overall. Faint belgian yeastiness also in the flavor profile, especially as the glass warmed up. Refreshing and light, but strikes the palate all at once; could be more complex. Still, I'd order one again.
385 characters
3.99
/5
rDev
+15.7%
look: 3 | smell: 4 | taste: 4 | feel: 4.5 | overall: 4
Probably the most flavor-balanced beer available at this brewery. I could drink this all day when it's hot out!
Fun fact: It is only available when the MLS soccer season is under way (well that is most of the year anyway, so...)
229 characters

3.5
/5
rDev
+1.4%
My local, frequent in-person trade, tone77, recently dropped this off for me in his latest batch of beer in support of The CANQuest ™. I am always anxious to see what he has for me when he stops by!
From the CAN: "D.C. United 2014 Home Matches [:] 03/08 Columbus Crew 03/29 Chicago Fire 04/05 New England Revolution 04/12 New York Red Bulls 04/26 FC Dallas 05/17 Montreal Impact 05/21 Houston Dynamo 05/31 Sporting Kansas City 06/07 Columbus Crew 06/28 Seattle Sounders FC 07/20 Chivas USA 07/30 Toronto FC 08/17 Colorado Rapids 08/31 New York Red Bulls 09/27 Philadelphia Union 10/03 Sporting Kansas City 10/18 Chicago Fire"; "Best When Fresh Vamos United 04/10/14"; "CANs: Infinitely Recyclable (SM) – Pack In. Pack Out[.]"
I was anxious to CANduct the Crack! and begin an inverted Glug because I wanted to wash out the taste from an earlier beer. It all came off without a hitch and I netted two fingers of dense, bone-white head with good retention for my troubles. Color was a deeply-hazy (but not quite cloudy) Yellow-Gold (SRM = 4 – 5). Nose had an interesting fruitiness. I thought that I picked up grapefruit initially, but then I started getting softer tropical fruits. The taste was incredibly mild and eminently drinkable. I got a light tropical fruitiness on the tongue, but not much else. This was unobtrusive, but neither boring nor bland. It would be a great beer to have at a pre-game tailgate party or to drink in the stands, IMHO. Finish was semi-dry, more towards dry than sweet, but low-intensity in any case. Tasty.
1,565 characters
3.33
/5
rDev
-3.5%
look: 3.5 | smell: 3.5 | taste: 3.25 | feel: 3.25 | overall: 3.25
Poured from a 12 oz. can. Has a light golden color with a 1/2 inch head. Smell is biscuity, malty. Taste is mild, some malts and grains, refreshing but a touch bland. Feels light in the mouth and overall is a decent warm weather beer, but just seems a little bit lacking.
271 characters

2.92
/5
rDev
-15.4%
look: 3 | smell: 2.75 | taste: 3 | feel: 2.75 | overall: 3
12 oz. can poured into a DC Brau can glass. (the date on the bottom is: 4/10/14)
A: Hazy/cloudy/dirty straw color with no head at all or lacing.
S: Zesty blonde, that is quite mild and bland.
T: Starts with an interesting spice/herbal note but devolves into a watery mess. It is ok, but the body kills it.
M: Watery with a very even carbonation that is slightly rough.
O: This might just not be my style. It is pretty fresh, but just doesn't stand up.
456 characters

3.66
/5
rDev
+6.1%
look: 3.25 | smell: 3.5 | taste: 3.75 | feel: 3.75 | overall: 3.75
Poured into a nonic pint...
A. Cloudy, straw gold. Finger or so of off-white head that bottoms out to a thin ring a little too quickly. Lacing is similarly spotty.
S. Biscuit, hints of citrus, lots of grass and graininess.
T. Lemon zest, subtle orange rind, then a big dose of herbal bitterness with a crisp, dry finish.
M. Light, refreshing, and crisp. Very dry overall with a lot of garb and an rather grainy feel with hints of fruit. Pretty good use of bittering hops.
O. This hits the right notes for an American Golden ale. It's got clean lines and a well-structured palate. Not much in the way of complexity, but the style doesn't really call for that. Carb is up a little higher than I'd normally like and it's got a slightly "grainy" feel, but this is a very solid example of a style that is easily devolved into "pedestrian." When it's hot outside and you seek something clean, approachable, and refreshing, you can certainly do worse than "The Tradition" from DC Brau.
984 characters

3.83
/5
rDev
+11%
look: 4.25 | smell: 3.75 | taste: 3.75 | feel: 4.25 | overall: 3.75
From 04/25/14 notes. Had a few cans of this at 201 Bar in DC. Poured into a pint glass.
a - Pours a clear golden color with one to two inches of bright white head and moderate carbonation evident.
s - Smells of grains, floral notes, fruity malts, biscuit malts, spice, cloves, and bready malts.
t - Tastes of floral notes, grains, earthy notes, biscuit, dough, bready malts, light fruits and must.
m - Light to medium body and low to moderate carbonation. Very easy to drink.
o - Overall a nice beer that is very easy to drink. Light floral notes and fruit throughout, very light on flavor but crisp and refreshing. Would have it again.
641 characters
3.79
/5
rDev
+9.9%
look: 4 | smell: 3.75 | taste: 3.75 | feel: 4 | overall: 3.75
Pours a clear medium-light gold with a fizzy white head. The head has great retention and leaves some nice lacing. The aroma is mild, with some notes of green fruits, bread, and grass. The taste leans more toward the bread-y side of the house, but there's a nice grassy hops finish. The weight is just right, not too heavy but not watery, either. This is a solid beer. It's not going to blow the doors off, but for sitting around watching soccer, this does just fine.
467 characters

3.61
/5
rDev
+4.6%
look: 3.25 | smell: 3.5 | taste: 3.75 | feel: 3.75 | overall: 3.5
Growler fill from the brewery. Poured into a DC Brau can glass.
Appearance: Bright, clear, and golden in color. Thin white head fizzles out to a thin ring and ok lacing.
Aroma: Spicy and floral hops. toasted grain.
Taste: Mostly the same as aroma, starts out with a wet, fresh, grassy hop character, balanced with a toasted grain bill. A little spiciness and from the hops dances on the back of your tongue throughout the finish.
Mouthfeel: Smooth, crisp, refreshing, well-balanced. Very light with tight carbonation. Could drink this all day doing yard work. Not that thats an insult in anyway. It's just a damn good summer-y easy drinker. Flavorful and well-rounded for a style that can be pretty underwhelming.
717 characters

3.78
/5
rDev
+9.6%
look: 3.75 | smell: 3.75 | taste: 3.75 | feel: 4 | overall: 3.75
Brewery filled growler. This is the new collaboration between D.C. Brau and the D.C. United football club. Pours a crystal clear gold with several foamy fingers of bright-white head. This stays fairly rich looking, leaving a good bit of sticky lacing down the sides of the glass. The aroma smells floral and spicy with a fresh earthy citrus component to it. Fresh grains mix in to give the nose an earthy and bready twang. The taste is similar, with a tight grassy and spicy bitterness that spreads fresh earthy citrus and light herbal flavors out across the tongue. The malt is a bit more subdued than it is in the aroma, adding a tight grainy tanginess across the back but otherwise allowing the hops to take center stage here. This finishes dry with a lingering spicy bitterness. The mouthfeel is medium bodied with a tight crispness that pops the flavors a bit in the mouth. I appreciate that the body has a bit of beef to it. Helps prop the profile up rather nicely on the palate. This was a solid take on a Golden Ale with a well balanced emphasis on those fresh hops yet I could still see this being rather accessible to someone who doesn't always care for hoppy beers either. D.C. Brau nails another one!
1,214 characters
The Tradition from DC Brau Brewing Co.
Beer rating:
79
out of
100
with
81
ratings