Jaw Gate
| Buxton Brewery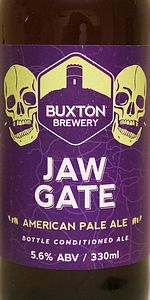 BEER INFO
Brewed by:
Buxton Brewery
England
,
United Kingdom
buxtonrealale.co.uk
Style:
American Pale Ale (APA)
Alcohol by volume (ABV):
5.60%
Availability:
Year-round
Notes / Commercial Description:
No notes at this time.
Added by jazzyjeff13 on 11-22-2013
Reviews: 7 | Ratings: 27
3.75
/5
rDev
-4.6%
look: 4 | smell: 4 | taste: 3.75 | feel: 3.5 | overall: 3.5
Lots of carbonation on the open, be careful opening this one. Looks great, gets a large layer of head on the top. Had a pretty strange look had the regular yellow/half transparent coloring to it, but it seems that there was layers to the beer. Very bottom was transparent but closer to the head it began to become more and more cloudy. Smelled amazing, slight fruity smell. The taste is pretty great on the start up but a little bitter on the ending. Overall, not too bad, it's pretty refreshing with a nice hoppy/slight bitter taste on the end.
545 characters

4.02
/5
rDev
+2.3%
look: 4 | smell: 3.75 | taste: 4 | feel: 4.25 | overall: 4.25
Jaw Gate has bubbles that rush out the bottle like a kid running down the stairs on Christmas morning. This excitement results in a constant half-finger worth of foam and a glass awash in glinty, super-sticky suds. The liquid has an egg yolk-like colour and is not much more transparent.
Both hops and malts make a showing in this bouquet. The former are earthy, floral, and vaguely fruity while the latter are bready, lightly sweet, containing just a pinch of caramel. While beautifully in balance, I'd give hops the slight edge - their fragrance is utterly beguiling.
The taste is laced with woody hop resins that conjure thoughts of damp earth, leafs, twigs, and tree bark. This very crude hoppiness is reminiscent of an over-steeped green or white tea and, unless my mind is connecting dots that don't exist, is similarly accented with a hint of jasmine.
There's not much fruit in this compost pile of grasses, leaves, and forest brush, but you will find the odd piece of discarded grapefruit and/or clementine peel. Just a drop of citrus to lighten the load. More polite, less assertive than its U.S. cousins, it's still distinctly hoppy.
There's something about Jaw Gate's crude hoppiness - the fresh flowers, dried brush, subtle citrus, and leafy greens - that really impresses. And it's not often pale ales are able to excite and entertain me so much - especially not British exports. But, man, is this ever good!
1,438 characters

3.7
/5
rDev
-5.9%
A rather ordinary pale ale. Hoppy. Woody tasting as well, which is unusual (but not necessarily unpleasant). Nose is one of the best features, very fruity and fresh. Hazy honey colour, substantial head settling to a full cap, good lace - good looking brew. Mouthfeel is a little dry.
283 characters

3.75
/5
rDev
-4.6%
look: 4.75 | smell: 4 | taste: 3.5 | feel: 3.5 | overall: 3.75
500 ml bottle served cold into a pint glass. Purchased from LCBO for $5.45 CDN.
Appearance - honey and amber coloured. Some visible carbonation. Capped by two fingers of thick white fluffy head. Phenomenal retention. Cloudy with just a bit of sediment. Fantastic looking beer.
Smell - fruity and citrusy, mostly grapefruit with a bit of lemon. Some slightly earthy undertones. Potent and inviting aroma.
Taste - citrusy at first with grapefruit, before turning to an earthy flavor. Finishes with a juicy grapefruit taste. Earthiness is not necessarily to my liking but interesting.
Mouthfeel - smooth with high carbonation and dry finish.
Overall - a nice pale ale, but the earthiness isn't my thing. Still a beautiful looking and well crafted brew. This makes multiple hits from this brewery making it one to keep your on. Grows on you as you drink it.
858 characters

4.15
/5
rDev
+5.6%
look: 4.25 | smell: 4.25 | taste: 4 | feel: 4.25 | overall: 4.25
Appearance: hazy light amber with a medium sized white head. OK lacing.
Aroma: fresh american hops, citrus, pineapple, hints of pine and grass. Aroma isn't very intense, but is very refreshing and pleasant.
Taste: typical american pale ale, but just a bit more maltier I guess. Decent bitterness, mildly fruity, some resin notes, slightly earthy finish. Dry.
Mouthfeel: medium to low carbonation, medium bodied.
Overall: an everyday pale ale. Very tasty and refreshing but doesn't knock your socks off.
506 characters
4.16
/5
rDev
+5.9%
look: 3.75 | smell: 4 | taste: 4.25 | feel: 4.25 | overall: 4.25
Coming in a 330ml brown bottle, bottle-conditioned; bottled on 16/01/2014, served mildly-chilled in a straight pint glass.
A: pours a dark amber colour with light haze, coming with a very thin light beige foamy head with good retention, on top of mild but constant flows of carbonation.
S: like an American Pale Ale, aromatic with a good sweet pale malt backbone, in the aroma I could sense notes of lychee-ish and flowery hops as well as more piney elements, altogether so fragrant and juicy at the same time, while the pale malts provides a stable feed of sweetness in the background. Very nice.
T: nicely carbonated, the foretaste gives lots of impression of gristy pale malts with lightly nutty quality, followed immediately by a wave of juicy hops and spicy-tannic bitterness, underlined throughout by the lychee-shell like aroma – I wonder if Cascade hops are used in this brew? Mildly acidic notes go well with the otherwise lively bitter finish, while maltiness keeps its cool and renders just enough weight to buttress the other goodness throughout each sip.
M&O: very fresh comes the mouthfeel, well-conditioned in the bottle, superbly balanced, delicious and highly quaffable. To me this is a very very successful product, and I wish the quality will almost remain this good.
1,289 characters

4.02
/5
rDev
+2.3%
look: 3.75 | smell: 4.25 | taste: 4 | feel: 3.75 | overall: 4
A 330ml bottle with a bottling date of May 2013. Picked up a little while back from Trembling Madness in York. The label describes it as an American-style pale ale.
Poured into a tulip pint glass. Bottle conditioned. A very hazy orange-amber hue with medium carbonation. Produces a huge head of creamy white foam with good retention; this steadily subsides to a thick surface layer. Some lacing. Aroma of bright, juicy hops with notes of grapefruit, lime, citrus, mild pine, white grape and faint tropical fruits. Underpinned by subtle caramel malt and earthy yeast. Simply amazing.
Tastes of intensely fruity hops with a dry, bitter finish. Notes of grapefruit, orange peel, citrus, white grape, melon, mild pine, faint tropical fruit, subtle caramel malt, earthy yeast and stewed hops. Crisp and well-attenuated, followed by a strident bitterness upon swallowing. Mouthfeel is smooth, tingly and lightly spicy, with soft carbonation and good body. Hop oils stimulate the palate. Slightly astringent, accompanied by an aftertaste of bitter aromatic hops, citrus and earthy yeast.
Impressive - an avalanche of hops on your tongue. Looks alright, if a tad yeasty, but the aroma and flavour are stunning. Fruity hops and a crisp bitterness; the definition of hoppiness. Decent body, though a shade more carbonation would have added texture. Lovely - I'd happy drink a barrel of it if I could. Well worth sampling if you have the chance.
1,437 characters
Jaw Gate from Buxton Brewery
3.93
out of
5
based on
27
ratings.