Dukes Big Ass Beer (Hefeweizen)
| Jack Russell Brewing Company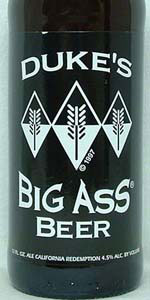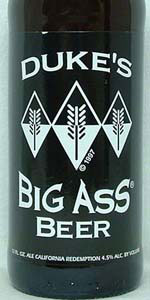 BEER INFO
Brewed by:
Jack Russell Brewing Company
California
,
United States
jackrussellbrewing.com
Style:
Hefeweizen
Alcohol by volume (ABV):
4.50%
Availability:
Year-round
Notes / Commercial Description:
No notes at this time.
Added by beerguy101 on 10-05-2003
HISTOGRAM
Ratings: 8 | Reviews: 7
Reviews by BrewMaster:
1.56
/5
rDev
-14.8%
look: 2.5 | smell: 1.5 | taste: 1.5 | feel: 1.5 | overall: 1.5
Appearance: Clear orange to yellow color. No head and nothing nice to look at. The color is drab and uninspiring.
Smell: Sandy dirt smell with some sugary sweetness near the end. It smells like the bottom of a picnic table.
Taste: Watery with a dried grain flavor/ Metallic with a flavor of dry corn tortillas, firewood ashes, and a hint of citrus near the end.
Mouthfeel: Offensive, spritzy and watery. I prefer the feel of a soda over this.
Drinkability: Just no good. Thin, ashy and bad. Stay away from it!
522 characters
More User Reviews:
3
/5
rDev
+63.9%
look: 3 | smell: 3 | taste: 3 | feel: 3 | overall: 3
An cloudy darkish apple juice color with no head and some carb action.
Has a straw and caramel malt smell with spruce and citrus hops.
Lightly sweet and moderately acidic smokey caramel malt taste with resin and aged orange hops.
A light bodied, watery and slightly syrupy texture, soft and flat carbonation, and a slightly chalky finish.
Not my type of Hefe, too watery and acidic.
394 characters
1.06
/5
rDev
-42.1%
look: 2 | smell: 1 | taste: 1 | feel: 1 | overall: 1
A bit of a chill hazed golden yellow color, the head miniscule, bubbly in texture, off white in color, the lace is almost non-existent. Nose is lightly sweet, little else to notice, the start is lightly sweet, the top weak and watery in its feel. Finish is mild in carbonation, hops are sparse and the aftertaste lightly dry. I refer to these watered down weak and ineffectual beers as "Habeas Corpus" beers, "Where's The Body"! I must admit a real disappointment as I expect better from this quite decent brewery.
519 characters

1.55
/5
rDev
-15.3%
look: 2 | smell: 2 | taste: 1.5 | feel: 1.5 | overall: 1
Well it certainly is a big assed bottle of beer, even if it sucks I get a good flip top 32 OZ bottle!
Pours a mildly cloudy light brown beer with a near missing head for a hefeweizen.
Smell is cooked vegetables and and some clove scent in an uninspiring wheat malt aroma.
Taste is flat and a little metallic with a big of caramel flavor like they scorched the malt while boiling it. There is a little bit of clove flavor here and that is about it, barely can even call this beer.
Mouthfeel is thin.
A really lousy beer here. This isn't really bad so much as that any home brewer can do better than this with a home extract kit from Mr. Beer! AVOID LIKE THE PLAGUE!
679 characters
2.16
/5
rDev
+18%
look: 3 | smell: 2 | taste: 2 | feel: 3 | overall: 2
Straw yellow color, slightly cloudy, small white foamy head. Aroma is grassy and sweet. A medium bodied American Wheat beer, slight hops with slight malts. Mild flavor. Mouthfeel is full and round. Finish is crisp and clean. Aftertaste is slightly hoppy. Not bad but nothing special.
283 characters
1.36
/5
rDev
-25.7%
look: 3 | smell: 2 | taste: 1 | feel: 1 | overall: 1
Thanks to Abecall98 for throwing this in a recent trade as an extra. He's a great trader.
Pours with a fizzy eggshell colored head. Cloudy pale amber color. Head vanished immediately.
Aroma is of light spice & grain. Maybe a touch of banana.
Taste? What taste? Seriously this is so watery I can't even explain..
Slight slice notes a touch of bread... But really bread that was soaking in water.
Mouth feel is water like.
It drinks like water. How can this be called a Big Ass Beer?
Avoid.
494 characters
1.43
/5
rDev
-21.9%
look: 2.5 | smell: 2 | taste: 1 | feel: 2 | overall: 1
Lucent orange-amber with a light dusting of superfine particulates. Several vigorous streams of bubbles feed a two finger head that is the color of old newspaper. Tight-bubbled, but soft, the surface of the foam is nearly smooth and the glass rejects any overtures toward lace formation.
I'm not quite sure what style this beer smells like, but hefe weizen isn't even in the same area code. Whiffs of buttered pale malt and overripe fruit reach my nose. It most resembles an amber ale, but not an especially well-brewed one. Even though it doesn't offend, I don't care to keeping on sniffing.
Nasty. This is as far removed from a hefe weizen as is possible (without being a Russian Imperial Stout). Forget style. In fact, forget this beer, because it sucks. I can't forget it though because I've committed myself to cataloging its merits (uh... I'm thinking) and its demerits (I could probably bump up against the character limit if I really put my mind to it).
The flavor is a grimace-inducing gut shot of fusel alcohol-macerated, spoiled fruit. Let's not forget the underlying, chemical/metallic character. I wouldn't be surprised if the brewers added something to make this beer glow in the dark. If you're going for the 'joke beer' crowd, why not go all out? Is this what infected beer tastes like? If so, the addition of any of the more distasteful antibiotics just might improve the flavor profile. Just a few more sips and I'll be rid of this swill.
Medium mouthfeel, not much wrong with the carbonation. It doesn't really matter at this point. Nothing else that this swill may be semi-competent at (looks, mouthfeel) is worth a damn because it tastes so horrendously bad.
Bottom line: Big Ass Beer tastes about what you'd expect a beer named Big Ass to taste like. It's telling that Jack Russell Brewing Company doesn't mention this offering on its website, nor put its name on the label. Smart move. An even smarter move would be to cease and desist brewing effluvial waste like Big Ass.
2,012 characters

Dukes Big Ass Beer (Hefeweizen) from Jack Russell Brewing Company
Beer rating:
1.83
out of
5
with
8
ratings