Bootleg Settlers Pale Ale
| Bootleg Brewery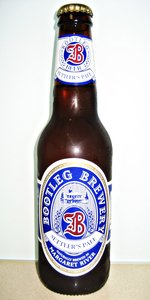 BEER INFO
Brewed by:
Bootleg Brewery
Australia
bootlegbrewery.com.au
Style:
English Pale Ale
Alcohol by volume (ABV):
4.80%
Availability:
Year-round
Notes / Commercial Description:
No notes at this time.
Added by rastaman on 05-07-2003
Ratings: 13 | Reviews: 11
Reviews by foles:

3.5
/5
rDev
+7.7%
look: 3.5 | smell: 3.5 | taste: 3.5 | feel: 3.5 | overall: 3.5
Received this bottle from a friend who visited the Margaret River Brewery. Pours a hazy/cloudy bright, very pale yellow. A nice healthy fluffy head. Sediment was evident in the bottle.
Light passionfruit/grapefruit on the nose. Similar to LCPA, but not as flavourful. Taste very similar to the nose, with a fair hit of bitterness on the finish. A little soft overall, but this makes it fairly drinkable. A little slippery in the mouth, would prefer it to be a little more crisp/dry.
Think this beer is wrongly classified as an american IPA. Its somewhere between an english pale ale and an american pale ale.
610 characters
More User Reviews:
3.1
/5
rDev
-4.6%
look: 3 | smell: 3 | taste: 3 | feel: 3 | overall: 3.5
AIBA 2003: Medium bodium. Soft malts, with a citrusy floral hop finish, short to medium length finish. Like it. Quite easy to drink, but with some amount of hops and malt to keep you at least interested, i guess if anything its a nice session beer, uncomlicated, and uncomplex.
277 characters
3.5
/5
rDev
+7.7%
look: 4 | smell: 4 | taste: 3.5 | feel: 2 | overall: 3.5
Pours orange/amber with a large, slowly receding head.
Aroma shows orange and tangerine marmalade, grapefruit, and hop resin along with prominent caramel malt.
Loads of nutty, caramel malt flavours, with some of the citrus hop aromas transferring through. Quite and assertive bitterness follows, though the malt balances it quite well.
Carbonation is too high.
360 characters
3.84
/5
rDev
+18.2%
look: 3 | smell: 4 | taste: 4 | feel: 4 | overall: 3.5
Drank from my Duvel Tulip
A - Pours a slightly hazy golden colour with a large white head that dies pretty quickly.
S - Nice hoppy pine aromas as you would expect.
T = Not much up front but moves into a nice piney flavour and a little sweet citrus on the finish and a hint of bitterness.
M - Nicely balanced light to medium body with light to medium carbonation.
D - Not a bad alternative to the LCPA.
406 characters
2.73
/5
rDev
-16%
look: 3.5 | smell: 3 | taste: 2.5 | feel: 3 | overall: 2.5
Just a so-so attempt at a pale ale. I was really hoping to like it, too. I had it at Godfather's Pizza in Margaret River. Excellent food there, by the way. Unfortunately the beer didn't measure up and I switched to Little Creatures. The hops just didn't blend well with this beer, in my opinion. A grassy taste that inhibited the drinkability of this brew.
356 characters
2.76
/5
rDev
-15.1%
look: 3.5 | smell: 2.5 | taste: 2.5 | feel: 3.5 | overall: 3
American IPA ??? Surely not.... certainly APA, but not AIPA
a) Pours a big head, heavy and white. Good bubbling runs through a hazy pale gold/yellow
s) Citrus & tropical fruit, faintly perfumy, slightly funky
f) Similar to nose.... fruity hop dominates. The bitterness is moderate
m) Crisp finish
d) Not bad, probably a good seafood beer, but doesn't really have anything significant to describe.
397 characters

3.67
/5
rDev
+12.9%
look: 4 | smell: 4.5 | taste: 3.5 | feel: 2.5 | overall: 3.5
Not sure who added this as an IPA because it's clearly just a pale. Tried on tap at the brewery 16/08/11.
Pours a pale, slightly cloudy straw colour with dense white head that dissipates to a thin crown of clingy lace. Mild haze; looks pretty good.
Lovely smell. Big tangy, floral hop aroma giving me passionfruit butter, lemon zest, pine resin and orange blossom. Great fresh, light aromas that is really just the result of lots of dry hopping, but hey I like it.
Taste runs a similar course but not as potent. Bit thin malt-wise so hops emerge early, with some passionfruity tang and citrus zest. Touch of lemon myrtle and pine wood late, then fairly resinous as the alpha acids make their presence felt. Decent, needs a bit more malt to balance, hops are both too dominant and a bit too 'swimming' in the unsubstantial, watery base.
Yeah, thin mouthfeel, a bit lacking. Hop oils provide t' only texture.
Good ingredients here, method lacks panache.
956 characters
2.95
/5
rDev
-9.2%
look: 3 | smell: 3 | taste: 3 | feel: 2.5 | overall: 3
Pours a very lively golden colour, with excessive, almost stupid amounts of carbonation, that provide a blistering froth of off-white, a good 10cm tall, even with a gentle pour. It's all rather insubstantial however, and collapses after it's left alone for a while. Some patchy lace. There are some good points about it, but there are some overwhelming points as well.
Nose is slightly earthy, and slightly metallic, giving a slight twang of oxidised copper, and a hint of medicinal tea leaves. Minimal malt character, although there's twinges of something slightly sweet and sour. It's not all that great, to be honest.
Taste is also pretty lacklustre. Light earthy hop bitterness through the centre, above a mealy malt basis that almost gives hints of corn or other adjuncts. Finish is crisp at least, although the carbonation means that it's particularly brusque and difficult to drink quickly.
To be fair, this was a relatively old bottle, so I'm sure the hops would be better when young, but this feels pretty lacklustre as it is. Too mild, and too lacking in character, but missing any particularly pleasant characters in the little it has.
1,149 characters
2.69
/5
rDev
-17.2%
look: 3 | smell: 2.75 | taste: 2.5 | feel: 3 | overall: 2.75
3.68
/5
rDev
+13.2%
look: 4 | smell: 3.5 | taste: 4 | feel: 3 | overall: 3.5
To me this beer is more a APA than AIPA but anyways it pours a semi cloudy pale straw colour with nice carbonation that leaves a one finger head with nice lacing,it has aromas of kiwi fruit,stonefruit and some light citrus with a a malty background,it has an average mouthfeel with a nice peach,passionfruit,floral taste dominating the palette that is perfectly balanced out with the malts that exceedes the aroma and it finishes with a subtle touch of bitterness,no standout but very easy to drink.
499 characters

3.48
/5
rDev
+7.1%
look: 3.5 | smell: 3 | taste: 3.5 | feel: 3.5 | overall: 4
A - Slightly hazy, pale golden straw colour with a few centimetres of white head.
S - A bit of a floral, fruity hop presence. Not much else.
T - Similar to the smell but also with some biscuity maltiness.
M - Light to medium bodied with a fairly high carbonation.
D - Not very complex but I could see this being a regular in the summer up coming summer sessions.
362 characters
2.98
/5
rDev
-8.3%
look: 4 | smell: 3.5 | taste: 2.5 | feel: 4 | overall: 2.5
Appearance - 4.0
Pours a big creamy off-white head over a hazy golden body. Head retention is excellent, lacing is good.
Smell - 3.5
A pleasant hoppy aroma of citrus, kiwi, grass and a touch of biscuity malt.
Taste - 2.5
This is a brew balanced massively on the side of hops, so be sure not to drink it ice cold, or the malt cannot be perceived. Flavours of soft, bready, biscuity pale malt, and then a big whallop of acidic hops, tasting of underripe citrus and grass and giving a high level of bitterness. You could not call it boring, but it isn't entirely pleasant either.
Mouthfeel - 4.0
Puckering bitterness clearly affects mouthfeel. Carbonation is moderate to lively, the beer feels light in the mouth.
Drinkability - 2.5
An interesting drink, but far from an easy drinker for all but the most avid hopheads. Needs more malt.
OVERALL - 3.15
Another beer from Bootleg that is not bad, but fails to hit the desired spot. I like a good hoppy beer, but this one is just a little to unbalanced for me.
1,009 characters
Bootleg Settlers Pale Ale from Bootleg Brewery
3.25
out of
5
based on
13
ratings.