Bootleg Sou West Wheat
| Bootleg Brewery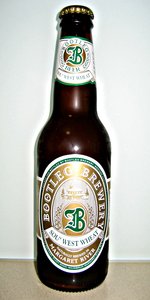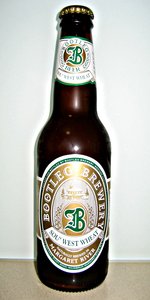 BEER INFO
Brewed by:
Bootleg Brewery
Australia
bootlegbrewery.com.au
Style:
American Pale Wheat Ale
Alcohol by volume (ABV):
4.70%
Availability:
Year-round
Notes / Commercial Description:
No notes at this time.
Added by rastaman on 05-07-2003
Ratings: 9 | Reviews: 8
Reviews by dgilks:
3.47
/5
rDev
+19.2%
look: 3 | smell: 3.5 | taste: 3.5 | feel: 3.5 | overall: 3.5
Slightly hazy straw colour with a small, white head. Okay head retention.
Mild, slight sulphur with a light tart wheat note. Mild hop note.
Slightly sweet malt with a touch of tart wheat. Somewhat grainy.
Medium-light body with a spritzy moderately-high carbonation.
An okay beer but it is uninteresting and a bit sweet.
324 characters
More User Reviews:
2.48
/5
rDev
-14.8%
look: 3 | smell: 2.5 | taste: 2.5 | feel: 2 | overall: 2.5
AIBA 2003: Just below average, not really wheatbeery, more lagery, mildly refreshing crisp finish. Not disimiliar to Redback, but i think Redback still has a slight edge over this, this has a bit less clove in the flavour, but maybe it doesn't, i'd have to have em side by side.
278 characters
2.9
/5
rDev
-0.3%
look: 3 | smell: 3 | taste: 3 | feel: 2 | overall: 3
Pours a hazy straw with a small head.
Aroma is pretty basic, but shows some bready wheat and cloves, but little else.
Flavours show more wheat, with some grainy malt unfortunately bringing it down.
Too much prickly carbonation detracts from the little flavour present.
268 characters
2.4
/5
rDev
-17.5%
look: 2.5 | smell: 2.5 | taste: 2.5 | feel: 2.5 | overall: 2
Drank from my Duvel Tulip
A - Pours a slightly hazy golden colour with a head that dies real quickly.
S - Small amounts of grain.
T - Small amounts of grain but no wheat to speak of.
M - Not enough carbonation and light body.
D - Disappointing attempt at a wheat beer. Not recommended.
290 characters

2.92
/5
rDev
+0.3%
look: 3 | smell: 3.5 | taste: 2.5 | feel: 3 | overall: 3
Had on tap at the brewery, 16/08/11.
Pours a pale straw colour that thins at the edge, head is white and whispy and quite thin. Decent lace, OK but flat.
Smell is paled fruit, with plenty of watered-down lemon, underripe banana and pear. Touch of nutmeg and vanilla as well. Decent wheaty smell.
Taste is tangy fruit for the most part. Banana with orange peel, banana flesh and some just soda watery bitterness. Fruit doesn't last long enough and not enough malt to cover the thinness on the back. Just a bland wheat beer, really.
Thin, watery mouthfeel, but a bit of texture from the carbonation and not too much.
Refreshing enough, but not very exciting.
661 characters
2.17
/5
rDev
-25.4%
look: 3.5 | smell: 1.5 | taste: 2 | feel: 4 | overall: 2
Appearance - Cloudy gold. 2 fingers of head which reduced.
Smell - Very, very weak.
Taste - It was immediately very obvious that this is neither a German nor Belgian style wheat beer, simply because the flavour is quite mild, grainy and lagery. Unfortunately, the lagery flavour is more like a bad Australian macro than a quality microbrew, though not as metallic.
Mouthfeel - Medium bodied and smooth with a good carbonation level.
Drinkability - Too musty and bland to be a good summer beer.
Overall - A serious weak link in the range of an otherwise good brewery. Not recommended.
588 characters

3.29
/5
rDev
+13.1%
look: 3.25 | smell: 3.5 | taste: 3.25 | feel: 3 | overall: 3.25
On tap at brewery. Aroma kicks off with some nice bready aroma, mildly hazy golden body with a small creamy head. Taste brings more crackers, bread, sourdough tastes. Mildly sweet, but abrupt finish.
199 characters
3.04
/5
rDev
+4.5%
look: 4 | smell: 2.5 | taste: 3 | feel: 3 | overall: 3.5
Appearance - 4.0
Three fingers of creamy white head over an opaque straw coloured body.
Smell - 2.5
Quite musty and soapy, with just a little of the expected clove and fruit aromas from a wheat beer. Something is also there that smells a bit like farts (I feel stupid writing this, but don't know how to explain it otherwise).
Taste - 3.0
More hop presence and bitterness than is wanted in a wheat beer, taste like POR too. Flavours of bready wheat malt, a little clove, lemon and a slight soapiness. Quite pleasant overall, but nothing special.
Mouthfeel - 3.0
Low to moderate carbonation, nice small bubbles.
Drinkability - 3.5
A refreshing summer drink, but not one I would go back to.
OVERALL - 3.15
Not a bad beer, but far from good. Bootleg is certainly worth visiting - but try the hefe instead.
808 characters
Bootleg Sou West Wheat from Bootleg Brewery
Beer rating:
0
out of
100
with
9
ratings