3 Stars Brewing Company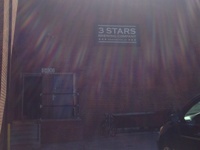 PLACE INFO
Type:
Brewery, Homebrew Store
6400 Chillum Pl NW
Washington
,
District of Columbia
, 20012-2134
United States
(202) 670-0333 |
map
threestarsbrewing.com
Notes:
No notes at this time.
Added by mdaschaf on 06-01-2011
Reviews: 12 | Ratings: 33

4.04
/5
rDev
-0.2%
vibe: 3.75 | quality: 4 | service: 4 | selection: 4.25
Visited on a Thursday evening just after opening. This place is a bit hard to find and parking is minimal. The tasting room is in the middle of the brewery. Typical space, dark, not kid friendly in the sense that the seating is minimal. Friendly folks but the wait for a beer can be long when there is only one person serving. Helpful. Were have trouble with one of the taps that day. Love their beers.
402 characters

4.36
/5
rDev
+7.7%
vibe: 4.5 | quality: 4.5 | service: 4.25 | selection: 4.25
A visit to 3 Stars is an awesome experience. To begin with, you get 4 free (fairly generous-sized) tastes from the taps in the homebrew store area. Then you can buy flights ($6 for four 4-oz pours), pints ($5), and cans/bottles from the bar area. There's a separate set of taps where you can purchase growlers. Plus they offer (free) tours. Best of all, their beer is delicious and imaginative. Two thumbs up and I hope to return soon.
435 characters
4.08
/5
rDev
+0.7%
vibe: 4 | quality: 4.25 | service: 3.75 | selection: 4.25
First, be prepared to look out for this place, another non descript place from the street, and watch the parking signs, DC is really strict about ticketing/towing, and this place does not have much parking of their own, so you are left to the street (don't even try neighboring businesses). However, once inside, it is a wonderful surprise. You walk into the brewery with the tasting room to your left. We got there early on a Tuesday, so finding a table was easy, but the place filled up by the time the after work crowd filtered in. Service is bar service, but the tender was very courteous and quick. Beer selection is amazing, about 12 on tap, and all were great quality. My wife, who is not the biggest beer fan, had some that she enjoyed. You can do pints for $5 or a flight of 4 choices for $6. This was a great gem to find in the DMV.
848 characters
4.53
/5
rDev
+11.9%
vibe: 4.5 | quality: 5 | service: 4.5 | selection: 4
This place makes great beers, especially the Saisons. The people are generally friendly and helpful for both the beer tasting and the homebrew store. Oh yeah, did I mention there's a homebrew store in the brewery? Nothing amazing in terms of selection and somewhat strange hours, but a nice feature nonetheless.
311 characters

4.78
/5
rDev
+18%
vibe: 5 | quality: 4.75 | service: 4.75 | selection: 4.75
Warehouse cul-de-sac, easy to find 'cuz there's always a food truck!
Wide open, warehouse taproom, wonderful wood bar right next to open, visible brewhouse. Great logo artwork on walls, service was great. Packed house, but expedited pours much as possible.
If I lived there, I would join the Illuminati club for reserve beers!
327 characters

3.93
/5
rDev
-3%
vibe: 3 | quality: 3.75 | service: 5 | selection: 3.5
These guys are growing, and you gotta appreciate their approach, they produce excellent saisons and are striving to be a major player in a fledgling DC beer scene. The tasting room bartender was very knowledgeable and friendly and they don't charge admission and offer free tastings of whatever they are currently brewing. Their brewing approach coupled with their artistic endeavors provide a unique and home grown approach to industry that is now become investor driven. I wish them well and recommend a visit
511 characters
3.18
/5
rDev
-21.5%
vibe: 2.75 | quality: 3 | service: 3.5 | selection: 3.25
One time I got there early to get the ebony & ivory that they announced on twitter. After getting there, they decided not to tap it. I was so disappointed. The xmas party/beer bash was great. I'm not giving up on them & hope this 250 person club is worth it. To be determined...
278 characters
3.81
/5
rDev
-5.9%
vibe: 2.75 | quality: 4.5 | service: 4 | selection: 3.75 | food: 2.5
The area is on the knife edge between ghetto and gentrification.
The food rating is based on the truck they use for the tastings. The guy is really trying, but the brisket and pork is okay, and the peanut soup is spicy without flavor. The guy is so nice I feel a little bad writing this.
The bartender for the tasting is not nice. The tasting is free, and the beers are good. Four on tap, but they have a wide and changing range of beers.
The tour is nice because the guys are great. They have a nice explanation of how they got started and brewing, capping with a canned 1 minute fifty speech on following your work dreams.
The place is filthy, and the equipment is used and beat up. The tasting area and bathroom is clean as heck.
The brewing supplies are overpriced.
Free tasting and tours.
Growler fills can be purchased, and are overpriced.
854 characters

3.75
/5
rDev
-7.4%
vibe: 3.75 | quality: 3.75 | service: 4 | selection: 3.5
Small brewery in DC area run by charismatic and enthusiastic brewers. They offered free samples of their current beers which were very tasty (especially the Casked IPA and the Imperial Brown) but the growlers were a bit pricey. The tour was well done and detailed their history and growth, but they also answered questions about technique whenever asked. They had a great message about "following your passions." Their beers and the food truck next door made for a great lunch - we'll keep our eyes on this brewery and will be back for another visit!
550 characters

3.9
/5
rDev
-3.7%
vibe: 3.5 | quality: 4 | service: 4.5 | selection: 3.5 | food: 3.5
great people and vibe. very welcoming. industrial area, as expected given their location and it is DC. not a huge selection but I thought quite acceptable. And they don't charge. so I can't complain. Food truck outside - bonus. Thought the growlers were a bit pricey, but they were high abv brews, expected? will visit again.
325 characters
2.06
/5
rDev
-49.1%
vibe: 2.25 | quality: 2.5 | service: 1.5 | selection: 2
This was not a brewery visit experience I would repeat. From the lack of selection to relative expense to building structure and setup that need work, there's a fair bit to be desired. But my biggest complaint is this:
The brewery is fairly stingy with its tastings. Each patron receives a limited number of tickets and cannot purchase more. Even if that's required to follow a regulation with which I am unfamiliar, there is an accompanying unacceptable problem. Virtually every member of the staff carries around a full glass of beer all the time while interacting with the patrons!...oon tours, in the store, etc. They swill and grin in front of potential customers who cannot, through any mechanism, enjoy it with them. Growler fills are sealed at the point of sale so, literally, the staff imbibes in front of thirsty paying customers. Unacceptable behavior. Period.
They're friendly folks who enjoy their craft and tell good stories.
And the brews aren't bad; it's nice that they are getting play in local pubs. That's the only place I'd go to get them, though. And sadly, with the memory of the brewery visit, I'm less likely to order one when 3 stars appear on a menu.
Sorry for the negative review--but it's accurate.
1,226 characters

4.25
/5
rDev
+4.9%
vibe: 4.25 | quality: 4.25 | service: 4.5 | selection: 4
So glad we have yet another awesome brewery in the DC area.
Atmosphere: Sure, this place is located in an industrial park like most breweries, but this one is tucked back in a neighborhood (unlike DC Brau, that is in back of a strip mall) that really made me feel I was out in the burbs. Loads of parking options, but finding the actual door to the brewery can be tricky. On second thought, just follow the trail of empty growlers. That's what I did.
Inside this place is VERY spacious, with a tasting ticket pick-up station on the way in, a BBQ food truck on the left, a growler fill/swag counter straight ahead, and a tasting room/homebrew store along a short winding path to the right. An ideal, inviting layout.
Quality: The beer here is top-notch. Unlike DC Brau, Chocolate City, Port City, Lost Rhino, etc. this one is more "artisan" in nature. Think of this as the Allagash or Ommegang of the DC area, with the potential to be just as good, if not better.
Service: Some of the nicest beer geeks I've ever met in my life at this place (and most are nice by nature). In the tasting room, the guy was very enthusiastic about the beer and loved to field homebrew questions. At the growler station (where I picked up 2 for a Super Bowl party I was attending), the guy at there made mention of both my FFF and Selin's Grove growlers and truly was grateful for the support. I could have honestly talked with him forever.
Selection: I don't quite understand their flagship structure yet, but keep in mind that their stuff is much more "gourmet" in nature that most breweries in the area. That sets them apart... smart! That day, they had their Peppercorn Saison, Southern Belle (Imperial Brown), Winter Madness, Ebony & Ivory (cask-conditioned "Southern Belle" on vanilla and cocoa nibs), and Winter Madness w/Juniper Berries. I'm sure this changes quite often.
Food: Well, they have a food truck that is kind of a permanent exhibit in the warehouse, everyone there raved about it, but I didn't try it, nor is it part of the brewery.
Value: I've read of some of the peeps on the forums complaining about the price structure compared to a lot of the ones in the area. This is misguided to my mind, since most of the brews here are artisan in nature. I was VERY ecstatic to get a growler of "Ebony & Ivory," an awesome gourmet beer, only to be brewed once, at 8.7% ABV for only $20.
I will definitely come back to this place and will bring my beer-hating wife next time. I actually think she will like the beers here.
2,523 characters
3 Stars Brewing Company in Washington, DC
3.76
out of
5
based on
1,012
ratings.