Hop Weiss
| Cervejaria Bodebrown Ltda.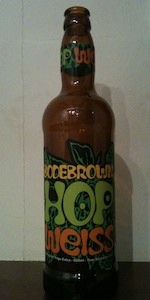 BEER INFO
Brewed by:
Cervejaria Bodebrown Ltda.
Brazil
bodebrown.com.br
Style:
American Pale Wheat Ale
Alcohol by volume (ABV):
5.50%
Availability:
Year-round
Notes / Commercial Description:
No notes at this time.
Added by paulozanello on 07-26-2011
Reviews: 4 | Ratings: 16
4.34
/5
rDev
+18.3%
look: 4.5 | smell: 4.25 | taste: 4.25 | feel: 4.5 | overall: 4.5
Loved the psychedelic label. It poured a hazy golden orange color with lots of thick head with ethernal retention, leaving marks and small mountains and valleys of head. You can actually get chunks of it with your fingers.
Nice and different aroma from traditional Weiss, though faithful to its sub-style, besides some usual banana notes on the background, upfront there is a clear citric scent from its Amarillo hops.
Flavor is also quite citric with hints of grapefruit giving a zesty feeling at start. Yeast, wheat and cloves come just later. Dry and bitter aftertaste, its 28.3 IBU on this end of 2012 brew, about twice as usual, show its relative strength.
Light body with medium carbonation.
Very refreshing and full of character. Being an IPA lover, I loved this brew. Samuel, mandou bem!
795 characters
3.21
/5
rDev
-12.5%
look: 3.5 | smell: 2.5 | taste: 3.5 | feel: 3 | overall: 3.5
From a 500 mL Fuller's style bottle, courtesy of DoubleJ,
A: Pours a clear goldenrod with some spotty lace, medium white head.
S: A bit hard to find at first, but coaxing it, I get some citrus notes.
T: Bit of cotton candy and watermelon with some sweet bready malt. Interesting, though not particularly hoppy.
M: Light-bodied, a tad flabby, relatively smooth.
O: A solid effort, but this the weakest beer that I've had thus far from Bodebrown. Cool label though.
468 characters
3.38
/5
rDev
-7.9%
look: 3.5 | smell: 3 | taste: 3.5 | feel: 3.5 | overall: 3.5
The bottle label will get your attention with its psychedelic design. It comes in a 500 ml bottle, thanks to Sergio. On to the beer:
Nearly golden in color with some spotty lace clinging. The nose is a little sweet from the malted wehat, and it also has a medicinal ointment aroma, but in a good way. No sign of the hops, which I came in expecting.
No hops, no problem, Hop Weiss is able to hold its own. Sweeter flavors of honey and graham cracker paint the canvas of this beer. There is a very subtle hoppiness noticed as the beer dries. The beer is light bodied, has mild carbonation, and finishes quite clean.
Despite the name, Hop Weiss doesn't show much hoppiness, but it is a good drinking wheat ale.
712 characters
3.55
/5
rDev
-3.3%
look: 3.5 | smell: 3.5 | taste: 3.5 | feel: 4 | overall: 3.5
Bodebrown is a nano brewery from Curitiba, southern Brazil.
It is heavily inspired by the american style of brewing and Hopweiss is a wheat ale brewed with american hops, much like Three Floyd's Gumballhead, one of the beer's inspirations.
Right away the label and the bottle are very unusual for the Brazilian market: Bright colors and heavy american brewery label influences.
Batch A 03 - best before date of 07/2012.
It pours a clear dark golden color (probably filtered) with a small white head that persists for about one minute, then receding down to a tiny layer of foam that sits atop the surface of the beer. Lots of tiny bubbles keep coming up from the bottle of the glass.
Aroma is very heavy on candied orange, with hints of lemon, tangerine and passion fruit. Bready, banana/clove and bubblegum wheat notes are perceptible a little later.
Taste is somewhat similar to the nose, starting out with a kind of fruity hop presence. I definitely do not get that freshness and grass-like taste from Pacific Northwest Hops - instead there is a more aromatic and sweeter citric taste, just like those candied sugar-coated oranges that usually come with an espresso coffee.
Mild passion fruit and mango are there as well but they start to mix in with the yeast compounds like banana/clove and bubblegum resulting in a weird but kind of pleasant combination. It ends on a mild bitter note from the hops. That bready, almost bland wheat malt taste linger below the hops throughout the sip.
Body is low and kind of watery and carbonation is medium to low. It drinks pretty well at 5.5% abv.
Overall an interesting experiment (definitely unique in Brazil) that IMO still needs a little recipe-tweaking. I feel that the hop presence could be bolder and more "american" and fresh.
Regardless, if you ever come visit Brazil look out for Bodebrown beers. they are worth it.
1,894 characters
Hop Weiss from Cervejaria Bodebrown Ltda.
3.67
out of
5
based on
16
ratings.