Machine Shed Stout
| Bat Creek Brewery
BA SCORE
84
good
10
Reviews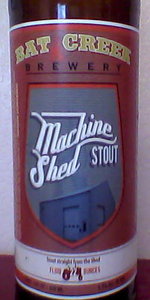 BEER INFO
Brewed by:
Bat Creek Brewery
Missouri
,
United States
batcreekbrewery.com
Style:
Milk / Sweet Stout
Alcohol by volume (ABV):
5.50%
Availability:
Year-round
Notes / Commercial Description:
Black as the oil stains that once graced the floors of our beloved machine shed turned brewery, this stout was our first attempt at brewing a real beer. We use roasted and chocolate malts to give it the rich dark color and to balance out its delicate sweetness. After just one sip we're certain it will become one of your favorites, just as it is ours.
Added by AlCaponeJunior on 06-28-2011
Reviews: 10 | Ratings: 20

3.77
/5
rDev
+2.4%
look: 4 | smell: 3.75 | taste: 3.75 | feel: 3.75 | overall: 3.75
Bottle from gregwilsonstl, thanks for the opportunity!
Dark brown with faint garnet at the edges. Rich chocolate maltiness with some roast and dark pitted fruits for good measure. Tasty easy drinking stout!
206 characters
3.65
/5
rDev
-0.8%
look: 4 | smell: 3.25 | taste: 3.75 | feel: 3.75 | overall: 3.75
Purchased at Wine On Broadway, Quincy, IL.
Served in a tulip glass.
Dark brown when poured and black in the glass. Compact layer of foam with random flecks of spotty lace around the edges. Skim is unbroken after a couple sips.
Aroma is mild, slightly roast, slightly metallic.
Tastes of dried fruit, plum/raisin or prunes, with a mild roasty malt character. Fairly light bodied but well carbonated. Pretty simple and straightforward, nothing too out of the ordinary here. Overall it's not bad but I probably wouldn't seek it out again.
542 characters

3.78
/5
rDev
+2.7%
look: 3.5 | smell: 3.5 | taste: 4 | feel: 4.25 | overall: 3.5
22oz bottle, no freshness date
L - dark brown with a tan head that hilds good retention
S - chocolate, roasted barley, yeast, caramel, grain
T - nice flavors: chocolate, roasted barley, caramel, toasted grain, oats perhaps, earthy hops
F - medium body, velvety smooth, clean finish
O - I like it. Not much else to say - good stout.
331 characters
3
/5
rDev
-18.5%
look: 3 | smell: 3 | taste: 3 | feel: 3 | overall: 3
Got this from totoropanda recently. Cheers!
From a bomber into a snifter
APPEARANCE: A clear brown pour yields a three finger, slightly foamy, looser looking, light tan head with decent retention. Transparent dark brown body with no carbonation evident. Head fades to a full foamy cap. Foamy ring remains leaving some dots of lacing down the glass.
SMELL: Roasted aromas with toffee, caramel, and some cocoa powder. Fine for the style.
TASTE: Some cocoa, roasted barley and light caramel up front. Medium but lingering finish of bitter chocolate, roasted barley, some light ash and powdery cocoa. Okay here too.
PALATE: Medium body with slightly higher levels of carbonation. Light on the palate, semi-creamy on the palate, goes down smooth and finishes a bit dry.
OVERALL: A decent beer for sure, but nothing overly special. There are probably a dozen of these on your local shelf in the USA. Still, a solid beer is a solid beer, and this one is no exception. Easy drinking and something well worth checking out if you're in the mood for a standard stout. Cheers panda.
1,081 characters
3.75
/5
rDev
+1.9%
look: 3.75 | smell: 3.75 | taste: 3.75 | feel: 3.75 | overall: 3.75
Appearance: Oh no, a gusher, though that always makes for good lacing; the liquid, when it appears, is a murky black, as expected
Smell: Rather roasty, with dark fruit and chocolate tones
Taste: Roasty and fruity, with chocolate and coffee building underneath; slightly tart in the finish
Mouthfeel: Medium body with moderate carbonation
Overall: I have had this cellar for a long time since it was sent as an extra in a now forgotten trade; the beer has soured a bit but is still pleasant to drink
502 characters
3.91
/5
rDev
+6.3%
look: 4.5 | smell: 3.5 | taste: 4 | feel: 4 | overall: 4
A: Pours a black color with a tan head that lasts until the end with nice lacing.
S: Aroma of roasted malt, bittersweet chocolate and trace of coffee.
T: Taste of bittersweet chocolate, some coffee with a nice bitterness and a clean finish.
F: Full body, smooth and creamy.
O: Very good stout that goes down easy. Best beer I have had from this small regional brewer.
371 characters
3.75
/5
rDev
+1.9%
look: 4 | smell: 4 | taste: 3.5 | feel: 3.5 | overall: 4
Quite a nice sweet stout- not too sweet, a pleasant, mellow roastiness, and a smooth body. Pours black with a light tan head that sticks around for quite awhile. Light notes of roasted grains, toastiness, a bit of dark chocolate, and cream notes constitute the aromas. The taste is nicely balanced, but perhaps just a tad on the light side. Quite bready, while not being heavy, with fairly substantial cream notes, a hint of bitter roastiness, and and a slight ashiness. Very smooth in the mouth, if a bit on the light side. A very pleasant milk stout, if a bit gentle even for this style.
589 characters
3.78
/5
rDev
+2.7%
look: 4 | smell: 3.5 | taste: 4 | feel: 4 | overall: 3.5
Pours a dark brown color. 2/3 inch head of an off-tan color. Great retention and slight lacing. Smells of roasted malt, slight coffee, slight sweet malt, and hops. Fits the style of a Stout, but milk stout? Mouth feel is smooth and clean, with an average carbonation level. Tastes of roasted malt, slight coffee, slight sweet malt, hint of hop, and a hint of alcohol. Overall, good appearance, aroma, blend, and body.
417 characters
4.3
/5
rDev
+16.8%
look: 4.5 | smell: 4.5 | taste: 4 | feel: 4.5 | overall: 4.5
Ordered online from the Wine and Cheese Place in Missouri. Ground shipped from there to SF, CA, 3 DAYS. Holy Shit that was quick. Put that on your ad WACP.
Anyway, pours a deep, deep brown, almost black. It starts with a fluffy, two finger head that slowly sinks to a 1/4 inch until about 2/3rd's down, decent lace.
Great smell. Rich earth and chocolate start it off. Slight sweetened coffee and roasted malts follow. Strong vanilla and more earthy hops finish it off.
The taste isn't quite as impressive as the smell, but is still pretty top notch. Vanilla and cocoa start it off, watery coffee and creamer follow. Maybe it's more watery than a creamer but still decent. Slight earthy hop note. Nice bitter kick in the finish. Goes down very easy.
Go Missouri! I really enjoyed this brew and will certainly use it (and maybe some other Bat Creek brews) to fill out future online orders. Mmmm. Grab one, especially since you can find it online.
948 characters
3.93
/5
rDev
+6.8%
look: 4 | smell: 3.5 | taste: 4 | feel: 4.5 | overall: 4
Just discovered this brewery's beers being sold at the wine and cheese place in St Louis, so decided to give one a try. Glad I did too!
Poured very black, producing about a 1.5 finger head. The head receded some but lingered at about a half a finger for nearly the entire bomber, leaving massive thick sheets of lacing behind on every sip. Great start with a very nice looking beer.
Smelled of lovely roasty malts, coffee and chocolate.
Tasted downright delicious. The malt character was great, with nice roasty and slightly smoky flavors coming through first. Milk chocolate and a little dark chocolate flavors came next, followed up by a light touch of cappuccino.
Mouthfeel was great! Very easy to drink, medium bodied, thick and creamy with delightfully smooth carbonation.
Well this is the first I've ever had of this new brewery, and I'm quite pleased. I fully intend to buy this beer again, and plan to try some of their other beers too. Great Job!
Re-reviewing this again on 07Nov2011. Still great stuff. This should be the flagship beer of this brewery.
1,072 characters
Machine Shed Stout from Bat Creek Brewery
3.68
out of
5
based on
20
ratings.