Midwest Farmer's Daughter
| Bat Creek Brewery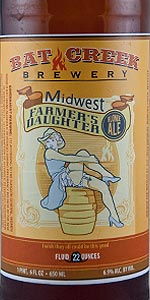 BEER INFO
Brewed by:
Bat Creek Brewery
Missouri
,
United States
batcreekbrewery.com
Style:
American Blonde Ale
Alcohol by volume (ABV):
6.90%
Availability:
Year-round
Notes / Commercial Description:
Smooth and refreshing, this light blonde ale delivers on its promise. It really makes you feel alright. The light color and body are complimented with a crisp clean finish. This brew has a subtle malt and hop character making it an easy drinking experience.
Added by AlCaponeJunior on 07-10-2011
Reviews: 8 | Ratings: 23
3.33
/5
rDev
-6.7%
look: 3.5 | smell: 3.5 | taste: 3.25 | feel: 3.25 | overall: 3.25
Deep golden hued with vibrant carbonation bubbles. A bit murky in complexion. Brussels lacing. A fingernail of eggshell white head is present. Aroma of pale malt and perhaps a bit of lemon peel. The flavor is pale malt and more of the hint of lemon peel. The mouth is a bit carbonated and slightly soapy.
Appearance: 3.5
Aroma:3.5
Taste: 3.25
Mouthfeel: 3.25
Overall: 3.25
★
378 characters

2.24
/5
rDev
-37.3%
look: 3.5 | smell: 2 | taste: 2 | feel: 3 | overall: 2.25
Reminds me of a Farmhouse Ale. This beer has a lot of DMS. That makes it hard to drink.
I need 250 characters so DMS DMS DMS DMS DMS DMS DMS DMS DMS DMS DMS DMS DMS DMS DMS DMS DMS DMS DMS DMS DMS DMS DMS DMS DMS DMS DMS DMS DMS DMS DMS DMS DMS DMS DMS DMS
★
257 characters
3.1
/5
rDev
-13.2%
look: 3 | smell: 3 | taste: 3 | feel: 3 | overall: 3.5
2013 Artisans Craft Beer Festival.
A: Pours a hazy copper color with head that fades quickly.
S: Aroma of malt sweetness and fruit.
T: taste of mild malt sweetness with a bit of fruit and spice. Mild bitterness and a clean finish.
F: Light body, smooth clean and refreshing.
O: Decent beer for the style.
★
314 characters
3.65
/5
rDev
+2.2%
look: 3.5 | smell: 3.5 | taste: 3.75 | feel: 4 | overall: 3.5
Poured into tall pilsner glass. The beer had a color of hay. A white head presented and broke down to a very thick impenetrable quarter inch head. The color reminded me of a traditional lager or pilsner. The beer had a yeasty and bready aroma; maybe a faint of raw onions. With a strong sniff, there's also subtle smokiness.
Upon first sip it had a strong lemony flavor. Almost tart. It gradually combines with notes of grains. It finishes bready with a lot of yeast. Can still taste the yeast after the finish. It's like eating a lemon glazed bread, but minus the sweetness - just lemon-bread. It had a nice touch of sweetness at the end.
Very nice mouthfeel. Perfectly carbonated and light bodied.
Overall a great beer, starts out lemony and finishes yeasty. Seems almost like a farmhouse ale. Recently drank a Sophie and its similar in my opinion. It's a good beer to try, but not something I will seek out for. Probably best for the locals.
★
950 characters
3.85
/5
rDev
+7.8%
look: 3.5 | smell: 3.5 | taste: 4 | feel: 4 | overall: 4
Picked up a bottle at Friat Tuck's in St. Louis. Still wishing they'll come out west to Columbia.
A - Poured out a clear, orange color with golden highlights. It had a small, white head of bubbly foam that left some thin rings of lace.
S - It smelled of yeastiness with some caramel sweetness.
T - It tasted of orange and citrus with some spicy bitterness. Good balance and more hop bite than most blondes.
M - It was crisp, sharp and smooth. A light to medium bodied ale with a dry finish.
O - This is a really blonde ale. It is better than most in this style category.
★
575 characters
3.8
/5
rDev
+6.4%
look: 3.5 | smell: 3.5 | taste: 4 | feel: 3.5 | overall: 4
Poured from the bottle a hazy dull gold color with two fingers of bright white head.
Aroma of grassy hops, yeast, earth and children's vitamins.
Tastes of grassy hops, caramel malts, yeast, biscuit, white pepper and herbal spices.
Light-to-medium bodied and clean with a crisp carbonation.
I was pleasantly surprised by this tasty Blonde from Bat Creek. I'll have again.
★
374 characters
3.46
/5
rDev
-3.1%
look: 2 | smell: 3.5 | taste: 3.5 | feel: 4 | overall: 3.5
Pours a clear, maize color. 1/5 inch head of a white color. Slight retention and poor lacing. Smells of citrus hops, slight earthy malt, sweet malt, hint of alcohol, and a hint of pale malt. Fits the style of an American Blonde Ale. Mouth feel is smooth and clean, with an average carbonation level. Tastes of sweet malt, citrus hops, slight citrus (pomegranate), slight pale malt, slight earthy malt, and a hint of alcohol. Overall, good aroma, blend, body, and feel. The appearance is rather weak, though.
★
507 characters
3.92
/5
rDev
+9.8%
look: 3.5 | smell: 4 | taste: 4 | feel: 3.5 | overall: 4
Not bad looking, tan and pretty clear with a big fizzy three finger head that slowly went down and eventually left a thin film, with spotty chunks of lacing.
Smells quite nice, a bready malt and floral hops mixture, a touch of fruitiness.
Tastes quite good actually, and I'm not even a big fan of the style. Lightly fruity, tangy floral hops and biscuit/toasty malts along with some light spiciness makes for a rather tasty blonde.
Body is very light and pretty well carbonated, easy to drink, leaving a slightly slick, floral aftertaste.
Drinks well, this is a really good summer refresher that made preparing my sunday afternoon's barbeque quite a treat. Good job on this one.
Like the categories of adjunct lager, malt liquors, pilsners, etc, I don't think blonde ales get much love here. However, despite my not especially liking the style, this beer is a pretty good example of how a blonde ale can be a nice refreshing summertime staple.
Supporting small brewers is also important to me, so you can be sure that when it comes to bat creek brewing, I'll buy this one again. I still think their Machine Shed Stout is their best beer so far, but this one is pretty good too. Good luck guys!
★
1,202 characters
Midwest Farmer's Daughter from Bat Creek Brewery
3.57
out of
5
based on
23
ratings.