Hop Smashed In
| Wild Rose Brewery & Taproom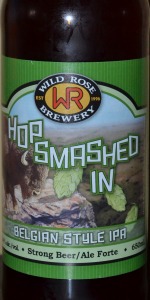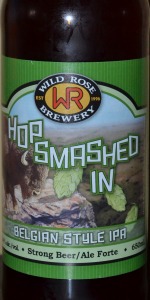 BEER INFO
Brewed by:
Wild Rose Brewery & Taproom
Alberta
,
Canada
wildrosebrewery.com
Style:
Belgian IPA
Alcohol by volume (ABV):
6.40%
Availability:
Limited (brewed once)
Notes / Commercial Description:
No notes at this time.
Added by leaddog on 04-14-2012
This beer is retired; no longer brewed.
HISTOGRAM
Ratings: 12 | Reviews: 8
Reviews by IronDjinn:

3.25
/5
rDev
-16.2%
look: 3.5 | smell: 3.5 | taste: 3 | feel: 4 | overall: 3
From a 650 ml brown bottle. Pours out somewhat cloudy marmalade/light amber hue. Tall creamy off-white head that settles to a dense cap and leaves intricate trails of lattice-like lacing in its wake.
Toasty bread and spicy yeast on the nose, dry leafy hops with intermittent spikes of bright citrus hops.
Leafy hops, bready malt and a yeasty twang start out the flavour, spicy phenols in the middle, while things finish on a grapefruit citrus hop note. More phenols join the citrus hops in the aftertaste.
Medium-full bodied mouthfeel, with a full creamy smooth texture, and low carbonation.
From the start it lacks the crispness I've come to associate with this style. While the hop profile hits the mark, the malt seems a bit too rich, and would be better tailored towards a DIPA (of which Wild Rose makes an excellent version, granted). I think it would benefit from the use of more pale or pilsner malt. As of now it strikes me more of a DIPA brewed with Belgian yeast, rather than a Belgian IPA.
1,004 characters
More User Reviews:
3.53
/5
rDev
-9%
look: 4 | smell: 3.5 | taste: 3.5 | feel: 3.5 | overall: 3.5
650ml bottle. Nice goofy 'hop pun' name and imagery, tying it in with that southern Albertan UNESCO World Heritage Site, the ersatz tourist destination of a few school visits in my youth.
This beer pours a cloudy, sediment-strewn medium golden amber hue, with a near-teeming amount of rocky and foamy ecru head, which reins itself in, receding at a slow and steady pace, eventually leaving behind some fuzzy layered lace around the glass.
It smells of warm, spicy, and peppery yeast, toasted pale malt, and strong citrusy, grassy hops. The taste is dry bready, grainy malt, acrid citrus peel, more spicy yeast, some subdued earthy pepper, and leafy, weedy hops. The origin of the warmth is difficult to discern, so I'm not going to castigate the moderately elevated ABV for it.
The bubbles are generally quite restrained, perking up a tad here and there, the body a sturdy medium weight, with a nondescript edginess tugging away at an otherwise placid smoothness. It finishes fairly dry, the sassy yeast, grainy pepper, and citrusy, grassy, and leafy hops holding the floor.
An adequate Belgian-style IPA, just not quite blended enough to entice me much further - the astringent yeast seems somewhat isolated, against a rather perceptible impression of the Wild Rose IPA, perhaps sauced up a bit to match the style. A commendable attempt, and it could very well be a contender, with some minor tweaking, to make it over that cliff.
1,435 characters

4.03
/5
rDev
+3.9%
look: 4 | smell: 3.5 | taste: 4.5 | feel: 3.5 | overall: 4
Received a bottle from boney77 as part of the spring CANBIF, sampled on May 24th in a Duvel tulip.
Love the name, a tribute to the iconic Alberta location - Head-Smashed-In Buffalo Jump
Appearance - off white cream head, subdued amber, unfiltered tone, slowly dissipating foam leaving some lacing
Smell - Belgian yeast, malt, little hops on the nose
Taste - Belgian yeast and cloves hit you up front, the hops are there and complement the Belgian spice well. Some sweetness in the backend perhaps from sugar added to the mash.
Mouthfeel - not highly carbonated like Piraat or Humulus Lupus, but works very well with the flavour profile.
Overall - very enjoyable, the clove/corriander spice is well balanced with the hops and malt, none are overdone, a good brew. Thanks boney!
782 characters
3.83
/5
rDev
-1.3%
look: 4 | smell: 3.5 | taste: 4 | feel: 3.5 | overall: 4
A - clear bubbly golden orange, tower of off white head that retained endlessly as expected of the style
S - prominent banana-clove Belgian presence, bready, but the hop aspect doesn't seem to make it though on the nose
T - kick of yeasty banana and spice off the bat, a grassy and slightly earthy hop presence quickly makes its presence known, some grainy malt, with the banana flavour lasting through the finish
M - lightish, maybe a tad watery, finishes dry and minerally
O - big props for delving into this style that I love and need to see more often, not the best example but certainly worthy
598 characters
4.18
/5
rDev
+7.7%
look: 4.5 | smell: 4 | taste: 4.25 | feel: 4 | overall: 4.25
A- The head is incredible on this one, starting out about 4 fingers thick and it is creamy like shaving cream and has a golden vintage vanilla color to it. The brew itself is semi hazed, deep golden/bronze in color, with lots of suspended particulate and/or yeast within the liquid. Carbonation seems to be aggressively average and the lacing is most excellent! Overall an above average IPA in terms of looks.
S- Sticky sweet caramel and plenty of bread dough right up front, with a pile of balancing citrus like hops and muted Belgian spicy funk. The citrus is of Pommello, Mandarin Orange/Tangerine, and the spice is grassy pepper....somewhat Vegetal. Malt presence is surprisingly heavy throughout the smell....very nice!
T- This is a very well balanced blend between malt sweetness and hopped bitterness. The beginning on the palate shows flavors of caramel/toffee and molasses roasted malt robustness. The middle brings on more citrus fruit rinds, grassy/herbal/leafy qualities before finishing up with hop leafy bitterness that finishes quickly and is quite refreshing.....as it warms there is perhaps a tinge of licorice root right at the end.
M/O- Medium bodied, carbonation is rather plentiful and packing a lot of good rounded flavor, this is rather drinkable! I, as always, am not convinced on IPA style beers but this one delivers with class! I am glad I had a chance to try this and I'm sure the aging that I have given this one helped balance everything out! Another nice Wild Rose product!
1,516 characters
4
/5
rDev
+3.1%
look: 4 | smell: 4 | taste: 4 | feel: 4 | overall: 4
Props again to joemcgrath27 for including this in our latest cross-Canada trade.
A - Pours nice hazy golden orange colour, two fingers of head with solid retention and some sporadic lacing.
S - Scent is dominated by sweet earthy hops, with cedar and pine notes, hints of cloves and peppery spice come through on the finish.
T - The earthy hops dominate, but come through more along the way of citrus flavours with grapefruit and lemon rind. Some nice cloves and yeast esters sneak in on the finish with a grassy bitterness lingering. Deliciously balanced.
M - Medium bodied, smooth and a touch of dryness.
O - This comes off as an IPA off the top, but the finish brings in the Belgian aspect nicely. This one is insanely drinkable and is jam packed with the best of both worlds. Certainly worthy to any hop head, and will simultaneously please the Belgian critic.
868 characters
3.91
/5
rDev
+0.8%
look: 4.5 | smell: 3.5 | taste: 4 | feel: 4 | overall: 4
Appearance - Pours a cloudy amber brown with a finger width of foamy, billowy off-white head. Leaves a nice lacing on the glass.
Smell - Clove and spices, yeast, mild hops, touch of lemon citrus.
Taste - Starts with the flavours of the yeast and citrus, followed by a moderate level of piney hops. Light, clean bitterness in the finish and aftertaste.
Mouthfeel - Medium bodied with moderate carbonation. Dry finish and refreshing.
Overall - A pleasant and well-crafted Belgian IPA from Wild Rose. Excellent appearance for the style. The hops are not too overpowering and leave a remarkably clean bitterness. Kudos to Wild Rose on another successful seasonal - looking forward to what's next in store.
706 characters

4.13
/5
rDev
+6.4%
look: 5 | smell: 4.5 | taste: 4 | feel: 3.5 | overall: 4
650ml bomber poured into tulip 13/4/12
A slight haze in a pale orange amber body, thumbs width of off white foam leaves 8 distinct pencil thin rings of lace before the puddle hit the bottom of the glass, there's still some foam at the bottom the glass too, just plain sexy
S the peppery clove and a big blast of Belgian yeast take center stage, there's some citric hops and a little bubble gum I normally don't associate with this style but it works well
T toned down compared to the smell with less distinction between flavors, a little grassy and the yeast has less bubblegum and more weedy notes, a little lemon rind comes out strong on the finish
M its a little foamy but a few swirls of the glass take care of that, pretty slick and a lemongrass finish lingers faintly for awhile
O not overkilled by hops but relying on the yeast for a big part of the profile and it works to a point. I need to remind myself that this isn't a 10% hop monster like Charlevoix's Lupulus, I could almost session this
Looks and smells great and other then a little foam in the mouth I have no complaints. I feel the new bottle format, price point and the lovely liquid in the bottle will make this one an easy sell, thanks Wildrose for making my job easier
1,252 characters
Hop Smashed In from Wild Rose Brewery & Taproom
Beer rating:
3.88
out of
5
with
12
ratings