Natural Born Keller
| Wild Rose Brewery & Taproom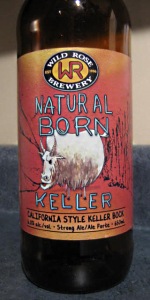 BEER INFO
Brewed by:
Wild Rose Brewery & Taproom
Alberta
,
Canada
wildrosebrewery.com
Style:
Kellerbier / Zwickelbier
Alcohol by volume (ABV):
6.00%
Availability:
Fall
Notes / Commercial Description:
No notes at this time.
Added by wordemupg on 03-27-2013
Reviews: 9 | Ratings: 18
3.82
/5
rDev
+0.5%
look: 4 | smell: 3.75 | taste: 3.75 | feel: 3.75 | overall: 4
Pours a copper colour, brown-ish and slightly cloudy. An aggressive pour nets three fingers of large bubbles that persist a reasonably long while and do leave some lacing on the glass.
Smells like a slightly musty, yeasty Oktoberfest beer, which makes sense. Has that lager-y, sharp sort of scent about it. Grainy, slightly peppery. Toasted malt, light fruity ale esters. A touch of caramel or toffee.
Taste is--like the ad copy says--nice and crisp, refreshing, but with a nice lightly malty backbone. Again, the nearest comparison I can reach for is to an Oktoberfest, Caramel, toffee. Lightly bitty but not aggressively hoped. Faintly green and piney. Slight yeastiness, biscuit and cracker malt, light pepper. Some faint fruitiness. Body is a bit light, but not watery, and the carbonation is fairly on-point.
A weird hybrid style--equal parts steam beer, kellerbier, and bock--this one actually works for me, and is one of the more enjoyable seasonal Wild Rose releases. Reasonably light, crisp, and refreshing, and yet interesting enough to spend some time with. Glad they've un-retired this one and put it into seasonal rotation.
1,140 characters
3.79
/5
rDev
-0.3%
look: 4 | smell: 4.25 | taste: 3.5 | feel: 3.75 | overall: 3.75
341 ml bottle poured into a tulip glass. Nice to see this in six-packs (was previously a seasonal one-off brew in bombers). A dark bronze color with a moderate amount of beige head. Aroma is rather nice, toffee, bread yeast, tannic white grape skins, sweet raisins, fermented apple, mellow grapefruit-like citrus, something else sharp and sanguine. Was expecting this to taste much sweeter than it does. Brisk and quite dry, has a spicy snap like a ginger cookie sans the sugar in the recipe, the sweet caramel aroma contrasting with dark bread, tobacco, dry nuts, and robust herbal leafy hops. Body perhaps on the thin side and rather fizzy, although the darker flavors create an illusion of heaviness. An interesting hybrid of steam beer/California common and bock styles, with the tart near-fruity character of the former and the semi-dark malt character of the latter. I recommend availing oneself of the fantastic aroma as you go, sniff before and as you drink.
966 characters
3.93
/5
rDev
+3.4%
look: 3.75 | smell: 3.75 | taste: 4 | feel: 4 | overall: 4
Had this somewhere on tap during a hazy night, glad to see it in bottles
A - clear dark burnt orange, tower of tan head in a tulip glass, retained extremely well
S - musty and blood-like sweet aromas, hints of earth and grass
T - nutty with caramel and bloodlike maltiness, mild lemongrass and earthy hops, finishes with a mineral linger
M - medium sweet start that begins to get crisp, finishes with a mineral mouth coating feel
O - love to see this local brewer bringing out more and more seasonals, and this one is a nice mix of refreshment and flavour, looking forward to seeing this again next year
603 characters
3.93
/5
rDev
+3.4%
look: 3.75 | smell: 3.75 | taste: 4 | feel: 4 | overall: 4
Appearance - Pours a foggy mahogany brown with a finger width of foamy white head.
Smell - Caramalts, ripe fruit, musty hop, slight bit of toffee, grains.
Taste - Caramalts, toffee and a load of ripe fruit. Musty hops follow up with a nice bitterness factor.
Mouthfeel - Medium bodied with lots of carbonation. Pleasant smoothness.
Overall - An interesting take by combining the California Common with the bock style by Wild Rose. Hits the mark on attributes of both styles. Wild Rose has been stepping up their game with their seasonals as of late - looking forward to what they brew up next!
598 characters
3.79
/5
rDev
-0.3%
look: 4 | smell: 3.75 | taste: 3.75 | feel: 4 | overall: 3.75
Bottle from Mattsander in CANBIF. Thanks!
Enjoy by date of 6/30/13. Poured in to tulip.
A - Translucent medium amber colour with half a finger of cream coloured head.
S - A bready sweetness is dominant with lighter toffee and floral aromas present.
T - Sweet bready malts with brown sugar and toffee notes. A moderate bitterness is present with slight floral and herbal notes.
M - Medium body. Moderate carbonation.
420 characters
3.56
/5
rDev
-6.3%
look: 4 | smell: 3.5 | taste: 3.5 | feel: 3.75 | overall: 3.5
Anothe WR! Thanks Wordemupg!
Appearance. Pours a lightly hazy amber-gold with 2+ fingers of frothy off-white head.
Smell. Grainy caramel malts, some spicy and lightly grassy hops and some lager-like yeast.
Taste. Grainy caramel malts again, decent grassy hops with some bitterness, and some of that yeast I smelled which isn't all that appealing.
Mouthfeel. Medium body, medium carbonation.
Overall. Not bad, but nothing amazing here. Decent bitterness. Might be a good beer for a BMC lover looking to try craft.
519 characters

3.44
/5
rDev
-9.5%
look: 4.25 | smell: 3.25 | taste: 3.25 | feel: 4 | overall: 3.5
A: Firstly this is definitely the best label Wild Rose has ever put out. Whoever did this bottle did a great job, get them to redo all your bottles! Hazy rust color, nice tenacious dense head. Very nice looking beer.
S: I smell rich fruity munich-ish malt, pears, very herbacious. I can't decide if like the aroma or not.
T: The malt profile is nice but I get a puckering, leafy note from the hops that I dont like... I know the haze is to style but I dont think the yeast tastes great in suspension in this beer. I may just not be a fan of the style, I think this is my first keller.
586 characters
4.03
/5
rDev
+6.1%
look: 4 | smell: 4 | taste: 4 | feel: 3.75 | overall: 4.25
650ml bottle. Quite a mouthful of styles mashed together here, it would seem, with one of the more groan-worthy beer pun names of late.
This beer pours a mildly hazy, but at the same time bright medium brick-tinted amber hue, with three fingers of fluffy, muted white whipped-cream head, which leaves some swollen rain cloud lace around the glass as it recedes like it has little else to do that day.
It smells of biscuity, dry bready malt, toffee, small hints of orchard fruit, and herbal, leafy hops. Quite enticing, I'd say. The taste is more sharp biscuity, grainy malt, yeasty rising bread, a developing green, earthy herbal essence, persistently ethereal drupe fruitiness, some prominent hard water minerality, and a fairly tangy leafy, grassy hoppiness.
The carbonation is a tad peppy and frothy, the body a decent medium weight, and a little astringent in its otherwise plain Jane smoothness. It finishes rather dry, that mildly yeasty, biscuity, and snazzy hop character making it very hard to not just slug this whole thing back.
There is a certain subset of German-style beers (most often those actually from das Vaterland) where their main asset is truly their drinkability (sorry Budweiser), in that they are indeed tasty, and yet defy circumspection, mostly because the damned glass is empty before you can string two coherent thoughts together. Yeah, this is a lot like that.
1,394 characters

3.81
/5
rDev
+0.3%
look: 4.5 | smell: 3.5 | taste: 3.75 | feel: 4 | overall: 4
650ml bomber poured into tulip 25/3/13
A hazy reddish amber that glows, enough clarity to see some slow bubbles feeding a two finger foam that retains well ending up as a wide pencil top eraser island leaving some pencil thin rings
S some herbal notes with a little fruit I can't quite place, bready malt with some leafy notes and toffee, nothings too strong though smells mellow, some faint grapes as it warms with a little honey
T tastes like the smell but a little stronger, more earthy notes works well for it and its an improvement over the smell, cotton candy and a slight nuttiness somehow works
M crisp with a little bite, fairly full with much more carbonation then what was visible, no complaints here
O interesting stuff, not really sure how I'd place the style, smells a little faint but what's there's decent
I'd drink it again so that says something, props to Wild Rose for trying some new stuff
918 characters
Natural Born Keller from Wild Rose Brewery & Taproom
3.8
out of
5
based on
18
ratings.