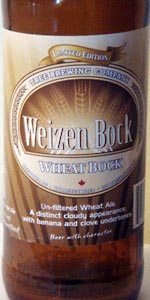 Beer Geek Stats
| Print Shelf Talker
From:

Style:

ABV:

7%

Score:

84

Avg:

3.62

| pDev:

9.67%

Reviews:

13

Ratings:

Status:

Retired

Rated:

Jan 03, 2010

Added:

Mar 21, 2009

Wants:

Gots:
Recent ratings and reviews.
| Log in to view more ratings + sorting options.
Reviewed by biboergosum from Canada (AB)
3.7
/5
rDev
+2.2%
look: 4 | smell: 4 | taste: 3.5 | feel: 4 | overall: 3.5
This bottle has been in my fridge for a while, since it's more my better half's preference, and now she's into it, so, twist my prophylactic arm...

This beer pours a cloudy pale orange hue, with two fingers of foamy off-white head, which leaves very little head in its wake. It smells of yeast, cloves, and banana, with a bit of white pepper. The taste is malt, apple, cloves, a bit of yeast, and some wheaty bread. The carbonation is on the low side, the body full and smooth, the elevated ABV very well hidden, and it finishes with some wheaty malt and banana/clove spiciness.

A very drinkable ale, much more on the weizen side than the bock, but enjoyable nonetheless.
Jan 03, 2010

Reviewed by wordemupg from Canada (AB)
3.83
/5
rDev
+5.8%
look: 4.5 | smell: 4 | taste: 3.5 | feel: 4 | overall: 4
650ml bottle poured into Aventinus glass dec10 2009

A cloudy golden orange with a big head that peaks over the top of my glass and has great retention and leaves patches of lace well down the glass. this is a sexy looking beer and I'm stoked I've got the perfect glass for it

S bananarama going on here not a lot of clove as the bottle says but other tropical fruit and wheat are well represented

T not far from the smell but the booze is apparent and I get a little clove, would have done better but I was surprised at how much booze I could taste

M light and somewhat refreshing with good carbonation

D for 7%alc and a winter day I think it did quite well

for a seasonal drank well out of season I liked this beer, their hefe on steroids. worth trying but you may have to wait till next year
Dec 10, 2009
Reviewed by prosper from Canada (AB)
3.93
/5
rDev
+8.6%
look: 3 | smell: 5 | taste: 3.5 | feel: 3.5 | overall: 4
Pours a tangerine colour, very cloudy, with a coarse head that lingers, but not like you might expect a weizen to.

Smells like ripe bananas and wet bread, with some crusty melanoidin. No cloves.

Tastes, initially, like it smells. Then the cloves come out to play, big and powerful. Very very dry finish, with some toasty malt and a neutral hoppy bitterness. Not sweet in the least, but the banana flavours make it seem somewhat sweet initially.

Mouthfeel is interesting. Initially it's rich and creamy, but with the carbonation and distinctly bitter flavour balance, it seems quite thin as it finishes.

Very drinkable. Perfect balance of malts and hops. More clovey phenols than I prefer, but overall it finishes crisp and dry.
Aug 11, 2009
Reviewed by Viggo from Canada (ON)
3.62
/5
rDev 0%
look: 3.5 | smell: 4 | taste: 3.5 | feel: 3.5 | overall: 3.5
22 oz bottle, big thanks to Bobsy for sharing.

Pours a cloudy orange/amber, thick white head forms, quickly drops to a solid ring and stays there, few chunks of lace stick to the glass. Smell is alright, big banana, honey, wheat, alcohol, some spice, quite fruity, apricot, pretty nice. Taste is similar, plain but good, banana notes, honey, spice, wheat, clean malty middle, alcohol, pretty good. Mouthfeel is light to medium bodied with medium carbonation, pretty drinkable stuff. Not a bad weizenbock, alcohol comes through a bit strong but I enjoyed it. Thanks Rob!
Jul 07, 2009
Reviewed by ritzkiss from Canada (ON)
3.1
/5
rDev
-14.4%
look: 3.5 | smell: 3.5 | taste: 3 | feel: 3.5 | overall: 2.5
Bottle split courtesy of Bobsy as part of a good night of drinking!

22oz bomber pours a heavy, hazy yellow like pure, fresh squeezed apple juice - not the stuff in the store but the farm stuff.

Nose is banana, apples, heavy wheat aroma, some spices, some general esters.

As other reviewers have noted, not much bock but lots of hefe. Banana, spices, apples, wheat, a hint of bread - slightly off/solventy notes in the finish with a slight drying.

Lets be honest here, not much to impress. I remember having it a while back and thinking it was a passable, drinkable beer but having it among much finer beers and in a larger quantity made this one hard to even finish a glass. Not that it wouldn't be drinkable in certain situations - it's just not worth seeking out or passing other beers by for.
Jul 07, 2009

Reviewed by Garin from Canada (AB)
3.3
/5
rDev
-8.8%
look: 4 | smell: 4 | taste: 3 | feel: 4 | overall: 2.5
It poured pale golden with some coppery highlights in the depths. On top is a dense, creamy long-lasting head. It is thoroughly opaque and cloudy. It looks about as a weizenbock should -- though maybe it could be a little darker.

Lots of spicy esters fill out the aroma, with bready yeastiness too. Cloves, bananas, even a little pineapple?

The flavour is full of up-front cloves and fruitiness, with It finishes with a lasting bitterness that is a bit much for the style. A sour tang is interesting..?

The mouthfeel is soft and rich, with some alcohol warmth.

Overall? The bitter finish is distracting me, I'm not enjoying it as much as I should -- I find myself just wanting to get through it so I can try something else. It's a shame, but that one thing really kills the drinkability.
Jul 06, 2009

Reviewed by MeisterBurger from Canada (ON)
3.45
/5
rDev
-4.7%
look: 3.5 | smell: 3.5 | taste: 3.5 | feel: 4 | overall: 3
Pours a completely opaque yellow-orange-brown, somewhere around Pantone 118U, with a nice, clean white head. I was expecting something a little darker to be honest. Laces nicely though.

The nose is mild but has everything you would expect: Wheat and citrus with a touch of clove but most of all banana, but specifically a banana that is at its peak of ripeness, right before the black spots start to appear and they make you gag when you eat them. No real surprises here.

Tastes very strongly of clove, alcohol is present and solventy in the middle, as is some spice, and like the aroma it's mostly citrus and wheat in the finish. There's bananas here but not as much as I was expecting from the aroma. Overall the taste is good but harsh. Acidic almost. There's a slight graininess but nothing even remotely as grainy as I found in Tree's Hefeweizen. I taste plastic band aids in the last few, warmed up sips.

In a nutshell it tastes like a standard hefeweizen on steroids.

It has a medium mouthfeel and probably this is the best attribute of this beer.

It's not horrible but I can't imagine anyone would want to drink too many of these at one time.
Jun 04, 2009

Reviewed by Derek from Canada (BC)
4.03
/5
rDev
+11.3%
look: 4.5 | smell: 4 | taste: 4 | feel: 4 | overall: 4
I was surprised that this was more of a helles like the Vitus. If it was American they'd probably call it an Imperial Weizen.

A: Very cloudy, dirty straw with a white head. Good retention & lacing.

S: Plenty of cloves, pineapple, mango & banana.

T: Flavour echoes the aroma with plenty of cloves, insane pineapple, mango, light spicing & hints of banana. Slight acidity & warming alcohol.

M: Well-attenuated moderate body is smooth with a little acidity.

D: An all around good brew, though the alcohol is a little inhibitive.

Thanks to the Wildone, c/o CANBIF5.
May 29, 2009
Reviewed by bobsy from Canada (ON)
3.66
/5
rDev
+1.1%
look: 3 | smell: 4.5 | taste: 3 | feel: 4 | overall: 4
Huge banana aroma, with a touch of cloves, erupts from the bottle as soon as I pop the top. The pour is a clouded apple cider with half an inch of white head, that had poor retention, but did leave the odd spot of lace. The flavour is decent, but not spectacular - its very much a souped up hefe, with a bit of added sharpness from the wheat in place of the rounded softness I would expect. With that in mind it follows the hefeweizen template of banana, cloves and wheat, but doesn't quite have the spicy yeastiness or warming alcohol that you'd find in a weizenbock. There's also a residual swetness throughout.

That aside, the body is well done with good balance, and it is drinkable - just not what I thought it would be.

Cheers to Alex (Voonder) for the bomber.
May 17, 2009
Reviewed by elricorico from Canada (AB)
4.15
/5
rDev
+14.6%
look: 4 | smell: 4 | taste: 4 | feel: 4.5 | overall: 4.5
Very hazy orange tinged yellow in colour, with a fair amount of white head. Lacing sticks around in arcs along the glass.

Smell of perfectly ripe banana reached my nose before I was even settled in to review. Digging in shows a mix of banana, a trace of bubblegum and some clove aroma. Quite nice.

Sweet banana flavour throughout, mixed first with some citrus, then finishes with lingereng clove. Not as "bock" as I hoped, but lots of weizen, if that makes sense. Alcohol apparent in the finish, sort of medicinal, not overpowering, and can be missed if not looked for.

There is a fullness to this beer that is quite a bit beyond the average hefe-weizen. The carbonation is soft and very natural feeling. Mouthfeel is a strength.

I like it, but I'm pretty easily sold on big weizens. Drinks almost like a 5.0% weizen, with just a bigger flavour punch.
Apr 03, 2009

Reviewed by IronDjinn from Canada (AB)
2.83
/5
rDev
-21.8%
look: 4 | smell: 3.5 | taste: 2.5 | feel: 3.5 | overall: 2
The new Tree limited edition, from a 650 ml brown bottle. Pours out with a tall creamy white head that slowly settles and leaves a film of lacing coating all sides of the glass. The body is a cloudy opaque ochre hue, like a dried sulphured apricot in appearance.

The aroma is modest, delivering the banana and cloves promised on the label, along with a general presence of warm spices, tapering off with some tart wheat.

Although the flavour also shares some of those warming spices from the nose, coupled with a warming presence of alcohol, it is actually quite bland overall, punctuated by tart grainy pockets of wheat. Bitter, grainy finish and long lingering aftertaste that a bit of clove and banana may have masked nicely, if not at least balanced it out a bit.

Mouthfeel is a bit above average and is approachable, decent medium body that is far smoother and rounder than the sharp and somewhat off-putting flavour profile itself.

I like Tree Brewing, their recent Double IPA limited edition was absolutely gorgeous, but I can't recommend this one, it just doesn't come together. Even now that the bottle is empty and the glass has been drained the off-tasting puckering wheat aftertaste still continues to run rampant like an unwelcome Mr. Hyde knocking over all the glass and china around, punching several holes into the drywall of the palate, and not leaving a very positive lingering impression overall.
Mar 27, 2009

Reviewed by canucklehead from Canada (BC)
3.67
/5
rDev
+1.4%
look: 3.5 | smell: 4 | taste: 3.5 | feel: 4 | overall: 3.5
A little confusing as this is really just their Hefe bumped up in alcohol and banana flavours. Where does the bock part come in ? Well this is a pretty good Hefe with plenty of banana and bubblegum in the nose and also the taste. The alcohol is sometimes present in the finish but all in all this is a pretty smooth Hefe that packs a flavour punch.
Mar 26, 2009
Reviewed by Voonder from Canada (AB)
3.73
/5
rDev
+3%
look: 4.5 | smell: 4 | taste: 3.5 | feel: 4 | overall: 3.5
Picked up a bomber at Willow Park. Label reads Weizen Bock wheat bock, Limited Edition. 7 ABV, no freshness date.
Pours bright yellow, very cloudy, huge white head. Smell - wheaty, hint of orange and lemon. Very pleasant aroma, even though it's pretty typical. Taste - slight citrusy bitterness upfront, then wheaty, may be some banana, fairly sweet. Allcohol is noticeable and this is something I don't really like. It still pretty smooth and rich. Drinkable for ABV.
Mar 21, 2009
Weizen Bock from Tree Brewing
Beer rating:
84
out of
100
with
13
ratings