Jumpin Jack Pumpkin Ale
| Tree Brewing
BA SCORE
84
good
29
Ratings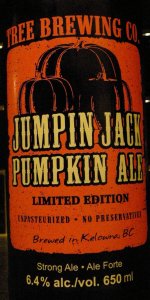 BEER INFO
Brewed by:
Tree Brewing
British Columbia
,
Canada
treebeer.com
Style:
Pumpkin Ale
Alcohol by volume (ABV):
6.40%
Availability:
Fall
Notes / Commercial Description:
This strong malty Ale takes on the vegetable flavours from real pumpkins used in the mash, leaving a clean finish with subtle pumpkin pie spices.
Added by Derek on 10-05-2011
Reviews: 13 | Ratings: 29
4
/5
rDev
+6.4%
Pours a clear reddish amber color with a lasting head.
Has a pumpkin spice smell with a slight hop aroma.
Nice combo of ipa and pumpkin ale. Not overly strong in favour of either so it increases drinkability. Has a great bitter finish.
Mouthfeel feels a little Light for the abv but its negligible.
Overall this beer is fantastic. I would drink this all year.
366 characters

3.98
/5
rDev
+5.9%
look: 4 | smell: 4 | taste: 4 | feel: 3.75 | overall: 4
Tree Brewing's 'Jumpin Jack Pumpkin Ale' @ 7.0% , 2013 edition served from a 650 ml bottle purchased for $7
A-pours a dark orange/brown from bottle to glass with a good sized off white head that is leaving a streaks of lace along the pint
S-good mix of pumpkin pie spices , more boozey than I remember
T-strong malty , smooth going down with a little more kick at the end , bit smoother this year
MF-medium carbonation , full body , definate dryness on the palate
Ov- preferred 2011 edition (4.50) , over the 2012 edition (4.25) , now just a boozey Imperial Pumpkin Ale (3.98)
prost LampertLand
604 characters
3.87
/5
rDev
+2.9%
look: 3.75 | smell: 3.5 | taste: 4 | feel: 4 | overall: 4
On cask at Tap & Barrel, Vancouver.
Cloudy rusty orange with beige sparkler head.
Straight cinnamon nose.
Caramel, dough and slight squash-iness, some spice, then green Noble + pine hops. More bitterness as it warms.
Earthy finish and bitter grassy linger.
Medium, chewy, and smooth.
This was described to me as a Pumpkin IPA, so I looked for, and found, all the Tettanger notes. Nose is all wrong - too one note, nothing beery underneath. But pulls off the hop-spice balance; successful hybrid.
498 characters

3.92
/5
rDev
+4.3%
look: 3.5 | smell: 4 | taste: 4 | feel: 3.5 | overall: 4
650ml bomber poured into tulip 20/12/12
A brownish amber with lots of tiny suspended particles and a large head that hangs around for a few sips leaving no lace and very few visible bubbles
S ginger, cinnamon, nutmeg and clove with some faint pumpkin, the usual suspects are there with a little nutty toffee and vanilla, smells like a pumpkin beer alright and I'd never guess 7%
T mimics the smell quite well with just a little licorice and root beer, pretty solid flavors about what I expect from the style
m could use some more body and a couple more bubbles but its nowhere near still water, a little warming booze but to be expected at this strength
O it is what it claims and has all the aspects I expect from a pumpkin beer, malty and spiced and I don't think pumpkin has a strong flavor to begin with and the spices are often what makes it work
Nothing wrong with the beer but I think I'm just board of the style. Winter starts in two months so you know its already barfing snow in Calgary our pumpkin ale season lasts about 4 day bring on the barley wines I'm sick of Winter already
1,099 characters
3.95
/5
rDev
+5.1%
look: 4 | smell: 4 | taste: 4 | feel: 3.5 | overall: 4
650mL Bottle purchased at a BCLDB in Abbotsford, BC. The alcohol/volume is listed as 7% this year as opposed to the 6.4% last year.
Appearance: Very dark-amber brown in colour. Nice pour on the head but little retention.
Smell: Spicy and lots of genuine pumpkin aroma. The standard spices, I suppose...Nutmeg, clove, allspice, cinnamon. The spices are definitely at the forefront here, but there is some maltiness in there...The little hops I can detect are floral and grassy.
Taste: Spicy and malty. Again the hops are muted. Flavours same as the aroma. Pumpkin pie spices with a decent amount of brown sugariness and an obvious pumpkin/gourd character.
Mouthfeel: Very pleasant with the malty sweetness on the tongue. The spices liven things up and a touch of alcohol burn.
Overall: I'm really enjoying this pumpkin ale from Tree Brewing. It reminds me a lot of their Spiced Midwinter Ale (or whatever they're calling it nowadays), except with a definite pumpkin edge. Great for a heavy meal of Turkey and stuffing, or for sharing with the family in a tasting...or for tasting after the comedown with a post-Thanksgiving turkey sandwich.
Aside: I'm hoping that Tree keeps their spiced-beer aptitude going with their Christmas/Holiday offering later this year. Stefan has really mastered the art of spices in his brews, thereby making them some of the most anticipated seasonal offerings of the year in BC.
1,414 characters

3.73
/5
rDev
-0.8%
look: 4 | smell: 3.5 | taste: 4 | feel: 3.5 | overall: 3.5
650 ml painted bottle, Limited Edition Strong Ale. As pictured.
Clear, dark reddish orange color with an off-white head. Decent retention, thin chunky pieces of lace. Restrained spicy smells, cinnamon and nutmeg, brown sugar sweetness, a bit of pumpkin. Taste is more on the malty side, a bit a pumpkin / vegetable flavour. Subtle pumpkin-pie spices hide in the background.
Mouthfeel is medium shifting towards full as it warms, carbonation tingle keep it from being too oily or cloying.
A good after-dinner-sipper. Not the fresh pumpkin, or cinammon smell or taste that some pumpkin beers have, but still well balanced and tasty.
632 characters
4
/5
rDev
+6.4%
look: 4 | smell: 4 | taste: 4 | feel: 4 | overall: 4
From notes... Another seasonal that I owe my gratitude for to joemcgrath27 for the trade.
A - Pours a nice golden copper/bronze colour, finger of soapy head with solid retention and some nice sporadic lacing.
S - Spices with cinnamon, nutmeg and earthy cloves, hints of pumpkin puree and earthy gourds with some leafy hops on the finish.
T - Quite flavourful, no overly spicy but flavours muuch like those described on the nose. Some bready toffee malts complement the pumpkin spice and some hints of vanilla also come through.
M - Medium, smooth and finishes wet.
O - A very tasty pumpkin ale, easily sessionable and not overly spiced. The slightly higher ABV is a nice plus and this would certainly pair well with fall dishes.
733 characters

3.8
/5
rDev
+1.1%
look: 4 | smell: 4 | taste: 3.5 | feel: 4 | overall: 4
This beer worked for me in a winter warmer way in that the spicing that is inherent in a Pumpkin beer were on the restrained side. I found it very drinkable and the malt focused aftertaste worked well with the thickish mouthfeel. If this was labelled as a Winter beer it might have better ratings but never the less it is a beer to drink on wet evenings.
354 characters
3.33
/5
rDev
-11.4%
look: 4 | smell: 3.5 | taste: 3 | feel: 3.5 | overall: 3.5
A - almost impenetrably dark but clear ruby red, off white head retained decent, left random pieces of lacing
S - gentle spices of cinnamon and nutmeg, brown sugar and nutty malt, not much in terms of pumpkin
T - a definite vegetable flavour but not clearly pumpkin, the spice mix is subtle, nutty molasses malt
M - medium to heavy with a creamy start, spicy tingle in mild, bready finish
O - glad to see another Canadian pumpkin brew, this is decent but a little lacing in terms of the feature ingredient and spices, still a tasty brew but just doesn't quite stand out in terms of the style
591 characters
3.53
/5
rDev
-6.1%
look: 4 | smell: 3.5 | taste: 3.5 | feel: 3.5 | overall: 3.5
Appearance- Copper brown with thin amount of lacing. Foggy in clarity.
Smell- Cinnamon, nutmeg, and hint of pumpkin.
Taste- Spices come through but the actual pumpkin is minimal. Easy drinkability for this style of beer.
Mouthfeel- Bubbly and has a slight bitterness at the end but quickly reduces.
Overall- A decent effort on Tree Brewing's part to brew a pumpkin ale for the first time. The spices are there but lacks in the pumpkin flavour. Perhaps they can fix that the next time they brew this seasonal brew.
519 characters

3.08
/5
rDev
-18.1%
look: 4 | smell: 3.5 | taste: 2.5 | feel: 4 | overall: 3
From a 650 ml brown bottle. Pours out a hazed deep amber/light red oak hue, with a short, tight creamy off-white head.
Faint base of caramel malt in the background of the aroma, an earthy hint of nutmeg, along with some semi-sweet/earthy veggie character.
For the most part the flavour profile comes across as a malty Amber ale, or a South London Brown, augmented with some neutral astringency on the finish. The latter seems the result of the pumpkin and the spice simply not hitting the mark. A little bit of nutmeg/cinnamon/ginger mix becomes more apparent in the aftertaste already, however the pumpkin/hops eventually overwhelms this with veggie astringency.
Medium-full mouthfeel, creamy smooth texture, moderate carbonation that helps clean up the finish.
Misses the mark for me for the style--not enough malt backbone to distinguish it one way or another, the spice doesn't punch through enough to make any real impact, and it seems to me the pumpkin and hops are fighting with one another with the result being an astringent veggie outcome. Here's hoping this can be resolved for next year's batch, as we certainly do need more good pumpkin beers available here in Canada, can't have enough of this wonderfully unique style.
1,237 characters
3.58
/5
rDev
-4.8%
look: 4 | smell: 3.5 | taste: 3.5 | feel: 4 | overall: 3.5
650ml bottle, nice to see another local-ish pumpkin beer around here.
This beer pours a clear, dark orange amber hue, with one finger of thin foamy pale beige head, which settles quickly, leaving but some sparse spotty lace around the glass. It smells of faint earthy vegetable, mild caramel, and a bit of metallic booze. The taste is bready caramel malt, cinnamon, mild cloves and other blended pumpkin spice, and softly bitter earthy hops. The carbonation is moderate, the body medium weight, and decently smooth. It finishes with a bit of astringent booze, and semi-sweet gourd-ness.
A good, restrained (in pros and cons) pumpkin ale, the booze and pie character subtly making me look forward to the imminent Sunday night repast at the ol' homestead...
758 characters

3.96
/5
rDev
+5.3%
look: 4.5 | smell: 3.5 | taste: 4 | feel: 4.5 | overall: 4
A: Amber-copper with a light tan head, good retention and lace.
S: A restrained spicing: cloves with hints of cinnamon; caramel, brown sugar. Pleasant, but doesn't scream pumpkin ale.
T: Restrained bitterness allows a light residual sweetness to come through, while it's not overwhelmed by spicing. I like that in a pumpkin ale. Brown sugar, biscuity, definitely some caramelization, cloves, vanilla, ginger, hints of nutmeg and starchy vegetable. Alcohol is subtle initially, but comes forward as it warms. I don't like a lot of spice, but I'd put a bit more nutmeg in this one.
M: Moderate to full body has a light residual sweetness; modest carbonation.
D/O: Symphony of flavours that really works. The light sweetness is complimented by the restrained spicing. Well-crafted and very drinkable.
801 characters
Jumpin Jack Pumpkin Ale from Tree Brewing
3.76
out of
5
based on
29
ratings.