Island Gold
| Storm Brewing (Newfoundland)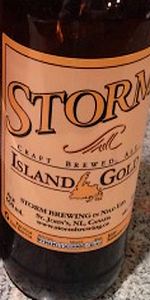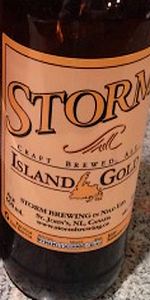 BEER INFO
Brewed by:
Storm Brewing (Newfoundland)
Newfoundland and Labrador
,
Canada
stormbrewing.ca
Style:
American Blonde Ale
Alcohol by volume (ABV):
5.00%
Availability:
Year-round
Notes / Commercial Description:
A pale golden ale brewed with barley and wheat malts; moderately hopped with an earthy, floral aroma. STORM Island Gold Ale is lighter in colour than other ale styles, and combines the best elements of an ale with a refreshing character.
Added by JustinBathurst on 06-05-2006
HISTOGRAM
Ratings: 5 | Reviews: 5
Reviews by JustinBathurst:
1.16
/5
rDev
-53%
look: 2 | smell: 1 | taste: 1 | feel: 2 | overall: 1
Pours an orange-gold. No head to speak of.
Aroma is grainy, like a strange horsefeed with raisins. This makes me suspicious that this is the same brew Storm Brewing contract-brewed for the Duke of Duckworth as Duke's Own.
Watery mouthfeel with very little carbonation.
Taste? Not good taste, anyways. Unpleasing grain that overpowers and that awful unlit cigarette/old raisins flavour. Ack. This is the same waste of money that Duke's Own was. What I can't figure out is why Storm Brewing would release this when all their other brews are fairly pleasing.
564 characters
More User Reviews:
2.7
/5
rDev
+9.3%
look: 3 | smell: 3 | taste: 2.5 | feel: 3 | overall: 2.5
Thanks for bringing back Derek. The gentlemen from Newfoundland speak highly of this brewery, it is supposed to taste fine absolutely fresh within weeks. A soapy white head, and lacey. Infected for sure, that was the interesting part of it. Medium, quite a basic beer. medium mouthfeel.
286 characters
1.78
/5
rDev
-27.9%
look: 2 | smell: 1.5 | taste: 2 | feel: 1 | overall: 2
My Dad brought a bomber of this back to me in the summer. Darker gold/amber. Still looking, not a huge gead, and little carbonation. WHat head is there is white, tiny bubbles, and short lived. Yeasty as all get out. An organic attack on the olfactory. Some fruit too, with no real malt or hop base seeming to exist. Tastes very yeasty, bacterial, almost sour rotting fruit, with a lingering fruity finish. EIther this one is infected, or it should be re-labeled as a belgian ale.
479 characters

3.55
/5
rDev
+43.7%
look: 3.5 | smell: 3.5 | taste: 3.5 | feel: 4 | overall: 3.5
Oddly, hardly anyone in St. John's knows of this brewery, so I was happy to see it available at The Rooms Cafe. This one was a stubby, but the liquor store had bombers.
This isn't at all amber. I'd call it a pale ale (it's almost a blond!).
A: Gold with a white head, very little retention or lace.
S: Marmalade, minerals & biscuity malt. The aroma seems rather British.
T: Earthy-orange, minerally, biscuity malt, hints of fruity esters. So many Newfie brews are bone dry, so the maltyness is a pleasant change.
M: Moderate body & carbonation. Solid.
D: Plenty of flavour for a local. A pleasant change.
610 characters

3.18
/5
rDev
+28.7%
look: 4 | smell: 3.5 | taste: 3 | feel: 3 | overall: 3
Island Gold indeed stirs up some kind of storm in the glass. A fury of bubbles quickly erected a tall cathedral of head (which would soon collapse, oh dear). But vestiges remain. Likewise, it is indeed gold, with a shimmering coat of bronzer, and immaculately filtered. Looks like a spanking new penny glistening in the sun.
The aroma is stuffed with coarse graininess. It is not sweet, mind you, just grainy. It's as if either fermentation wasn't allowed to take its full course or perhaps the recipe was diluted with a bit of malt extract. Either way it smells like a small brewer's foray into the big brewer's world - compromised, but not Compromised.
The beer almost has a slightly salty character, a combination of harder water and a distinctly cracker-like malt profile. This lacks the hop bitterness of a European pilsner and also the watery, adjunct notes of an industrial American lager. In other words, it's not terribly rich in flavour but it's not terribly rich in unpleasantness either.
If there's capacity at the brewery, I'd suggest lagering Island Gold. It could stand to be a bit "cleaner" and "smoother". Things are a little distorted as is. Or, better yet, splurge on some better malt - this stuff tastes like malt extract. The finish is unsurprisingly dry, with an incredibly mild, stale graininess. Hops never surface even once.
Storm Island Gold is effectively a commercial lager without the unpleasant adjuncts or million dollar advertising budget. Sure, it's dangerously easy to drink but it's also needlessly bland. If you've had mass-produced German lager then you can catch the music that I mean to convey. It's serviceable, but also dispensable.
1,682 characters
Island Gold from Storm Brewing (Newfoundland)
Beer rating:
2.47
out of
5
with
5
ratings