SoBro
| 3 Floyds Brewing Co.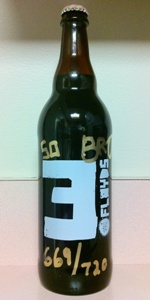 BEER INFO
Brewed by:
3 Floyds Brewing Co.
Indiana
,
United States
3floyds.com
Style:
Flanders Oud Bruin
Alcohol by volume (ABV):
not listed
Availability:
Rotating
Notes / Commercial Description:
No notes at this time.
Added by MasterSki on 11-15-2011
Reviews: 8 | Ratings: 104
3.83
/5
rDev
+23.2%
look: 4 | smell: 4 | taste: 3.75 | feel: 3.75 | overall: 3.75
2013 Orange Waxed bottle #268/525
A- Deep, deep red/ brownish. Bit of a head with pour, but recedes to nothing
S- Upon opening the bottle, tons of Flanders smells pour out... Cherry, Green Apple, Leather, Oak
T- Flavor follow the nose. Green apple, cherry, leather, bit of barrel all blended together. Some may call it balanced, other may describe it as muddled. I would lean towards muddled. Doesn't finish very sour, so thats a plus.
F- Medium - like a flanders should feel, but finishes with a slight burn from I don't know what (acidity?)
O- Not very memorable. Interesting, but this style has been done much better by many other breweries.
651 characters
1
/5
rDev
-67.8%
look: 1 | smell: 1 | taste: 1 | feel: 1 | overall: 1
Have to review this one as it was just horrible. How anyone could have rated this higher than….say a 2 overall is beyond me.
Look: A murky, watery mess.
Smell: Smelled like tomato juice with a little burn to it. Let's go with "vomit."
Taste: More vomit, tomatoes, just woof!
Feel: It's hard to even get to feel on this one because the smell/taste combo is so bad. It is watery I suppose. I find it offensive to even have bottled and sold this beer.
Overall: Despite the vomit-tomato-wateryness, I actually loved it. Kidding, horrible. two thumbs way down. I would turn down a taster of this every single time.
618 characters
3.77
/5
rDev
+21.2%
look: 4 | smell: 3.75 | taste: 3.75 | feel: 3.75 | overall: 3.75
Rich reddish brown body with minimal white head. 2nd bottling from Spring 2013. Definitely some acidity on the nose. Not much else on the nose. Nice malty body that helps round out the tartness. The beer is pretty one note in terms of acidity, but the Flanders body is there. Not a bad Flanders, but not very complex.
317 characters

2.81
/5
rDev
-9.6%
look: 4 | smell: 3 | taste: 2.5 | feel: 3.5 | overall: 2.5
Thank, you jrallen34...the most hated man on the interwebz!
A - Pours ruby red, off-white colored head, thin collar, wisps.
S - Light vinegar, cherry skins, apples, caramel, metallic batteries in there as well. Not really all that much "Flanders" in this beer for me, but hey, it's an attempt, I guess.
T - No really sour cherries or oak in this beer, all very light. Maybe some subtle tart notes, but more vinegar and balsamic then anything. The metallic notes come out a bit more here then the nose, which I much preferred over the palate. Finish is vinegar and metal combined into one.
M - Light to medium body, lower carbonation, tart dry finish.
O - FFF can do hoppy beers, they can do stouts, and then can do German-style beers. However, they can't do sours...until I try one that's half way decent, I'm sticking to my opinion. Pass.
844 characters

2.44
/5
rDev
-21.5%
look: 4 | smell: 2.5 | taste: 2 | feel: 3 | overall: 2.5
Bottle generously shared by Jason. Served in a Captain Lawrence tulip.
A - Attractive two-fingered lightly tan foam settles to some wisps, a thin collar, and a few spots of lace. Hazy plum-colored body.
S - Slightly vegetal, with notes of barbeque sauce, copper, and wet oak. Somewhat understated.
T - Taste is initially quite bland, but finishes with copper and other metallic notes. No alcohol, and not much in the way of malt character either.
M - Medium-low carbonation, medium body, somewhat watery, with a dry finish.
D - This isn't very good. I almost wish it was offensively bad, rather than bland, as it'd give me more party conversation material. A very dull beer with an unpleasant finish. Literally tastes like a homebrewer's first attempt at a sour brown.
773 characters

1
/5
rDev
-67.8%
look: 1 | smell: 1 | taste: 1 | feel: 1 | overall: 1
Well, after reviewing my notes from a huge tasting, I would say that this one was the worst based on my review scores. I actually thought that Biggs stache was worse but at least that one looked somewhat decent.
A: cloudy, watery, not appealing at all
S: At first I thought it smelled like vegetable soup but then narrowed it down to a watered down V-8.
T: watered down V-8 all the way with some alcohol. Maybe even a bloody mary that was left over from the night before or something.
M: Thin, watery and not good again.
O: Terrible. I love Zombie Dust and Dreadnaught and Alpha King and Behemoth and others from Three Floyd's but every sour that I've had from them has been not good. Stick to the Hops. Sorry. I'm glad I didn't pay for this or 'Stache
757 characters
3
/5
rDev
-3.5%
look: 3 | smell: 3 | taste: 3 | feel: 3 | overall: 3
Bottle 449/720 shared by danielnovak3. Served in a Darkness snifter.
A: Pours a solid mohagony color with a thin off white head that leaves as quickly as it came.
S: A nice solid mix grape skins, tart cherries and some mild vinegar. A touch of oakiness in the background smoothes it out.
T: Mild acidicness in the beginning with some picking grape skins and a slight tart cherry. Mild woodiness is in there as well.
M: Light to medium bodied with some solid drinkability. The taste doesn't linger around to long. Nice carbonation.
O: An ok from FFF. Not overly complex by any standards, but it is easily drinkable and the flavors mesh well.
650 characters
4.31
/5
rDev
+38.6%
look: 3 | smell: 4.5 | taste: 4.5 | feel: 3.5 | overall: 4.5
(From notes. Sorry about the paucity of detail)
Pours dull and lifeless. I'm glad BA has notched down the weight given to appearance scores, but I still can't give looks of this beer the score they actually deserve, because they would take the overall score down too far. Suffice it to say, it resembled puddle water, and not in some kind of weirdly appealing, "isn't that kinda neat" way.
Smells like oak and tart, zippy flanders business. Nodes of pressed fruit are very present, along with alcohol.
Tastes like it smells. Way lots of smooth brandy and vanilla against a medium-strength vinegary sourness with some nice herbs backing everything up. The flavor is light when compared to most other FFF BA's, but it's super duper tasty.
739 characters
SoBro from 3 Floyds Brewing Co.
3.11
out of
5
based on
104
ratings.