Barrel Aged Alpha Klaus With Plums
| 3 Floyds Brewing Co.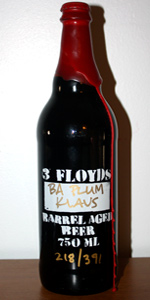 BEER INFO
Brewed by:
3 Floyds Brewing Co.
Indiana
,
United States
|
website
Style:
American Porter
Alcohol by volume (ABV):
10.00%
Availability:
Limited (brewed once)
Notes / Commercial Description:
No notes at this time.
Added by MasterSki on 03-18-2012
This beer is retired; no longer brewed.
Reviews: 14 | Ratings: 73
3.85
/5
rDev
-0.8%
Pours a brown which allows some light to pass through along with a thin skim that lasts.
Blend of dark fruit and big barrel on the nose...really reaches out of the glass.
Sweet malt and light roast on the front moves to a healthy plum presence along the middle..both skin and fruit. The end is a lightly tannic but healthy bourbon fade.
Lighter bodied, porterly appropriate, and easy to sip.
An interesting beer, a fun try, but may verge on too sweet with the plum presence for some.
★
488 characters

4.08
/5
rDev
+5.2%
look: 4 | smell: 4 | taste: 4 | feel: 4.25 | overall: 4.25
750ml generously shared by Marco.
A. Pours black with brownish hues and a small light tan head.
S. Slightly tart plum, cocoa, tannic vanilla, molasses.
T. Dark fruit, lightly smoky roast, chocolate, brown sugar, toffee, a little vinous, mild oak.
M. Thick-bodied with medium carbonation.
O. I wasn't expecting the plum to come through at all but I was pleasantly surprised at its presence here. The barrel character is there but not overpowering. Pretty nice.
★
464 characters
3.52
/5
rDev
-9.3%
look: 4 | smell: 3.75 | taste: 3.25 | feel: 3.75 | overall: 3.5
750 ml bottle served in a Southern Tier tulip. Bottle # 79/391.
A: Pours a dark black color with some lighter brown edges. A light khaki head forms on the pour and recedes to a thin ring. Some splotches of lace are left down the glass.
S: Roasted malts with a bit of the barrel. Mild bourbon with light oak. Some fruity plum sweetness with a little chocolate malt.
T: As with other BA FFF offerings there is some mild acetone notes, but this is the least offensive amount I've come across so far. Nice roasted malt presence with some light chocolate. Trace amounts of bourbon.
M: Medium thin bodied with a medium low carb. Sweet finish.
O: This was alright. As with all the other BA Alpha Klauses the base was overwhelmed and the barrel seemed kind of mute as well.
★
771 characters
3.53
/5
rDev
-9%
look: 4 | smell: 3.5 | taste: 3.5 | feel: 3.5 | overall: 3.5
Huge thanks to aasher for sending out a bottle of this!! This is number 96 of 391.
Pours an espresso black with a medium tan foam sitting on top. Roasty malt asserts itself early in the aroma with a bakers chocolate and subtle smokiness. The barrel aging is evident with vanilla and toasted wood. Initially I picked up on a tart fruit aroma that has disappeared as the beer had a couple minutes to breathe. Plum fruit still noticeable. Flavor is a melding for light plum fruitiness, moderately sweetened chocolate, and vanilla. Bourbon is evident too but blends well with the rest of the beer. Moderate in body and carbonation. Overall this is a decent BA porter but not as impressive as many of the Three Floyds beers I've sampled thus far. Feels a tad thin on the palette and not as robust in flavor as you typically expect from a Robust/American porter. That said, I'm going to enjoy it to the last drop and again a big Cheers to Al for sending it out!!
★
958 characters
3.8
/5
rDev
-2.1%
look: 4 | smell: 4 | taste: 3.5 | feel: 4 | overall: 4
A - pours black with a whitish head on it
S - the nose consists of plums and really chocolaty. There is also some sweet vanilla bourbon erupting from the glass as well.
T - sweet plums and fruits up front move on to a nice chocolate malt flavor. Spicy bourbon swoops in and takes over the taste profile to finish this one off. Not bad...
M - smooth and full bodied
D - this is better than the cherry barrel aged version but still nothing too mind blowing. Worth a shot but don't be expecting a ton from it.
★
510 characters

2.61
/5
rDev
-32.7%
look: 3.5 | smell: 2.5 | taste: 2.5 | feel: 3 | overall: 2.5
Served in a Sweetwater mini-snifter.
Man, I forgot to write down this bottle number, too... Shit, who even shared this with me!? Oh, man... Anyway, this stuff pours a deep ruby-brown topped by a finger of light tan foam. The nose comprises acetone, tannic black grapes, roasted malts, char, tobacco, and a twist of molasses. The taste brings in more of the same, with the acetone clashing with some bad whiskey, the hardly-recognizable plum battling with the tobacco, and all along the roast and molasses muddling things up further. The body is a lithe medium, with a light moderate carbonation and a slick feel. Overall, though this was better than the cherry version (which was just a damn mess, frankly), it was still pretty sad. A pretty big letdown, lemme tell ya...
★
772 characters

3.16
/5
rDev
-18.6%
look: 4 | smell: 3 | taste: 3 | feel: 4 | overall: 3
The pour is a murky dark brown/black color with a khaki head. The booziness is really overwhelming. Tons of oak, roasted malt, and a pronounced acidity. Mild plum, a touch of solvent, and plenty of green apple. Tastes of roast, alcohol, green apple, and bourbon. A fair amount of acidity, mild to moderate caramel/toffee sweetness, some raisins, plums, and cherries. Kind of sour on the finish.
★
394 characters

4
/5
rDev
+3.1%
look: 4 | smell: 4 | taste: 4 | feel: 4 | overall: 4
Dark brown body that's slightly translucent. Pours with a finger of head that retains nicely.
A lot of bourbon barrel on the nose, but little heat. Surprisingly quite hoppy as well, with dark chocolate and ashy roasted malt beneath the barrel. There's a touch of plum, mostly skin with a hint of tart dark fruit.
The palate is more plum heavy, lightly tart and tannic. Plenty of bourbon barrel, vanilla, roast and a hint of tar. A little dark fruit. Less hoppy than the nose suggests, but still fairly bitter. Medium-full body with a roasty, hoppy, semi-sweet finish. This was quite good.
★
590 characters
3.88
/5
rDev 0%
look: 4 | smell: 3.5 | taste: 4 | feel: 4 | overall: 4
Thanks, Ethan!
Good-looking pour, handsome lace and head up top. Aroma feels a bit jumbled: plums are here, but so are a bunch of other scents that are hard to finger and seem out of place.
Overly complex flavor profile; too many additions make this almost messy. Fortunately, the intensity of each backs off enough to allow their assimilation into one delicious brew. Too many cooks in the kitchen; still a good beer though.
I definitely prefer the regular Alpha Klaus.
★
473 characters

4.25
/5
rDev
+9.5%
look: 4.5 | smell: 4.5 | taste: 4 | feel: 4 | overall: 4.5
Bought this at DLD, shared with friends on 5/27/12 Bottle #3/391
Pours a nice dark black/brown color, somewhat syrupy looking, about a finger of mocha head appears and dissipates rather quickly with spotted lacing left behind and a nice layer of film atop the beer. The aroma is great, nice bourbon character, charred wood, smoked malts, roasted coffee, can definitely pull out the plums, and they really give this beer a bit extra. The flavors are great but the plum addition does give this beer some extra sweetness that at times bordered on too sugary. The bourbon does give a great counterbalance to the sweetness as does some roasted coffee, toasted chocolate malt and charred wood flavors. The fruit is nice, and definitely makes this unique, but the sweetness, enhanced by the higher alcohol does kind of take this down a notch. The body is nice, a bit cola like at times as the carbonation is higher than anticipated, but it goes down smoothly and coats the mouth very well.
Verdict: I really enjoyed this variant of Alpha Klaus, the regular porter is one of my favorites and this did it justice. The plum gives this beer a nice little edge, and a wonderful aroma.
★
1,174 characters

3.22
/5
rDev
-17%
look: 3.5 | smell: 4 | taste: 3 | feel: 2.5 | overall: 3
big thanks to rodkin for hooking me up with this. shared with jparkanzky on a random night.
poured from a 22 oz bomber into a snifter glass. cant remember the bottle number, but who cares anyway.
nice fizz as i popped the waxtop bottle, and poured straight into a couple snifters. appearance is a mocha brown and definitely seems lighter (in both appearance and viscosity) than regular alpha klaus. aggressive carbonation is evident in the 2-3 finger head, but fades quickly. oily appearance. lacing is pretty much nonexistent.
smell is reminiscent of oh so many FFF brews, hops, hops, and more hops. i smell a tiny bit of barrel, and some sweetness, but definitely get a lot of hops. VERY similar smell as Behemoth... not sure what to think yet.
taste.... hmm, very confusing. nice blend of caramel, hops, and spice, but there is a bitter raisin taste on the finish (im guessing from the plums) that i just cant get used to here. coffee and barrel on the wayyy back end, but could be easily missed as the sweetness from the fruit seems to dominate. seems to get a little more balanced as it warms to room temperature, but i definitely prefer the taste of regular alpha klaus over this variation. had a hard time finishing the snifter.
mouthfeel is fairly carbonated, and lively. like i mentioned earlier, it seems to be a lot lighter and a lot more carbonated than the regular alpha klaus. was hoping for something a lot more smooth and heavy bodied considering the barrel treatment.
overall, i thought this beer was ok. wouldnt recommend trading half your cellar away for it, but if the opportunity presents itself, definitely give it a go. starting to realize that a lot of the FFF one offs are either "love it or hate it" type beers. Unlike ba owd english, id put this one in the latter category ("hated it") along with cuvee de viking. cant win all the time. cheers!
★
1,878 characters

4.3
/5
rDev
+10.8%
look: 4 | smell: 4 | taste: 4.5 | feel: 4 | overall: 4.5
Thanks again, AsianZero, come again!
A - Pours darker brown/black, tan-colored head, spotty lace.
S - Chocolate, dark fruits, roast, plum, booze. The plums really work well with this beer, I can tell you that right off the bat. Really nice complexity and sweetness from the plums while the chocolate, roast, and booze keep it from being too much.
T - Similar to the nose, plums and chocolate roast together are just outstanding. The oak and booze are spot-on and it's smooth enjoy to drink now. Finish is chocolate, oak, and dark fruit...sweet and smooth booze.
M - Medium to full body, good carbonation, creamy finish.
O - I like this one better then the cherry treatment, but both are really good beers to begin with. I will seek out a bottle of this stuff for sure, and it's a shame I missed the ticket sales both times so I didn't score any of this stuff. Really nice beer...get some!
★
894 characters

4.62
/5
rDev
+19.1%
look: 4 | smell: 4.5 | taste: 5 | feel: 4 | overall: 4.5
My buddy and I picked up a couple Klaus variants at DLD 2012. Here's the plum version.
This pours black as night with a small amount of light tan head. There are some random spots of lace that stick nicely to the glass.
Big bourbon notes right off the bat. There is some caramel, chocolate, vanilla, dark fruits, oak tannin, toasted coconut, plums, well hidden ABV. The plums add just enough to make this one very interesting. My curiosity grows...
The flavors are similar to what was noticed in the nose. There is a great integration of bourbon, vanilla, oak, bourbon, chocolate, bourbon, plums, and coconut. As it warms, the plums are noticed more and more. Again the ABV is nicely masked. This brew handled the barrel very nicely.
The mouthfeel is medium-heavy with ample carbonation.
Overall, this is a great barrel-aged offering from FFF that has great characteristics all around. The barrel treatment did this beer nicely. Very tasty and I can't wait to see what's to come from these guys. Lovely brew.
★
1,014 characters

4.32
/5
rDev
+11.3%
look: 4 | smell: 4.5 | taste: 4.5 | feel: 4 | overall: 4
Another generous share by Mike (AgentZero). Served in a Captain Lawrence tulip.
A - Tan foam settles to a thick collar, wisps, and a few spots of lace. Very dark brown body.
S - I initially didn't pick out a lot of plum here, but that's alright as regular Barrel-Aged Alpha Klaus is excellent stuff. A nice mix of earthy bourbon, vanilla, roasted malts, and milk chocolate. When this warms up there's a hint of plum tartness.
T - The taste is quite similar, with vanilla, milk chocolate, roasted malt, and mild bourbon flavor at the front of the palate. These flavors yield to some plum tartness and acidity in the finish. The plum isn't the most intense of fruits, but its contribution integrates quite nicely here.
M - Medium body, with plenty of roast and tannic dryness. Pleasant medium-low carbonation, oaky finish, and not much in the way of alcohol. Again, there's mild fruit acidity.
D - This was quite nice, as the tart plum notes balanced some of the sweeter flavors. Just be sure to let this warm up for full effect, as the plum is initially quite subtle. Would love to have this one again.
★
1,106 characters
Barrel Aged Alpha Klaus With Plums from 3 Floyds Brewing Co.
3.88
out of
5
based on
73
ratings.