Port Barrel Aged Dark Lord Imperial Stout
| 3 Floyds Brewing Co.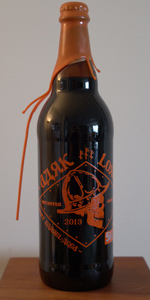 BEER INFO
Brewed by:
3 Floyds Brewing Co.
Indiana
,
United States
3floyds.com
Style:
Russian Imperial Stout
Alcohol by volume (ABV):
15.00%
Availability:
Limited (brewed once)
Notes / Commercial Description:
No notes at this time.
Added by MasterSki on 04-21-2013
This beer is retired; no longer brewed.
Reviews: 10 | Ratings: 116
4.32
/5
rDev
+2.9%
look: 4 | smell: 4.5 | taste: 4.25 | feel: 4.5 | overall: 4.25
More port than Dark Lord...the port really shines here, nice and fruity while laying a smooth blanket atop the base beer. The Dark Lord shows fudgey underneath, and some hints of teriyaki poke up in both the nose and in the flavor. Residual sugars are large as well.
Nice port qualities really meld well and shine bright, while evening out..and in some cases...hiding the "finer" qualities of the base beer. Those looking for a smoothed out port forward stout that certainly doesn't scream Dark Lord will most likely be pleased.
Bottle split two ways and I actually wanted more....fun beer.
592 characters

4.11
/5
rDev
-2.1%
look: 4 | smell: 4.25 | taste: 4 | feel: 4.5 | overall: 4
Bottle purchased at Dark Lord Day 2013. Opened for my 33rd birthday. Served in a Utopias glass.
A - Pours with a very thin tan foam that settles to a thin collar, a few wisps, and letter else. Body is black, as you'd expect. Some serious legs too.
S - Vinous port, chocolate fudge, dark fruits, light smoke, tobacco, and coffee grounds, a bit of oxidation. Very fruity-heavy, with very little oak; the port integrates extremely well with Dark Lord's extant flavor profile.
T - The taste has a bit more oaken barrel going on, with less overt sweetness initially. However the back end of the palate has overwhelming caramel, fudge, dark fruits, and chocolate sweetness. There's a touch of alcohol, a touch of soy and umami, and perhaps a mild, vinous tartness to it.
M - Big, sticky, viscous, chewy, with very low carbonation, and some mild alcohol warming late. Full-bodied, and somewhere between imperial stout and port in character.
D - I prefer the heavier oak in the bourbon and brandy variants of this beer; there isn't enough to offset the intense sweetness and mixing in port (or moscatel, which I'll get to shortly) doesn't really improve things. It's big, rich, decadent, and best enjoyed in 2-4oz servings; I actually preferred the 2012 Dark Lord we had next to this.
1,281 characters
4.6
/5
rDev
+9.5%
look: 4.5 | smell: 4.5 | taste: 4.75 | feel: 4.5 | overall: 4.5
Opening the bottle immediately you know it is Dark Lord. The scent wafts out of the bottle. It is pitch black with minimal dark brown head. The smell is chocolate, coffee, dark fruits, and oatmeal. You get some fruitiness and hints of oak. The Port gives a little added sweetness and definitely some tannins. This beer had some serious depth. It was a fun experience to share with friends, and while it isn't bourbon vanilla it was quite a tasty variant.
454 characters
4.51
/5
rDev
+7.4%
look: 4 | smell: 4.75 | taste: 4.5 | feel: 4.25 | overall: 4.5
Where recent releases of Dark Lord has been slowly turning away from "Stout" flavor and preferring a sweeter and more alcoholic embrace, it might be more aptly termed a "barley liqueur". At the determent to Stout fans, it sets itself up nicely for the addition of port barrel aging.
Dark and lavish, its highly viscous appearance is a cloudy black with a delicate and creamy froth that gently rises with a quick swirl. The ale doesn't really work too hard with its foam formation, retention or lace as it takes on a demeanor that's just as comparable to cognac and brandy, aside from its darkness.
But its that devilish aroma that melts the heart as much as it does the nostrils. Dark chocolate, espresso, black-strap molasses, hazelnuts, and toast all align on the olfactory senses. But then rises a succulent vinous note that highlights the already complex charred fruit flavor of the Stout. But also complements with the tobacco-sweetened, leather and sweet honey that Port offers. Its dark fruits highlight not only grape, but also plumb, figs, dates, raisins and prunes for the perfect counterpart to its sweetness.
Even more powerfully flavored, its nearly chewy chocolate covered espresso bean flavor, black-strap molasses, and honey-dipped sweetness only allows the port barrel complemnts to do just that- complement and not command the taste. Its immense sweetness invites the taste of roasted nuts, grilled dark fruit, charred toast, bittersweet chocolate to ooze about the mouth like silk. Its milkshake consistency is tempered with the mild acidity and wood spice that the barrel allows.
As expected, its thick and chewy body is almost perverse. Like creamy barley and port infused coctail, its high alcohol warmth resonates on the palate like fine liqueur. Its long draw across the middle is intended to sit and saturate the mouth fully and to resist the beer-like effect of drying or finishing. Certainly cloying, the beer is meant for sipping and not for drinking. Its slow and savoring demeanor allows it to stem well into the next sip- much like after dinner digestive.
Dark Lord is slowly becoming its own animal and resists being tied to any one particular style. Its heading into the world of Utopias, Black Tuesday, and Tactical Nuclear Penguin- showing not what beer has been but what it could be. This barley liqueur is only further propelled by the perfect port counterpart here.
2,408 characters
3.94
/5
rDev
-6.2%
look: 4 | smell: 3.75 | taste: 4 | feel: 4 | overall: 4
750 ml bottle served in a FFF mini snifter. Shared at the Voltron tasting.
A: Pours just like regular Dark Lord. Viscous and black with a dark brown head that recedes to a thin ring. Some splotches of lace down the glass.
S: Super oaky with a lot of Port coming through on the nose. Nice roast and dark chocolate with a mild caramel sweetness from the barrel.
T: There's a lot less Port coming through on the taste than the nose, but it is there. Some tannins with oak, dark bitter chocolate, some umami and barrel sweetness. Dark fruit, caramel and vanilla mix nicely with the base.
M: Medium to heavy bodied with a medium low carbonation. Sweet and roasty finish.
O: Middle tiered for a BA DL variant, but I liked this one more than most that night. I'm a fan of Port in small doses and I think the port barrel added just enough to the base to make it interesting.
871 characters
3.68
/5
rDev
-12.4%
look: 4 | smell: 3.5 | taste: 4 | feel: 3 | overall: 3.5
750 mL bottle poured into a snifter. 2013 bottle, #402/726.
Appearance - Black with a khaki head (!). None of the others had a head. Thick collar.
Smell - Chocolate. Soy sauce. Hint of red wine. Not a lot beyond regular Dark Lord.
Taste - More red wine here. Chocolate blends well with the red wine. Soy sauce still comes out. Slight acidity. Sweet as hell.
Mouthfeel - Thick and sweet. Medium low carbonation.
Overall - Better than Moscatel and better than regular, but still too sweet.
494 characters

4.34
/5
rDev
+3.3%
look: 4 | smell: 4.25 | taste: 4.5 | feel: 4.25 | overall: 4.25
75 cl bottle poured into a tasting glass
Dark brown colour with a very small head leaving little lace behind
Aromas are oak, vanilla , Red wine , caramel and toffee.
Flavor is big roasty and sweet , caramel, vanilla, some vinous character and good barrel presence. Port, red grapes, chocolate .
Good amount of carbonation ( better then the moscatel version )
Finish is toasty, sweet, and sticky. Roasty malts, coffee and chocolate. Some dryness and oak character
Very nice beer.
483 characters

4.05
/5
rDev
-3.6%
look: 3.75 | smell: 4.25 | taste: 4 | feel: 4 | overall: 4
Bottle
A - Dark brown / black beer with no head. Looks like every DL and BA DL I've had
S - Deep dark fruit sweetness from the port barrel, dark raspberry, light vanilla sweetness and marshmallows
T - Vanilla, light marshmallow and milk chocolate come through initally. The port comes through to give it a slight dark, fruit sweetness but there is not as much Port as I was hoping for. This is definitely on the sweeter side as it seems the port lended sweetness to the base DL without adding as much of the rich, fruit flavors.
M - Thick and creamy beer with a nice smoothness to it. Easy to drink for being 15%
O - This is a solid BA DL that falls in the middle of the ones that I've had. It's not as good as the best of them and not as bad as the worst. The port is there but not as much as I would have liked. I was hoping for more of the port fruit flavors that I find in their other port beers (see Ronaldo). Instead, the port adds a nice sweet touch.
962 characters
4.43
/5
rDev
+5.5%
look: 4.25 | smell: 4.25 | taste: 4.5 | feel: 4.5 | overall: 4.5
Thanks to Mike for this one. 750ml waxed bottle into a 3 Floyds teku. Had at a tasting 5/18/13. Reviewed from notes.
Pours pitch black and thick. Spotty lace with good stick. Thick, oily legs with good stick. Certainly fits the Dark Lord name.
Nose is chocolate, fudge, booze, molasses and young purple fruit sweetness. Very aromatic. Booze is pretty mellow and floats nicely in the background.
Opens sweet chocolate, booze, and sweet soy sauce. Fudge in the middle with hints of molasses. Mellow booze that's very well hidden and integrated. Finishes roast with a touch of sweet and just a sprinkle of roasted malt tartness. Aftertaste of chocolate, fudge, and roast. Really good.
Full bodied with low carbonation. Thick and oily in the mouth and mellow and smooth going down. Finishes sweet with a sticky, lingering aftertaste. Just what I need to carry out the flavors in this beer.
Probably the second best of the 2013 Dark Lord variants. Port DL is complex without being too sweet with a body that carries and integrates the flavors perfectly. Definitely worth trying and certainly one of the more "under-the-radar" variants right now.
1,148 characters

3.79
/5
rDev
-9.8%
look: 4 | smell: 3.75 | taste: 3.75 | feel: 4 | overall: 3.75
Bottle #600/726, 750ml, vintage 2013, into a snifter.
A: Pours a blackish-brown with prominent red hues. A minimal light tan head forms and recedes.
S: Marshmallow, coconut, cream, smooth raisiny port, light oxidation, mild chocolate. Very barrel forward.
T: Port dominates the taste as well. Sweet grape, vinous oak, tannic caramel and vanilla, molasses, more fruity glucose. Very sweet. Hint of roasted malt and chocolate on the end.
M: Thick-bodied with a light hit of carbonation. Sticky.
O: Although I enjoyed the beer, the port barrel has so dominated it that I can barely make out the Dark Lord underneath it. I prefer something like 2011's brandy variant to this, which was much more balanced between the barrel and stout, and wasn't nearly as sweet.
763 characters
Port Barrel Aged Dark Lord Imperial Stout from 3 Floyds Brewing Co.
4.2
out of
5
based on
116
ratings.