Bière De Noël
| Brasserie De Saint-Sylvestre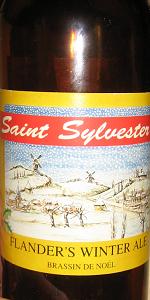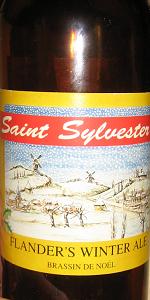 BEER INFO
Brewed by:
Brasserie De Saint-Sylvestre
France
biere-3monts.com
Style:
Bière de Garde
Alcohol by volume (ABV):
8.00%
Availability:
Winter
Notes / Commercial Description:
No notes at this time.
Added by TheLongBeachBum on 01-30-2005
This beer is retired; no longer brewed.
HISTOGRAM
Ratings: 11 | Reviews: 10
Reviews by BeerRun13:
3.73
/5
rDev
-1.3%
look: 4 | smell: 3.5 | taste: 4 | feel: 3.5 | overall: 3.5
Poured a mostly clear and bubbly oarange cranberry. Super thick creamy head with lace to match.
Spices and a touch of fruity sourness in the nose.
Sourness is slight but in the taste as well. Winter spices are suggested. Hints of dark or even roasted malt (just a touch). An almost melony sort of flavor. A little bitterness. Earthy malt notes show up.
Light to medium bodied. Highly carbonated. Very slight hoppy bitterness in the finsish.
First beer I've had like this, and I would gladly try more in this style.
518 characters
More User Reviews:
4.1
/5
rDev
+8.5%
look: 4 | smell: 4 | taste: 4 | feel: 4 | overall: 4.5
First had: bottle at the Farmhouse, Emmaus, PA
*1995 vintage, had in Nov. 2011.
This was one of the Farmhouse's vintage bottles that stood out to me on the menu, for the style, the brewery, the rarity, the age, and also for the price, which was very decent relative to some of the other selections available.
Chilled on ice for about 10 minutes before opening. A Vesuviusine eruption of foam occurred at the ceremonious uncorking of this 750ml bottle, but I kind of expected that, from the layer of froth I could see beyond the brown haze of the bottle when it was first brought to us. Poured a darker amber color with ruby tints, hazy, with a finger or so of frothy white head that shrank, but retained as a thin layer right to the end, perking up a bit upon receiving a gentle swirl. Aroma of sweet malts, light sugars, and dried fruits, with some spicy yeast coming through. Taste was very complex, and bounced in character between a typical biere de garde, a barleywine, and a quad, though notably lighter in body than the latter. Lots of fruity tones, melon, peach, pear, cherries, big time on the raisins, with some banana esters as well. Sweet malts, caramel and brown sugar. Earthy, and a bit spicy, mainly from the yeast, as any actual cinnamon and/or spice that was present in the past seemed to have mellowed out and nearly vanished altogether (along with any significant alcohol burn), giving way to the other flavors present. Medium-bodied, chewy, quite flavorful, and quite drinkable. I'll never see it again, but it was well worth it.
1,552 characters

4.18
/5
rDev
+10.6%
look: 4.5 | smell: 4 | taste: 4.5 | feel: 3.5 | overall: 4
Appearance – The bottle says Flander's Winter Ale, but certain other sites indicate that it just an alternate name for their Bière De Noël. I was excited to try this one after reading about it in Farmhouse Ales. Once I get the cork out the beer pours a hazy dark amber/red with a creamy beige two finger head that never goes away.
Smell – Toasted malts, raisins, and some Belgian like yeast character. No hops or alcohol to be found. There may be a hint of oxidation or mustiness, but it is not unpleasant.
Taste – The light malt sweetness is balanced by a slight tartness. The flavor is interesting combining dark fruits, caramel and toasted malt with cherry lifesaver and butter. Really complex flavors and well balanced and nuanced.
Mouthfeel – The high carbonation and light sourness makes this one feel lighter than the medium body would be on its own.
Drinkability & Notes – Despite the big alcohol this one is easy and enjoyable to drink, interesting flavor and good balance. Only my second beer from Brasserie De Saint-Sylvestre after 3 Monts Grand Reserve and I have to say that I think I like this one better. I won't judge this one as a BdG, but as what it is a unique winter ale that doesn't rely on heavy spicing or overwhelming sweetness to evoke the holiday season.
1,301 characters

4.3
/5
rDev
+13.8%
look: 4 | smell: 4 | taste: 4.5 | feel: 4 | overall: 4.5
The label says Saint Syvestre's Flanders Winter Ale
(Served in a tulip glass)
A- This beer pours a crystal clear amber body with a extremely thick creamy head that turns rocky but last. There is a very strong carbonation of tiny bubbles racing through this beer.
S- There is a soft yet bright vinegar note with a soft slightly sweet malt note which offers a nice contrast.
T- This beer has a light cherry tartness with a brown malt flavor and a light chocolate malt note. There is a slight sweetness to the malt with a hint of nougat in there also. As it warms the tartness increases but the hint of cola and tootsie roll candy comes through in the malt flavors.
M- This beer has a medium-light mouthfeel with a tight fizz in the finish.
D- This beer has a very good balance of wild ale notes and brown ale flavors wit no real alcohol heat. This is perfect for a cold winter night.
902 characters
3
/5
rDev
-20.6%
look: 3 | smell: 3 | taste: 3 | feel: 3 | overall: 3
Bottle: Poured a dark brown color ale with a medium bubbly head with slightly better then average retention. Aroma of quiet sweet malt with not really much else going on. Taste is also dominated at first by sweet caramel malt but there is a definite watery feeling at the end that I didn't enjoy. There is also an unrefined grain taste that I didn't particularly enjoy. I'm glad we now seem to have more and more beer available from this brewer but I would enjoy them even more if they were as good as they were a couple years ago.
534 characters
4.08
/5
rDev
+7.9%
look: 4.5 | smell: 4 | taste: 4 | feel: 4.5 | overall: 4
Best before 10-2004, was the wait worth it? Pours in fine and gives a very big and longlasting foam of a yellow color. Color of the beer is bronzebrown. Perfectly clear so can't wait for the foam to go and get a nose first but had to try. Full malty taste, sweet, candysugar and then going to a nice bitterness. Woww yeah this one's stand the test of time perfectly. Glad to have another one in my cellar and gonna keep it there for a while. For anyone liking a full taste without edges a great beer.
500 characters
4.09
/5
rDev
+8.2%
look: 5 | smell: 3.5 | taste: 4 | feel: 4.5 | overall: 4.5
Undated 750 that is corked and banded with clear shrink wrap covering the cork. The label says Saint Sylvester's Flanders Winter Ale and has the same labeldesign as the Bire de Noelle on the brewer's website. According to the website, this beer is realeased in November and is available until supplies run out. Purchased at Cloverleaf in Southfield and poured into a tulip.
Dark amber with a HUGE head of light tan. Well carbonated. Strong retention and it really clings to the glass leaving chunky lace. Beautiful!
Very malty nose with some caramel and toast. Buttery. I'm getting too much diacetyl for the style. Some nut aromas in the back. A hint of holiday spice comes in as it warms.
The malts are full upfront with some caramel and spices followed by a good dose of bitter hops. The finish is dry to bitter with a lot of hops for the style, but I like it. There is a bit of butter, but not nearly as much as the nose and the other flavors more than make up for it. The abv is very well hidden.
The mouth is at first medium to full with a good rush of carbonation followed by a slightly puckering hop effect. I'm intrigued by this beer. Complex in light of the buttery nose.
1,192 characters
3.93
/5
rDev
+4%
look: 4 | smell: 3.5 | taste: 4 | feel: 4.5 | overall: 4
Had from a bottle at The Farmhouse in Emmaus, PA...vintage 1995. Poured a reddish brown color with a small, fizzy white head that mostly receded leaving nice lacing. Had an aroma of DARK FRUITS, sweet malts, spices...the dark fruit smell really, really came through in the nose. Not a bad thing, but WOW. Tasted of dark fruits (definitely cherries), brown sugar, spices and sweet malts. Very dry finish (think barleywine) but surprisingly smooth.
Medium-bodied with good carbonation. When the bartender opened this bottle it was a bit of a gusher...guess aging it didn't affect the carbonation.
Overall, a good, interesting brew that made for a fun tasting. How often do you drink a beer from 1995 that actually tastes good? I wonder how the dark fruits originally tasted because I can't say I have ever tasted them so strongly in a beer before. Recommended, if you can find a bottle!
886 characters

3.32
/5
rDev
-12.2%
look: 3 | smell: 3.5 | taste: 3.5 | feel: 3 | overall: 3
This was the last beer of the evening, and the notes that I took at that point were both brief and contained hyperbole...negative hyperbole...which I don't think does this beer complete justice. It is an interesting balance of mild sourness and some light caramel malty sweetness. And that light brown caramel malty sweetness (like you'd get in a dunkel weiss) is just not a big hit with me...it is the kind of flavor that gets downright nasty comments in my notes at the end of the night, but it might work for you.
This beer pours a red hazy color with a tightly bound-up head composed of uniformly sized tiny bubbles. The aroma is a mild sourness. The flavor is a sour cherry kind of sourness, balanced with the malty sweetness that I don't particular care for. Not bad, but not destined to be one of my favorites.
820 characters
3.35
/5
rDev
-11.4%
look: 4 | smell: 4 | taste: 3 | feel: 2.5 | overall: 3.5
Appearance: Pours a ruby-hued body with an effervescent, off-white head.
Smell: The aroma delivers a nice amount of caramel and spice, particularly ground cinnamon, as well as dark fruits.
Taste: Sweet dark caramel melds with brown sugar, sour cherries, and, I'm tellin' ya, cinnamon. Finishes dry and chalky with a light bitterness.
Mouthfeel: Medium-bodied. Tight, frothy carbonation.
Drinkability: A decent beer that delivers a small measure of merry Christmastime to the hot, bawdy month of July.
513 characters
Bière De Noël from Brasserie De Saint-Sylvestre
Beer rating:
3.78
out of
5
with
11
ratings