Santa's Beered '08
| Cisco Brewers Inc.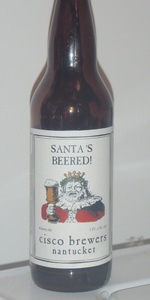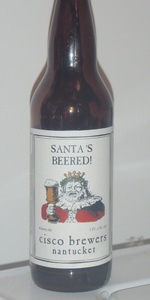 BEER INFO
Brewed by:
Cisco Brewers Inc.
Massachusetts
,
United States
ciscobrewers.com
Style:
Winter Warmer
Alcohol by volume (ABV):
not listed
Availability:
Limited (brewed once)
Notes / Commercial Description:
No notes at this time.
Added by smcolw on 12-07-2008
This beer is retired; no longer brewed.
HISTOGRAM
Ratings: 14 | Reviews: 12
Reviews by corey0212:

4.28
/5
rDev
+12.6%
look: 5 | smell: 4.5 | taste: 4 | feel: 4 | overall: 4.5
Pours a deep mahogany color, two-finger tan head fades slow and leaves sheets of lacing on the glass. Lots of ginger on the nose, cinnamon, nutmeg....a bit of a spice bomb here. Taste is really robust and rich with all the spices playing their part, with a faint piney hop flavor. Creamy and medium-bodied, lots of lingering spice flavors. This is a great example of the style....where my homebrewed Winter Warmer failed, Cisco succeeds.
437 characters
More User Reviews:

3.87
/5
rDev
+1.8%
look: 3.5 | smell: 4 | taste: 4 | feel: 4 | overall: 3.5
On tap at the Gingerman in Norwalk, Ct. Pours clear, medium amber, typical tan head that is quite short lived and then leaves just some minor lace. Pleasant brew with moderate holiday spicing going on. I get hints of cinnamon, nutmeg, as well as some rye. I'm not a huge fan of the style, but this one was subtle on the spice making it worth a try. Doubt it would go for more then one however.
393 characters

3.31
/5
rDev
-12.9%
look: 4.5 | smell: 3.5 | taste: 3 | feel: 4 | overall: 3
Santa did not drink his beer, so I will gladly drink it for him on Chrismas Day. Pours a clear, dark, reddish amber with a large off-white head that had excellant retention. The head settles to a thick cap. Large amount of lacing is left on the glass. Aroma is full of holiday spices. The label says brewed with nutmeg, cinnamon, cloves, honey, and love. I definately pick up the nutmeg and cinnamon. The flavor likewise is full of spice. Too much for my personal tastes. The nutmeg really dominates but hints of cinnamon and cloves comes through. Not much for traditional beer flavors. Medium body with ample carbonation. Nice texture. These heavily spiced Winter Warmers are not really my thing. I would prefer the spice to compliment the beer instead of dominating.
768 characters
3.83
/5
rDev
+0.8%
look: 4.5 | smell: 4 | taste: 3.5 | feel: 4 | overall: 4
Poured into an imperial pint glass. Color was a nice dark reddish brown with a 1 finger off white thick head that clung to the sides nicely. Aroma was a sweet hoppy aroma. Almost had touches of gingerbread, overall very pleasant. Taste was hoppy and piney. Small touch of sweetness, but reminded me of something you would find in a country decorations store. Not as pronounced as I expect from a winter warmer. Felt very good in the mouth. Coated nicely, perfectly carbonated, not overly sickly sweet like some. Easy to drink, more of a sip and savor type beer.
561 characters
2.8
/5
rDev
-26.3%
look: 4 | smell: 4 | taste: 2.5 | feel: 3 | overall: 1.5
I'm a fan of most Cisco beers, and thus continues my Winter beer reviews.
A: Nice creamy 1 finger head, semi clear dark cranberry red color with some hazy and yeast floating mid glass.
N: WOW! It's like spices, fresh cut grass, fresh pine, and ginger galore! With some cinnamon, nice malt aromas, and some brown sugar. It def gives me flashes of making gingerbread kids as a kid. This is about all that is good with this beer, it's just all downhill from here.
T: Bleh! Super spiced!!! THe nose was ok, but taste is too far. It tastes like I'm biting on a ginger wrapped cinnamon stick. A touch of brown sugar and some dark malts. More pine, but not a nice hoppy pine, this is like fresh juniper pine. Tastes like licking Santa's beard after he dragged it through a fresh pine tree, accidentally rubbed cinnamon in it, and then threw up his ginger cookies on it.
M: Semi thick and kinda rich, decent carbonation, spiced up the wazoo.
F: The spices don't really fade, and even some bitter orange peel comes out on the finish. This is like Grey Lady kicked up seventeen notches, from tasty spiced up to ludicrous! A semi bitterness washes over as well, but I think that's all the spices and not so much being hops. Not a winner in my book as I hate overspiced beers. I think this is the first Cisco beer I don't actually like!
1,329 characters
4.07
/5
rDev
+7.1%
look: 4 | smell: 4.5 | taste: 4 | feel: 3.5 | overall: 4
Dark amber color and crystal clear. Moderate head that dies to a single level of bubbles. Does leave some spiderweb-like lace.
OMG, talk about a spicy beer: anise, ginger, and peppermint (none of which were listed on the bottle!).
The beer starts off as malty but soon gives way to a minty dryness with light chocolate. The swallow features some nutmeg and more mint. Moderate body and carbonation.
Since I'm first, here's the quote from the bottle:
"When Santa says 'Beer Me', you'd better believe people listen! Leave The Man a bottle of this delicious holiday ale (brewed with spices such as nutmeg, cinnamon, cloves, honey, and love) by his plate of cookies anytime this winter and you'll pretty much guarantee your spot on the Nice List for good. Ho ho ho!"
775 characters

4.06
/5
rDev
+6.8%
look: 5 | smell: 4 | taste: 4 | feel: 4 | overall: 4
Thanks to corey0212 for sending along this one
Bottle poured into a dogfish head snifter produced a big fluffy off white head which lasted for a while and turned to a thick lace. A beautiful clear burgandy colored body on this brew defiantly added to the score.
The nose is spiced right up tons of spices but I was able to distinguish them separately. Cloves cinnamon, anise and nutmeg typical winter spices were present. There was some fruitiness in the brew as well, almost a mulled cider effect.
Flavors followed suit on the nose very closely a big old bowl of Christmas spice. Medium in the mouthfeel department with ample carbonation
This is a sipper not something you would slam or rush to drink. Treat it as such and the experience was quite pleasant. I enjoyed my glass very much. The one bomber which lasted a long time was enough at one sitting
859 characters
4.03
/5
rDev
+6.1%
look: 4.5 | smell: 4 | taste: 4.5 | feel: 4 | overall: 3
I ran into this earlier this week at the brewery in Nantucket and immediately requested that BA resurrect this rare gem. So this is actually a 2010 I guess, unless Cisco has been keeping this in hiding for nearly two years. Either way I am glad to have run into it. It's a beautiful golden brown color, murky and slightly a glow on the edges. The head is a light brown, quite stout, leaving a healthy trail of lacing. The aroma is a nice herbal hop that suggests Dr. Pepper. Not much more to say, that's what I get and it's nice by my tastes in beer. The flavor thankfully follows suit with malty herbal hops combined gloriously. Again I would cite Dr. Pepper but there is also more licorice in the taste that makes this more stick to your ribs even though it's a sprightly carbonated and medium light bodied brew. This has a touch of horehound, root beer, all that good root family stuff that generally qualifies the winter warmer. It drinks fine but I don't see this as a particularly session-able choice. But it is tasty and a wonderful surprise to enjoy in my brewery visit in mid August!
1,092 characters

4.03
/5
rDev
+6.1%
look: 4.5 | smell: 4 | taste: 4 | feel: 4 | overall: 4
22 fl oz brown bottle; served in a tumbler.
Tea and auburn-highlighted oak in color. Densely, creamy off-white head that sits up for a few moments without fading. Ringed and condensed lacing around the entire tumbler with tremendous durability.
Ginger and clove-spiced caramel and coffee malts. Musty grain base with light phenolic hints. Mild citrus aromas as well, that have a rounded hint of honey sweetness. Quite a range of aromas that meld to almost a gingerbread whaft.
Somewhat of a rich, creamy malt base: light toffee, hazlenut, and caramel. Mild honey and vanilla sweetness. Ginger and clove spice that adds a nice dynamic to the bready, toasted, and rich maltiness. Notes of orange and lemon zest. The flavors are balanced, distinct, and quite flavorful. A nice change from your typical subdued and chalky Winter Warmer.
A full, medium in bodied. Smooth and creamy, with just a faint dryness in the finish. Spiced with a proper amount of moderate carbonation.
A distinct, flavorful Winter Warmer. Although I'm not a huge fan of the style per se, this one is certainly near the top of its class.
1,111 characters

3.83
/5
rDev
+0.8%
look: 4 | smell: 3.5 | taste: 4 | feel: 3.5 | overall: 4
I am pretty sure this has become a consistent seasonal for Cisco, so the year may not be necessary. Anyway, this growler was filled this past weekend at the brewery. Color is a dark ruby, with just a bit of lacing, which may be a result of having already been opened and losing a bit of it's fizz. Smell is big on ginger, and some pine as well. In the taste I get some rum, dark fruit, brown sugar, and something a little nutty. Mouthfeel is moderately sized...it could use a bit more body IMO. It never comes off boozy, and in general is an easy drinker. This is a nice little Winter Warmer here from Cisco. One of the better ones that Massachusetts has to offer. Cheers
671 characters
4.5
/5
rDev
+18.4%
look: 4.5 | smell: 4.5 | taste: 4.5 | feel: 4.5 | overall: 4.5
Found this at Julio's in Wesboro, MA while home on winter break.
Poured from a 22 oz. brown bomber bottle into a pint glass.
A: Beautiful amber color. Lovely even layer of whitish head on top, about an inch thick and quite sticky. Little bit of carbonation up the sides. Great sticky lacing rings down the side of the glass. Overall, great look, very enticing.
S: Immediately gives off scents of all of the spices listed on the label, along with some floral hops and caramel malts. The nutmeg is particularly prevalent, and the cloves and honey make a nice combination. A unique smell among winter warmers I've tried, and really one of the best.
T: Sweet malts at first, mostly caramel and sugar and perhaps a hint of honey. The middle brings in the many spices, most notably nutmeg and cinnamon. The finish lets these spices linger and even sit in the throat, particularly the nutmeg. (I'm realizing that if you don't like nutmeg, you will hate this beer.) Unless you're searching for it, you might not notice the tiny hop flavors underneath it all, kind of floral/piney.
M: Very good. Not too bitter or weak or spicy or... All-around good.
D: Tasty and quaffable. Again, if you're not into the heavy spiciness of this beer, you might despise it; for me, though, it was great.
1,277 characters
3.63
/5
rDev
-4.5%
look: 4.5 | smell: 4 | taste: 3 | feel: 5 | overall: 3.5
Received this brew from Cedromar as yet another extra in a recent trade. This will be from my first brew from Cisco. I'm sort of hard on Winter Warmers too so hopefully it's tasty. Drank from my Ithaca Excelsior tulip.
Appearance- Pours a ruby red brownish with a small half finger off-white head that has some decent staying power. A pretty damned good cap and collar remains the entire beer but unfortunately no lacing.
Smell- Pretty much exactly like you'd expect it to smell. Plenty malty with loads of deep caramelized sugar and some peanut brittle. The spices don't smell too over the top as there are touches of nutmeg, allspice, cinnamon and I swear I get a hint of mint.
Taste- Starts with a sort of spicy black peppery kick and tons of clove, nutmeg and I suppose cinnamon. I don't necessarily get a big burst of cinnamon though. Although there is a malty nuttiness to the beer I'd definitely describe it as more bitter than anything. A bit of hoppiness sneaks in with a sort of citrus and ginger like character. I think the majority of the bitterness is from the insane amount of spices used though. It's almost like a woody tannic thing.
Mouthfeel- Very creamy and rich with a deceptively full feel. The carbonation is super light and honestly it's almost cask like.
Drinkability- Well the beer smells pretty damned good and the mouthfeel is superb. But the flavor just quite isn't there. The balance between everything is a bit out of whack but I think with a bit of tweaking, it could be a solid ass winter warmer. Thanks much for opportunity Tyler!
1,564 characters
Santa's Beered '08 from Cisco Brewers Inc.
Beer rating:
3.8
out of
5
with
14
ratings