Pink Lady Ale
| Cisco Brewers Inc.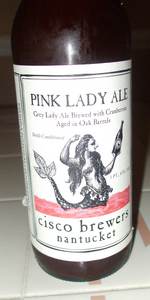 BEER INFO
Brewed by:
Cisco Brewers Inc.
Massachusetts
,
United States
ciscobrewers.com
Style:
Witbier
Alcohol by volume (ABV):
not listed
Availability:
Limited (brewed once)
Notes / Commercial Description:
No notes at this time.
Added by koopa on 10-15-2009
This beer is retired; no longer brewed.
Reviews: 14 | Ratings: 22

4.1
/5
rDev
+3.3%
look: 4 | smell: 4 | taste: 4 | feel: 5 | overall: 4
Bomber into a Cantillon tulip. Big thanks to Hopstoopid120 for sharing this obscure precursor to the wonderful Woods series.
A: Very slightly hazed, pale pink-orange body with a thin white cap of foam. Not much to retain, but it leaves spotty lace. I love the color.
S: Sharp, clean, simple aroma of cranberry, chardonnay, and dry oak. Solid.
T: Light fruity tartness, cranberry, vanilla oak, light acetic acid, and a clean, pure cranberry finish. Very tasty and refreshing, but not quite complex and sour enough to get me really excited.
M: Creamy, fairly light body with even creamier, understated carbonation. Fantastic.
O: I didn't even know this beer existed until it got pulled out of the fridge, and boy was I excited. Overall I found it to be a really solid, thoroughly enjoyable beer, but it just didn't quite wow me the way I was hoping. I'll stick with Cranbic for my cranberry sour fix, and Lady of the Woods for my BA Cisco Witbier.
Cheers!
959 characters

4.18
/5
rDev
+5.3%
look: 4.5 | smell: 4 | taste: 4 | feel: 4.5 | overall: 4.5
Reviewed from notes. Thanks to bmanning for this bottle.
Pours a bright pink color with a slightly pink-hued head that is otherwise bone white. Good retention and lacing. Nose is nice with cranberry and citrus as well as a bit of spice. The taste is nice with light cranberry atop a normal witbier. Really nice feel coming from the cranberries. A great concept that was well-executed. I really enjoyed this. Thanks again, Ben.
427 characters
3.99
/5
rDev
+0.5%
look: 3.5 | smell: 4.5 | taste: 4 | feel: 3 | overall: 4
Been waiting to try this for a while. I'm a fan of the Grey Lady, and my family owns a cranberry farm, so this is right up my alley.
A: Light and small fizzy quickly gone head, this thing has almost no carbonation! Hazy pink grapefruit color with tons of yeast sediment.
N: Light Belgian malts, lots of citrus, grapefruit, acidity, a nice cranberry juice aroma. Some spices, little zest, clove, coriander, little flowery, etc.
T: Starts with lots of citrus again, floral tasting even. Light musty saison and wit like, with a touch of bready malts. Lots of orange peel, citrus, tons of grapefruit, some cranberry juice, and heavy on the acidity. A little oak comes through later, with some spices, and a slight tangy flavor. With all that is a faint Chardonnay wine flavor that shows more than you would expect.
M: Pretty light with almost no carbonation. Srsly loses some points for the carbonation issue. Nobody likes a Tomme'd bottle, especially a Belgian wit style.
F: Dry, in fact very dry. Lingering fruit, again with the grapefruit, orange peel, cranberry juice, and some spices. Nice malts sticking around with all that. It gets pretty bitter with all the acidity, tangy fruits, and overall just bitter. The grapefruit has a long linger. A touch of oak shines through again late on the finish.
1,305 characters
2.67
/5
rDev
-32.7%
look: 3 | smell: 3.5 | taste: 2.5 | feel: 2.5 | overall: 2
Well when you pour this is looks exactly like pink grapefruit juice sans the pulp. A finger of fizzy head forms and then settles to a 1/4 inch cap.
Aroma is musty, earthy and fruity. Certainly a twinge of cranberry.
Very yeasty tasting. Slight tartness I would attribute to the cranberries. Very lightly flavored.
Slight spice and white pepper in the background. Very slight medicinal taste. If I didn't read it on the label, I would never know that this was aged in oak barrels. For a moment I convinced myself the medicinal flavor was oak, but I don't think so.
Very light and thin body, almost water like. Tiny pin prick carbonation.
I remain underwhelmed by the Cisco Brewers line-up and this doesn't change my opinion.
Started the night with a refreshing light beer and would up with something so light it was hardly noticed and won't be missed.
860 characters

2.9
/5
rDev
-27%
look: 2.5 | smell: 2.5 | taste: 3 | feel: 2.5 | overall: 3.5
Bottle from the free table at Woodshop 5.0. Pours an absurd pinkish ecru color with little carbonation. Aroma is unripe cranberries and solvent, with some wood. I've never bought lemonade from a kid's stand but I imagine this is what it tastes like. Just kinda baffling and muddled. It has the sharpness of cranberries without much of the flavor. Some acidity and acetone too. The base witbier comes through with some spices and esters, but nothing serious. Fizzy and watery. What is this.
489 characters

4
/5
rDev
+0.8%
look: 4 | smell: 4 | taste: 4 | feel: 4 | overall: 4
22oz bomber purchased at McKinnon's split with BA MrHurmateeowish. pours a murky yellow with a half inch of off white head. scents of lemon, grapefruit, pith, and spices. tastes of lemon, coriander, some pith and citrus (orange or grapefruit perhaps?), and a touch of breadiness toward the finish. medium bodied with light carbonation. first sip invites another without any alcohol or any warming, which is nice IMO. very impressed with this beer and looking forward to trying their other beer styles.
Cheers!
510 characters
4.04
/5
rDev
+1.8%
look: 3.5 | smell: 4.5 | taste: 4 | feel: 3.5 | overall: 4
22oz bomber purchased at McKinnon's split with BA Checkmate. Pours a murky light yellow with about a half inch of short-lived off-white head. Smells like coriander, citrus peel, pith, and clove. Orange, lemon, pith dominate the flavor with a fair bit of spice, mainly coriander with a bit of clove too. Light to medium in body with ample carbonation that's somewhat muted by the yeast swirled into it. Fairly drinkable, with the aqueousness and the pleasant mesh of flavors. All-in-all, an unique really good witbier.
517 characters

4.27
/5
rDev
+7.6%
look: 3.5 | smell: 4 | taste: 4.5 | feel: 4 | overall: 4.5
22oz botle poured into a Duvel tulip.
A - Pours a cloudy and a little dirty looking pink lemonade color. Practically no head to speak of - only a few lonely islands of bubbles rest on the surface of the beer.
S - Very yeasty smelling, lots of wheat aroma and a touch of lactic acid tartness along with the smell of cranberries. Has a little bit of a wild smell to it. Quite interesting.
T - A little bit on the tart side. Tart Cranberries and tastes like some wild bacteria/yeast found there way into this and did some good work. Lots of wheat in the background and some good wood characteristics too. Not getting anything that is saying Chardonnay to me, despite being aged in Chardonnay barrels - seem to have only picked up the oaky character and some nice funk.
M - This is very light, thin and highly carbonated. Very refreshing on the palate. I would tend to call this a very good entry to the world of sours. Not overly tart, but enough tartness and some wood and funky flavors to give a good introduction to would be sour drinkers. Wasn't expecting this when I opened the bottle, but I am pleasantly surprised.
D - Quite drinkable and refreshing beer. I'm really enjoying this beer...not at all what I expected from it - having had the Grey Lady numerous times. The cranberries and barrel aging have done a lot of good things to an already good beer. Think I'm gonna grab a couple more of these before they are gone.
1,429 characters

4.07
/5
rDev
+2.5%
look: 3.5 | smell: 4 | taste: 4 | feel: 4 | overall: 4.5
Big thanks to TheKingsOfHop for sending me this one in a recent trade. I split this one with my girlfriend and cousin after Thanksgiving dinner.
A: Pink Lady Ale pours a murky, pink, orange color with very little carbonation.
S: The smell is interesting. There is a slight tartness along with a light wheat aroma, and a decent amount of cranberry.
T: I wasn't exactly sure what to expect with this, but I was hoping the cranberry wouldn't be overwhelming. There is a nice tart flavor, mild cranberry flavor, and a touch of wheat.
M: The beer is light and crisp, and actually quite refreshing. Although there doesn't appear to be much in the way of carbonation on the pour, you can feel it on the tongue.
D: This is definitely one of those "interesting" beers, and one that I actually quite liked. The flavor and aroma are not overly powerful, but the beer is really refreshing and would be a great summer beer.
915 characters
3.98
/5
rDev
+0.3%
look: 4 | smell: 3.5 | taste: 4 | feel: 4 | overall: 4.5
A: What a curious looking beer. It is cloudy and pink. almost no carbonation to speak with just a faint amount of had forming but quickly vanishing. No lacing either, but i think it is cool that it is pink
S: Slighly sour, almost brett like. The aroma is not very strong at all though
T: Very nice fruity essences with the cranberries coming nicely providing a nice bit of sweetness and a hint of sour.
M: Very light body, and while lacking carbonation in the appearance it can be felt. No alcohol and surprisingly smooth.
D: Very refreshing. It is a bit like a wine spritzer. I could surely finish an entire bottle myself and I would try this again. This beer may not be for everybody but I was pleased
708 characters
3.73
/5
rDev
-6%
look: 4 | smell: 3.5 | taste: 4 | feel: 3.5 | overall: 3.5
Grapefruit colored beer. Very cloudy. Light lace; moderate head.
Light wheat nose--sour smell.
Tart and dry. Light wheat flavors. Light bodied with a very high level of carbonation. Citrus is notable on the tongue, but no cranberry.
Something of a novelty beer--very little flavor in the way of malt or hop. Overall, a mild brew except for the sourness.
356 characters
4.08
/5
rDev
+2.8%
look: 4.5 | smell: 4 | taste: 4 | feel: 3.5 | overall: 4.5
22oz bottle poured into goblet Chimay glasses:
A: Fresh squeezed grapefruit juice, very murky and pink with a white head that dissipated fairly quickly leaving just a thin sheet of white foam on top.
S: Grapefruit upfront with a slight hint of chardonnay oak trailing behind, very citrusy overall, with a nice wheat smell bringing it all together drawing us in to take our first sip.
T: The chardonnay oak barrels definitely added a smooth sweetness to this beer, while the cranberries made it exceptionally tart. All though towards the end of the sip you receive a sour grapefruit flavor that really adds complexity to this beer... overall very refreshing and smooth with a crisp bite.
M: Very thin, a little on the watery side. Would have liked to see a little more body to this one.
D: Delicious, refreshing, one of a kind, goes down smooth with no sign of any alcohol. Not sure what the ABV is on this beer but definitely a thirst quenching summer treat to say the least.
Cheers,
The Kings Of Hop
1,006 characters
4.01
/5
rDev
+1%
look: 4.5 | smell: 3.5 | taste: 4 | feel: 4 | overall: 4.5
A rather stange offering that has reached my doorstep. Not really sure what to make of this but just need to go ahead and give it a whirl! Served in a large wine glass and consumed on 10/16/2009,
The pour looked like my morning grapefruit juice, hazy and cloudy pink color with a light head of off white. Really no way at all to see through this one. Light lacing down the glass as well. Aroma is light, cranberries maybe but light citrus fruit and touches of wheat. Some nice little fruit notes as it warms. The flavor is much nicer and soo smooth it is hard to even imagine you are going through this. Rich notes of citric fruit and sour bite from the barrels. A nice touch of cranberry like fruit pops its head up next and comes at just the right level before a light smack of sour grape notes seals the finish and dries the palalte thoroughly. Very light drinking and I cannot imagine the ABV being much at all here.
Overall this was very confusing. It is very light indeed. Nothing really being very dominant at all, in fact it is soo light i could drink about three of them. I am glad I have another to go to.
1,117 characters

4.07
/5
rDev
+2.5%
look: 4 | smell: 4.5 | taste: 4 | feel: 3.5 | overall: 4
Bottle received in a trade with BKIII thanks for the opportunity!
LABEL: "We added Nantucket grown cranberries to our Grey Lady Belgian-style wheat beer & aged it in Chardonnay barrels. Nose of oak & fruit leads to a quenching lightly-carbonated ale. Only 4 barrels made, get it while you can & serve well-chilled. And yes, those ARE real pieces of cranberry in the bottom of your bottle"
Appearance: Murky pink....like grapefruit juice. Minimal off white head that rapidly dissipates and leaves no lace.
Smell: My favorite aspect of this brew by far...Loads of coriander and wheat coupled with bold oaky chardonnay notes and cranberries. Very intoxicating and interesting.
Taste: Wheat and a slight tartness from the chardonnay grapes up front. The cranberries then say hello briefly before the oak character takes center stage. The finish is semi dry and fairly smooth.
Mouthfeel: Too thin.
Drinkability: Easy to get this one down but a better mouthfeel would have helped for a higher score. I still found this to be a very interesting and enjoyable brew. It's hard to find but worth a try if you are lucky enough to get some.
1,134 characters
Pink Lady Ale from Cisco Brewers Inc.
3.97
out of
5
based on
22
ratings.